Many builders appreciate the beauty of real wood cladding. The benefits of a well-designed rain screen system, are frequently specified, and many architects and design professionals want to run the wood siding vertically. If you are bidding on or installing a vertical wood rain screen project, here's a few installation tips we hope you find helpful. The Climate-Shield system allows for lots of flexibility for vertical, horizontal and even diagonal rain screen installations.
All exterior woods will move on site. You can't stop it, but you must deal with it. In most cases, the wood movement is usually shrinkage. Because you can't know how much each piece of wood will shrink (or move) on your site, it is imperative to allow it to acclimate fully, before you install it.
Proper acclimation is the most important step of a successful rain screen installation and it happens before your crew ever picks up a tool. Do this step successfully and you will set your team up for a rain screen installation they will be proud of for years to come. Don't skip this step.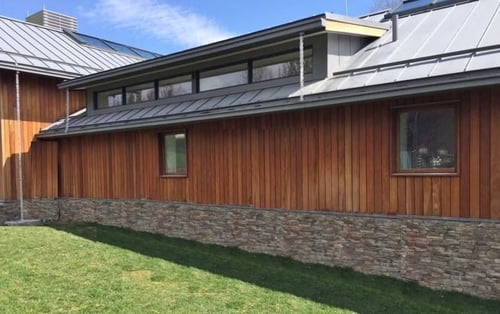 With a horizontal wood rain screen installation, the siding boards tend to 'drop' into the rain screen below if the board shrinks after installation. With a vertical wood rain screen installation, gravity will allow the siding boards to rest in your starter rail only. Since gravity won't control any potential 'left to right' movement of vertical siding boards, if they shrink width-wise as they season, only your careful craftsmanship can. Here's a few tips for best results in a vertical wood rain screen installation.
Top 5 Installation Tips for Best Results with Vertical Wood Rain Screen designs:
For starters, choose the Climate-Shield Rain Screen System. It's the highest rated wood rainscreen system available. Nearly every other option requires a matrix of furring strips. A Climate-Shield vertical rainscreen typically saves 30% or more on installation costs - and time. You can build a better rainscreen, faster and at less cost.
Acclimate, Acclimate, Acclimate. The wood is going to move on site. It's your job to help it do so, fully, before you install it. Yes, even kiln dried woods are going to move as they adjust to the specific conditions of your job site. You MUST allow the wood to acclimate fully on site before installing – if you don't – it will acclimate after you install it.
Install the rain screen clips tightly. After the wood has acclimated to site conditions, most of the shrinkage (other than seasonal movement) is now complete. Installing the rain screen clips tightly is your best way to help the wood stay put.
Use narrower siding boards. If you have the option to use narrower wood siding boards, do it. Narrower boards shrink and move less, it's that simple. This will save you time and give you the best results. If you are using wider wood siding boards, that makes the acclimation and clip installation even more important.
Plan your best layout. Measure where your vertical siding will fall in relation to your door and window openings. For best results, plan your layout so that your notches around door and window openings will leave the most 'meat' on your siding boards. Do your best to avoid 1" wide boards when you cut around the openings. They'll look bad and perform poorly. Plan your layout accordingly for best results.
We hope you enjoyed this article. Please visit MataverdeDecking.com for great information on wood rain screen installation, wood siding species options, check out rainscreen project galleries and lot's more.