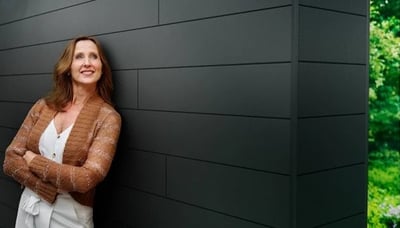 Top Trending Siding Colors with Trespa Pura NFC in 2023
Written by
Liza Sivek
on
Exterior house colors can be a statement, determine curb appeal, create value, and express personality. The most popular siding designs incorporate realistic wood looks, darker colors, or two-tone siding. Designing with Pura NFC Siding leverages all the current siding trends. See what's new for 2023.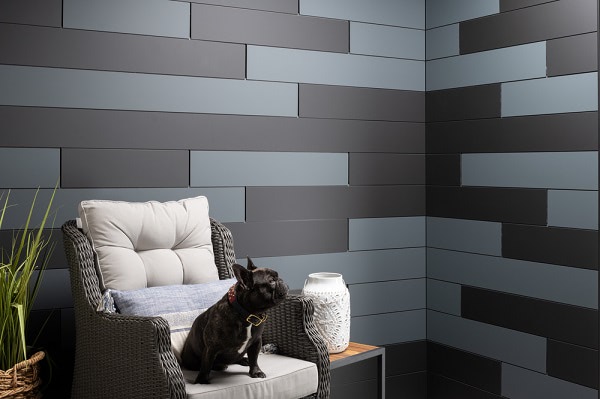 Choosing trending exterior siding that is low-maintenance and high-performance let's you enjoy the dog days of summer.
Wood Look Home Designs
The most popular trend in exterior design is a realistic, consistent wood look with low maintenance. Pura NFC Wood Décor collection gives you many choices of stained and natural wood looks with a true to life grain and color range. And significantly lower maintenance than their real wood counterparts.
For consistent and natural looking wood tone siding, check out these trending options.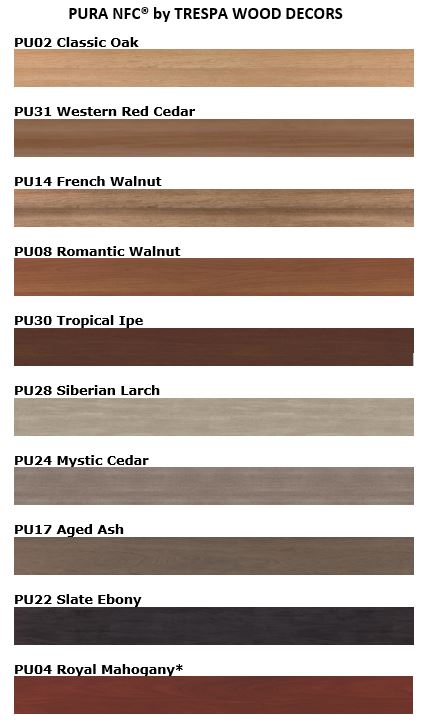 Ipe Wood Siding Alternative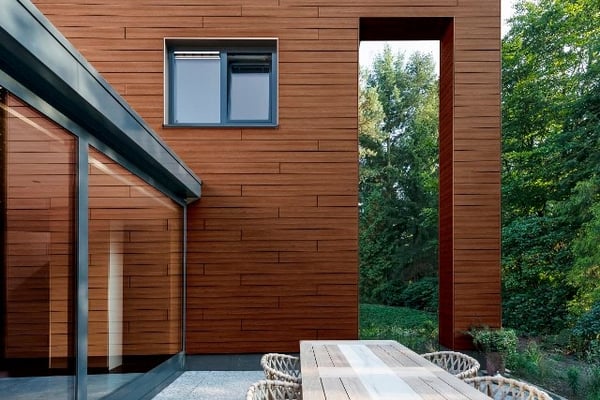 Tropical Ipe Wood Décor is frequently chosen as an alternative to natural Ipe hardwood siding. With Pura NFC the gorgeous brown tones shine and will never need refinishing. It is also a less expensive alternative than real Ipe wood.
For this light commercial building, a an exterior wrapped in Tropical Ipe wood décor was designed to contrast the full length windows. This offers a cozy yet contemporary outside dining area.
RELATED: What Is Pura NFC Siding by Trespa?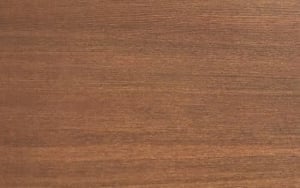 ---
More Pura NFC trending colors inside the Residential and Commercial Projects Portfolios.
Get your copies here. Trespa Pura NFC Siding Residential and Commercial Project Portfolios
---
Clean Wood Look Siding With Soap and Water? Yes!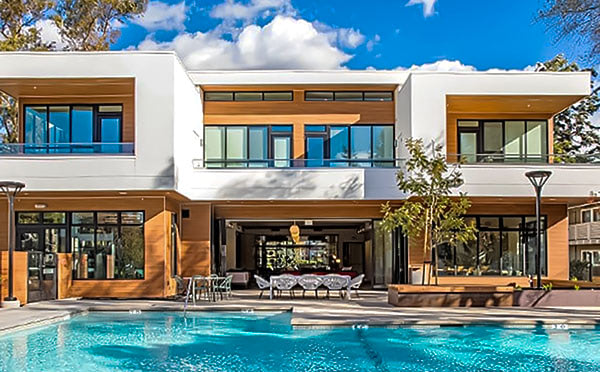 The good looks of walnut wood in Pura NFC siding. Romantic Walnut is a big color trend with its medium brown tones. It suits contemporary or traditional architectural styles and has beaucoup curb appeal! Romantic Walnut siding wraps the exterior of this contemporary home softening the look of angles, corners, and stucco. What could look cold and boxy is welcoming and homey in a realistic wood-look siding.
All the Pura NFC wood decors need no refinishing, sealing, or painting. In fact, cleaning as-needed with soap and water is your only regular maintenance. Pura NFC is has a closed-cell surface seal with Electron Beam Curing process exclusive to Trespa. This mean dirt can't be ground in and trapped by wind and weather to dull the finish.
French Walnut Wood Look Exterior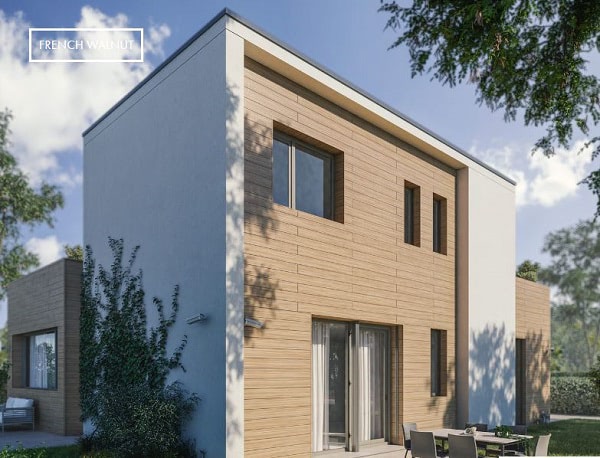 Photo courtesy of the Trespa Pura NFC Siding Visualizer Tool
Love the look of lighter wood for your exterior? Here's another trending option! French Walnut wood décor has a darker looking grain pattern than Classic Oak. This décor taking off with home designers and homeowners alike.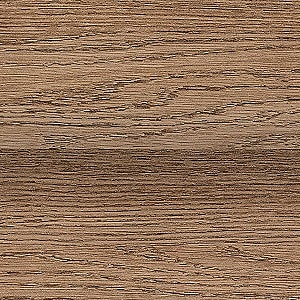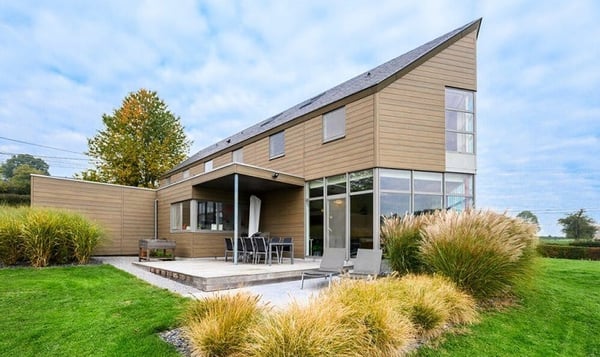 Wood decors in lighter colors like Classic Oak continue to be popular. Lighter wood tones can blend beautifully with surrounding landscapes, or neighborhoods.
Here, wood-look siding softens and warms the exterior of a home by wrapping the bold architectural shape and contrasting with glass walls. Pura NFC is even used on the patio overhang for a consistent look and feel.
RELATED: View the Pura NFC by Trespa Siding Picture Gallery here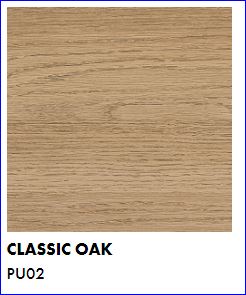 Western Red Cedar Siding Alternative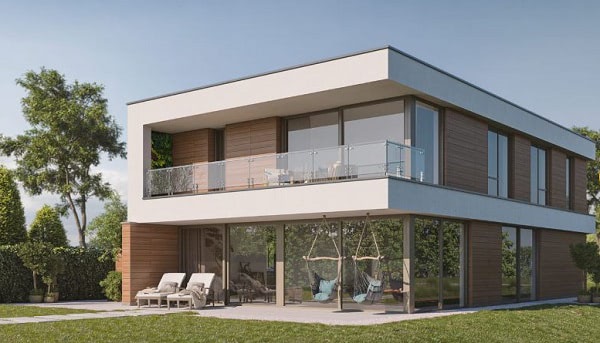 Photo courtesy of the Trespa Pura NFC Siding Visualizer Tool
One of the newer wood décors from Pura NFC is Western Red Cedar décor. A beautifully made alternative to natural cedar siding, Pura NFC is much lower maintenance and will not weather to gray. With the skyrocketing price and low availability of upper grade cedar siding material, this wood décor might be a smart choice for your project.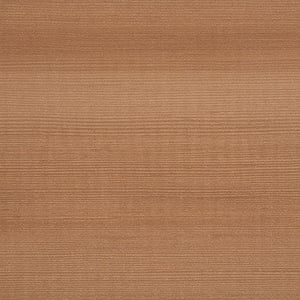 RELATED: Find the color or colors you love with the Pura NFC by Trespa Siding Visualizer tool!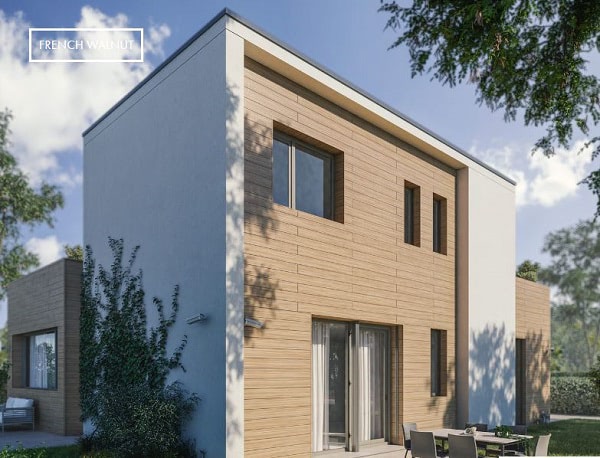 Photo courtesy of the Trespa Pura NFC Siding Visualizer Tool
Love the look of lighter wood decors? Here's another new option! French Walnut wood décor is taking off with home designers and homeowners. The slightly darker grain pattern gives this wood look siding a slightly more rustic feel.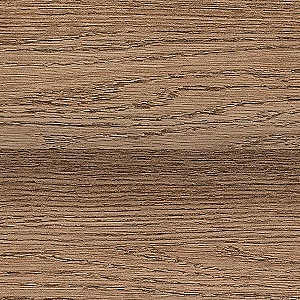 Black and Gray Exterior House Trends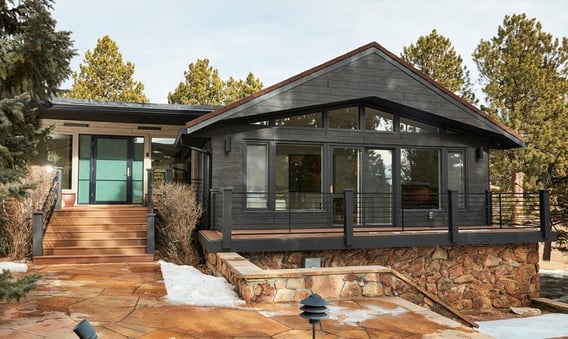 Pura NFC offers stunning wood decors in gray like Mystic Cedar, and black such as Slate Ebony (below). Slate Ebony wood décor contrasts with the light stone hardscape and porch. Like the look of Shou Sugi Ban finishes? Slate Ebony décor gives you a similar look and realistic grain pattern but with much lower maintenance.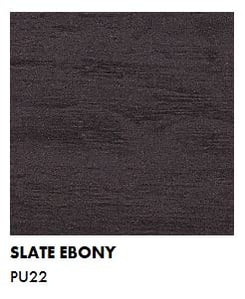 RELATED: 5 Reasons Pura NFC Siding Was Chosen For This Home Exterior Design
But if you are picturing a more modern, matte look consider Pura NFC's Lumen décors. These light-diffusing matte colors are warrantied by Trespa to be fade resistant for many years to come, like all Pura NFC colors.
You can confidently choose Metropolis Black or New York Grey without concern over fading or lighter patches from UV exposure long before the useful life of your siding is over. (Click here to see a 2 minute video about Trespa quality testing, and warranty, for fade resistance.)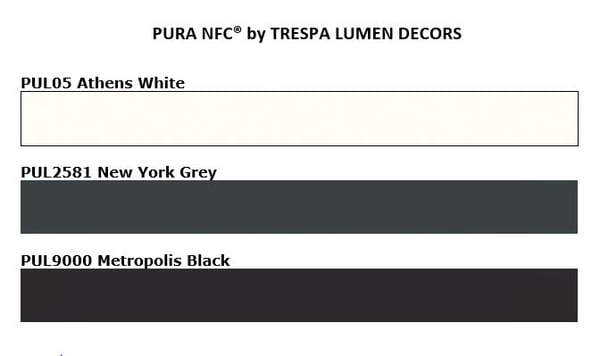 RELATED: Read Pura NFC Lumen Décors Add Unique Design Element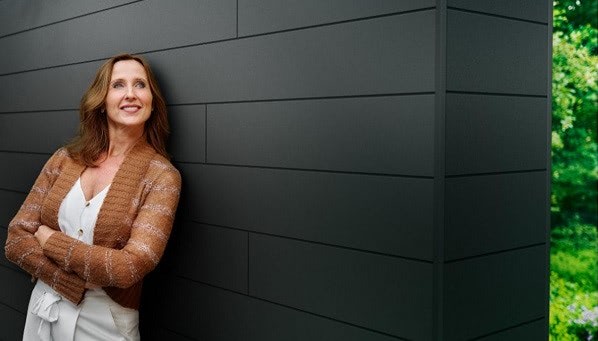 Stunning Metropolis Black gives you a deep, rich matte exterior design. Use it as an accent or full exterior. It is versatile and makes a architectural statement.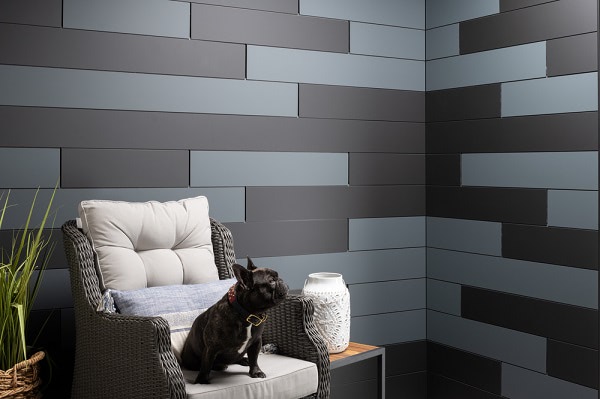 New York Grey is a matte gray siding that makes your exterior look as tailored as a gray flannel suit. Mixed with Metropolis Black here, Lumen decors make an exterior room the epitome of modern elegance. Include Athens White décor for a high contrast option!
(Adorable coordinating French bulldog not included, sorry.)
Matte gray siding can also be mixed with stone, stucco, cement or whatever your heart designs. Lumen decors work in traditional styles or urban designs.

---
Choosing siding colors for an upcoming house exterior or light commercial project? Download here.
Trespa Pura NFC Siding Residential and Commercial Project Portfolios
---
What Color Siding With Brick or Stone?
Looking for a siding color that works well with brick façades or accents? Pura NFC has your exterior project covered, literally.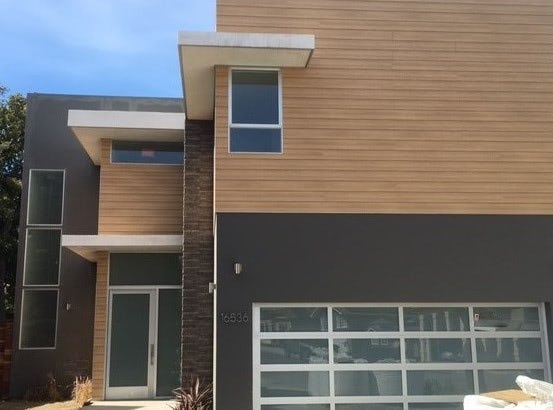 Contrast dark or red brick with a lighter wood décor for a crisp, clean look. Adding Classic Oak décor to the second-floor prevents this building from looking too dark or visually bulky. Instant curb appeal!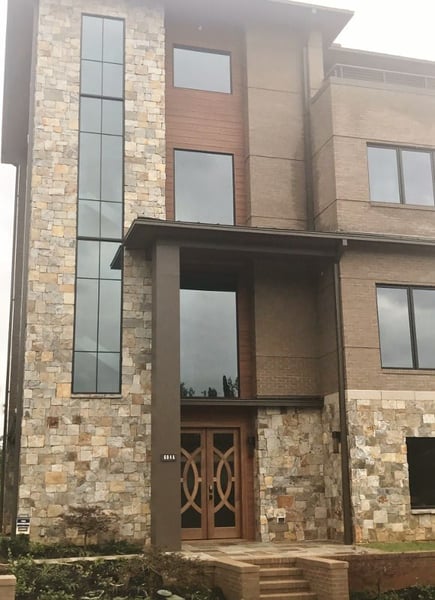 Lighter colored brick or stone? This home project called for a darker accent to set off the light-colored façade. A warm medium brown wood décor coordinates with the colors in the stone. It also creates visual interest in the entryway.
Two Tone Siding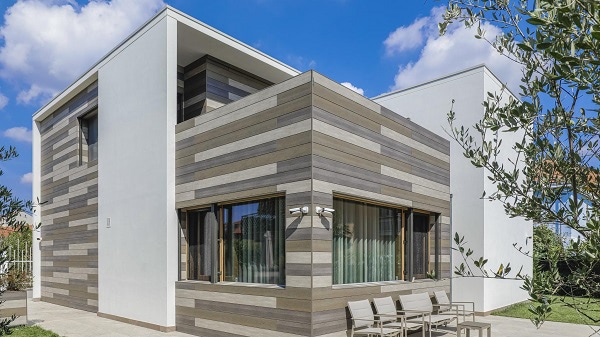 A mix and match of Pura NFC decors in random pattern of neutral colors, including Mystic Cedar, Aged Ash and Siberian Larch wood decors. This palette complements the modern design and plays off the white stucco accents. Using two wood look décors that offers consistent colors helps you design with confidence.
Questions on designing with Pura NFC exterior siding? Contact us!
Comments
Related Posts