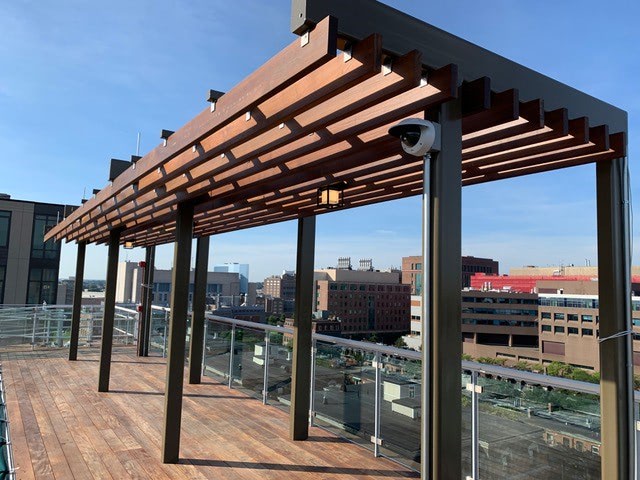 IPE HARDWOOD PROJECT IDEAS
---
Premium Ipe decking, boards, dimensional lumber, beams, posts and timbers can be used for any number of different outdoor structures and outdoor projects. From residential decks, fences, outdoor furniture to municipal boardwalks, rooftop decks to pergolas and backyard gazebos -- Ipe hardwood can be the ultimate material to select for a wide range of outdoor projects and outdoor structures.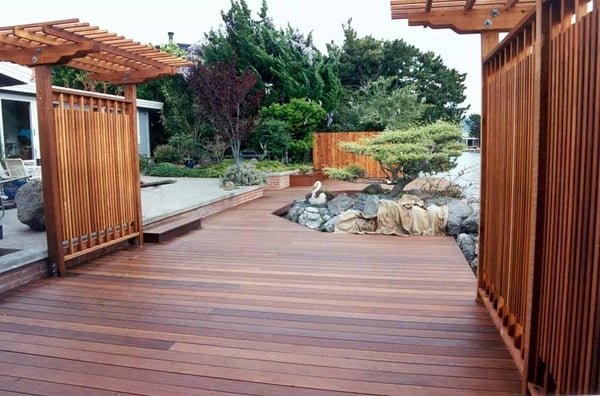 So much can be achieved with a long lasting and durable Ipe hardwood design
Builders, architects and homeowners have been relying on the strength, hardness and durability of Ipe hardwood lumber and decking materials for many years.
Wherever there is a sincere desire to use the best all natural outdoor wood products available, Ipe high density hardwood is often the building material of choice the world over. The natural slip resistance of Ipe decking makes this high density hardwood material an exceptional selection around decks, docks, hot tubs, pools, spas and other areas where safety is a major consideration.
Ipe wood dimensional lumber including 2x4, 2x6, 2x8, 2x10 and 2x12 (nominal dimensions) are exceptionally strong and may be used for joists and more for your project needs.
Ipe wood is also available in heavy timber sizes such as 3x6, 3x8, 3x12, 4x4, 4x6, 4x8, 4x10, 4x12 and 6x6 nominal dimensions. Ipe heavy timbers may be used for posts, beams and other structural elements where strength, durability, performance and natural beauty are the design objectives.
---
Need more Ipe wood decking design ideas for your next project? Check out our FREE download, the
"Deck Design Ideas eBook: containing over 150 deck ideas and photos over 61 pages.
---
Ipe wood decking, siding and lumber materials are the ideal selection for projects where the following design criteria are key:


| | | | | |
| --- | --- | --- | --- | --- |
| Project Criteria | Decking | Boards | Lumber | Beams/Timbers |
| Sustainable building material | Yes | Yes | Yes | Yes |
| Available FSC® Certified | Yes | Yes | Yes | Yes |
| 25 year limited warranty | Yes | Yes | Yes | Yes |
| High stability | Yes | Yes | Yes | Yes |
| High density | Yes | Yes | Yes | Yes |
| Natural slip resistance | Yes | Yes | Yes | Yes |
| Natural insect resistance | Yes | Yes | Yes | Yes |
| Natural decay resistance | Yes | Yes | Yes | Yes |
| Splinter resistant | Yes | Yes | Yes | Yes |
| Ages gracefully to silvery patina | Yes | Yes | Yes | Yes |
| Low life-cycle cost | Yes | Yes | Yes | Yes |
---
RELATED: IPE DECKING VS DOUGLAS FIR
---
The following project types and outdoor structures are particularly well suited for specific types of Ipe lumber materials as noted in the chart below:


Project Type

Appropriate Ipe Material for Selected Project

Residential deck
Decking
Lumber
Boards
Beams / Timbers
Porch flooring
Decking
-------
-------
-------
Pool/Hot tub area
Decking
--------
-------
-------
Railings
Decking
Lumber
Boards
Railing Parts
Walkway
Decking
Lumber
-------
-------
Foot bridge
Decking
Lumber
-------
Railing Parts
Pergola
Decking
Lumber
-------
-------
Gazebo
Decking
Lumber
-------
-------
Boardwalk
Decking
Lumber
-------
Beams / Timbers
Dock
Decking
Lumber
-------
Beams / Timbers
Pier
Decking
Lumber
--------
Beams / Timbers
Vertical siding
-------
-------
Siding
-------
Rain screen siding
-------
-------
Siding
-------
Fence
Decking
Lumber
-------
-------
Trellis
Decking
Lumber
--------
-------
Privacy screen
Decking
Lumber
--------
-------
Outdoor Tables
Decking
Lumber
Boards
-------
Outdoor Benches
Decking
Lumber
--------
-------
Outdoor furniture
Decking
Lumber
Boards
-------
Outdoor kitchen
-------
Lumber
Siding
-------
Playground equipment
Decking
Lumber
Boards
Beams / Timbers
Planters/Flower boxes
Decking
Lumber
---------
-------
---