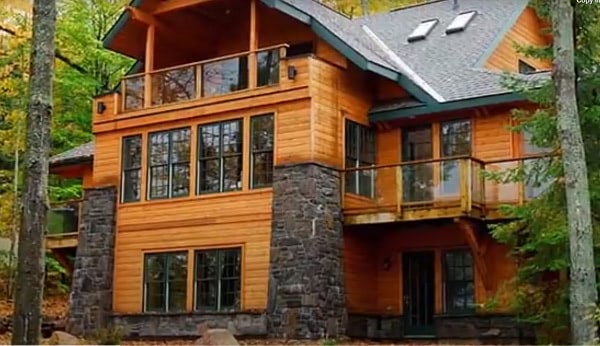 MATAVERDE FIRE RETARDANT LUMBER
Table of Contents:
What is Mataverde ThermaWood Fire Retardant Treated Lumber?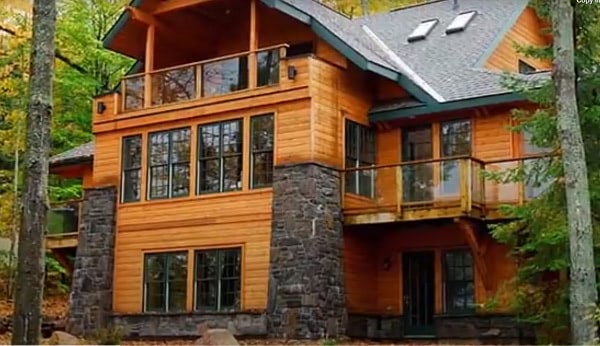 An amazing lodge style home in the forest looks like part of the landscape, with the added advantage of fire-code approved fire retardant treated siding
---
DOWNLOAD MATAVERDE HEMLOCK FIRE RETARDANT TREATED LUMBER BROCHURE
---
Mataverde ThermaWood with Thermex-FR combines the best of worlds by using the finest thermally modified Hem Fir with the best fire retardant treatment process on the market. It is the ideal solution for exterior projects that require a high level of fire resistance.
For lovers of renewable natural products, nothing compares to the beauty of real wood. Mataverde ThermaWood FR wood products are treated under pressure with a safe and non-toxic formula, making them resistant to fire throughout the useful life of the products. The fire retardant treated wood maintains much of its original appearance prior to treatment.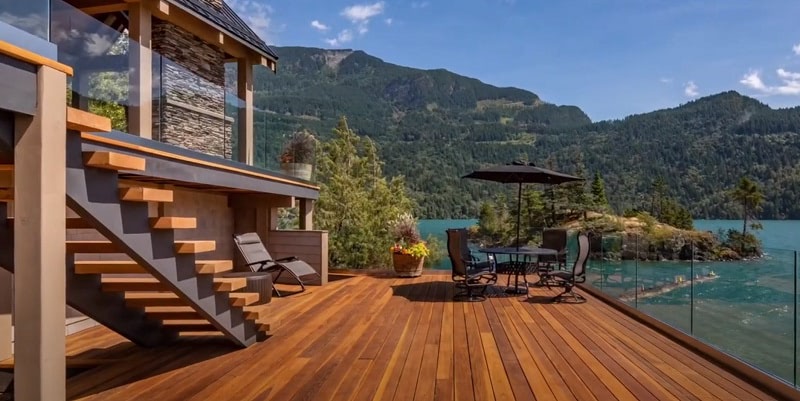 Because fire safety is of paramount importance, fire safety codes continue to get stricter and stricter. Mataverde FR Fire Retardant Treated Lumber meets or surpasses the requirements of:
WUI (Wildland Urban Interface)
IWUI (International Wildland Urban Interface)
ICC (International Code Council)
RELATED: DOWNLOAD MATAVERDE FIRE-RETARDANT-TREATED WOOD ESR-1159 WUI EVALUATION REPORT
Why use Mataverde ThermaWood FR?
Mataverde ThermaWood FR fire retardant treated lumber with Thermex-FR has many advantages over other treated lumber:
Safe and non toxic formula

Environmentally friendly

Adds

durability to the wood
Classified as "ignition resistant"

Helps resist the spread of fire, which helps protect your home, property, and family from fire

The only product on the market that passes the natural weathering tests for exterior use
The fire retardant treatment process works so well outdoors it is covered by a limited lifetime warranty.
How Does It Work?
Not all fire treated lumber is equal. Most fire treated wood options use water soluble chemicals. They work fine for slowing down the flames. Most of them work well indoors. But, because they are water soluble, they don't last very long in an outdoor environment. The fire treatment can literally wash off. Rain, snow and weather eventually rinse away the fire retardant chemicals and the wood becomes non resistant to fire over time. There is a much better solution.
---
See how the best fire retardant treated lumber process works.
Click below to watch on YouTube: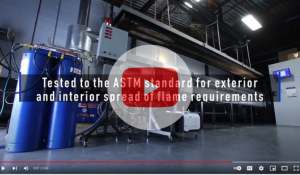 Chemco Thermex Fire Treated Lumber Video
---
Mataverde ThermaWood FR Is Different
The safe and nontoxic fire treatment additive is water soluble, too, but only at first. That's how the treatment can be easily pressurized deep into the cells of the wood. But that's where the similarity stops.
After that, the material is kiln dried - again - and the treatment is essentially baked into the wood, permanently. That's why Mataverde FR is covered for fire resistance by the manufacturer's lifetime limited warranty for fire resistance.
RELATED: DOWNLOAD THE THERMEX FR MSDS
While other fire treatment processes for wood may be used in certain areas (mostly indoors) and in limited applications, Mataverde FR Fire Retardant Treated Lumber can be used widely, under many conditions. Mataverde Fire Retardant Treated Lumber meets a wide range of fire resistance requirements.
---
ThermaWood FR Fire Treated Decking
ThermaWood FR Fire Retardant Treated Lumber is available in decking and siding profiles. The fire retardant treated decking is available in ThermaWood Hem Fir. Mataverde FR decking is available in 5/4 x 6 nominal size deck boards in C+ Better vertical grain Hem Fir.
With C+ better grade you can expect a vertical grain Hem Fir boards. In this more rustic grade of Hem Fir decking, you will see a fair amount of mineral streaking and some knots are allowed per board. Most of the knots are small and tight.
If you don't like the appearance of portions of particular boards, the solution is to defect-cut out that portion, and use the remaining pieces in your project.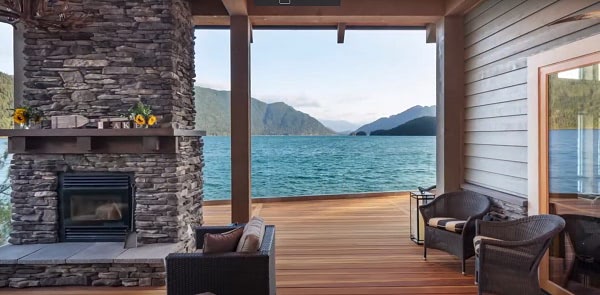 ThermaWood FR is a gorgeous way to elevate your wood decking project with a better fire treatment option.
---
---
ThermaWood FR Fire Retardant Treated Siding
Mataverde ThermaWood FR fire retardant treated siding is available in several popular profiles.
Here are the standard Mataverde T&G wood siding profiles currently available for ThermaWood FR Hem Fir (In-Stock West Coast). Nominal 1 x 6 siding size, actual dimensions are 11/16" thick x 5-3/8" overall width.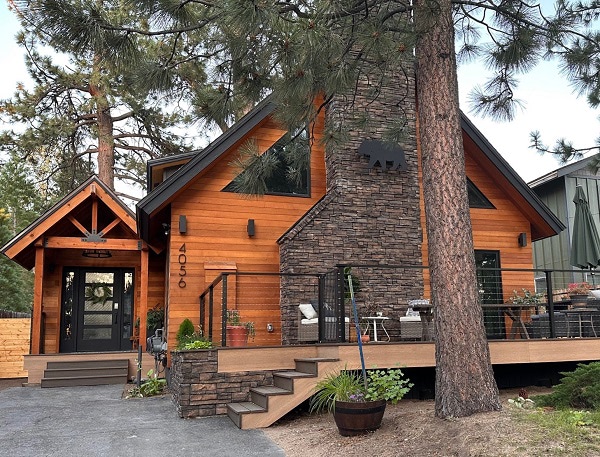 ---

Mataverde ThermaWood FR Hem Fir T&G 633EE R-1 Re-Sawn / Smooth Reversible Face Profile with Thermex-FR
---

Mataverde ThermaWood FR Hem Fir Standard T&G "Nickel Gap" siding profile with Thermex-FR
---
RELATED: LEARN MORE ABOUT MATAVERDE THERMAWOOD SIDING
---
Visit the ThermaWood Siding Project Photo Gallery
---
*Caution should be taken when considering staining or painting, as they may affect the performance of the fire resistant resins. PLEASE READ THE MANUFACTURER'S CRITICAL INFORMATION REGARDING FINISHING.
---
CRITICAL INFORMATION ABOUT PAINTING OR STAINING FIRE RETARDANT PRESSURE TREATED WOOD PRODUCTS
CAUTION: It is well-known that the selection and application of paints and stains to fire retardant treated wood products must be done with great care. The chemicals of some coatings may adversely interact with the fire retardant resin either upon initial application or after weathering resulting in lowered fire retardancy of the product and/or unsatisfactory adhesion, durability or appearance of the coating (including leaching chemical residue).
This Notice is intended to provide general information about the potential application of paints or stains to our wood products pressure infused with proprietary fire retardant resins.
BEFORE USING ANY PAINT OR STAIN ON OUR FIRE RETARDANT TREATED WOOD PRODUCTS, YOU SHOULD CONSULT WITH A COATINGS EXPERT OR MANUFACTURER TO ASSURE YOURSELF THAT THEIR RECOMMENDED COATING HAS BEEN SUCCESSFULLY TESTED ON OUR PRODUCTS. WE DO NOT WARRANT OR ENDORSE ANY COATING PRODUCT OR MANUFACTURER.
PLEASE READ THE MANUFACTURER'S CRITICAL INFORMATION REGARDING FINISHING
---