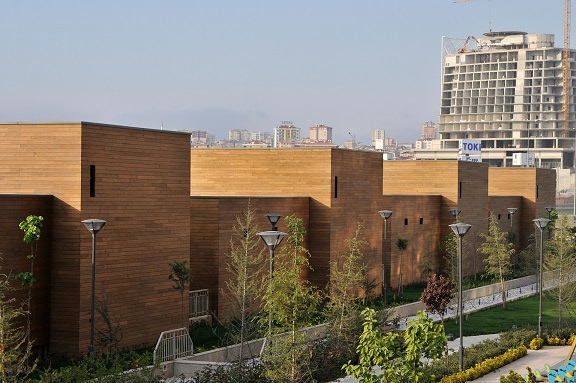 MATAVERDE THERMALLY MODIFIED HEM FIR WOOD SIDING
Climate-Shield® Rainscreen System™
Mataverde Thermally Modified Hem Fir siding is an exceptional real wood siding option that can be used in a traditional siding profile or as rainscreen cladding material. The unique thermal modification process for this softwood species employs a vacuum kiln and uses steam. Together, the steam and the pressure allows Hem-Fir (Hemlock) to be thermally modified at lower temperatures, producing spectacular results.
The finished product, Mataverde Therma Hem Fir, is exceptionally stable, very durable and outperforms the original in many measurable ways. Because Mataverde Therma Hem Fir uses the upper grades of Hemlock ("A+ better" and "C+ Better" grades) and vertical grain boards, the product not only performs better but is absolutely beautiful as well. Mataverde Thermally modified Hem Fir has the great looks you would expect to find in Western Red Cedar.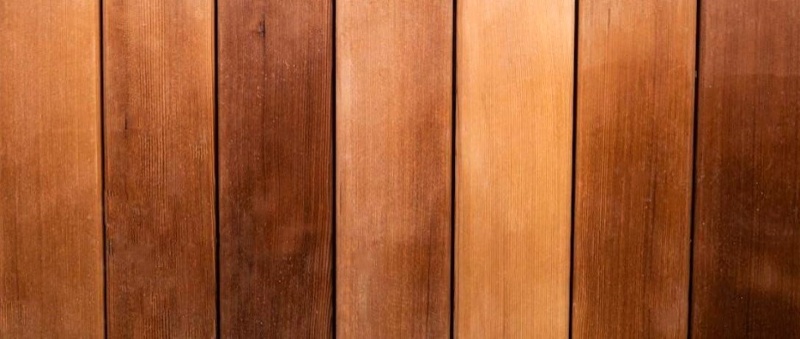 Why Use Mataverde Thermally Modified Hem Fir Wood Rain Screen Cladding and Siding?
Mataverde Thermally Modified Hemlock (Hem Fir) wood siding is an exceptionally strong, durable and highly stable wood cladding option available for rainscreen siding designs and installations.
Mataverde ThermaWood siding is a thermally modified wood siding material that performs exceptionally well both indoors and outdoors. Use in a rainscreen design, or install as standard wood siding.
Exceptionally stable (minimal expansion and contraction)

Insect and rot resistant

Naturally beautiful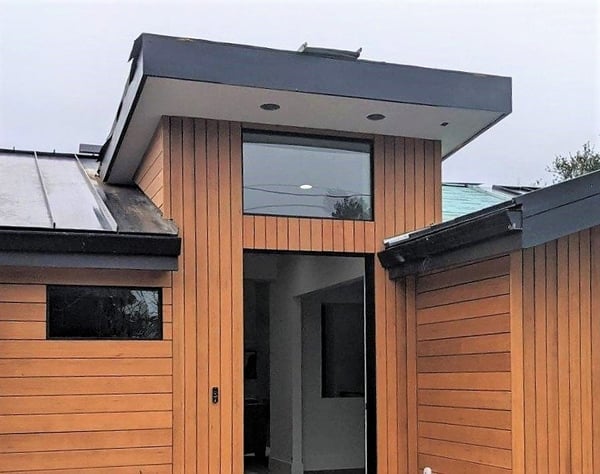 Mataverde thermally modified Hemlock softwood wood cladding, installed vertically and horizontally
Mataverde Thermally Modified Hem Fir wood siding is gorgeous. Therma Hem Fir makes an impressive and long lasting rainscreen cladding material. The beautiful light to medium brown tones have a natural look similar to Western Red Cedar siding. The exceptional stability of Mataverde thermally modified wood cladding makes it a great fit for siding and rainscreen system installations. To view hemlock siding project photos, check out the Thermally Modified Hem Fir Wood Siding Gallery.
---
Would you like to see Mataverde Thermally Modified Hem-Fir siding for yourself?
Request siding samples today.
---
Care and Maintenance of Mataverde ThermaWood Cladding
Mataverde thermally modified Hemlock wood siding is a low maintenance, real wood cladding material. As a result of the thermawood technology using a pressurized vacuum kiln, Mataverde Thermawood Hem Fir looks and acts much like hardwood siding materials. Mataverde Thermawood Hem Fir is sustainably harvested, non-toxic and safe to the environment and humans.
DOWNLOAD MATAVERDE THERMAWOOD HEM-FIR CARE AND MAINTENANCE GUIDELINES HERE
Mataverde thermally modified hemlock siding requires no maintenance beyond normal cleaning. Thermally modified cladding is easy to care for and there are appearance options, including oil finishes and a low maintenance option, where you can allow your deck to weather to a gray driftwood look.
Thermally modified siding is real wood, but it performs so well, it can be finished or allowed to weather. Thermawood rainscreen wood siding has a rich natural brown beauty that can be enhanced with a natural oil finish (like Penofin) or it can be allowed to "weather out" to a natural silvery patina.
Whether you prefer to maintain the 'like new' wood look, or the silvery look, the choice is yours. For more information about your finish options, DOWNLOAD "HOW WOODS WEATHER GUIDE".
---
---
Want to see if Mataverde ThermoWood siding meets your project budget? Request a quote today.
---
Other Wood Siding Species Options and Comparisons
Want to see some incredible projects? Download the Rainscreen Projects Portfolio
Check out other Wood Rainscreen Siding Galleries Here
For additional information about other wood siding material options and their potential compatibility with the Climate-Shield Rainscreen System, Please Download our Wood Siding Species Comparisons Chart.
Can't find the wood siding species you're looking for? If the wood siding species you are considering is not listed on the chart, please Contact our Specialists.
---
ADDITIONAL HELPFUL INFORMATION:
Learn more about wood rainscreen siding.