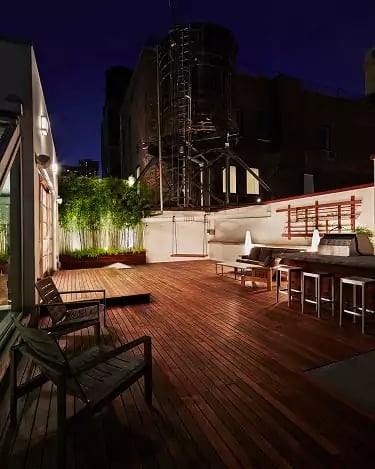 12 Rooftop Decks with Luxurious Aesthetics
Written by
Liza Sivek
on
Thinking of building a rooftop deck but need inspiration? No worries, the design possibilities are quite literally through the roof. Even your choice of wood decking can be a design element with exotic patterns, grains, and natural colors. We've pulled together a dozen of the most incredible wood rooftop deck ideas for you here. Ready to be the envy of the neighborhood?
1. Rooftop Deck with an Outdoor Rainshower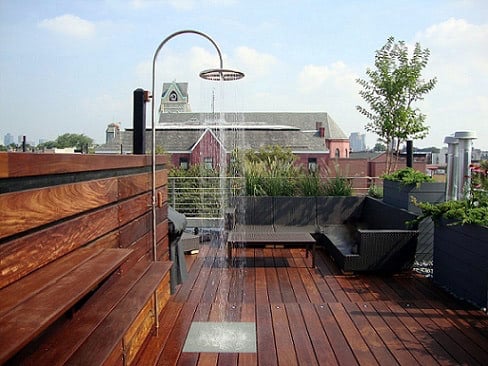 Yes, you can have wood spa features on your rooftop deck, with the right wood. This rooftop deck has an in-ground pool and hot tub. Of course it needs an outside shower plus built in shelves for towels.
This deck is made from exotic hardwood which is incredibly moisture, mold, and rot resistant. So the maintenance is very low, no need to move from poolside. Wood feels comfortable underfoot, is slip resistant, and the high density fiber hardwood will not absorb moisture the way cedar or redwood can. All it needs is a natural oil finish with UV protectant made to penetrate hardwood to keep it looking new.
In this photo: Ipe premium hardwood decking in medium brown tones with beautiful and natural exotic graining.

RELATED: See The Ipe Decking Photo Gallery For More Ideas
2. Rooftop Deck A Glass Above The Rest

This modern but cozy space takes full advantage of the view by using glass railings in the white stucco exterior. Natural wood adds contrasting colors and grains to soften the design. Even the matching coffee table was made from the decking! Using natural hardwood in your deck design creates visually warm and welcoming feel without sacrificing luxury.
When designing your rooftop deck, it's worth noting that not all decking material options can handle the harsh UV exposure that a rooftop will get. Choosing the right decking will keep it strong and looking amazing, even if you want it to weather to silvery gray. Hardwoods are the most resistant to splitting and checking over time, tested to be in the decades, so are a designer's first choice for wood rooftop decks are hardwoods. Composites are not suitable for rooftops, and softwoods will need more maintenance.
In this photo: FSC Certified Machiche premium hardwood decking in chocolate-y brown tones with beautiful and natural exotic graining. Machiche has a range of colors and like all exotic hardwoods, weathers strong and beautiful. Below is Machiche natural, with an oil finish, and then weathering to gray over time.

RELATED: Check out these Weathered Decking Pictures to see how this deck, and others, look in satiny silver-gray.
---
There's a design for every aesthetic in here. Download the Rooftop Wood Deck Design Ideas eBook now.
---
3. Rooftop Deck with Plush Day-to-Night Spaces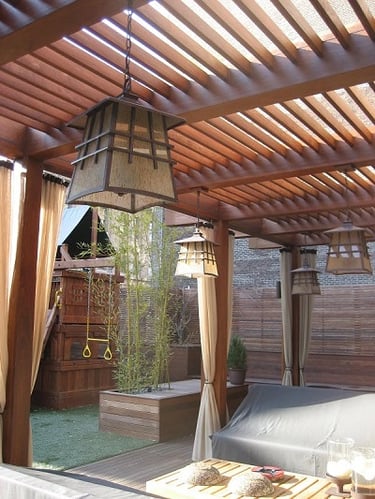 Can't you just imagine a movie night under the stars on this rooftop deck? A beautifully designed rooftop space can be used for many different things. A gorgeous pergola hung with lanterns creates a designated area to relax, enjoy morning tea, or a romantic dinner. Comfortable cushions let everyone hang out together, or creates solitude.

Notice the playground equipment made from the same natural Ipe wood? It will last as long as the deck and the pergola. On the other side is a space is soft turf, built in wood benches, and planters for a "yard" in the sky to play in, or entertain on.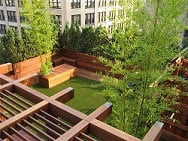 In these photos: Ipe wood decking, pergola, benches, playground and planters.
RELATED: Need more pergola inspiration? See more deck designs with pergolas here.
4. Rooftop Deck with Designer Flair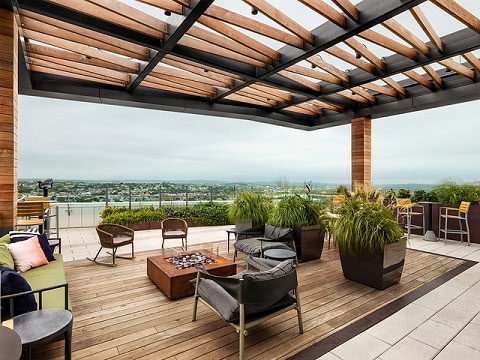 Speaking of pergolas, this expansive space has a large and modern designed pergola. With custom stacked wood posts, two-tone beams and purlins (the wood boards across the top). The wood deck below reflects the same tones for a truly designer look. Bonus: It's made with FSC Certified Ipe hardwood. Add modern but cozy chairs, lush planters, and a copper and stone gas firepit and your friends will be inviting themselves over.
In these photos: Ipe wood decking and pergola
RELATED: Questions about FSC Certified hardwood decking? Learn more here.
5. Small and Sumptuous Rooftop Deck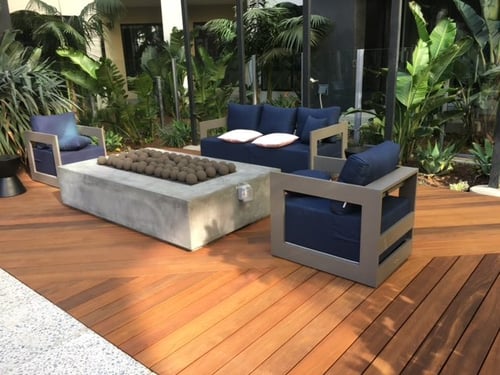 Grab your laptop and get outside. Want to get outside of the home office without leaving home? Look around for a corner that can be turned into your mid-day escape, and still within Wi-Fi range. A well-planned rooftop deck design can take small, dark, empty corners and create lush and luxurious green spaces.
This tropical rooftop retreat has a garden around the deck full of large greenery, which softens the existing glass and pavers. Placing the wood decking on angles creates an expensive feel with visual interest and movement. A cement and lava rock gas firepit and modern chairs with deep cushions completes your oasis.
6. City Rooftop Deck That Never Sleeps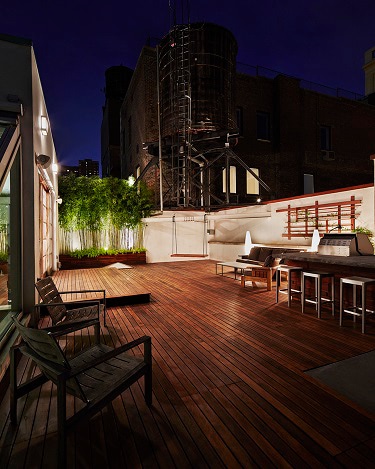 Photo courtesy of Organic Gardener NYC
In this photo: Natural hardwood decking, planters, bar front, and swing.
The industrial aesthetic takes advantage of the brick-and-iron feel of nearby buildings when designing a rooftop deck. Natural wood grains and colors lend themselves perfectly to industrial lofts, complements the style of aged interior wood, and gives warmth to brick, cement, and metal pipes.
To get these deep, warm tones consider Ipe wood (shown here) with its varying medium brown tones, or Jatoba with a cherry red-brown color range and high durability.

RELATED: Ipe Decking Alternatives: What Is Jatoba Decking?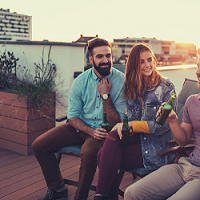 7. A Rooftop Deck With Natural Style
Photo courtesy of Organic Gardener NYC
A view overlooking the New York Skyline is already envy-worthy. This organic aesthetic rooftop design takes it a step - or three - further by surrounding you in the warmth of real wood and green plants. It will make you want to move outside! Wood privacy screens and deep planters full of trees and bushes run behind built in bench seating, matching wood tables for gathering, and, of course, the decking underfoot.
Another plus for the green-minded, it can all be done in sustainable hardwood that does not require lots of paint, stain, or chemical cleaners to like keep it like new or long-lasting. Real hardwood also weathers to iconic gray without losing strength or durability, yet requires even less maintenance. (Just cleaning as needed, no refinishing or sealing necessary.)
In this photo: Natural hardwood decking, benches, planters, and privacy screens
RELATED: "Buy Machiche Wood and Help Save The Forests"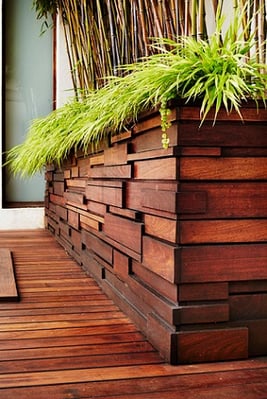 8. Simple and Stunning Rooftop Deck Design
In this photo: Thermowood Ash thermally modified wood decking, benches, planter bases
A Minimalist aesthetic rooftop is stunning with carefully chosen features and clean lines. A minimalist design, like the aerial photo above, combines function and style. Modern cement and wood benches and planters are all the contrast needed. Easy on the eyes, and on the soul. This is a perfect place to escape the noise and busyness of the world at street level.
Thermally modified ash, with just a protective oil finish, shows off the darker grains and tones from heat modification. Thermally modified wood decking like Thermowood Ash and ThermaWood Hem-Fir are excellent choices for rooftop decks. These decking options are more budget friendly and have increased durability and longevity over their non-modified versions.
RELATED: Learn more about thermally modified wood decking compared to other wood decking options here. Learn more about thermally modified wood decking compared to other wood decking options here.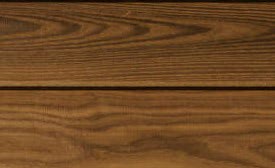 Thermowood Ash (top) compared to Thermawood Hem-Fir (bottom)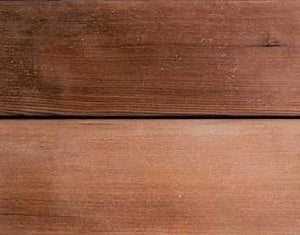 RELATED: View the Thermally Modified Wood Decking Photo Gallery Here
---
There's more deck design ideas in the Ultimate Rooftop Deck Design Idea Portfolio, download here.
---
10. Midcentury Modern Rooftop Deck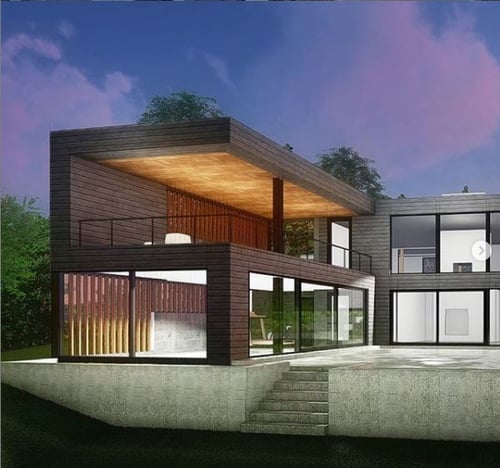 If Mid-Century Mod is your aesthetic, (Martini anyone?), you will love the restoration of this important landmark designed by a prominent mid-century architect. Staying true to the original historic design, this home was restored with all natural hardwood siding and added a custom wood rooftop deck and overhang. The classic home has the typical flat roof, and the deck was added on top of an existing room.
Check out the hardwood slats used along the glass wall below and how it is mirrored above in the deck surround. The overhang has a natural wood soffit underneath giving the deck a warm, natural feel above. Natural wood softens the hard edges of the mid-century style and creates a welcome and stress-free feel.
(Now please pass the olives.)
In this photo: Natural hardwood decking, soffit, siding, architectural features
RELATED: Read all about this project in "Historic Kentucky Home Gets Custom Ipe Rooftop Deck"
11. Rooftop Deck Design When Food Is Your Aesthetic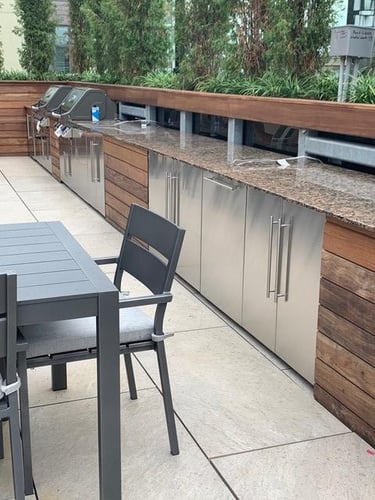 If "hungry for life" describes your aesthetic or, like me, just "hungry", a deck where you can not only dine but cook may be perfect for your rooftop design. Outdoor kitchens have become de rigueur in most climates, from smokers and grills, to pizza ovens and prep areas, and used all year round.
One way to set your rooftop deck apart is to make that kitchen area absolutely custom by facing the cabinets and countertops with the same real wood. By designing custom facing to match your deck, or to contrast with existing pavers, you are setting your rooftop deck apart from big box outdoor appliances.
And of course I have to mention that high density hardwood is easy to clean up, and is highly scratch and gouge resistant. This keeps your outdoor kitchen and rooftop deck looking as impressive from its first Super bowl party to the last.
Two popular wood materials for outdoor kitchens are Ipe and Machiche, depending on the color range and grain you want for your deck design.
In this photo: Natural hardwood on cabinets, privacy walls, and railings

RELATED: Learn more about building an outdoor kitchen with FSC Machiche hardwood here
12. Rooftop Deck With A Spiritual Aesthetic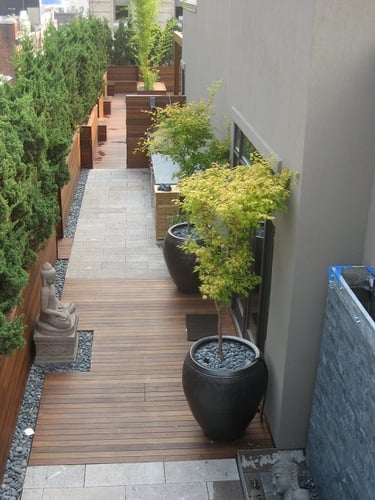 If your aesthetic includes meditation, yoga and herbal tea at dawn, this rooftop deck design is totally your vibe. A mix of wood and stone accents, built in planters for greenery and privacy. This rooftop also illustrates beautifully how a long, narrow, unused space can become a serene oasis on its own or an add-on walkway to your rooftop design.
Choosing a real wood is soft and comfortable under bare feet and requires just an oil finish. Go lighter wood with Garapa hardwood known for its exotic figuring in blonde wood. Or go darker with the medium to dark browns of Ipe or Cumaru, both with their own grain patterns.
In this photo: Natural hardwood walkway, planters and walls.

RELATED: View the Garapa natural hardwood deck picture gallery here.

RELATED: View the Cumaru natural hardwood deck picture gallery here.
Intrigued? Want to know more? Check out your wood Rooftop Deck materials options or download the Rooftop Deck Design Portfolio.
Comments
Related Posts