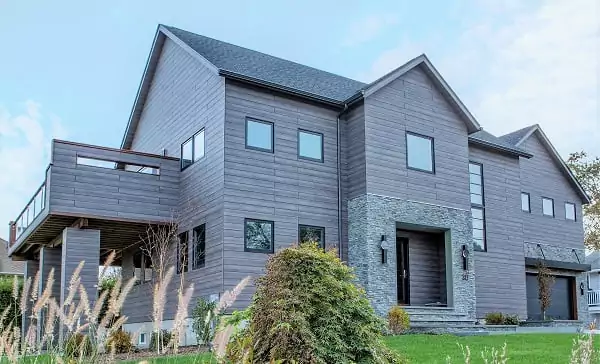 5 Reasons Pura NFC Siding Was Chosen For Home Exterior
Written by
Liza Sivek
on
The architect and homeowners knew it was a crucial decision: choosing quality materials for siding this custom-built home in Narragansett. Their choice of siding material had to meet the architect's design specifications. The homeowners wanted the charm of the weathered gray so very iconic for Rhode Island, without the high maintenance of a natural cedar. And a high lifetime return on investment. That's a big ask from one siding material. Enter Pura NFC Siding by Trespa, the hero of our story.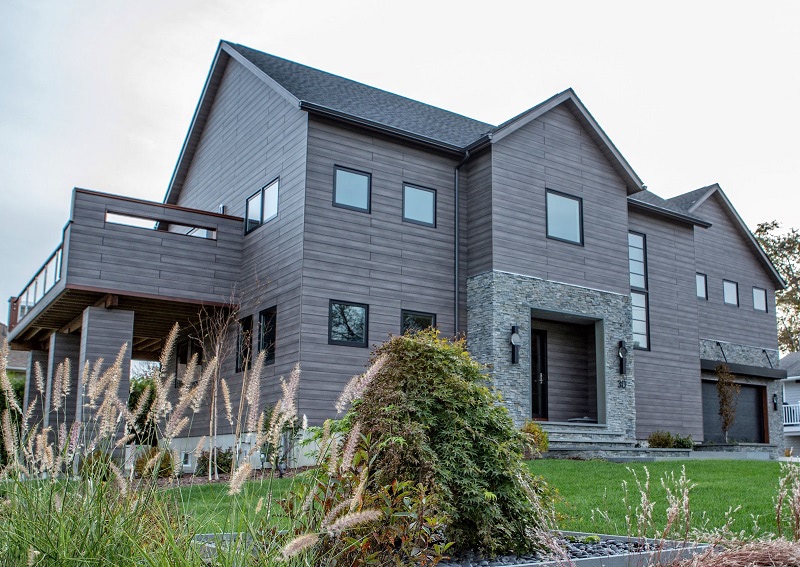 The new construction home was custom designed with views of the Narragansett shoreline.
Bringing the Home Exterior Design to Life
The architect on this project incorporated both historical shapes and contemporary materials into the exterior design. The siding chosen had to perform well in this plan. Everyone involved was pleased with Pura NFC Siding because they were looking for a finished look with clean lines and consistent overall appearance. In the final result, Pura NFC siding satisfied all the design criteria extremely well. How does Pura siding do that better than other cladding product options? Let's break down the top five reasons.
---
For more Pura NFC inspiration, download our FREE
"Trespa Pura Residential Projects Portfolio" now.
---
1. Pura NFC Siding Color Stays Like New For Years
The homeowners had lots of siding options to choose from. Close to the top of their wish list was a siding product that would not fade over time in strong UV rays and keep it's just-installed good looks over an extended period. Pura NFC® by Trespa checks those boxes.
What is Pura NFC®? It is an award winning HPL laminate siding product developed as a minimal maintenance siding solution for both residential and light commercial projects. Because of their unique process they look like real wood, but without the typical maintenance requirements of real wood.
There are eight beautiful Wood décor colors to choose from, from natural to deep brown to even a black finish. The homeowners wanted the siding to look like real wood but without the extra work of a natural, distressed cedar. Mystic Cedar decor fits the bill nicely for this project design.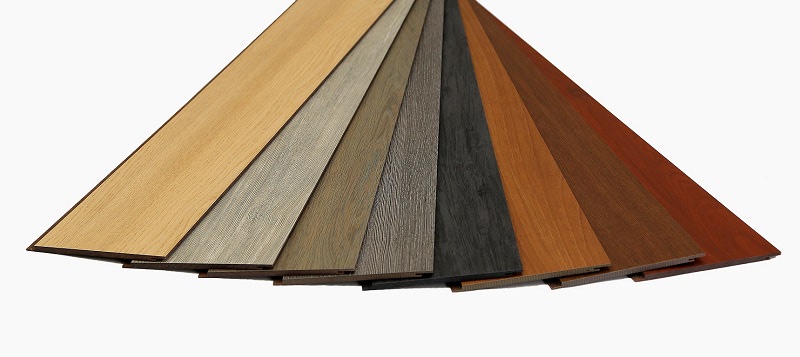 Pura NFC wood decor colors look more like real wood grain than other siding options.
---
RELATED: WHAT IS PURA NFC SIDING BY TRESPA?
---
RELATED: SEE IT FOR YOURSELF, REQUEST A FREE PURA NFC SIDING SAMPLE HERE
---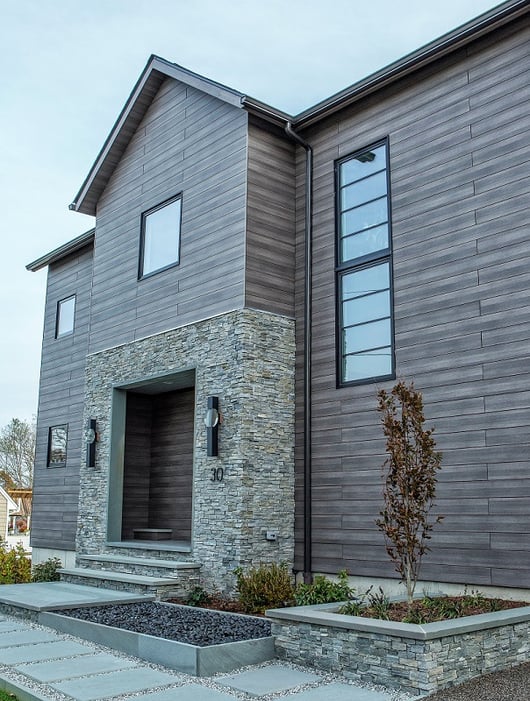 Pura NFC siding Mystic Cedar wood decor combines beautifully with the stone entryway and hardscaping.
One of the beautiful benefits of Pura siding is the realistic wood look color, graining, and pattern built into the HPL cladding planks. The realistic graining and color variations gives the siding a consistent and more natural wood look that won't fade or warp from UV exposure over time, like PVC and other plastic siding. Even up close the wood decor pattern is a much more attractive finish than most wood-look vinyl siding or fiber-cement siding.
The homeowner told us he was impressed by the fact that Pura NFC siding "has a very natural appearance." The homeowners also appreciated the "very clean appearance", and that it "is very compatible with other siding materials like the stone that we selected" for their entryway. The ability to combine Pura NFC® with multiple natural materials like stone, stucco, or even wood is a huge plus since it blends seamlessly with those design choices.
---
For a natural wood look with high durability, there is a clear winner.
| | |
| --- | --- |
| Vinyl siding 'wood grain' pattern | Pura NFC® in Mystic Cedar wood decor |
See more client projects in this FREE download, the
Trespa Pura Residential Projects Portfolio, click here.
---
2. Pura Siding Repairs are Unlikely
The homeowners loved that Pura NFC has a proven high abrasion- and impact-resistance. This strength and durability make it a top choice for home exterior design. Regular testing is performed by Trespa International to be sure their quality surpasses all other siding products on the market, as promised.
Beyond the low possibility of scratches and gouges, Pura NFC also has a high impact resistance. Rest assured, if your exterior is struck by an errant baseball, a tree limb in a storm, or any other fast flying object, it is extremely unlikely to dent or puncture. Pura siding can even withstand high winds without warping and bending. This strength keeps water and insects out from behind your siding, too.
If your siding does suffer from a fallen tree or other severe damage, there is still good news. Unlike other siding materials, Pura NFC siding can be replaced in individual planks as needed. There is no need to remove large, expensive areas of siding to replace a smaller, damaged area. Repairs are faster and at lower cost. And, since Pura NFC is so fade resistant, new planks will blend in with the original and not stick out like a mismatched sore thumb on your home.
---
How does Pura NFC ensure your siding won't scratch or break?
Watch the 2 minute Resistance to Scratching Test video from Trespa,
one of 10 quality tests performed.
---
RELATED: SEE ALL THE PURA NFC SIDING QUALITY TESTS
---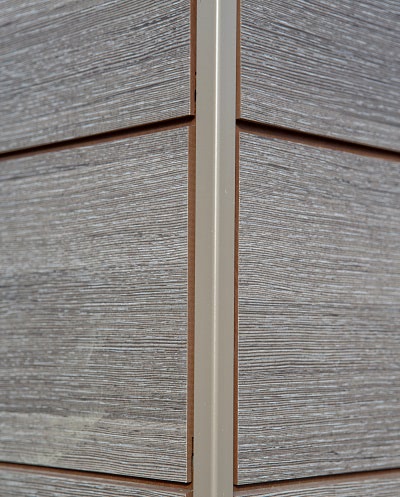 The consistent color and pattern of Pura NFC Siding and the rainscreen installation method was chosen to give the corners of the home the same clean lines and good looks as the rest of the exterior.
3. A Better and Faster Siding Installation for Pura
Sure, you could use traditional furring strips for Pura siding installation. The homeowners and architects chose the Climate-Shield Rainscreen System to install the cladding. The Climate-Shield system requires no furring strips for a healthier, sustainable design. This installation method creates a high-performance rainscreen that is pressure equalized and can protect the home against hurricane winds.
The Climate-Shield Rainscreen system uses a patented aluminum rail and clip that installs faster, more simply, and most important, more effectively. The installation can be completed in less time, and the owners can be in their home sooner.
The Climate-Shield system also allows installation horizontally or vertically, so the design options are endless!
---
RELATED: PURA NFC CLIMATE-SHIELD INSTALLATION
---
RELATED: PURA NFC CLIMATE-SHIELD RAINSCREEN DESIGN
---
See all the ways Pura NFC siding rainscreen system can elevate your designs.
Download the FREE Trespa Pura Residential Projects Portfolio now.

---

A side view of the home shows the balcony deck and supports wrapped with Pura NFC siding, combined with natural Ipe hardwood stairs and trim, and glass panels.
4. Major Healthy Home Benefits for Pura Siding with the Climate-Shield System
Using Pura NFC siding with the Climate Shield Rainscreen also gives this home a high-performance exterior and a healthier design for the entire home. A quality rainscreen system will "breathe." Climate-Shield is designed to allow moisture to escape out from behind the siding, not become trapped against the exterior walls. This feature combined with the aluminum rails and clips keep the home exterior drier faster, minimizing the potential for mold, rot, decay, insects, and degraded wood.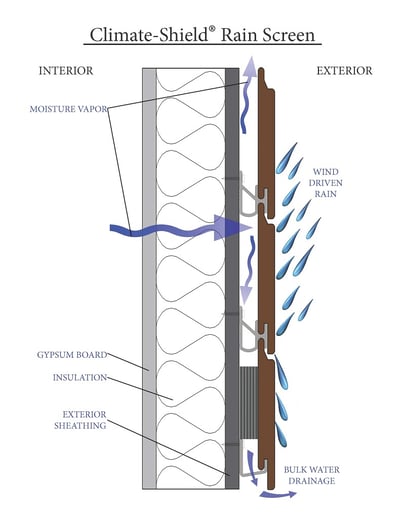 This diagram shows how driving rain and water are allowed to naturally escape from behind the exterior siding.
---
RELATED: PURA NFC® SIDING PHOTO GALLERY
---
Even more design ideas using Pura NFC® siding and rainscreen installation in this FREE download. Check out the Trespa Pura Residential Projects Portfolio now.
---
5. Pura is a Low Maintenance Siding Choice
The homeowners' list of siding needs had "low-maintenance" at the very top. Trespa Pura has the lowest maintenance of all the options the homeowners could choose from, by far.
Pura does not require painting, staining, or sealing, ever. It will not fade or "ugly out". It will not lift, bend, or warp in heat and wind. And it is worry free as far as daily wear and tear from branches, weather, and outdoor activities.
Is there any upkeep needed with Pura siding? Well, one thing it will have to be cleaned as needed to keep it looking its best. But before you have visions of high-pressure washers and expensive cleaning solutions, rest assured Pura siding should be cleaned with simple soap and water. That's it. And that certainly sold the owners on the Pura.
6. A Higher Lifetime Return on Investment
All of these reasons add up to one big sixth reason – a Pura NFC rainscreen siding exterior is going to have a higher lifecycle return on investment. Let's do the math:
Less time and labor at installation with a Climate-Shield Rainscreen System
Less regular and annual maintenance
No painting or staining needed
Simple cleaning
No water or insect damage to contain
Repairs are very unlikely, but more affordable when needed
A long lasting appearance that is the best looking in the neighborhood for years
Siding replacement won't be necessary for decades
It's true that Pura NFC® is a higher upfront cost than some siding material options, but not all. Add in the low maintenance, simple cleaning, simple repairs and installation, and a long lifetime without loss of color, finish or strength and you can see why the lifetime cost is low and the enjoyment is high.
---
RELATED: WHAT IS THE LIFE CYCLE COST OF EXTERIOR SIDING?
---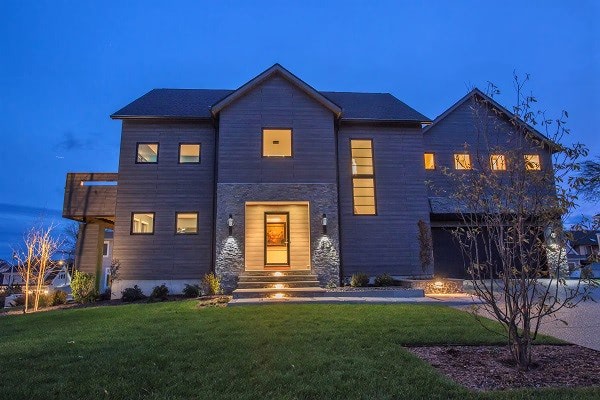 The nighttime curb appeal of Pura NFC® is just as stunning.
When asked if they are happy with the overall results as they move into their stunning new home, their answer tells you all you need to know: "We are very pleased with the Pura NFC® siding because it gives us the maintenance free material we were looking for and we think the appearance is outstanding. Many people walking by the house have commented on how much they like the siding and ask us what it is called."
We can't agree more! We may just see more Pura NFC® in that neighborhood in the future.
If there is a siding design project in your future, let us know how we can help. Our team of experts are ready to answer any questions you have. Contact us today.
---
Intrigued? Looking for more information? This FREE download of the
Trespa Pura Residential Projects Portfolio is a great next step.
---
Want to see the Pura NFC quality for yourself? Get your hands on a wood decor sample FREE.
Request one here and we will get it right out to you.
---
Ready to price your project? We can help. Request your FREE quote here.
Related Posts