It is absolutely true that all decks and decking materials have some susceptibility to mold and mold related issues. It is a different matter altogether as to how the different decking materials will look and perform over time as a result of mold . Learn more here.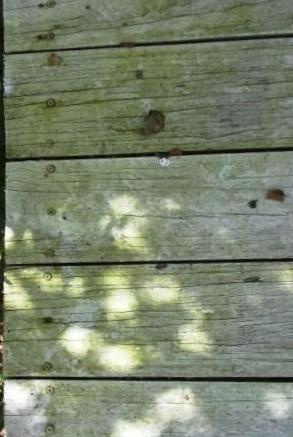 Mold is not just an appearance issue - if left untreated and unchecked, mold problems can lead to decay and potentially cause serious safety and structural issues with the entire deck structure. The correct way to resolve mold issues with different types of decking materials varies widely. No matter what type of decking material you have, the one common thread is that mold is unsightly, can damage your decking and deck structure and should be removed with a proper cleaning at least annually.
Softwood Decking Species and Mold Problems
Softwood decking species such as pineand cedar must be treated, stained or painted on a regular basis to keep mold from causing problems. Failure to remove mold from unprotected softwood decking is a surefire way of creating decay and rot issues. Rot and decay leads to major repair costs and potential decking failure of not corrected in a timely manner. Even if your softwood deck doesn't need a new coat of stain or paint every year, it is very advisable to wash it every year and remove any mold to prevent decay. If your deck is in a dark, moist, shady area or under trees, you may want to wash it more frequently.
Many of the mold and mildew removing deck cleaners are effective with softwood decking such as cedar decking and pine. Because it is a softwood, you have to be very careful not to damage your decking if you want to use a pressure washer on cedar decking.
Composite Decking Materials and Mold Problems
The latest news in the continuing list of class action lawsuits being brought against synthetic composite decking manufactures involves Fiberon composite decking. According to legal action being reported by Deck Magazine, apparently the composite decking boards have "incurable dark spots". Fiberon is not alone; a quick internet image search of 'composite decking mold problems' reveals that this is common problem for synthetic deck boards from a multitude of synthetic decking manufacturers. Currently there is additional bad news for the composite decking industry regarding Trex decking and their latest multi-million dollar class action mold lawsuit.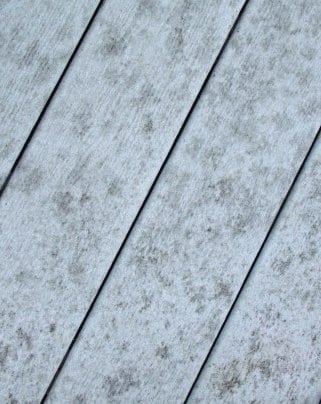 Composite decking is a man-made synthetic mixture of 'wood flour' and plastics which are highly susceptible to mold. The finely ground 'wood flour' become a veritable Petri dish for mold. Mold gets into the crevices of composite decking and clings to the fine wood particles and has a very difficult time getting out.
Many mold and mildew cleaners are not compatible with composite decking and may tend to' bleach out' the colors of the synthetic deck boards. Most composite decking manufacturers will tell you specifically not to use a pressure washer to clean their decking. Your options for mold and mildew removal become very limited for composite decking materials. If you have these problems, professional deck cleaners may be able to offer some help.
Hardwood Decking Materials and Mold Problems
High density hardwood decking species such as Ipe decking, Cumaru hardwood decking and Machiche decking are well known for their natural resistance to decay from mold. High density hardwoods will hold up particularly well for decades even in the worst conditions without painting or staining. But even hardwood decking won't look good for very long if mold and debris are left unclean. Annual cleaning of hardwood decking can add decades to the lifetime of the decking material, not to mention the fact that it will look beautiful again.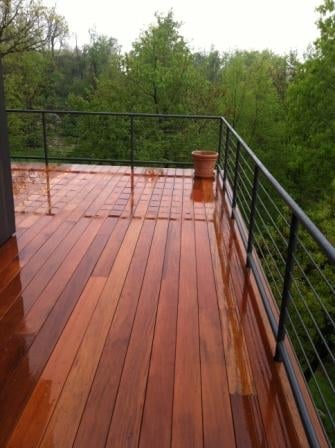 High density hardwood decking materials like Ipe, Cumaru and Garapa decking can be cleaned effectively with a wide variety of environmentally friendly cleaners.
Pressure washing hardwood decking is another effective mold removal strategy, but it is a harsh method. Although hardwood decking is a lot more forgiving than softwood decking, deck cleaning professionals will advise you to keep your pressure washer at less than 1200 PSI to minimize any potential damage form the pressure.
Sanding is another aggressive method for cleaning and mold removal. But it too, is invasive and harsh to the wood.
The very best way to clean and remove mold from hardwood decking is using a product that is designed specifically for this purpose. There are many products, but the best product we have personally tested is Penofin Pro-Tech Wood Cleaner. It is not invasive to the wood and is designed to clean and remove mold. And Penofin has a a great video to show you how to do the job right.
Clean, mold-free decks are a fantastic place to peacefully enjoy your home - a clean deck is a happy deck. No matter what type of decking material you have, you can save yourself lots of heartache and add years of enjoyment by keeping your deck clean and mold-free. Your deck will thank you by looking better and performing better and potentially adding many years of extended lifetime to your whole deck structure.