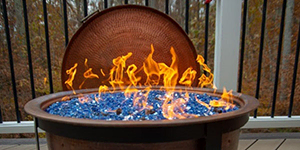 Deck Designs with Fire Pits So Cool They're Hot
Written by
Liza Sivek
on
A huge benefit of adding a wood deck to your home is adding extra outdoor living space. No matter where you live, time spent on your deck is quality time. But, depending on your location, your time spent outdoors might be limited by the temperatures.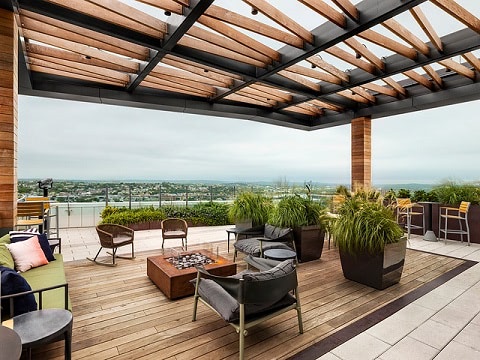 Ipe wood decking and pergola with a gas fire pit table creates a cozy conversation area with a modern edge. Incorporating a propane fire pit, or electric or gas outdoor fireplace into your deck design can extend your enjoyment into chilly evenings and cooler months. It also looks and feels inviting.
If you're investing your time and money into creating an area fireside, you will want decking that lasts and is easy to care for.
We included our top pro tips on the best wood decking for all weather and low maintenance. Plus, important information to consider when planning your deck.
Let's get inspired!
Wood Deck Designs with Fire Pits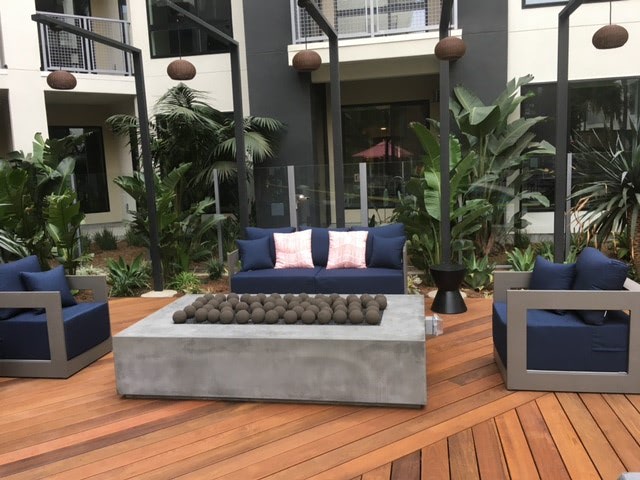 A rooftop deck with cement fire table and Ipe hardwood decking makes a contemporary statement in a small space. Ipe is one of the best options for a rooftop deck because of its unmatched strength and durability, including for heavy items like cement gas fire pit tables!
Propane fire pits and fire pit tables are popular and come in a large range of prices and styles. There is no limit to what you can design.
Fire pit tables can give you deck furniture options, too. Some have covers, some have a large border around the fire pit. Coffee table, end table, or put your feet up by the fire?
---
---
Looking for more wood decking design ideas? We have photo galleries for all the premium hardwood decking materials to help get you started.
How do you decide what the best wood decking material for your project will be? We can help with that. Download your FREE Ultimate Guide to Selecting the Right Decking here.
---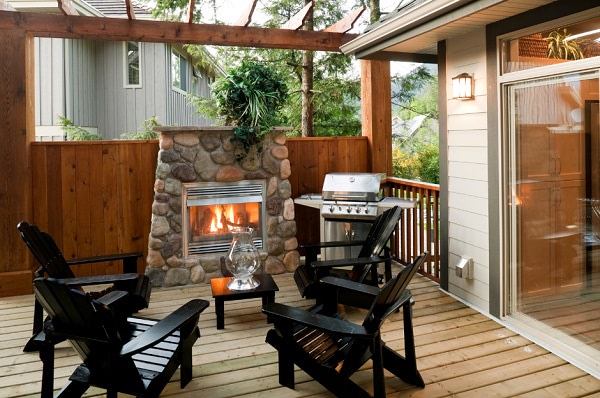 When considering a porch or deck with a fireplace, how much maintenance do you want to do? Above is a pressure treated pine floor deck, which is a softwood. Softwoods are more susceptible to rot and decay from storms and weather, and will show foot traffic sooner than denser hardwoods. If allowed to weather to gray, additional maintenance is needed to keep it performing longer.
RELATED: How Wood Decking Weathers
To save yourself regular labor and replacements, consider using a premium hardwood like Garapa. The most affordable of the hardwood species, Garapa has natural golden blonde tones, interesting graining, comparable strengths and outperforms softwood decking by a (metaphoric) mile.
RELATED: Compare Garapa Decking vs. Other Wood Decking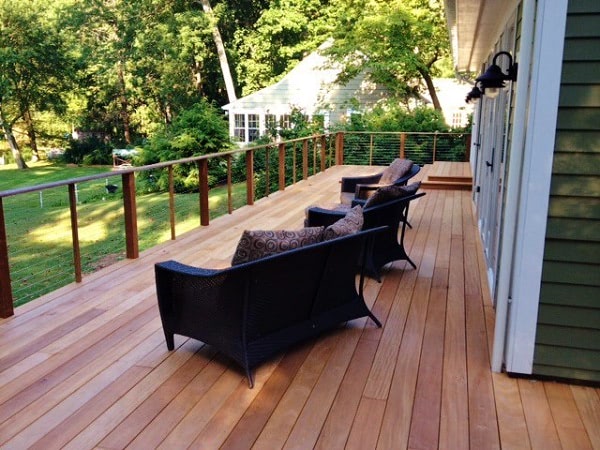 A Garapa deck will show off the beauty and of its natural colors with only a UV protectant oil finish. No painting or staining required.
Do you want the lowest maintenance decking possible? Softwood decking like cedar, redwood and pressure treated pine are beautiful, but require staining, painting, frequent sanding and refinishing. Especially if it is getting a lot of foot traffic and use. Softwoods are soft, and some of their charm is the dents and scratches it gets over time, if you want the rustic look. The downside is that big scratches, gouges, and wear show up fast and often. Softwoods are also much less resistant to insect and water damage, meaning more work to keep rot and decay at bay.
Hardwoods have the highest natural resistance to these environmental threats and wear and tear. This is because of the high fiber density. Check out the 5 Tips For Choosing The Best, Low Maintenance Wood Decking to learn more about your options.
Wood Deck Design with Outdoor Fireplaces
Gas and electric outdoor fireplaces can give your deck the welcoming feel of a real room all year 'round. Whether freestanding or built in, an outdoor fireplace can give you ambience, warmth, and efficiency.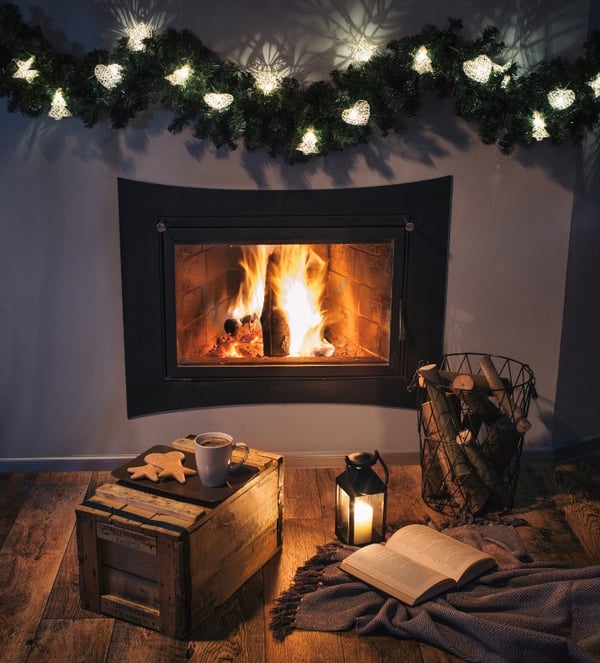 An outdoor fireplace can suit the style of your home, too. Modern, rustic, farmhouse, luxury, you name it you can find it. Your wood deck can also be designed to blend seamlessly with your exterior style.
RELATED: Enjoy Your Rooftop Deck Year 'Round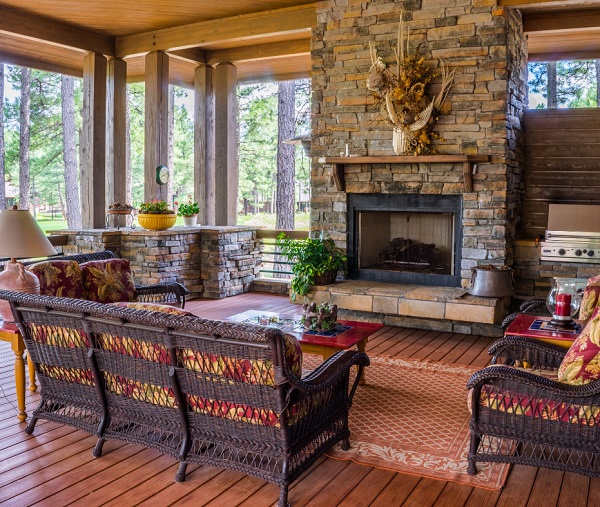 Choosing a hardwood like the deep brown and cherry tones of Jatoba (also known as Brazilian Cherry), chocolate brown tones of FSC Machiche, or the coveted reddish to deep brown of Ipe decking will all give you an indoor flooring feel in an outdoor room. This is an easy way to design an outdoor living space that flows seamlessly from your home interior. Talk about a custom designer look!
RELATED: Building an Outdoor Kitchen: Is Machiche Wood Decking for You?
Wood Deck Design Pro Tips for Heavy Items (like fireplaces and fire pits!)
Now that you have some awesome ideas in mind, remember that your deck has to be strong enough to hold your fire pit or fireplace. A strong deck foundation comes first. Here's a few important things to consider and to ask your contractor.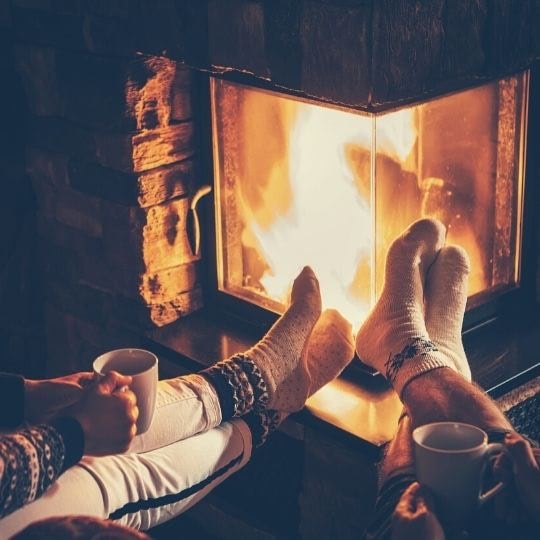 Heavy load items like fireplaces, hot tubs, built in furniture, and planters require planning ahead in your design. Hardwood, compared to softwood, has a much higher bending strength so makes an excellent choice for wood decking under heavy items or structures. Learn more here: Ipe hardwood Decking Compared to Redwood Decking.
RELATED: Compare Decking Materials
Are you designing a rooftop deck? A rooftop patio over a flat roof, like a garage or a rooftop deck on the top of your building have special considerations for load bearing. You MUST first determine if your existing roof structure can support the additional weight and load of a rooftop deck with a heavy item like a fireplace or gas fire table. Engineers and architects can be very helpful here. Get more information on rooftop deck weight bearing here: Rooftop Deck Design Load Problems and Solutions
---
---
Related Posts