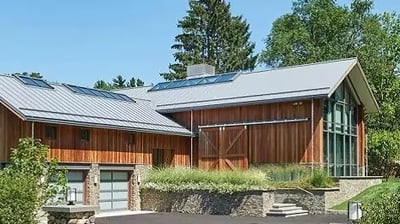 How To Build Green with Rainscreen Siding
Written by
Liza Sivek
on
Are you designing an exterior siding project? Do you want sustainable options that save you money? If you are not familiar with rainscreen siding, this article is for you. The better the rainscreen siding system, the greener your project. Not just now but for the lifetime of your siding.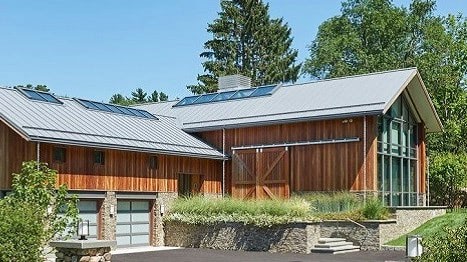 Ipe hardwood and Climate-Shield rainscreen siding can be installed horizontally or vertically.
What is Rainscreen Siding?
Unlike traditional siding, a rainscreen siding system is made to allow water and moisture in and out of the siding, to allow it to escape. A rainscreen system is just that, all the parts working together from the installation method to the siding boards. The three main parts of an exterior rainscreen are simple:
Build an exterior wall, weatherproof it. This is called the building envelope.
Add an outer layer with your siding material to keep the weather out.
The space of air between these two layers is the air cavity, or rainscreen gap.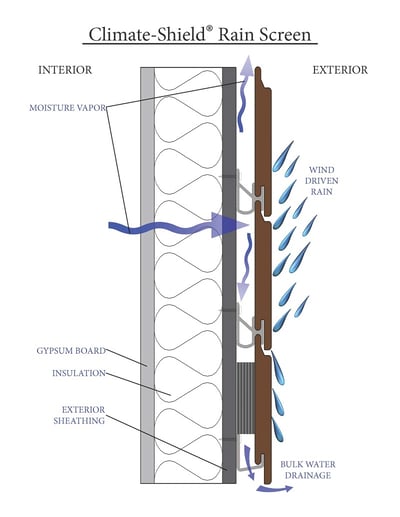 The rainscreen gap should be a direct route for moisture to evaporate up (humid air) or run out
(rainwater) from behind your siding. The better designed the rainscreen system, the better it will allow humid air and rainwater to escape.

There are two basic kinds of wood rainscreen systems, Closed Joint and Open Joint. Open joint allows for better
airflow and is more energy efficient.
Closed Joint Example: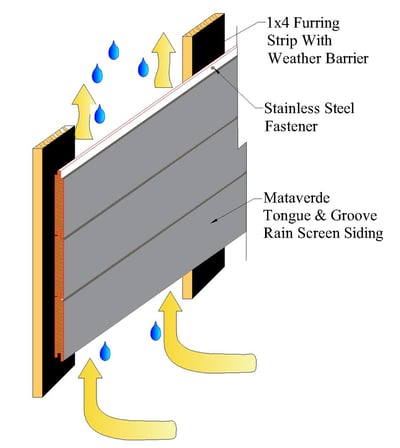 Closed joint systems utilize wood furring strips and tongue and groove siding. This is a great traditional method but lacks many of the advantages of an open joint rainscreen.
---
Download more details and information on how to build green with wood rainscreen here, free.
---
How Is Rainscreen Siding Green?
An open joint rainscreen is more sustainable, and healthier than a closed joint rainscreen design. The leading open joint wood rainscreen installation method in North America is the Climate-Shield® Rainscreen Siding System. This patented system is made with stainless steel and designed to be a better, more economical, more sustainable exterior option.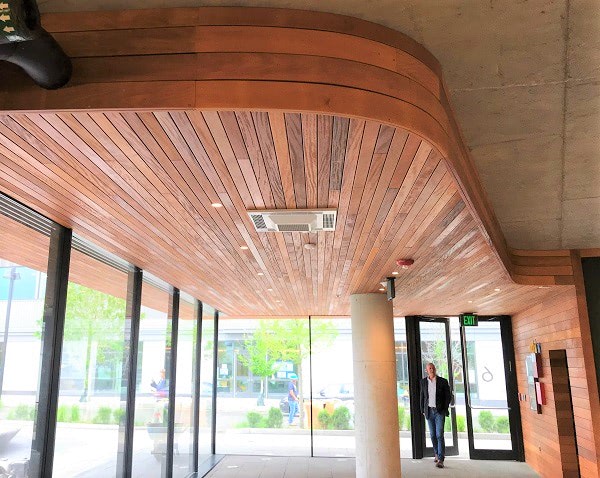 FSC Garapa wood and Climate-Shield Rainscreen can be installed on soffits and architectural accents much more easily than with a complicated grid of wood furring strips.
Sustainable home design (or green building) calls for systems that:

Create less waste by lasting longer. The Climate-Shield system eliminates all the wood furring strips
normally needed to fasten the siding to the wall.

Is more energy efficient. The Climate-Shield rainscreen clips create an unobstructed rainscreen gap. This
results in a passive insulation layer on your exterior that helps regulate the temperature in the interior
of your home. The Rainscreen Clip automatically creates the perfect open joint rainscreen space
between boards for more ventilation.

Creates a more breathable interior for your family. Eliminating the grid of wood furring strips also eliminates pockets where mold and decay can develop and invade your interior.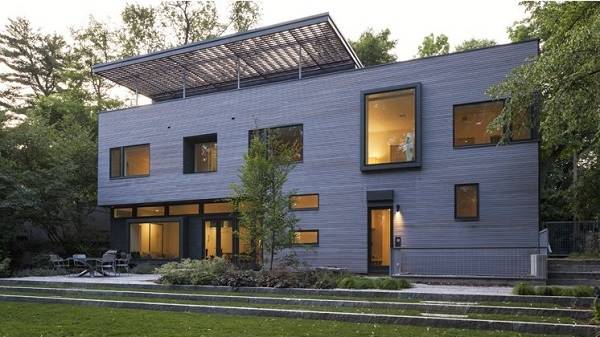 Wood rainscreen siding using Climate-Shield makes an impressive, and sustainable, exterior.

Reduces materials used in installation. By eliminating furring strips, all that wood material is replaced with the stainless steel starter rail and rainscreen clips.

Reduces the need for repairs and maintenance. Less repairs means less additional material over the lifetime of your siding. Choosing stainless steel over a wood furring strip installation system
prevents decay behind the siding. Which also reduces the potential for damage to the siding boards
from these same threats.
Another big part of using Climate-Shield Rainscreen to build green is how it works.
Why Does Moisture Need an Escape Route?

Can't it just run out the bottom of the siding or evaporate out the top? It can if the siding installation
system is designed to allow it.
Water will naturally seek the path of least resistance based on gravity or evaporation. Water can't turn around or change course so when it hits a dead end it is stuck there. It is extremely important to avoid creating obstacles in that path.
When furring strips are used, they are placed behind the siding. That create corners and barriers
where humid air or bulk water will just sit. What happens when water sits against wood for too long?
Yes, it creates ideal conditions for wood rot, black mold, and other decay. Which can hide behind your
siding, undetected, until it's too late.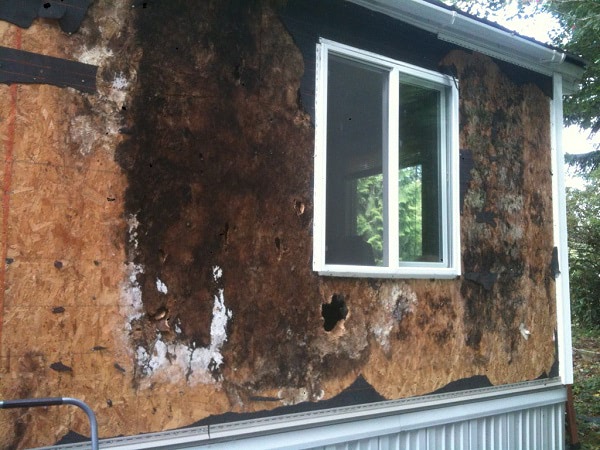 During this renovation, widespread black mold and rot was found hiding behind the vinyl siding.
RELATED: Exterior Siding To Minimize House Mold Inside and Out

Even so, the furring strip installation method is often chosen for a lower upfront materials cost than a rainscreen system. The long-term cost is far less economical.
At install, your siding boards will need to be cut to fit the furring strips placed 16" apart across your exterior wall, which creates more material waste than a rainscreen clip. Over the lifecycle of your siding, repairs and replacement require yet more material and gives you lower return on investment.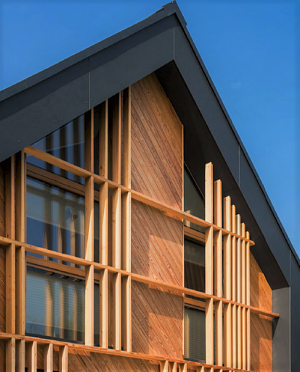 Climate-Shield also expands your design options, making it easier to add vertical or diagonal siding to your design
When the Climate-Shield starter rail and rainscreen clips are used, there is no grid. The Climate-Shield starter rail fastens at the bottom of the wall. The Rainscreen Clips fasten to the top of each siding board
and the bottom of the next, and so on. Simple, secure, fast, and efficient.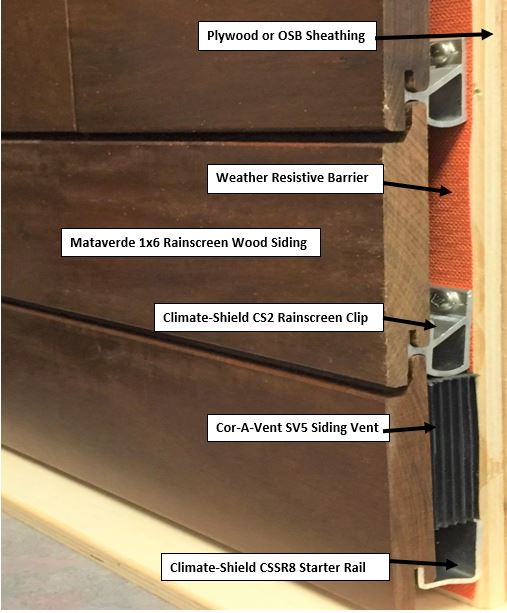 (Keep in mind that your siding material will be milled or cut specifically to fit the rainscreen components.
That is part of how an open joint rainscreen works as a system.)
The open joint rainscreen allows water to flow in and out. The clear path around Climate Shield
rainscreen clips lets water flow down and around and out, both between the boards and at the bottom of the
wall. Conversely, humid air can rise and evaporate up and out without hitting any dead ends.
---
The "Ultimate Guide to Building Green With Rainscreen"
is a free resource for more information that can be shared with your builder.
---
What Are My Sustainable Siding Options?
To top off your open joint rainscreen system you will want an equally green, decay and damage
resistant siding. We put together a few suggestions for you to consider, along with more information on
each.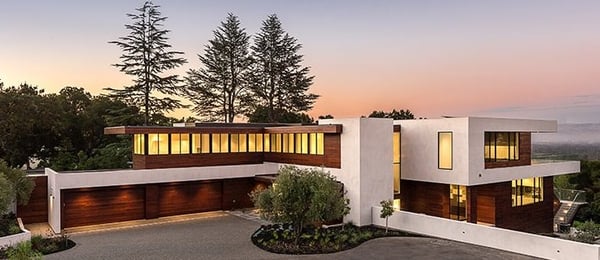 This architect and homeowner chose FSC Machiche rainscreen siding for the fabulous cliffside home.

FSC Machiche Hardwood Siding. Mataverde Machiche lumber is Forest Stewardship Council certified as
sustainably harvested. Like all exotic hardwoods, Machiche has incredibly high fiber density giving it a natural, incredibly high resistance to insect damage, rot, mold and other decay.

RELATED: Buy Machiche Wood and Help Save The Forest

Other premium hardwood siding options are Ipe, Cumaru, Garapa, and Jatoba. All Mataverde exotic hardwoods are grown and harvested with the safety and health of the environment in mind. There is a variety of color ranges and grain patterns to choose from.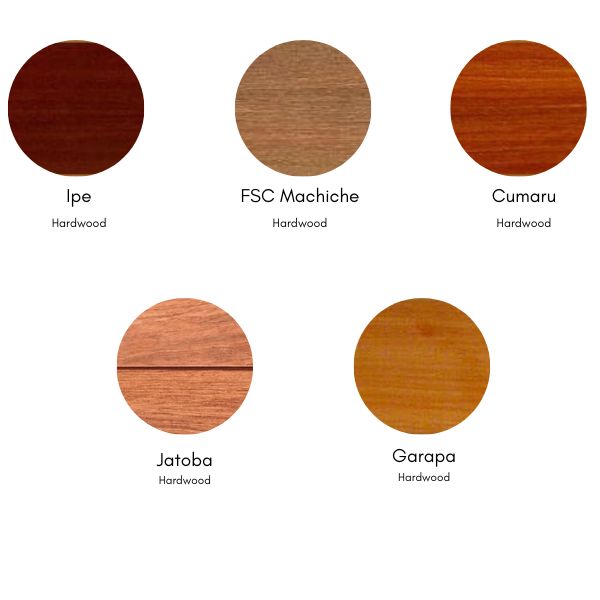 RELATED: Hardwood Rainscreen Siding Ideas Photo Gallery

Hardwoods have very low maintenance and repair needs combined with extremely high longevity. They do not require staining or painting. They clean easily. A UV protectant oil finish like Penofin Hardwood Formula Penetrating Oil Finish is all you need to keep the color looking bright and like new.
Premium hardwoods will have a very high lifecycle return on investment since they need so little care and last for so long.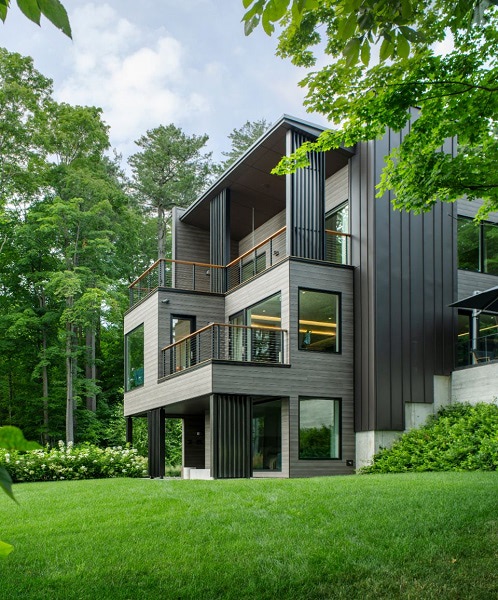 Modern residence in Vermont with Pura NFC siding in Aged Ash wood décor
Not looking for real wood siding but want the warmth and curb appeal of wood? Consider HPL (high
pressure laminate) siding material like Pura NFC ® by Trespa. Designed with several realistic wood decors
and a consistent pattern, Pura NFC is colorfast, strong, very low maintenance, and has a high
lifecycle return on investment.
Mataverde and Climate-Shield designed the CST1 Rainscreen System specifically for installing Pura NFC sidings faster and securely. The CST1 system is patented and exclusive to Mataverde.
RELATED: Pura NFC Rainscreen Siding Ideas Residential Photo Gallery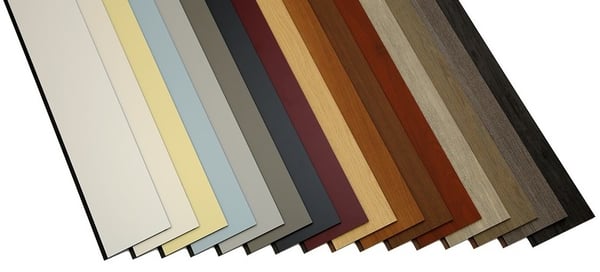 If this article helped answer your questions, let us know. Have more questions or wondering about pricing? Contact us to get all the information you are looking for, we are here to help.
Comments
Related Posts