With land prices so valuable in Arlington, Virginia, it is often cheaper to tear down an existing home and rebuild a new home on the same lot. That's exactly what Matthew Gold Design Build LLC did here. The new home is larger, more energy efficient and has high performance cladding including an Ipe hardwood rainscreen system.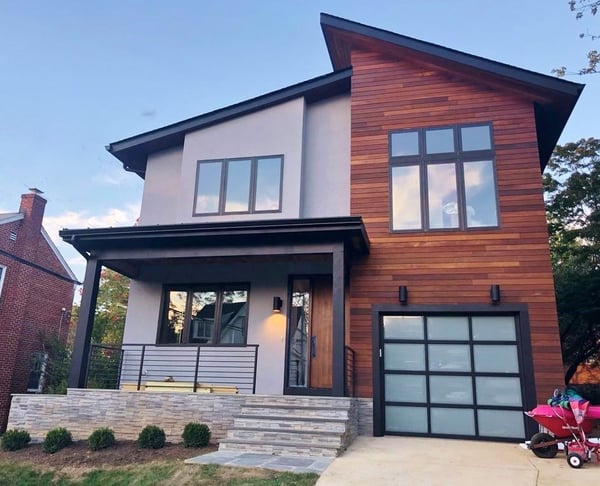 Natural Ipe hardwood siding complements the black trim and EIFS
For initial labor cost and long-term energy savings, they installed EIFS (Exterior insulation finishing system) on much of the exterior. The benefits of EIFS include low cost and high-performance insulation. Today's EIFS does not have the same water leakage problems that were common with older systems. The downside of EIFS cladding is its looks. EIFS is typically a neutral color with minimal curb appeal. That's where natural wood adds beauty and appeal.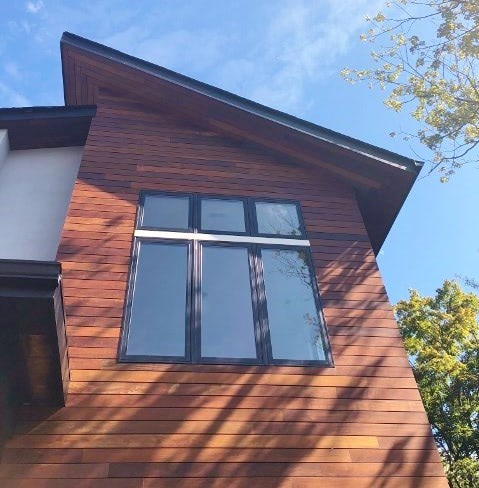 Closeup of Ipe hardwood rainscreen on front facade
Ipe hardwood cladding is the star of this exterior. The warm look of real wood adds instant glamour and curb appeal to this new home. The owner and designer wanted to blend the darker, richer look of the Ipe hardwood siding with the lighter neutral tones of the EFIS. The natural organic look and feel if the real wood siding balances out the cooler, inorganic look of the EIFS. From an aesthetic design viewpoint this is a great use of mixed palette façade to create interest.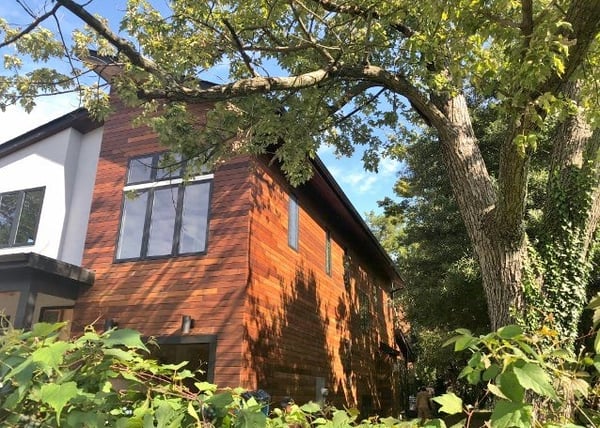 From a performance standpoint, this Ipe rain screen is no slouch, either. The design team selected the Climate-Shield rain screen system for its reputation for high performance, as well as its great looks. Climate-Shield is a top performer in terms of resistance to wind and weather and has built-in passive insulation qualities by design. The rain screen cavity takes advantage of natural convective air currents to keep down cooling costs in this warm climate.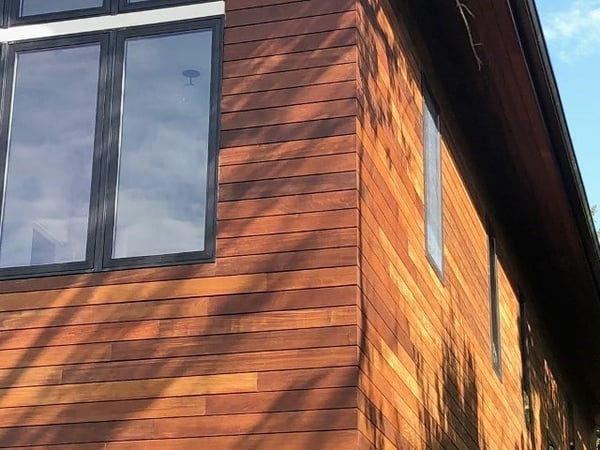 Closeup of Ipe rain screen hardwood outside corners making seamless transition on adjacent facades
The Climate- Shield horizontal outside corners were the perfect solution for the design build team. They could see the seamless beauty of the corners immediately. They recognized the strength of the joint at the corner and trust its performance. They loved the linear look it creates at the corners and how it helps each façade to "flow' without interruption. The upfront cost of these pre-fabricated corners was higher than the owner was comfortable with initially. When they factored in the labor savings of the installation and long term performance benefits of the rain screen corners, the decision was clear.
We hope you enjoyed this article. Please visit MataverdeDecking.com for additional information about rain screen design details, rain screen installation, rain screen corner options, wood siding options, browse rain screen galleries...and lots more.