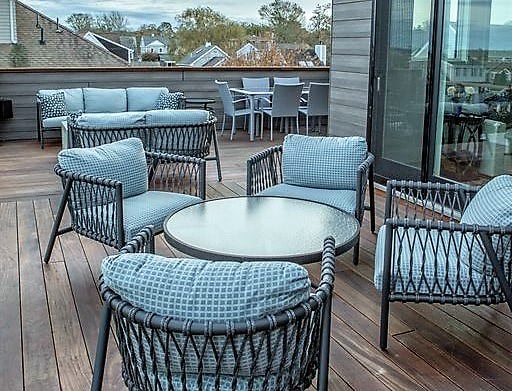 Ipe Wood Deck Chosen for Strength and Beauty at Rhode Island Home
Written by
Liza Sivek
on
Ipe wood was the perfect choice for this custom built second floor wraparound deck with an ocean view. Ipe is the best of all worlds in decking material. Strong, durable hardwood that is also naturally beautiful, low-care, and long lasting. Here is why it is the smart choice for your project, too.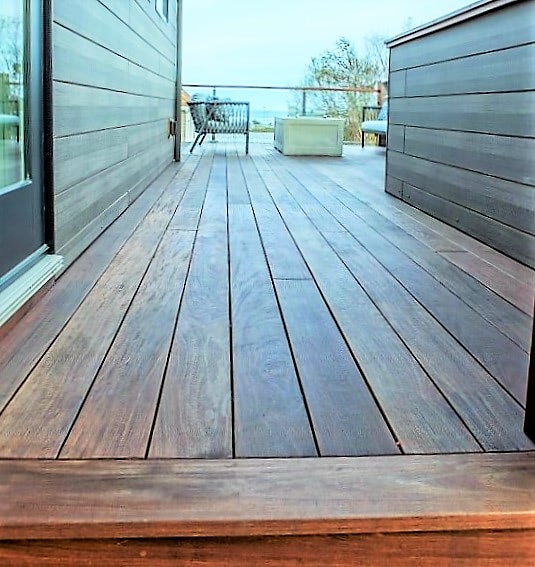 The exotic graining, figuring and varied colors of each board make an Ipe deck a showpiece, naturally.
Why Choose Ipe Wood Decking?
When adding a deck on your home, you probably want it to add curb appeal and not lose its looks too quickly. Enter Ipe Wood Decking from Mataverde. Ipe is the highest rated hardwood that all other exterior woods are compared to. Ipe decking is also beautiful, displaying a full spectrum of colors ranging from tans to olive browns, to reddish to dark browns, with stunning graining and figuring unique to each deck board. Ipe is truly a work of art on your deck.
---
Get inspired! See 150+ deck design idea photos in this free 61 page eBook.
---
For this Rhode Island home, a wraparound Ipe deck complements the modern facade and beach vibe for all these reasons. Just a step outside the second floor is seating and a cozy fire table for relaxing sunset cocktail hours or spending time with friends. Ipe wood was chosen for the exterior stairs, too. The stairs connect the deck down one level to the private (Ipe framed) Bocce court and, of course, the beach.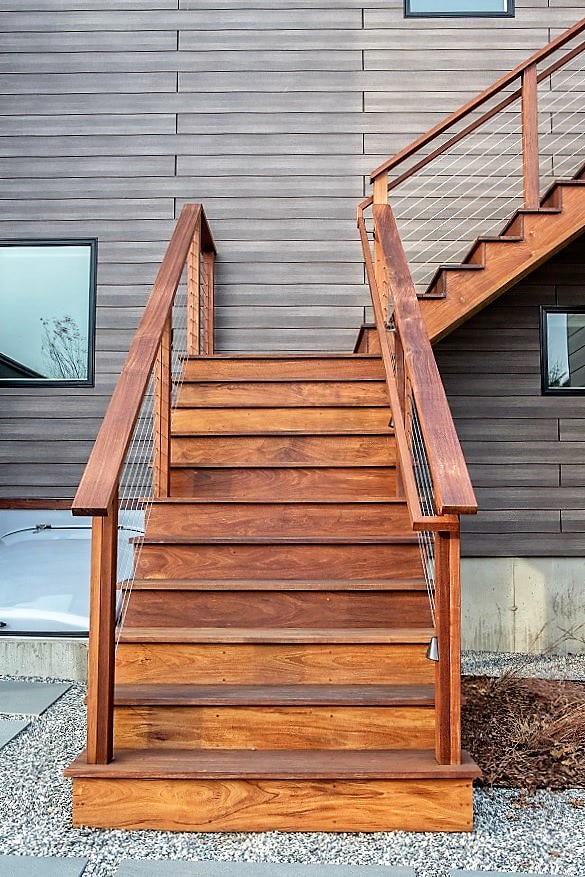 The Ipe stairs and deck can be kept "like new" for contrast or allowed to weather naturally to a silver-gray patina to match the Pura NFC exterior siding.
What Is Ipe Wood?
Ipe is a tropical hardwood sustainably harvested from Brazil that will give you a real-wood, all-natural, inherently beautiful deck. Ipe hardwood decking outperforms every known decking material on the planet and stays beautiful for decades. Really, decades!
RELATED: Ipe Wood Decking Photo Gallery
Ipe is the strongest and highest density tropical hardwood you can choose. Ipe has a naturally high resistance to fungi, decay, and termites, so requires no chemical treatment. It's inherent durability is so high it has historically been used not only for outdoor living spaces but also railroad ties, boardwalks, docks, and other exterior projects.
---
Learn more about Ipe and other premium decking materials in our FREE
Ultimate Guide to Selecting The Right Decking. Download here now.
---
What Is The Cost of Ipe Decking?
When it comes to calculating the cost of an Ipe Wood Deck, the upfront investment may be higher compared to other wood decking. However, the lifetime use cost is much lower than lower-priced decking materials because of its strength and its low-maintenance requirements. With proper care it is not uncommon for Ipe decking material to last 40-50 years, or longer. The natural high density means it won't absorb water that can cause rot, insects can't damage it, and it resists scratching and gouging better than any other decking material on the market.
RELATED: Decking Price Comparison
Even heavy foot traffic areas - like the stairs and entrance to this home - will leave minimal wear and tear on Ipe decking. Ipe will last for decades without needing replacement due to daily use and weather exposure. Compare this lifetime cost of maintenance, repair, and replacement of red cedar or pine decking over the lifetime of a deck and you can see that the return on investment with Ipe is excellent.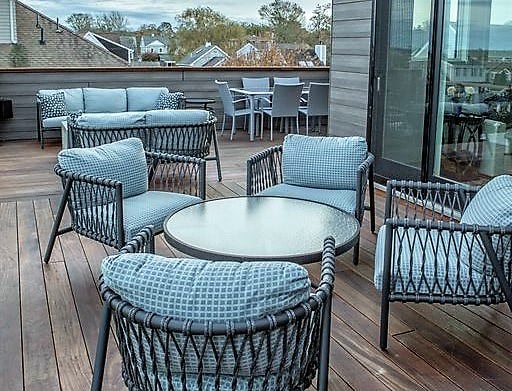 Spectacular ocean views and comfortable seating await you on this second floor Ipe deck with Ipe wood trim on the railings.
How Do You Clean An Ipe Wood Deck?
Keeping your deck clean extends the life of the decking and keeps it beautiful at the same time. We mentioned that proper care of Ipe is needed, but what does that mean for the homeowner?
RELATED: CLEANING AND MAINTAINING YOUR HARDWOOD DECK
Ipe hardwood decking is very low maintenance. Always remove debris and dirt off your deck with regular cleaning, as needed. You may choose to apply an as needed coat of UV protectant oil finish to maintain the "like new" look of the Ipe wood. Or you may choose to let it "silver out" to a beautiful gray patina by skipping the oil finish.
How Do You Protect Ipe Wood Decks from UV Rays?
If you want to keep the original coloration and new appearance of your Ipe deck, a coat of rosewood oil finish such as Penofin Hardwood Formula Oil Finish with a UV protectant, or a similar product, is highly recommended. A UV protectant oil finish is necessary to keep your deck from the natural "graying out" of a weathered deck. Since Ipe is so dense, it will not absorb stains and finishes easily. Penofin Hardwood Formula is specifically designed for high-density wood decking.
---
Ready for more information on finding the right decking for your project?
Download our FREE Ultimate Guide To Selecting The Right Decking now.
---
If you choose to let your Ipe deck naturally attain that popular silver-gray patina, you can simply skip the UV protectant oil finish after your deck is installed. Your Ipe deck will weather over time without losing any of its beautiful graining patterns or inherent durability, and it will require even less maintenance.
RELATED: HOW WOOD WEATHERS GUIDE
All together, we think you will agree there is a solid argument for choosing Ipe wood decking over other, more common decking materials. You can relax on your new deck for years to come knowing you made the smart choice with Ipe.
Ready to take the first step? Contact a specialist with questions. We're here to help you succeed.
---
Ready for more information on Premium Hardwood and other decking materials choices?
Download your FREE Ultimate Guide To Selecting The Right Decking now.
---
Want to see Mataverde Premium Ipe wood for yourself? Request a sample here.
---
Is Premium Ipe right for your next project? We can help with pricing.
Related Posts