Kirkland, WA – Just outside of Seattle, Kirkland Urban is a new mixed-use office, retail, entertainment, and residential center located Kirkland's central business district. This redevelopment project provides shopping, dining, and entertainment options in publicly accessible open spaces. The rooftop deck in the outdoor amphitheater is cozy and inviting.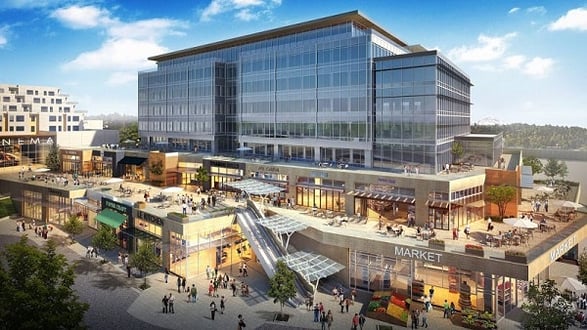 Rendering by CollinsWoerman showing scope of project design
CollinsWoerman, a Seattle based multi-disciplinary design firm, created the master plan for the retail and office spaces, and collaborated with other firms for many of the public areas, including the outdoor amphitheater. Encompassing 11.5 acres, this is the largest revitalization project in Kirkland's history. One of their sustainable design goals is to target LEED Gold status for this project.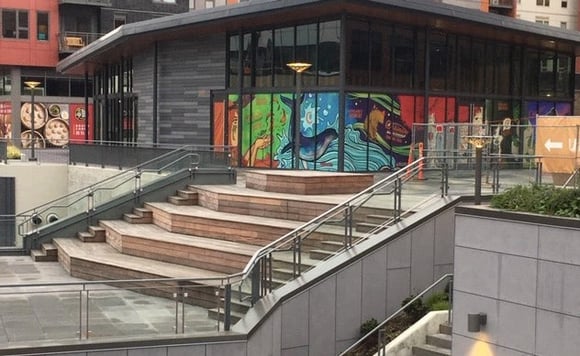 Rooftop deck and seating area at amphitheater
As site designer and landscape architect for this project, the talented team at Hewitt Seattle focused their skills on the master planning for the landscaped areas. Their multi-disciplinary firm includes architects, landscape architects, and urban designers, working together as an integrated team.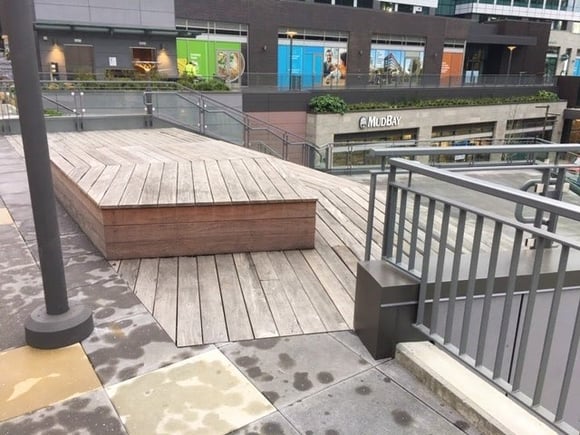 Cozy hardwood rooftop deck and siding area above amphitheater
Hewitt's goal was to 'create an appealing office environment for two large technology firms and an urban destination for retail shops and restaurants, expanded theater and other entertainment options connected by a variety of publicly accessible open spaces'. We think they achieved their goal.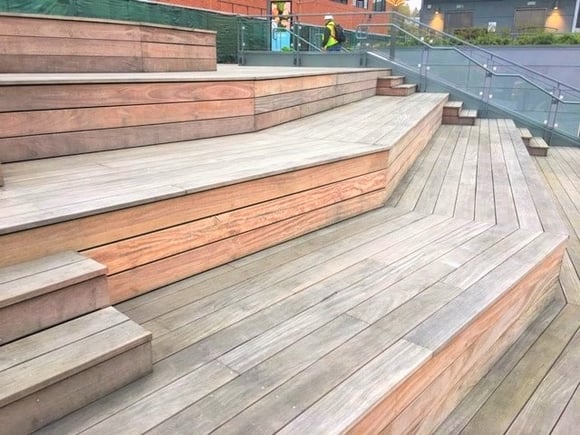 Closeup view of rooftop seating and steps at amphitheater
Much of the landscaping, including the plantings and rooftop deck area were skillfully performed by the team at Teufel, Inc. This firm is nationally recognized for their environmentally friendly approach and sustainable landscape expertise.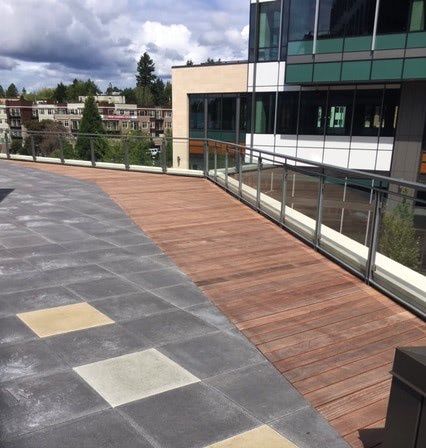 Hardwood decking and pavers integrated with Eurotec rooftop deck components
The Eurotec rooftop deck system was selected as a substructure for framing to support much of the real wood decking. Eurotec adjustable pedestals and the aluminum system profile (joists) help create a sturdy frame for this public area. Sustainable Ipe wood was chosen for it's natural strength, durability and beauty.
Learn more about hardwood decking options
Learn more about the Eurotec Rooftop deck System
Looking for some rooftop deck design inspiration?