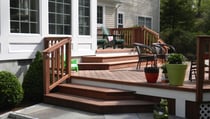 An old carpenter once told me:
"It doesn't have to be perfect; it just has to work right and look right."
While that's not always true in life, in the case of decking it is. If you have minor underlying problems that affect measurements or squaring, a little planning and some "fudgery" (from the Latin: fudgicus maximus) will make them disappear. A beautiful Mataverde hardwood deck can increase both the value and enjoyment of your home. With some preparation and attention to detail, anyone can get the job done with professional looking results.
Read More