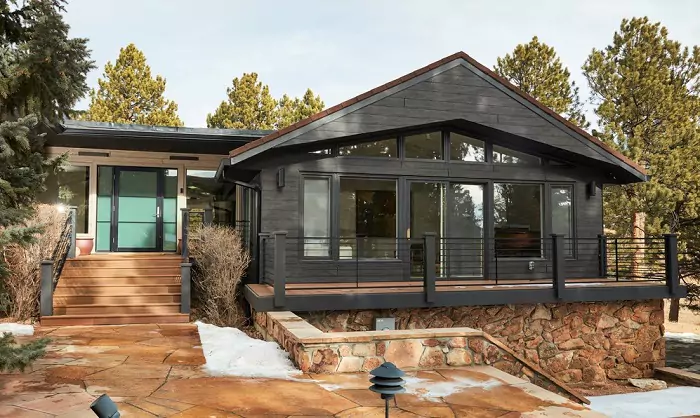 Trending Black House Siding Ideas and How to Recreate Them
Written by
Liza Sivek
on
Choosing the right black siding for your house is like finding the perfect little black dress: it's all about the fit. From sleek and simple to bold and eye-catching, with the right material you can create the perfect black house siding for your dream home design.
In This Article:
Pros and Cons | Traditional | Modern | As An Accent
Pura NFC Slate Ebony wood décor on the front façade gives a stunning first impression and contrasts nicely with the stone hardscaping. (See the rear view of this two-tone façade at the end of this article. )
Black Siding is Amazing,
Faded siding is depressing
Are there problems with black siding? Like many home improvement decisions, you may be weighing the pros and cons.
Black Siding Advantages
Designing with black siding brings a variety of benefits to a building's aesthetic. A sleek and modern appearance adds a touch of sophistication and style, which can elevate the overall design of your home.
Black siding also has the ability to create a dramatic contrast against other colors, enhancing the visual impact of a structure.
Thermawood Hem-Fir wood black siding stained black and two other colors
Black Siding Concerns
Not all black siding material is created equal. You may have concerns about heat absorption and color fading.
And it's true, black siding can get too hot and fade too quickly. In fact, this is why vinyl siding manufacturers avoid using black colors. The heat can cause the vinyl siding to warp and the sun's rays can damage it.
Have no fear, there are black siding options that perform admirably under these conditions and complement your design.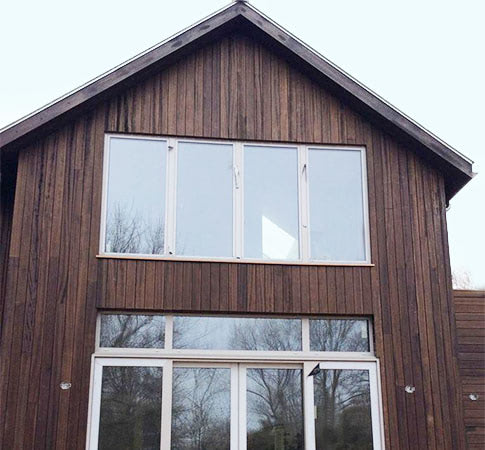 This custom building project with FSC® Certified Santa Maria wood rainscreen siding shows off good looks with deep brown-black stain and dark graining on this vertical wood siding design
Solutions
There isn't much that can be done to prevent dark colored siding from absorbing heat. But, you can use this to your advantage.
By installing the siding with a back ventilated rainscreen system, you can allow the heat from the siding to escape by ventilating it through the rainscreen gap behind it. Rainscreens aren't just for rain. When designed properly, they can help mightily in hot weather, too.
This is a healthy way to protect and increase the lifespan of your siding project. A quality rainscreen is also designed to prevent moisture from becoming trapped behind your siding. A big advantage that prevents rot and mold problems.
Related: Rainscreen Siding Design Picture Gallery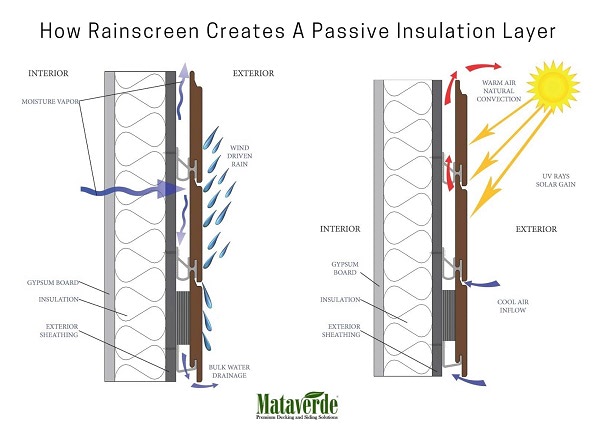 ---
Ready to learn more about wood rainscreen siding benefits?
Get your Ultimate Guide to Wood Rainscreen Siding now to see what is best for your project
---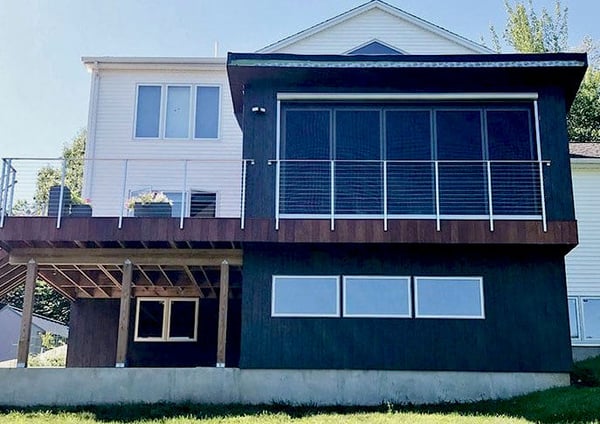 Slate Ebony wood décor from Pura NFC installed vertically added contemporary cool to an addition on a traditional home with white siding.
Now let's look at some of the best quality, versatile siding materials you can choose from. The material makes all the difference in how well your exterior design vision will turn out and how long it will last.
Traditional Black Siding
Shou Sugi Ban
Shou Sugi Ban is a black house siding idea that has gained popularity lately. Charring wood to make it black is an ancient Japanese technique. Shou Sugi Ban siding is a unique and beautiful way to add character to your home.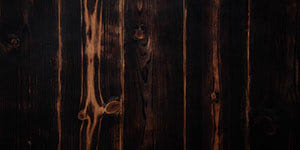 Examples of the deep color Shou Sugi Ban wood siding colors (above and below) and the charred texture (below).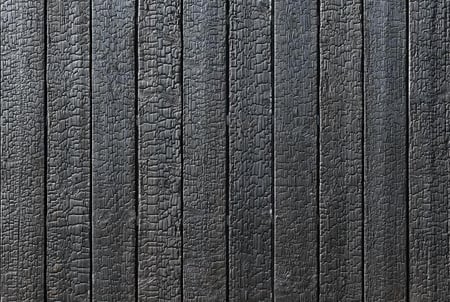 ---
"While shou sugi ban originated in Japan in the 18th century primarily as way to treat cedar siding to make it weatherproof, the technique—which involves charring a wood surface to render it a deep charcoal-black—has caught on recently as a treatment for contemporary exteriors and indoor furnishings alike."
- "Use This Incredible Technique to Waterproof Furniture" - Architectural Digest
---
The Shou Sugi Ban method is traditionally done on cedar. It can be done on other softwoods, but the effect will differ widely depending on the wood type.
One upside: When correctly and regularly maintained, Shou Sugi Ban wood can last decades.
The downside: The maintenance time and labor costs are high. Shou Sugi Ban requires frequent sealing to protect the charred finish from flaking off over time.
In addition, it can be more expensive and more difficult to install. Charred wood and the dust from it can come off during handling and get indoors, in the air, and tracked to other areas. Think about a charred log from a fireplace: it leaves soot and pieces behind when it is moved. Charred wood can also fade over time from wear and can be difficult to repair damage.
Mataverde Thermally Modified Siding

Recently installed Thermawood Ash rainscreen siding project. Thermally modified rainscreen was used on the entire exterior (top) and you can see how it was installed both vertically and horizontally for visual interest (detail below).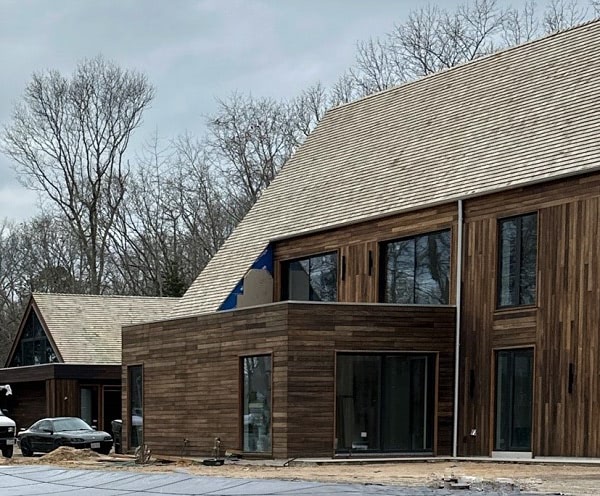 For those who want a deeper color without the mess, Thermowood Ash is a smart alternative. This heat-treated Ash gives you similar color and texture, but without the added cost.
Benefits of Thermally Modified Ash and Hemlock:
Thermal modification uses heat and steam inside a pressure kiln, making it more durable than kiln-dried wood.
The process also increases resistance to insect damage and moisture damage.
The stability and durability of the wood increases compared to non-modified wood. This will avoid warping, splitting, and checking.
Thermal modification is an environmentally friendly option using real wood, no chemicals, or additives, and does not require wood burning.
Thermally modified woods are an eco-friendly option with an aged, rustic aesthetic like Shou Sugi Ban, but simpler to take care of and restore.
It can be painted or stained with oil-based products. Or use just an

oil-based UV protectant

to give a clear finish to the natural wood tones, while protecting against weathering.
For all the reasons listed above, Thermowood is regarded as a beautiful, strong, long-lasting siding material that saves you time and money over its lifetime.
Thermally modifying the lumber deepens its natural shade to a variety of warm hues from a light golden-brown to a deep chocolate-brown and makes its textured grain more pronounced.
The color and texture of Thermowood Ash can be a great option if you are looking for a more classic look.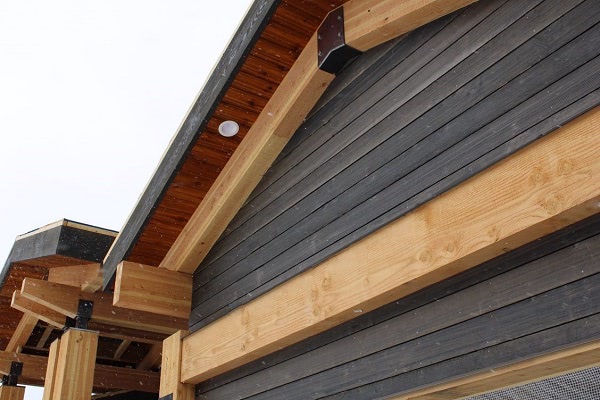 Creative and rustic three-tone exterior! ThermaWood Hemlock siding left natural on the soffits and stained black on the main area. Both contrast with the light natural wood architectural details.
Thermally Modified Wood Siding can be painted or stained.
In addition to the numerous advantages that make it favorable as a black siding material, Thermowood offers another benefit. It is capable of being finished with oil-based paints and stains in a variety of colors, including black.
Some of the resistance and strengths of this modified wood can be compared to high density hardwoods.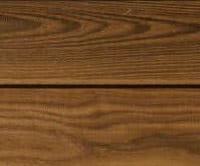 Thermowood Ash shown with just an oil-based finish
RELATED: See The Thermally Modified Hem-Fir Siding Picture Gallery
Pura NFC Siding by Trespa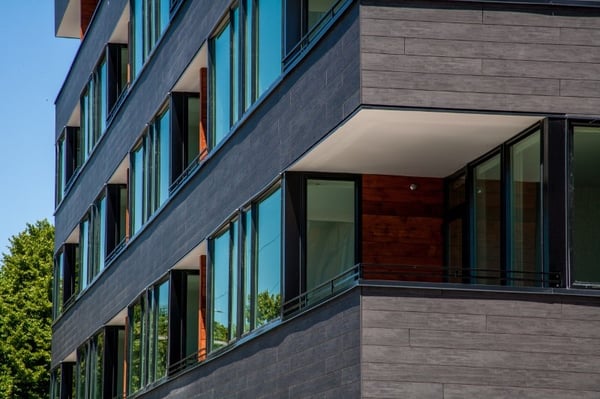 Pura NFC Slate Ebony is guaranteed and proven fade-resistant
Pura NFC is particularly suited to black siding designs. They provide a very low-maintenance, classic look, are extremely fade resistant, and can be used in a variety of home styles.
Trespa puts their Pura NFC material through tough lab testing to prove its promised quality. This covers resistance to everyday wear all the way to hurricane-force winds.
This ensures your black siding will be vibrant and rich in color, keep its gloss finish, and not dull for decades.
REALTED: Check out the Pura NFC 2-min quality testing videos from Trespa
The advantages of black siding from Pura NFC are:
It is an HPL Laminate with the surface cured with an electron beam in a proprietary process. This creates a closed cell surface that is very colorfast and repels embedded dirt ( a major factor in "dingy" siding over time).

Extremely low maintenance with no finishing or refinishing needed. Just clean as needed, with regular soap and water.

Resists insect damage, rot, mold, and decay extremely well.

Superior resistance to dulling, scratches, and breakage.

Incredible resistance to warping and cracking in high heat or extreme cold.

Can be installed horizontally with traditional installation. Or design vertically or horizontally when installed with

quality rainscreen installation.
Requires little to no repairs over time. But if damage does occur, new planks will match existing ones even years later, since they keep their color.


Slate Ebony Wood Décor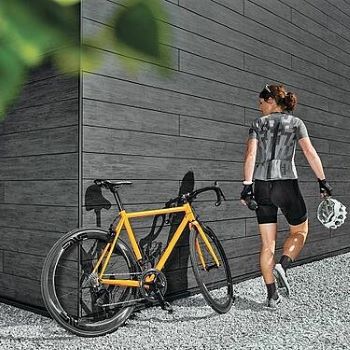 Slate Ebony wood décor siding, and all Pura NFC siding, is extremely scratch and breakage resistant.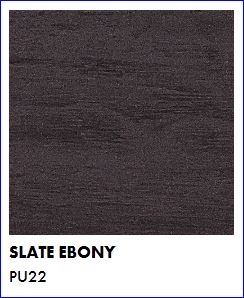 Pura NFC Wood Decors also have consistent, realistic colors and wood grain patterns. That authentic wood-look takes your black siding project up a notch, adding luxurious looks.
---
Ready for more? See project photos and get more details in the
Pura NFC Residential Siding Project Design Portfolio. Download now.
---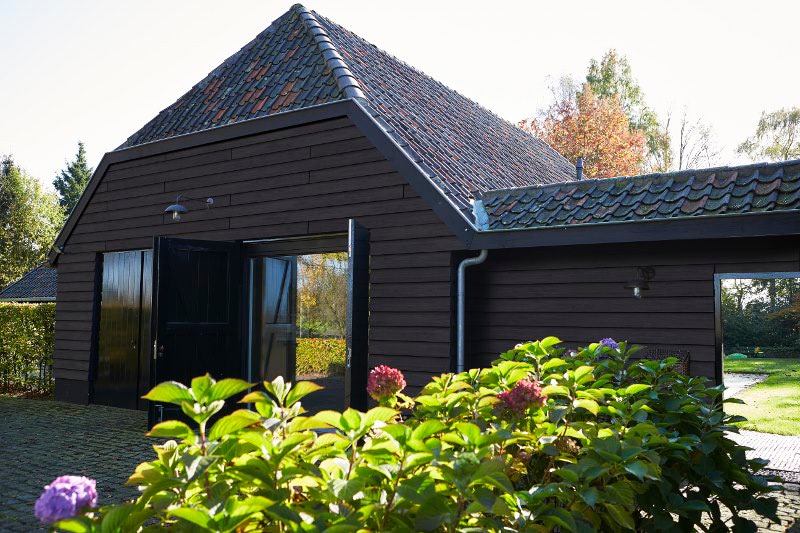 Make a statement on an entrance, outbuilding, or entertaining area with black siding. Slate Ebony was used here, too.
RELATED:See the Pura NFC Siding Picture Gallery
Modern Black Siding
Metropolis Black Lumen Décor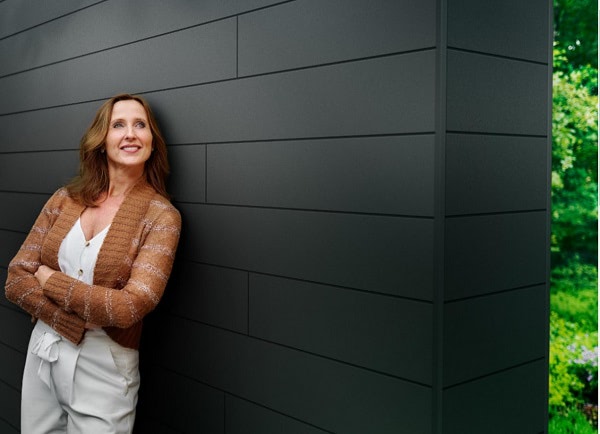 No dark and dreary here! The light diffusing matte finish of Metropolis Black is truly luminescent
Metropolis Black Lumen Décor is a modern matte masterpiece for your house siding.
When it comes to matte siding especially, a big worry for homeowners is colorfastness. Many black siding materials will fade and "ugly out" faster than lighter colors. On areas with more or less sun exposure, it can even become "patchy."
Not Metropolis Black, which undergoes serious lab testing to make sure it does not lose color or finish.
Modern and contemporary architecture will be enhanced by its cutting-edge style and light-diffusing matte finish.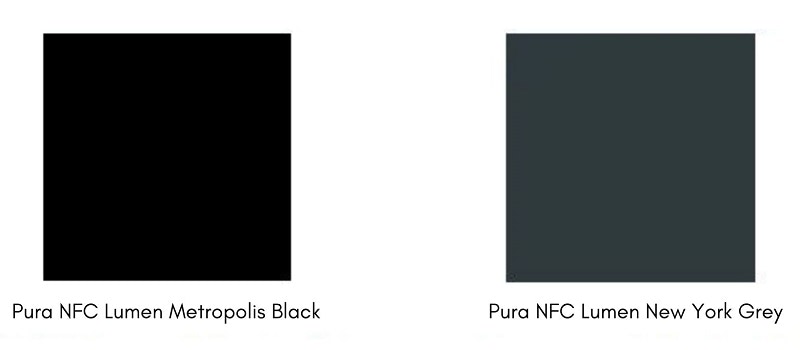 Pura NFC Lumen Décor has two dark colored options, Metropolis Black and New York Grey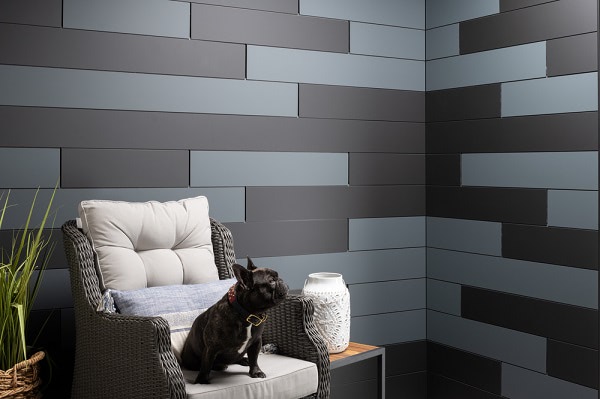 Another option when designing with black, contrast Metropolis Black with New York Grey for couture style
RELATED: Download the Pura NFC Siding Commercial Project Portfolio
Black House Trim and Windows
Just like the little black dress, accessorize your siding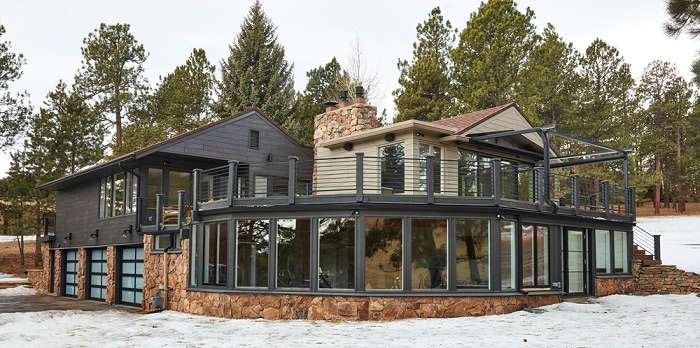 Another view of the home shown at the top of this article. Slate Ebony wood décor and black trim contrasts with the lighter Siberian Larch wood décor for a two-tone look.
If you aren't sure you want black siding on your entire home, you have options.
One technique to consider is to use black as an accent. You can feature it in a smaller area of your façade and use other colors (or siding materials) to work with it.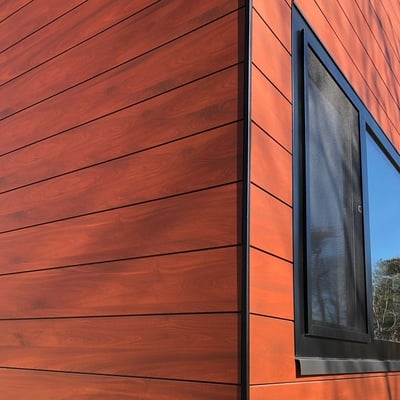 Pura NFC Royal Mahogany Wood Décor with black trim on corners and windows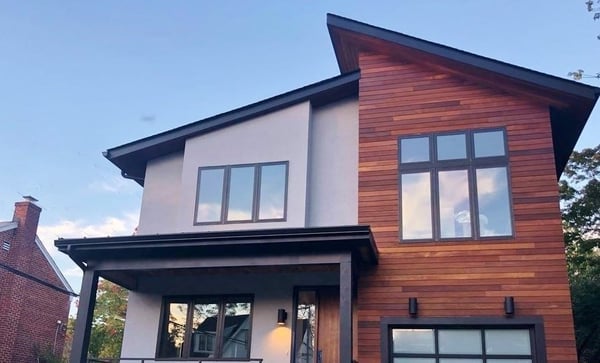 Natural Ipe hardwood and stucco façade looks chic and sleek when black windows, trim, entryway pergola, and soffits are added.
Another design technique to consider is to accessorize with black trim, regardless of your siding color choice. Adding black outside corners and widow trim makes a bold statement and makes the siding look beautiful (almost like using mascara on your eyes).
As you can see, with excellent siding material options to choose from you can recreate the trending black siding designs you want featured on your home, your own way.
Feel free to contact us for more information, with questions, for siding samples, or to price your project. Getting your project started is easy with our team.
Related Posts