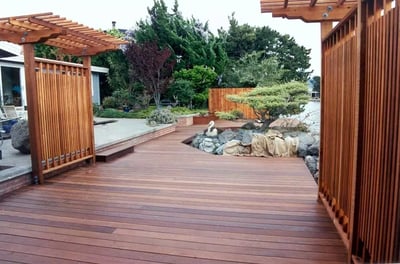 Tropical Hardwood Is Hard: Pro Tips for Cutting Ipe Decking
Written by
John Parent
on
High density hardwoods, such as Ipe , Machiche and Cumaru are the ideal decking material. They are natural woods that are nearly indestructible, rot resistant, insect resistant, scratch resistant and they last for decades. The qualities that make these woods so desirable for decking also make them, let's just say, challenging to work with. Believe me, I've been there. I'd like to share some lessons I've learned the hard way that will save you time and labor.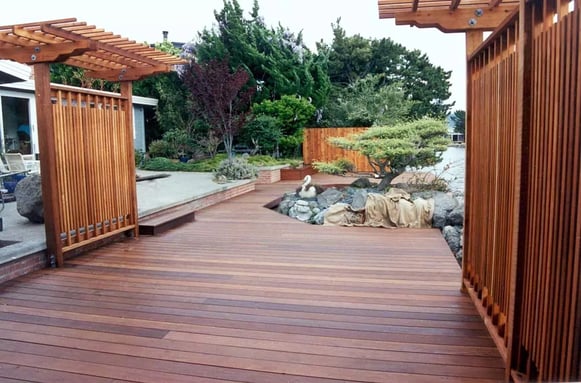 An Ipe deck wrapped around a rock garden will require straight end cuts
Stay Sharp and Work Safely
I recall, after spending several days laying several thousand dollars' worth of Ipe, finally coming to the end of the job. The only thing left to do was snap a line and cut the ends off. I snapped my line, picked up my circular saw and, being confident in my ability to cut a straight line, went to town. My cut made, I turned to look at my handiwork and, to my horror, it looked like the flight of a drunken bumblebee. It is one of those things that can't be undone, no matter how much you want it to be.
The culprit, in this case at least, was not the sawyer but the saw blade. I had picked up my old saw, with a blade that was who-knows-how-old, and let it rip. The dull teeth and worn blade had heated up so much trying to push through the impossibly hard Ipe that the blade not only deflected, but straight-up warped. That was a mistake I never made again.
Do Yourself a Favor.
When cutting tropical hardwoods treat yourself to nice new carbide blade, or at least a freshly sharpened one. Even when cutting on a chop saw, a dull blade will deflect and wobble. If you're wondering why your joints just won't get tight, check your blade. Burn marks on the wood are a telltale sign.
---
RELATED: Download Proper Installation of Hardwood Decking Guidelines and Tips
---
Let the Carbide Blade do the Work
A seemingly minor, but important, concept is how the blade is put to the wood. This is a universal technique that should be employed for all cuts, but it is essential when trying to get a blade through high density tropical hardwoods. What people often do, and I am as guilty as any, is drop the blade of the chop saw on top of the wood and push it down and through.
Next time you do this, especially with Ipe, watch the blade. I bet you can see it bend a little. This deflection is caused by the pressure of trying to push the whole blade through the whole piece of wood and the excess heat that results. If you have ever wondered why your cuts are curved, that's one of the reasons why. Let the blade do the work, at its own pace. Don't force it.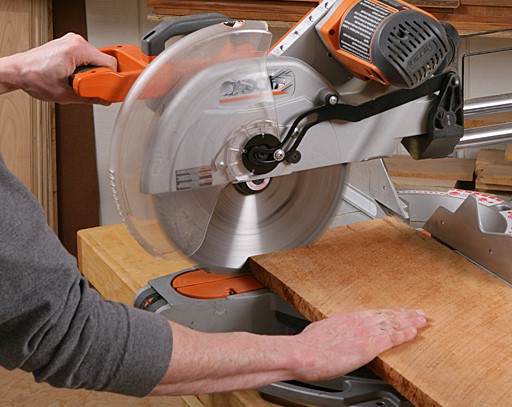 Proper technique for cutting with a sliding compound miter saw - push not pull
If you are using a sliding compound miter saw, here's a great tip. A better way is to slide the blade through. Let the saw come up to full speed and slide the cut from the outside in, going only as fast as the blade wants to go. You'll be able to hear, feel, and possibly smell when the blade is being over worked. This way the blade is only trying to bite through an inch of material, rather than the full 5-½" width. You'll get a cleaner, straighter cut and won't work your saw or blade as hard.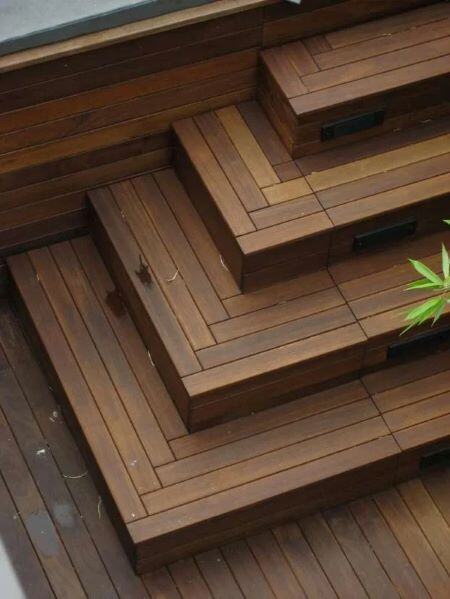 Avoid open joints in tropical hardwood steps with proper cutting techniques
Proper Support for Your Cuts - for Your Safety
Finally, friends, please don't be 'that guy'. You plunk your chop saw on a couple rickety saw horses, throw a sixteen footer up there with the end flopping around in space and then lean on it, kneel on it or try to hold the end up with your foot. This might sound obvious but I have seen it so many times, even, (or maybe especially), with seasoned carpenters, that I think it is worth mentioning.
Ipe is hard enough to handle on its own without making it harder on yourself by having to wrestle every cut. Set yourself up with a nice cutting table and proper out-feed support. You should be able to put your piece of wood on your saw and have it be solid and stable without any assistance from you. You can then use your energy to make sure the board is square against the fence and flat on the cut table, which is easier said than done. If the board is not square and flat, (which it will never be if you're trying to hold the other end up with your toe), your cut won't be square either.
A few extra minutes setting up in the morning will pay off all day long. Think of it this way. You haul a nice sixteen-footer out of the pile, plop it up on your saw and make your cut. You haul it over to the folks installing it and go grab another one for the next cut. Someone says, "Hey you need to adjust this cut, the joint's open." So, you go pick it up again, cut it again and haul it back again. In case you're wondering, a sixteen-foot piece of Ipe decking weighs 41.7 lbs. Unless you're trying to save on your gym membership, it would be worth a little extra effort up front to get the cut right the first time.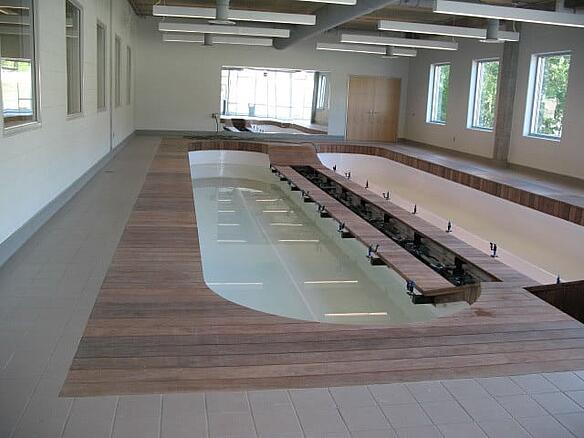 Pool deck at health spa used lots of careful cuts through dense Cumaru
There's a reason people love tropical hardwood decking.
It's beautiful and it lasts so long. Even after fighting your way through a deck installation, you can't help but say, "Wow, that looks great!" Let's be realistic, getting this stuff down can be a challenge, but if you set yourself up and let your equipment do most of the work, it'll be easy-peasy. (It might be a different story for those of you trying to screw hardwood decking boards down, so we'll try to help you out in our next article.)
---
Click below for more information about hardwood decking installation:
Hardwood Decking Installation Guidelines
---
Looking for the best decking option for your project?
Download the Ultimate Guide to Selecting the Right Decking:
---
Need some deck design ideas? Looking for deck ideas?
Download the Deck Design Ideas Book
61 pages featuring over 150 deck design ideas.
RELATED:
Comments
Related Posts