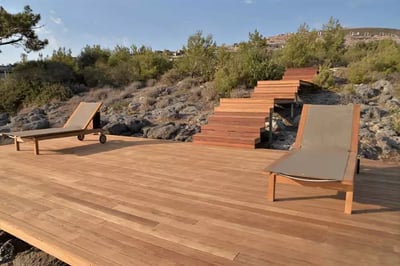 What is Thermally Modified Wood Decking and Siding?
Written by
Chris Nolan
on
There are many types of thermally modified woods. In general, the thermal modification process makes woods more stable, more rot resistant and longer lasting. There are many thermally modified woods species and different thermal modification processes. Thermally modified wood is an environmentally friendly high-performance option to consider for decking and siding projects.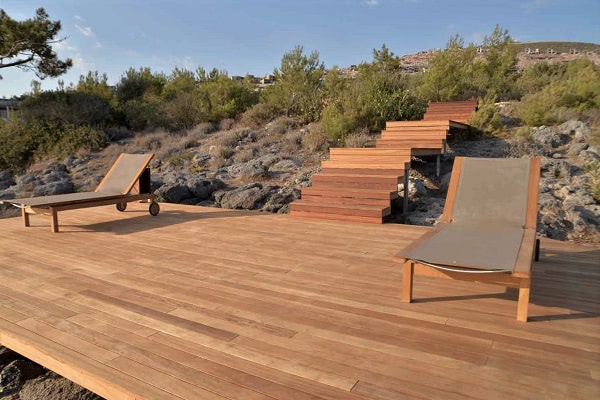 Thermally modified decking is sturdy, stable and beautiful
Is kiln-dried wood the same as thermally modified wood?
No. Kiln dried wood is not thermally modified wood. It is simply dried in a kiln to a certain moisture content to help it perform better for its final usage. Proper kiln drying, with an appropriate drying schedule, doesn't change the cellular structure of the wood, just the moisture content.
For example, interior wood flooring is usually kiln dried to around 5% to 8% moisture content. This helps the wood acclimate to indoor environments more quickly, with less expansion and contraction. Likewise, exterior woods are often kiln dried to around 12% to 14% moisture content. This helps exterior woods acclimate more quickly to outdoor environmental conditions.
What is thermally modified wood?
Thermal modification is a scientific process that changes the characteristics, chemistry, structure and performance of wood at the cellular level. Thermal modification is not the same as kiln drying. Thermal modified woods are super-heated, at much higher temperatures than kiln dried woods, in a highly controlled manner.
From a performance standpoint, the biggest basic changes in all thermally modified woods are a.) the wood becomes far more stable, b.) becomes somewhat more brittle than non-modified wood of the same species, and c.) the process 'cooks' and chemically changes the sugars in woods, making the modified wood more rot resistant.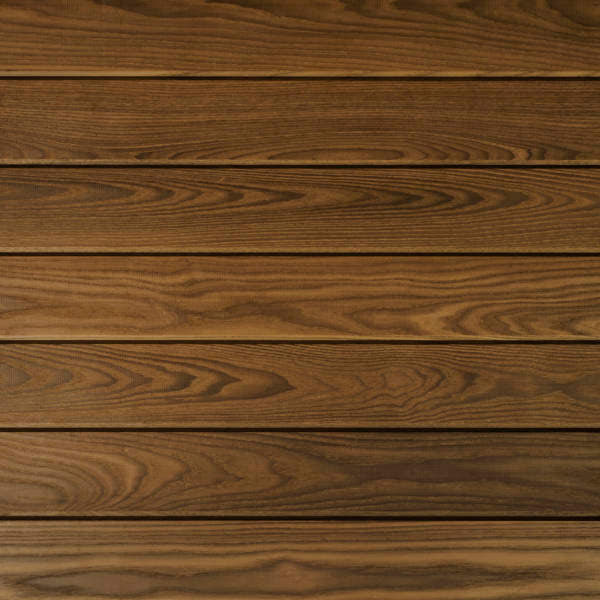 What's the benefit of thermal modified wood?
The thermal modification process helps to stabilize wood. By 'stabilize', it means the wood is less vulnerable to shrinkage and seasonal expansion and contraction. This is especially important with exterior woods. A more stable exterior decking or siding board means less movement for you. And this leads to a better performing exterior deck or siding project.
The other significant benefit is the thermal modification process 'cooks' the sugars out. This takes away the food source for many types of mold, fungi and insects. For you, this means a board that is more resistant to insects and decay, and less likely to rot.
What's the best thermal modification process?
Different thermal modification methods and processes vary significantly. Some thermal modification processes use heat only. This is risky, because the thermally modified woods produced by this method often result in a 'crispier' wood that is more apt to split at the ends. "Cooking' the wood too quickly also leads to a lower quality finished product.
The ThermoWood® process is a patented method of thermally modifying woods. After a few decades of testing different wood species, the ThermoWood process is generally considered the best method of thermally modifying woods, both softwoods and hardwoods. ThermoWood is produced by adding heat and water to woods only, with no chemicals or toxins. The water keeps the wood from drying out too quickly and leads to a higher quality finished product.
What about different thermally modified wood species?
Different wood species can be thermally modified. Their performance will vary by species and method of thermal modification. For example, when the ThermoWood process was originally developed in Finland, they used local softwoods for both environmental and economic reasons.
Plenty of renewable spruce and pine softwoods were readily available locally and the material cost and transportation costs were less. Some of the softwood species that can be improved with thermal modification are; pine, spruce, larch, fir and hemlock.
Over the years, additional wood species have been tested, including hardwoods, and the processes and methods have consistently been improved for each. Each different wood species has a specific 'recipe' and formula to get the best performance results. A few of the hardwood species that have been tested and perform well include American Ash, Tulipwood, Iroko and Red Oak.
Is thermally modified wood siding a good option?
Yes, absolutely. Because thermally modified woods expand and contract less then ordinary wood, they are a very stable wood siding option. Thermally modified wood siding can be used as a T&G (tongue and groove) siding profile. Thermally modified woods also work exceptionally well in a rainscreen installation, such as the Climate-Shield system.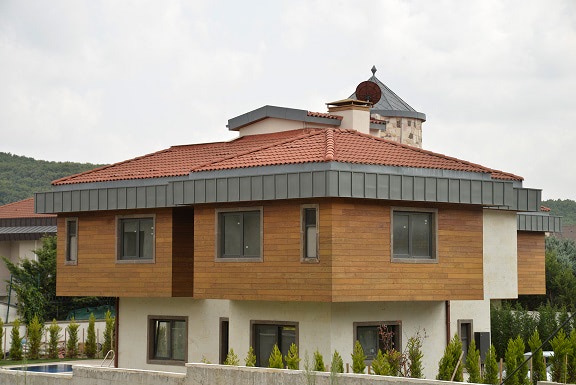 Thermowood siding is beautiful and works great for rainscreen cladding
Want to learn about wood rainscreen siding options? Download the "Ultimate Guide to Rainscreen Siding" today.
Is thermally modified wood a good decking option?
Yes, for many decking applications, thermally modified wood decking works great. The upside of thermally modified wood decking is its stability and rot-resistance. Because the decking is more stable, there is less expansion and contraction during wet and dry seasonal cycles. This helps the decking 'stay put' and move less.
Because the sugars are 'cooked out' of the wood during the thermal modification process, the decking is more resistant to insects, fungi and mold. That's why thermally modified wood decking is less likely to rot, and lasts far longer than the original wood.
The only minor downside of thermally modified decking is that the process makes the wood somewhat more brittle (about 20%) than the original wood. The good news is that the modified wood is still quite strong, especially thermally modified hardwood decking.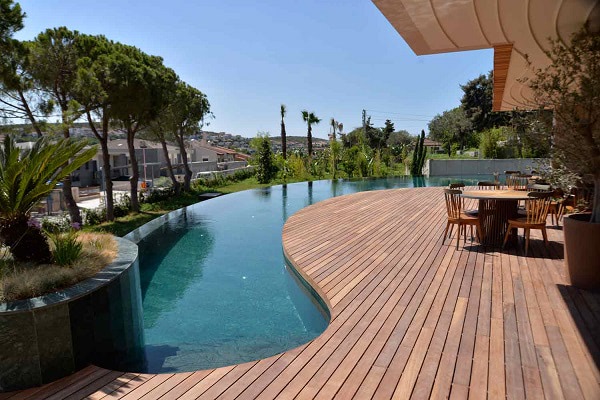 Thermowood decking is sturdy and beautiful
Interested in more information about decking options? Download the "Ultimate Guide to Selecting the Right Decking" today.
We hope you enjoyed this article. Please visit MataverdeDecking.com for additional information about wood decking and wood siding options.
Thermowood decking project gallery
Thermowood siding project gallery
Comments
Related Posts