The Woolworth Building is a historical landmark. For over a hundred years this 792' tall structure has graced the New York City skyline. When it opened in 1913, the Woolworth Building was the tallest building on earth until 1930. Today it's nestled amid twenty of the world's largest skyscrapers. Check out the new Ipe hardwood rooftop deck on top.
The Woolworth Building is right in the heart of lower Manhattan
Originally dubbed the "Cathedral of Commerce", this neo-Gothic design is an icon in one of the world's greatest cities. Cass Gilbert, one of the world's leading architect designed it. The architecture inside and out is phenomenal. For a great short history of the building, visit this website.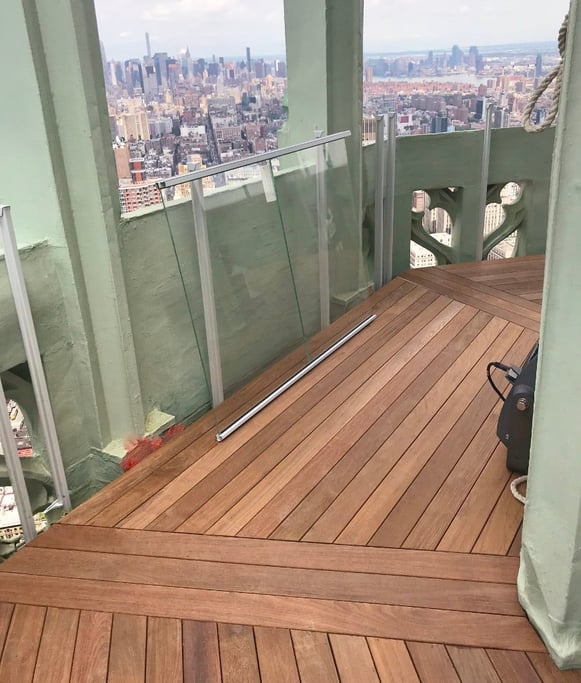 Spectacular hardwood rooftop deck sits atop the pinnacle like the battlement of a castle
The Woolworth building is now the home of many businesses, offices and luxurious residences. At the top, a stunning 9-story residential penthouse is known as "the Pinnacle". An amazing rooftop deck is on the 58th floor of this ultra-luxury penthouse. They designed and built the rooftop deck with Eurotec deck framing components and Mataverde Ipe hardwood decking.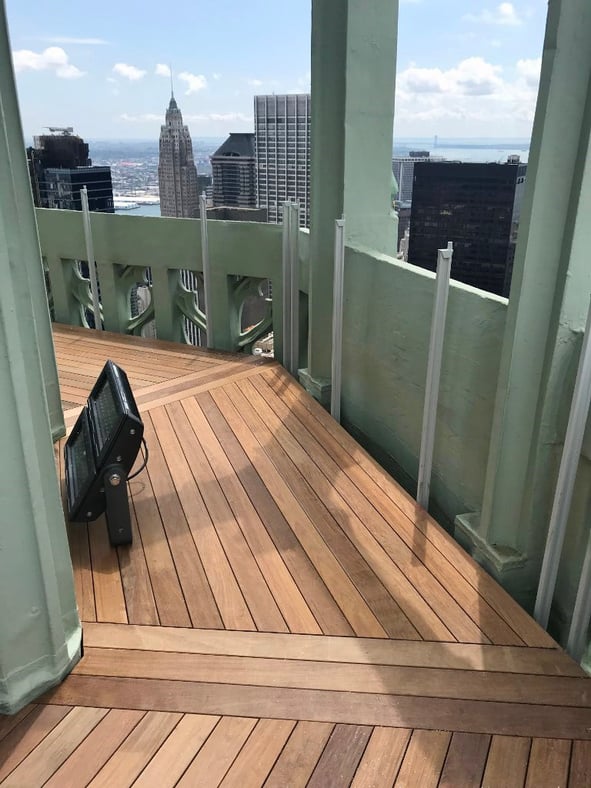 The Ipe rooftop deck offers spectacular 360 degree views of NYC from 58 stories above Broadway
The Eurotec rooftop deck framing system offers the best in European design. It includes aluminum joists and adjustable height deck pedestals. And this rooftop deck sits more than 750 feet above Broadway. Safety and reliable fastening are essential. So the design team at SLCE Architects elected to attach the Eurotec deck frame directly to metal supports in the building. Then, they fashioned the roof top deck frame in an octagonal shape to match the building shape.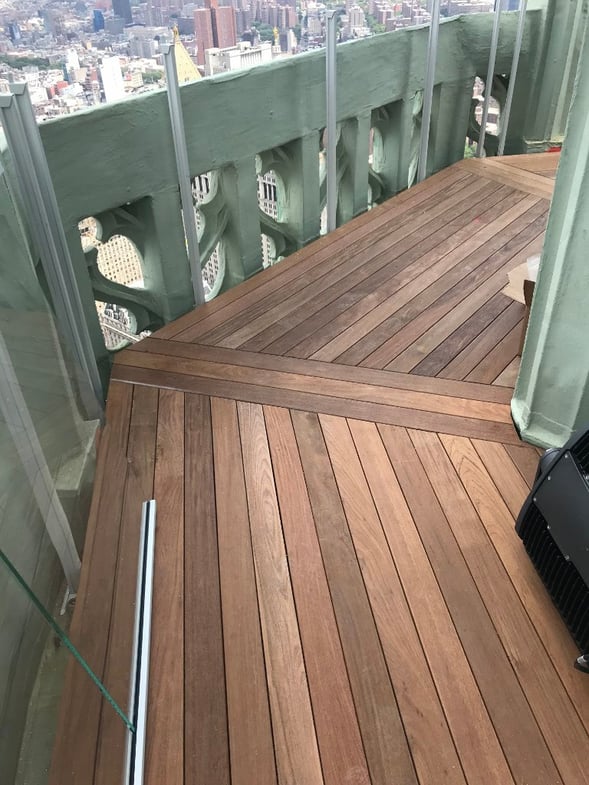 Ipe decking wraps the entire perimeter like a garrison tower. Railings are ready for installation.
The Ipe hardwood decking layout follows the deck frame design. Ipe decking meets the needs in this challenging environment. Ipe hardwood is durable, long lasting, sustainably harvested and naturally beautiful. Kudos to Nicholson & Gallagher for their workmanship and expertise installing this historic rooftop deck project.
We hope you enjoyed this article. Please visit MataverdeDecking.com for lots of information about the Eurotec Deck system, check out hardwood decking options, browse rooftop deck project galleries and more.