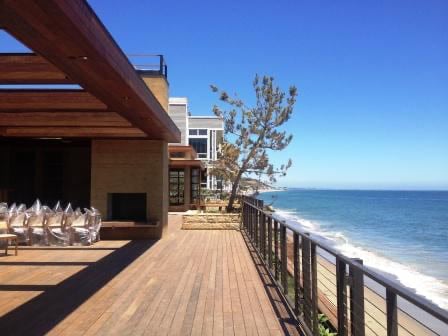 COMPARE WOODS
Wood Decking vs. Synthetic Decking Materials
When you're looking for the best decking material for your project, it's important to make an informed decision.
At Mataverde Decking, we present our customers with all of the information they need regarding wood decking: from durability to hardness, we take pride in providing must know information regarding premium hardwood decking.
The chart below is intended to provide you with the information needed to choose the best premium hardwood decking option. When you compare Mataverde® Premium Ipe, Cumaru and Garapa Decking to other commonly-used decking materials it's clear that Mataverde® High Density Hardwood Decking is the best choice.
---
COMPARISON CHART
Mataverde® Hardwood Decking vs. Other Woods and Decking Materials
Decking Type

Appearance & Weathering

Durability

Decay & Insect Resistance

Bending/Hardness

Mataverde® Premium Ipe Decking

High Density Hardwood

Magnificent rich wood colors. Reddish Brown to Brownish Olive. No knots. If left natural turns soft silver. Resistant to shrinking, splintering, twisting, cupping and checking.

Extremely hard and dense.

Resists all types of punishment.

Highest rating.

Naturally resistant throughout all fibers of the wood.

Highest rated termite resistance.

23,360 psi
3,680 lbs

Mataverde® Premium Cumaru Decking

High Density Hardwood

Reddish to purplish browns to yellowy browns. No knots. Coarser grained with lots of character striping. Turns soft silver if left natural. Resistant to shrinking, splintering, twisting, cupping and checking.

Extremely hard and dense.

Resists all types of punishment.

Highest rating.

Naturally resistant throughout all fibers of the wood.

Highest rated termite resistance

22,400 psi
3,340 lbs

Mataverde® Premium Garapa Decking

High Density Hardwood

Rich, warm wood tones. Sun kissed yellow to golden brown. No knots. If left natural turns soft silver. Resistant to shrinking, splintering, twisting, cupping and checking.

Very hard and dense.

Resists lots of punishment.

Naturally resistant throughout all fibers of the wood.

Highly rated termite resistance

12,900 psi
1,630 lbs

Western
Red Cedar

Softwood

Rustic appearance. Difficult to maintain original color. If left natural, blackens and grays. Lesser grades contain knots and sapwood which deteriorate rapidly.

Very soft surface.

Scratches and dents easily.

Only the highest grade heartwood is rated "acceptable" in durability.

Low termite resistance.

6,800 psi
580 lbs

Redwood

Softwood

Rustic appearance. Difficult to maintain original color. If left natural, blackens and grays. Lesser grades contain knots and sapwood which deteriorate rapidly.

Very soft surface.

Scratches and dents easily.

Only the highest grade heartwood is rated "acceptable" in durability.

Only foundation grade coast redwood has some termite resistance.

7,900 psi
480 lbs

Pressure Treated Pine

Softwood

Very rustic, often green appearance, deteriorates after weathering. Pressure treating increases brittleness and makes pine even more susceptible to splintering, twisting, shrinking, cupping and checking. Some chemical leachate.

Soft surface.

Typical knots and imperfections result in poor surface condition.

Impregnated with toxic preservatives. Its resistance is only as effective as the completeness of treatment.

Knots and interior portions may not be thoroughly treated and may rot or be destroyed by insects.

14,500 psi
690 lbs

Douglas Fir

Softwood

A light reddish brown, generally straight grained wood. Exposed to weather turns dark and grain raises.

Soft surface. Varies with treatment.

High maintenance required.

Not naturally resistant to decay.

Should be painted or stained to prevent decay.

12,400 psi
670 lbs

Philippine Mahogany

Hardwood

Extreme color and density variations Weathers and wears unevenly. Worm holes are a common defect. Open grain is susceptible to mold and mildew.

Soft Surface.

Scratches and dents easily.

Rated "non durable" to "only moderately durable".

Marginal termite resistance.

12,000 psi
760 lbs

Recycled Plastic/Wood

"Trex brand"

Composite

Composed of recycled plastic and wood, has a manufactured appearance. Color variation and dimensional stability severe in some products.

Scratches and dents easily.

Performance varies depending on product and exposure.

Is rated durable to both insect and decay.
1,423 psi*
1,123 lbs*



PVC

"Azek brand"

Synthetic/Composite

Composed of cellular PVC. Has a manufactured appearance. Tendency to expand, sag and retain heat.

Requires support on stairs and steps.

May tend to blister and peel when exposed to heat

Rated well against insects and decay
3788 psi*