MATAVERDE® GARAPA DECKING
Compare Garapa Hardwood to Synthetic and Plastic Decking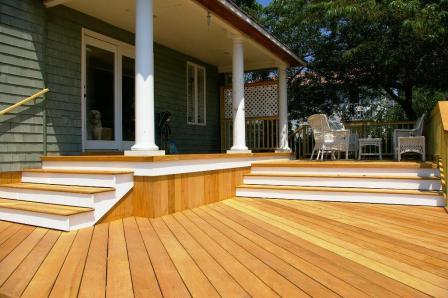 Mataverde Garapa hardwood decking is a tough, exceptionally strong and long-lasting all-natural deck solution. Its lighter tones and affordable pricing make Garapa an outstanding solution for a deck. Garapa is resistant to scratches and fungal decay. When it comes to finding an affordably priced hardwood decking that goes beyond what synthetic plastic and composite decking offers, Garapa Decking is the winner.
From a performance standpoint, Mataverde Premium Garapa hardwood decking is clearly the overwhelming winner when compared to synthetic plastic and composite decking options. Garapa decking wins, beautifully and naturally on every measurable performance rating. Check out the comparison between Garapa decking versus synthetic and composite decking materials below. Use the comparsion chart below which shows Garapa decking compared to popular plastic and composite decking.
When it comes to finding the best premium hardwood decking, make MataverdeDecking.com your first and only choice!
---
GARAPA HARDWOOD COMPARISON CHART
Mataverde Garapa Decking vs. Synthetic Plastic and Composite Decking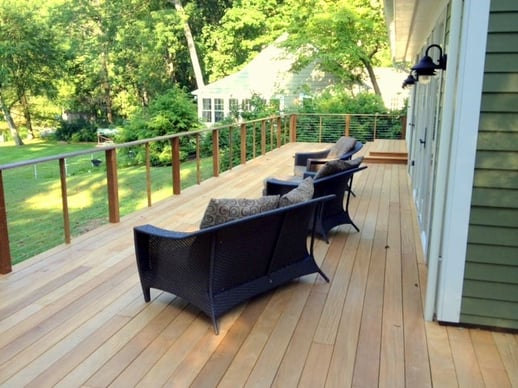 It's clear that Mataverde Premium Garapa Hardwood Decking is the overwhelming winner when compared to synthetic plastic decking and synthetic composite decking materials. On nearly every measurable category, Garapa Hardwood decking wins - beautifully and naturally.
PRODUCT CHARACTERISTICS
Garapa Decking
Plastic Decking
Composite

D

ecking
Real wood product
Yes
No
No
Synthetic materials
No
Yes
Yes
Expansion/Contraction
Low
High
High
Heat retention
Low
High
High
Stability
High
Low
Low
Scratch resistance
High
Low
Low
Can remove scratches easily
Yes
No
No
Strength
High
Low
Low
Span capacity
High
Low
Low
Initial Decking cost
Low-Med
High
High
Usable life expectancy
25+ years
10-20 years?*
10-15 years?**
Life Cycle cost
Low
Medium
High
* Plastic decking has only been available recently. It is not yet known how long it will last.
**Composite decking has been available for about twenty years. Many early brands and products had significant product failures. The newer brands have been on the market for a short time. It is not yet known how long these products will last. Click here for more information about composite decking product failures.
As you can see on the above chart, Garapa Hardwood Decking clearly beats synthetic plastic decking and composite decking on strength, span capacity, scratch resistance, expansion and contraction, heat retention and other characteristics. To learn more about Mataverde Premium Garapa Hardwood Decking and other decking material choices, please follow any of the links below.