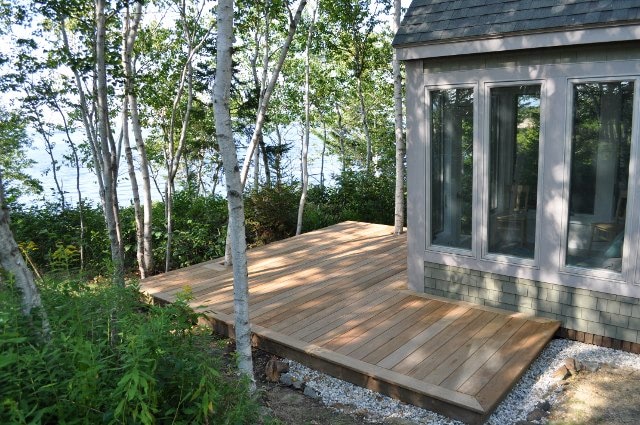 MATAVERDE® GARAPA PROJECTS
Ways to Design with Garapa Hardwood Decking
Mataverde Premium Garapa Hardwood decking, and Garapa boards are great choices for a number of different outdoor structures. Garapa hardwood, also known as Brazilian Oak or Brazilian Ash, can be used on projects ranging from residential decks and walkways to docks, pergolas, gazebos, and outdoor furniture. Garapa hardwood is very suitable for a wide variety of outdoor projects, which make them an excellent choice when you're looking to build a durable, beautiful, and long-lasting outdoor structure or deck.
Architects, builders and homeowners are making great use of Garapa's light honey golden tones to complement their design scheme. The low initial price of Garapa helps many end-users meet their project budget requirements with a beautiful and durable, high density hardwood that is beautiful and can be easy to maintain.
---
Ready to price your next Garapa hardwood project?
Request a free quote and our team will take it from there for you.
---
Mataverde Garapa hardwood decking or lumber are a great selection for any projects where the following design criteria are important:
| | | |
| --- | --- | --- |
| PROJECT CRITERIA | GARAPA DECKING | GARAPA BOARDS |
| Sustainable building material | Yes | Yes |
| Available FSC Certified | Yes | Yes |
| 25 year limited warranty | Yes | Yes |
| High stability | Yes | Yes |
| High density | Yes | Yes |
| Light color tones | Yes | Yes |
| Natural insect resistance | Yes | Yes |
| Natural decay resistance | Yes | Yes |
| Splinter resistant | Yes | Yes |
| Ages gracefully to silvery patina | Yes | Yes |
| Low Life-Cycle cost | Yes | Yes |
Projects where Mataverde Garapa Hardwood is an appropriate material selection:
PROJECT TYPE
APPROPRIATE MATERIAL
Residential Deck
Garapa Decking
Porch Flooring
Garapa Decking
Railings
Garapa Decking
Garapa Boards
Stairs
Garapa Decking
Garapa Boards
Walkway
Garapa Decking
Garapa Boards
Foot Bridge
Garapa Decking
Garapa Boards
Pergola
Garapa Decking
Garapa Boards
Gazebo
Garapa Decking
Garapa Boards
Vertical Siding
Garapa Siding
Rain Screen Siding
Garapa Siding
Fence
Garapa Decking
Garapa Boards
Privacy Screen
Garapa Decking
Garapa Boards
Tables
Garapa Decking
Garapa Boards
Benches
Garapa Decking
Garapa Boards
Outdoor Furniture
Garapa Decking
Garapa Boards
Outdoor Kitchen
Garapa Decking, Siding
Garapa Boards
Playground Equipment
Garapa Decking
Garapa Boards
Planters / Flower Boxes
Garapa Decking
Garapa Boards