MATAVERDE®
P

remium

Hardwood Decking & S

iding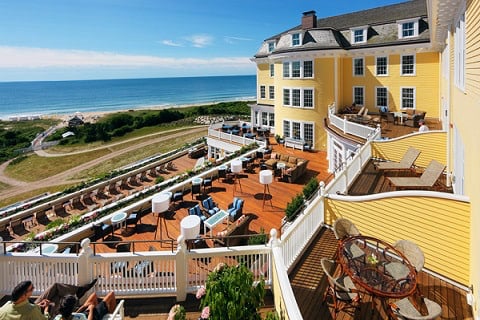 For more than 60 years, we have supplied homeowners, builders and designers with a stunning array of high-quality building materials to enhance most exterior residential and commercial projects. Our high-density, long-lasting hardwood decking and rain screen siding options include eco-friendly wood species such as Ipe, Cumaru, FSC® Certified Machiche and Garapa. Mataverde is your premiere source for all-natural, durable and attractive rain screen siding and decking materials.
Mataverde® Premium Hardwood Decking offers homeowners, builders and architects a wide variety of premium hardwood decking materials including Ipe, Cumaru, Garapa, FSC Machiche.

Each species of eco-friendly and sustainably harvested Mataverde Premium Decking offers the same consistent quality, durability and low maintenance sophistication.

The Mataverde® Eurotec® Deck System offers the optimal solution for the design and construction of rooftop, balcony or patio top deck structures.

Its European design and premium decking options create a groundbreaking system with exciting possibilities for those designing and building a deck over an existing patio, balcony or rooftop.

The remarkable Climate-Shield™ Rain Screen Wood Siding System will provide you with the most efficient, versatile and weather-proof rain screen siding system available.

When the Climate-Shield System is paired with Mataverde hardwood siding, you will have a handsome and effective exterior cladding solution that is tough as nails.
MATAVERDE DECKING OPTIONS

Mataverde offers a variety of handsome and eco-friendly hardwood decking species that will accomodate most projects, styles and budgets. Learn more about our most popular species by clicking their photos below, or visit our Mataverde Decking Material Options page for a complete inventory.
Mataverde Hardwood Decking & Lumber Options
Mataverde Decking Photo Gallery
MATAVERDE® RAIN SCREEN SIDING OPTIONS

Mataverde's wide array of eco-friendly and durable hardwood rain screen siding species will accomodate most projects, styles and budgets. Learn more about our most popular species by clicking their photos below, or visit our Rain Screen Siding Options page for a complete inventory. Learn more about the Climate-Shield® Rain Screen Siding System™.

LAMBOO® ELEMENTS
Mataverde Wood Rain Screen Siding Options
Mataverde Rain Screen Photo Gallery
EXPERIENCE THE MATAVERDE DIFFERENCE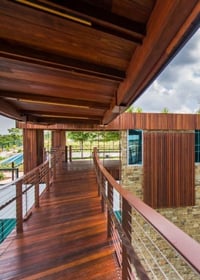 THE MATAVERDE SUCCESS PLAN
For over sixty years, our goal has been to provide high quality products and an extraordinary level of service to our clients. We believe that short-term and long-term satisfaction is a key to our client's success (as well as our own).
We strive to provide our clients with the best information, so they can make an informed decision for their projects. Part of the information you will want to know as a Mataverde client is what to expect when you make a decision to buy Mataverde Decking, Siding or Lumber products for your exterior project or structure.
Download the Mataverde Success Plan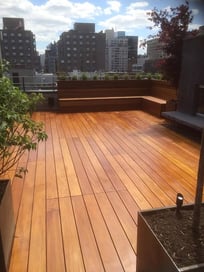 25-YEAR LIMITED WARRANTY
Many Mataverde® Hardwood Decking and Siding species including Ipe, Cumaru, and FSC® Certified Machiche hardwoods are backed by a 25-year limited warranty against insect damage and decay.
Mataverde high density hardwood decking materials are responsibly-harvested, all-natural, real woods that have proven durability for residential and commercial projects in all 50 states and many other parts of the world and in some installations for over 50 years.
See the Mataverde Decking and Siding Difference
VIRTUALLY MAINTENANCE-FREE
HARDWOOD DECKING & SIDING
Mataverde® hardwood decking materials are all high density real wood products that are extremely durable, free of toxic preservatives, many are also naturally fire resistant and all species can be a virtually maintenance free decking and siding material option.
Discover Low-Maintenance Decking Options
Learn How Easy Caring for Hardwood Decking and Siding Can Be