RAIN SCREEN VERTICAL WOOD OUTSIDE CORNERS
Wood Corner Assembly and Installation
" If you enjoy the traditional look of a vertical outside corner for your rain screen siding system, here's a step by step primer to save you time when you build, assemble and install them on site."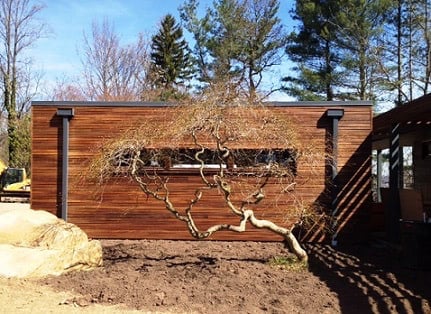 HOW TO ASSEMBLE AND INSTALL VERTICAL WOOD RAIN SCREEN OUTSIDE CORNERS
Climate-Shield Rain Screen System
___________________________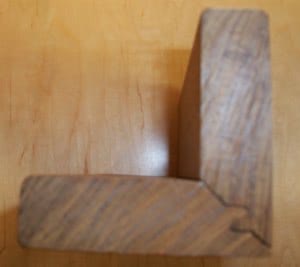 Step One: Select the appropriate wood species and size for your wood corners. Here we are showing 5/4 x 4 Ipe wood outside corners. We will miter them to a lock-joint miter profile. Notice there are left and right piece components to complete the vertical outside corner. If you are building your rain screen corners on site, we will ship these pieces to you loose.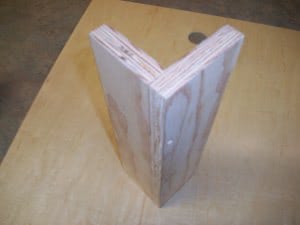 Step Two: Because the Climate-Shield rain Screen System has a uniform ¾" wall cavity, you will want to use ¾" plywood flanges for the backer. Rip ¾" marine grade plywood into 8' strips to make a fastening flange to attach to the back of the outside mitered corner assembly. We have found that ripping one piece of plywood to 2-3/4" width and the other piece to 3-1/2" width will leave you an approximate 1" flange when using nominal 4" wood corner material.
Step Three: Once the two widths of plywood have been ripped, fasten them together using stainless steel screws for longer life.
Step Four: Pre-drill the plywood every 12" using a countersinking bit to accommodate the head of the stainless steel screw.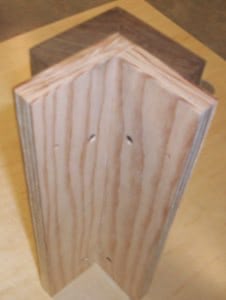 Step Five: Clamp your wood outside corner pieces to the plywood corner assembly. Now you are ready to predrill the back of the wood corner.
Step Six: Option A If you have chosen not to use epoxy, you may now fasten the wood rain screen corners with 1-1/4" stainless steel screws through the back of the plywood.
Step Six: Option B If you have decided to use epoxy, remove the clamps and carefully apply a small amount of epoxy to the lock joint miter corners. "Butter" the back of the wood corners with epoxy as well. Now you can re-clamp the assembly back together and fasten the wood outside corners with 1-1/4" stainless steel screws through the back of the plywood. Allow the epoxy to cure for the recommended amount of time before unclamping.

Step Seven: Using 80 grit sandpaper, clean up any imperfections in the surface of the wood, or any irregularities in the corner or any excess glue. For best results and appearance, it is recommended to clean and wipe the corner assembly down and apply a UV inhibitive sealer to the wood before installation. (For best results, always follow the finish manufacturer's instructions.)

Step Eight: Install your wood rain screen corner assembly to the outside corner of the structure using the appropriate screws or fasteners.