When dreaming of adding a hardwood deck to your home, you may be picturing a quiet oasis for yourself, or an outdoor room for family to gather in. We suggest picturing it in Ipe, one of the highest quality and most durable exotic hardwoods you can choose for your dream deck. It outlasts and outperforms virtually all other hardwood decking materials, staying just as beautiful and strong for decades, while still a low-maintenance option.
Imagine using your same amazing deck for the lifetime of your home. Here is 10 design ideas to inspire daydreams using Ipe hardwoods. Find your style, then share it with your decking design professional to make it your reality.
No. 1 Urban Pergola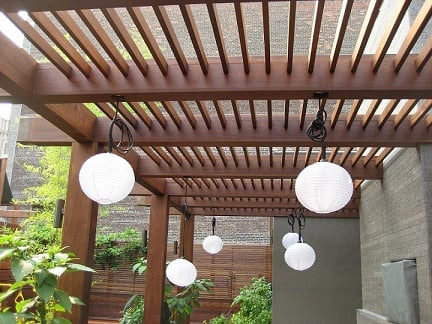 This Ipe hardwood pergola, with an arbor for plantings, offers a light, bright area to start your morning, and ambiance after dark. (Sneak in a yoga session midday!) A fantastic space to add in an urban backyard, it brings natural elements into your city home.
No. 2 Romantic Walkway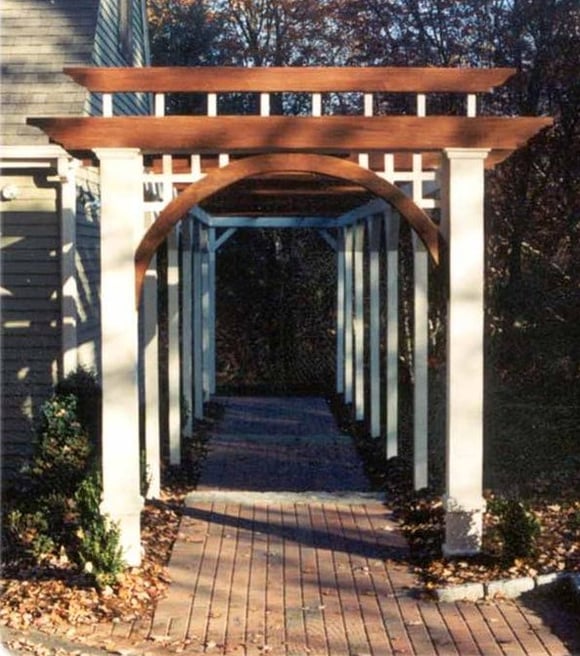 Imagine coming home to this gorgeous arbor leading right to your waiting deck chairs. Covered with roses, or lit with hanging lanterns, your dream arbor can have a traditional or modern look. Make that narrow, boring space in your side yard a curb appeal feature of your home.
No. 3 Garden Beds and Benches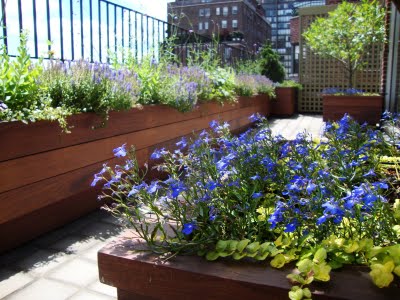 This rooftop deck is bursting with color and life using raised planters made with Ipe hardwood. This healing garden is on a rooftop, but you can add a raised garden bed to any style deck and surround it with bench seating. Relax and enjoy a fragrant and beautiful space made just for you.
No. 4 Escape To Pergola Island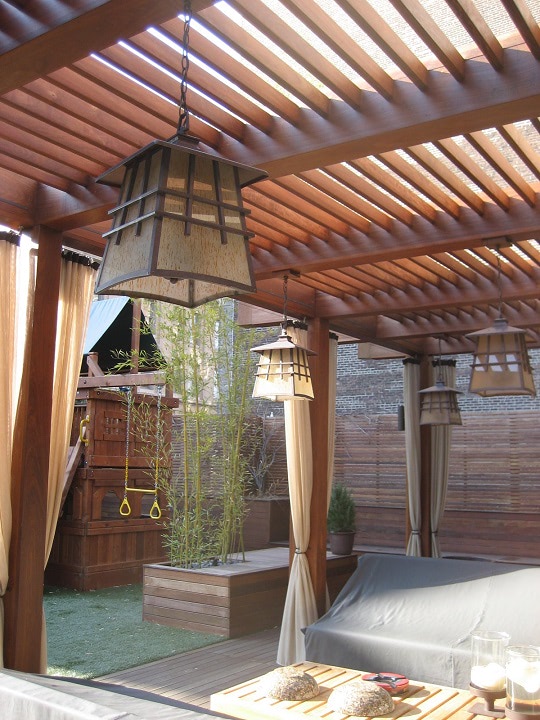 For urban or suburban living, this is an outdoor room at its most peaceful. Picture your own tiny island away from stress and hustle, steps outside your back door. This Ipe hardwood deck features a large Ipe pergola to create a separate outdoor space for a private spot to meditate, do Pilates, lounge on summer movie nights, or all the above.
No. 5 Waterfront Wonder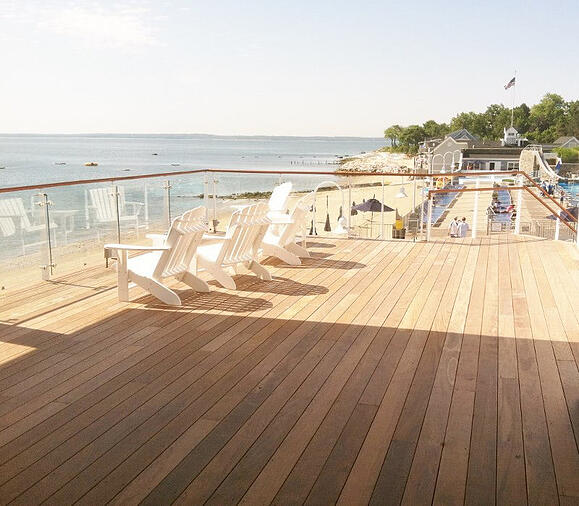 As they say, if you're lucky enough to live at the beach, you're lucky enough. Take advantage of that view with a wide-open deck to for your morning coffee, and for family to hang out on between swims and volleyball tournaments. Extend your living space into the sunshine and sand on an Ipe deck when the ocean is your backyard.
No. 6 Railings Need Love, Too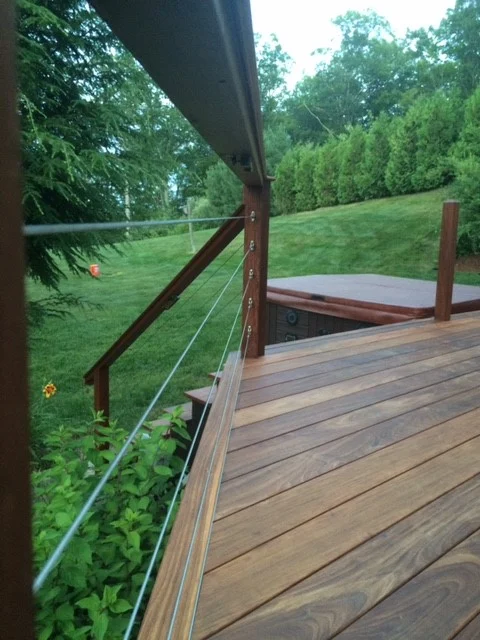 When designing your outdoor living space, remember that railings can also be a design element. A natural, real wood Ipe deck railing system is given an industrial feel with the addition of cable railings. It still maintains the safety, durability, and good looks of your Ipe deck.
No. 7 Sports Heaven
For you, relaxing isn't lounge chairs and spa music. It means sports and family competition. Transform your outdoor living with a multi-level decking area that leaves space for your favorite fast-paced activity. When the game is over, you have a beautiful and comfortable space to gather.
Compare Wood Decking Materials
No. 8 Safe Harbor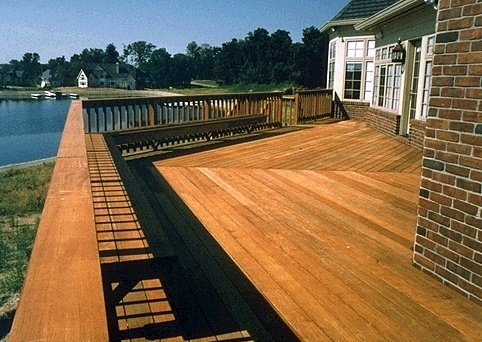 A sweeping expanse of gorgeous Ipe hardwood makes this deck overlooking the harbor a standout example of dream decking. It has built in benches for sitting back and enjoying the boats gliding by. No need to be square, this deck is shaped to the exterior of the home right above the harbor shore. With Ipe, this minimalist space transcends from being just a patio to an outdoor extension of your home at the edge of the sea.
No. 9 Going With The Flow
Designed to enhance the organic feel of the in-ground pool, this Ipe deck has a sculptural effect that creates a tiny cove in the backyard. Picture laying on this sun-warmed wood deck after a morning swim. Modern with the natural feel of real wood, the whole family will spend their summers right here.
No. 10 Winding Down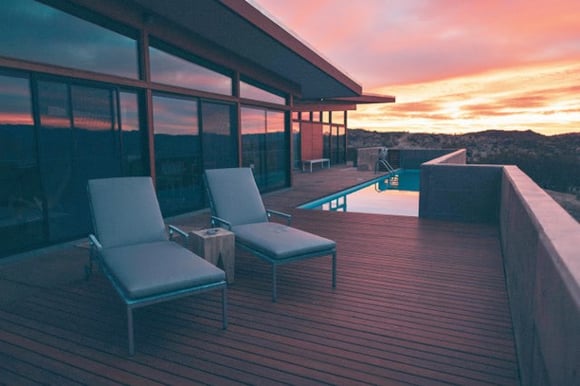 Ah, your Ipe deck calls you at sunset. The day is done so with a cool drink in hand, sit back and watch the play of colors over your backyard hideaway. There's no better view than the one right outside your own door.
No. 11 Bonus! It Doesn't End There
More inspiration at the Ipe project ideas and decking galleries at the links below.
Mataverde Ipe Hardwood Projects Gallery
We love to hear from you. Please comment below and let us know which dream deck design idea inspired you!