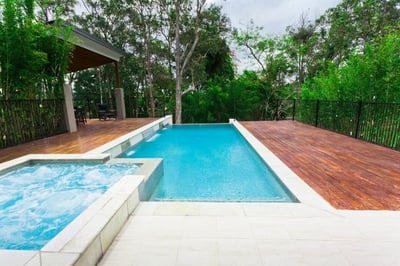 13 Deck Designs with Hot Tubs So Hot They're Cool
Written by
Liza Sivek
on
A new wood deck design that includes a hot tub feel especially luxurious. Adding a warm, relaxing place to close your eyes, or watch the stars all year round is within reach. Here are deck design ideas that include hot tubs to inspire your plans.
When traveling, I never pass down a chance to unwind in the hot tub after a long day of flying or sightseeing. You can't beat the feeling of being pampered just by stepping into those warm bubbles with a soft, fluffy towel nearby. No spa appointment needed.
I want that same experience at home. After work, a workout, or anytime I please.
A hot tub can be a morning wake up or a evening watching the stars. Here's my # deck design ideas for hot tubs and some pro tips on the best way to get that spa experience without making extra work to maintain it.
Put A Hot Tub Under A Gazebo or Pergola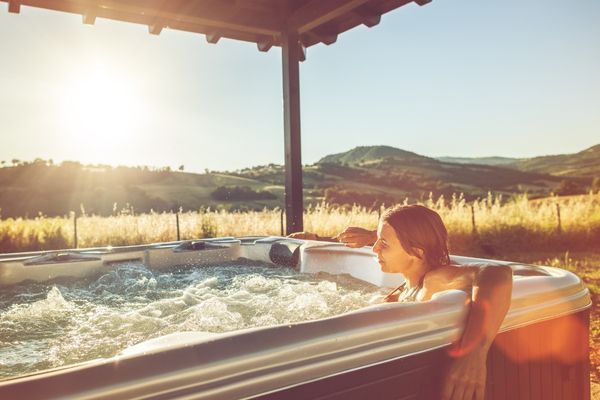 1.
A hot tub under a gazebo can create a spa-like escape.
A wood gazebo or an overhang can provide some shade and protect from rain. The wood is usually left natural for the most organic, soft look and feel, even underfoot.
To get this same spa feel from a wood deck, look to the inspiration. Spa flooring is popularly made with hardwood. Exotic hardwoods have incredibly high fiber density making them naturally rot and mold resistant, a big benefit around a hot tub.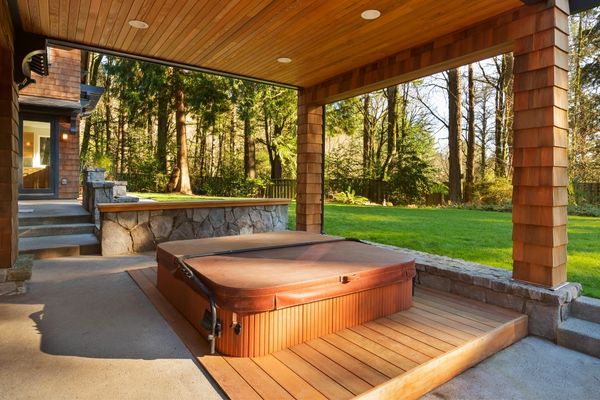 2. A wood deck and pavilion create a spa feel underfoot and above
The beautiful and natural tones of the hardwood deck and gazebo ceiling with the existing shingle and stone exterior brings warmth into this cement patio area (pictured above).
3. Use a pergola to make a small hot tub space spectacular
No place for a full deck? Steps and a pergola separate this beautiful hot tub area from the rest of the yard, reminiscent of Greek temples. Temple of the Hot Tub Spa! This pergola is made more for a big impression than shade with the 3/4 wrap around overhang. A pergola also makes an excellent arbor.
The surrounding gardens and stone blocks play off the lighter wood nicely. The knotty pine look may be rustic and country, but has a shorter lifetime use than other materials and requires more labor to keep it looking beautifully and staying structurally sound.
Compare pine to Garapa, a golden-brown to -blonde wood, or Ipe hardwood in medium brown tones for a longer lasting, easier maintenance hot tub pergola with a more on-trend look.
Hardwoods also have lovely color ranges and interesting patterns that are soothing to look at. For example, Garapa hardwood is golden brown to light brown and Ipe hardwood is a medium to dark brown. Both have beautiful grain patterns.

When choosing a spa like decking, keep in mind that softwood decking, like pine and redwood have low splintering and moisture damage resistance. Hardwoods are very splinter and decay resistant. They will keep that spa-like look and feel longer.
Garapa hardwood decking was chosen by this spa (pictured below) for its long lasting golden-blonde beauty. Garapa, and all premium hardwoods, have very low maintenance needs even in this kind of high-humidity conditions. Its easy to see why hardwood is also a popular choice for homeowners.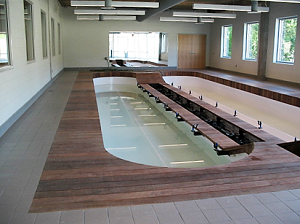 Wood Decks For a Poolside Hot Tub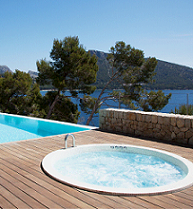 4. A compact spot for a hot tub by the pool
A hot tub by the pool is a great place to relax after a long swim or a long workday. Adding a hot tub when adding a pool deck just makes sense. A hot tub can be used even when it isn't pool weather! A wood deck that surrounds the hot tub gives you a warm, inviting space. The hot tub (pictured above) is even on a rooftop overlooking the water!
The best wood decking around a sunken hot tub is one that can resist water and heat from UV. You do not want the deck boards or cut board ends to bend or warp easily. Warped, cupped boards around the hot tub look terrible. Slip resistance is also important.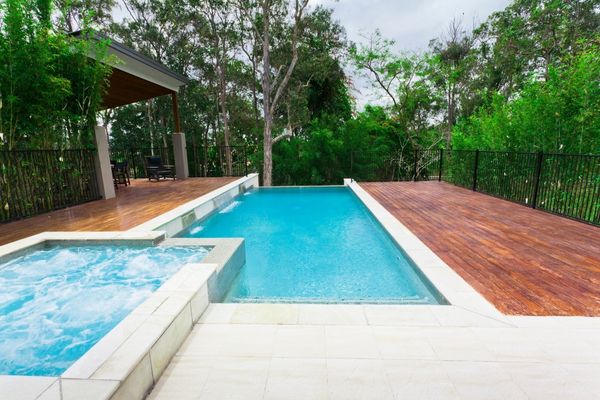 5. Adding real wood decking to either side of your stone pavers warms the overall look
Thermally modified wood is an excellent choice for poolside (above). The darker tones of a thermally modified decking contrast naturally with light colored stone pavers.
Thermally modified Ash or Hemlock decking is more resilient than its kiln-dried counterparts and resists bending, cupping, and checking better.
Composite decking is a popular choice for artificial decking. It comes in tons of colors and is readily available. But composite decking is not the best choice around a pool or tub. Composites are made mostly from PVC plastics so it often bends and warp in heat and humidity. Composite decking also holds heat on sunny days and can be surprisingly hot under bare feet. It can also be slippery when wet.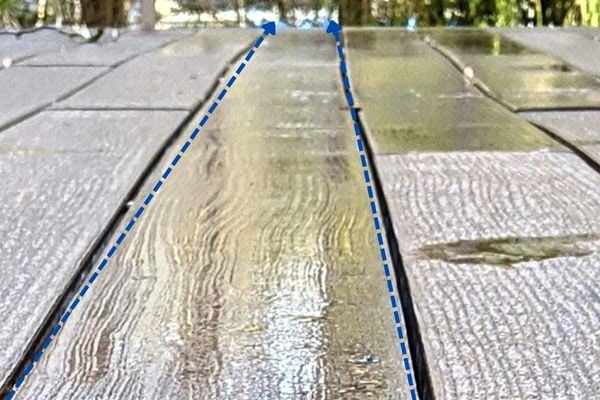 A popular brand of composite decking (pictured above) next to a hot tub after only 5 years of water, weather, and UV exposure. You can see the warped lines of the boards as the PVC moved from heat over just a few years.
(The above photo is courtesy of a customer who is replacing this composite deck with hardwood decking.)
Wood decking is frequently chosen for being softer underfoot than composites and for a more natural look. The best choice around a hot tub and pool are hardwoods with a high fiber density that create a natural resistance to water damage and mold. That high density also helps hardwood resist warping and cupping from sun exposure. Wood decking is also much softer underfoot than plastic decking.
For more on the pros and cons of hardwood decking and composite decking, check out the article Real Hardwood Decking vs Composite Decking.
RELATED: 15 Impressive Designs For Wood Pool Decks
Hot Tub with Custom Wood Steps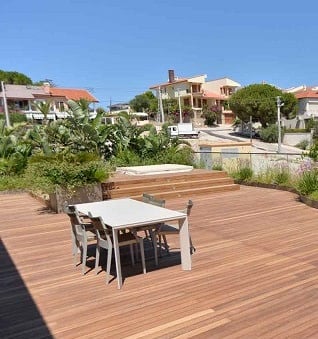 6. Raise your hot tub up and take advantage of the view
For a designer look, (pictured above) add steps and a platform to your hot tub using the same material as your decking. This gives your hot tub a custom look that beats a metal ladder every time. It also brings the hot tub up from ground level so you can enjoy the view!
When enclosing a hot tub, be sure to choose wood decking that is very resistant to water and insect damage. This helps prevent mold, insect damage, and rot under the hot tub area that can decay your steps. Read Mold Problems with Decking for more information on prevention.
Two great options for decay resistance are premium hardwoods, like Cumaru and Jatoba, and thermally modified wood like Thermowood Hemlock and Therma Wood Ash. The deck pictured above is made with Thermowood Hemlock.
Cumaru and Jatoba have the same very high decay and damage resistance that all premium hardwood decking boasts. Since these high density species have a naturally high rot and mold resistance they require very little maintenance. Take a look at the features and colors of Cumaru decking here, and Jatoba decking here.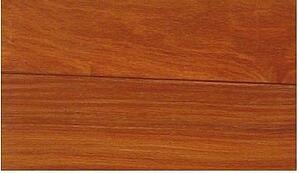 Cumaru Hardwood Decking
Jatoba hardwood Decking
Thermally modified wood is a more affordable option than hardwood but much more long lasting that softwood decking. Theses two wood species, Hemlock and Ash, when thermally modified, resist insects and decay better then their non-modified counterparts and better than standard softwood decking options. To learn more about the patented modification process that makes Therma Wood and Thermowood so strong, go to What Is Thermally Modified Wood Decking? next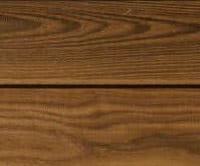 Thermowood Hemlock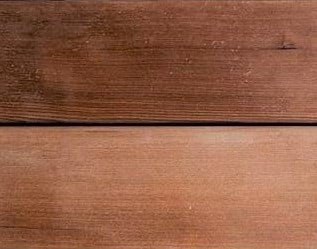 Therma Wood Ash
RELATED: Thermally Modified Wood Decking Design Ideas Photo Gallery
Enjoy Your Outdoor Hot Tub All Year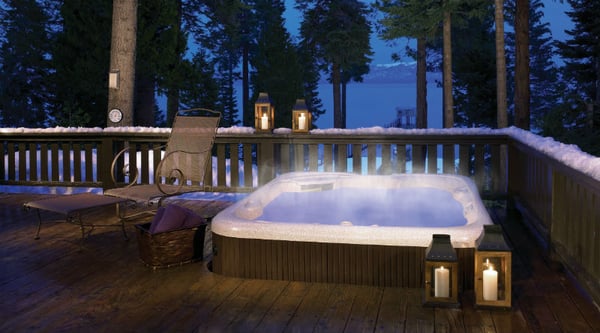 7. Design a hot tub deck you can enjoy in all seasons
When its chilly out, you can still chill out. There is nothing like watching the snow fall from the warmth of a hot tub. Even a hot tub on your outdoor deck.
For safety, avoid decking that can create slip hazards in cold weather like composites and pavers. Choose a deck material that lets you maintain the deck around your hut tub easily, even if it snows.
Under the right conditions, ice will happen on any deck so take care. But once cleared, you want a deck material that is the least slippery when its wet.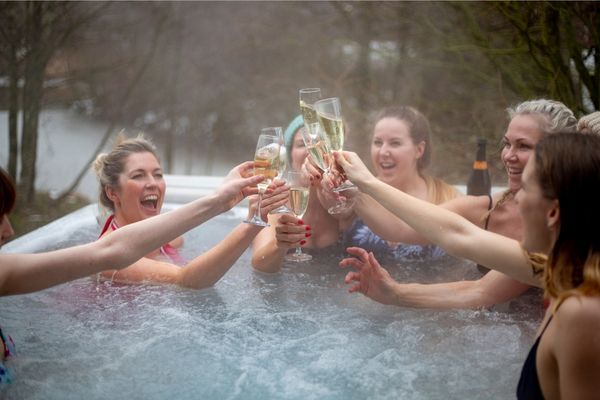 RELATED: Simple Wood Deck Snow Removal Tips
For wet or dry decks, premium hardwood decking like Ipe wood or FSC Machiche wood decking has some of the highest slip resistance available in real wood decking. Softwood decking like redwood and cedar are the next-highest resistance and composites generally have the lowest.
Premium hardwoods like Ipe wood decking and FSC Machiche wood decking are great choices. Machiche comes in a natural range of chocolate-y brown tones. Ipe has a medium brown to dark brown color range.

Hot Tub In Small Spaces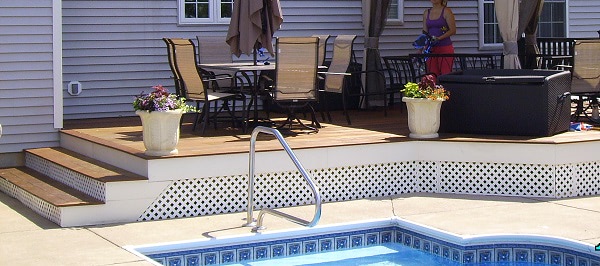 8. Rise above small spaces by adding a raised wood deck
Small properties can be challenging. Especially if the ground is uneven. Pro tip: Build up when you can't build out! Consider a raised deck design or a multi level deck. These can allow you to build over uneven ground or create separate spaces for activities.
By having a professional deck designer add a hardwood deck in "dead space" space between the pool and the house, (pictured above), this homeowner was able to create space for a hot tub and an outdoor dining area.
---
Get your copy of the Ultimate Guide to Selecting The Right Decking and
start making your dream deck a reality!
---
Most decking materials will work for a small deck like this, but keep moisture damage and heat and humidity resistance in mind. You don't want to add any extra maintenance for yourself when adding extra deck space. All decks need basic cleaning as needed, of course, but refinishing and repair needs vary widely. Maintaining your deck can eat up your weekends if you're not careful!
One item to consider when choosing where to put your hot tub in a small place is how it will be supported. The natural cedar deck, (pictured below), will not hold up to elements as long as a hardwood. Cedar requires repair and replacement more frequently than other hardwoods and is a less dense, therefore much less strong, decking board.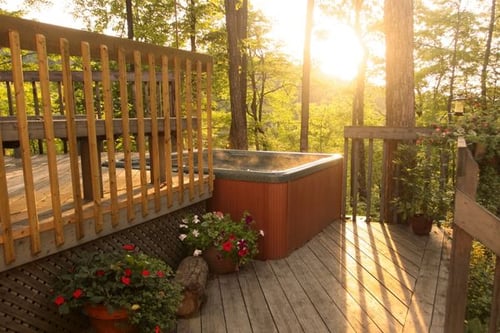 9. A multi-level deck design can create a space for a hot tub
RELATED: Adding heavy load items (like hot tubs) to your rooftop or raised deck safely
Softwoods like redwood, pine and cedar decking look great upfront, but have very low resistance to rot and mold. Your deck will decay faster and require repairs long term, potentially making it more expensive long term than other materials. Even painted redwood is at risk for rot and mold where moisture sits unnoticed under the boards (below).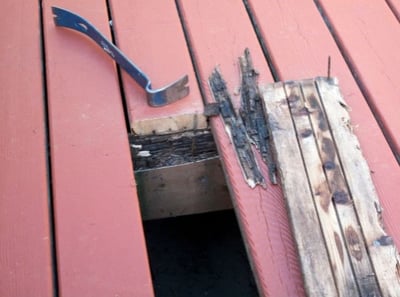 RELATED: Rooftop Deck Design Ideas Gallery
Thermally modified woods have very good weather and water damage resistance, higher than softwoods but lower than hardwoods. Therma Wood Ash and ThermoWood Hemlock and are more affordable upfront. Lower repairs, refinishing, and maintenance needs than softwood decking also give it a a higher return on investment.
Exotic hardwoods are a higher upfront cost but have the lowest lifecycle return on investment of all the decking materials. They are the strongest and most damage resistant wood decking material naturally. Hardwoods do not require painting or staining and can be left natural. A UV protectant oil based finish will stop your hardwood from
Create A Cozy Corner for your Hot Tub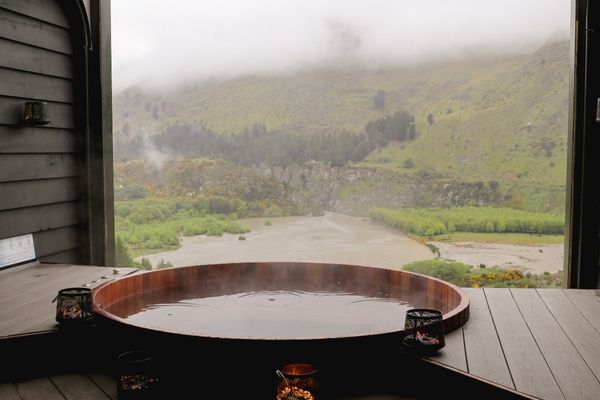 10. Surround a wood hot tub with an all wood deck for natural luxury
Is your aesthetic "organic luxury" but your deck space is limited? Take a tucked away space on your deck or against your home exterior and add the hot tub of your dreams. Levels of wood steps create a geometric design and a place to sit while adding to the luxurious feel. Imagine this oasis just outside your wood sliding doors and overlooking the landscape. Private but open!
---
Looking for more deck design inspiration? Grab your download of the Ultimate Guide to Deck Design Ideas.
---
Below, a spa-like environment built off of a private deck uses the same wood decking material for the tub steps and tub deck. Stone tile walls create an intimate escape.

11. A three-walled or nook off your deck can create an exclusive room for your hot tub
For an organic deck design, real wood is always going to be your first choice. In a small space, built against your exterior, you especially want to avoid rot, insects, and mold that could invade the interior. (Mold and rot often hide under the deck before you see it above the deck.)
Softwoods have low rot resistance and their low fiber density means insects can bore right in. So can rot and mold. They can then spread to your home's exterior walls!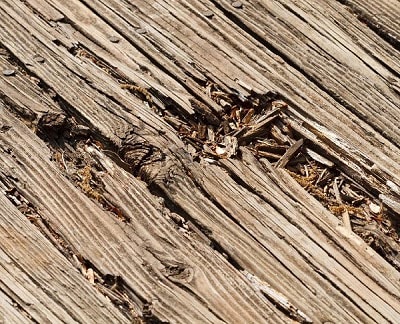 Rotted softwood decking (above) is also a safety hazard. It leads to splinters, cracking and cupping creating breakage, and other hazards.
Consider Mataverde thermally modified wood or premium hardwoods, both sustainably harvested. Thermally modified wood uses only steam and pressure for the modification process, no chemical treatment. Hardwood has naturally high resistance and does not require additional treatment for insects or decay. Both wood choices come in a large selection of color ranges.

Add Serene Privacy Screening
If your hot tub and deck is within view or the neighbors, or passing traffic, you probably want privacy. A plain fence will do, but why stop there?
Add a privacy screen from natural wood to extend that spa feeling. Create an Asian or other aesthetic like the photo below, or match your exterior style.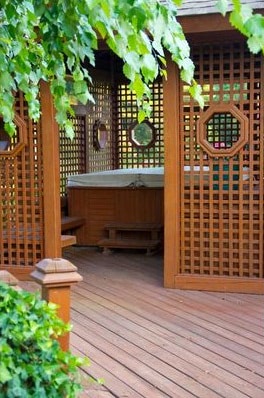 12. Privacy screening doesn't have to be boring
Adding a solid privacy wall (below) is another option. This hot tub was added next to an exterior stone accent wall and the real wood plays off nicely. By using the same real wood for the decking and wall, you get a random, natural grain pattern and figuring instead of a flat, repeated pattern.
Resistance to warping and cupping are important here, too, since warped boards are not going to be calming to look at from your hot tub. Again, stay away from softwoods for best results and less time refinishing and consider hardwoods for good looks that last.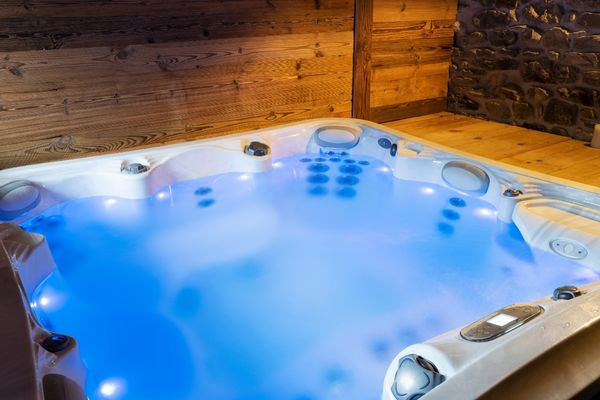 13. Add a rustic feel to your hot tub spot
If you're inspired, and want to know more about the first steps to your dream deck project, we can help. Feel free to contact us and we can answer questions about pricing and options.
---
Download the Ultimate Guide to Deck Design eBook here
---
Comments
Related Posts