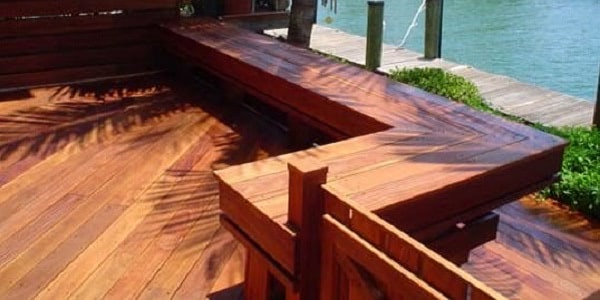 24 Awesome Design Ideas for Your Deck Remodel
Written by
Liza Sivek
on
If you're looking to upgrade your outdoor living space, start with your deck! A deck remodel can give your outdoor space the facelift it deserves, providing you with a comfortable and stylish area for entertaining or relaxing.
With a wide variety of decking materials, styles, and design options available, there's no limit to what you can achieve. Here are 24 awesome design ideas photos and details to help you create your own inviting deck space.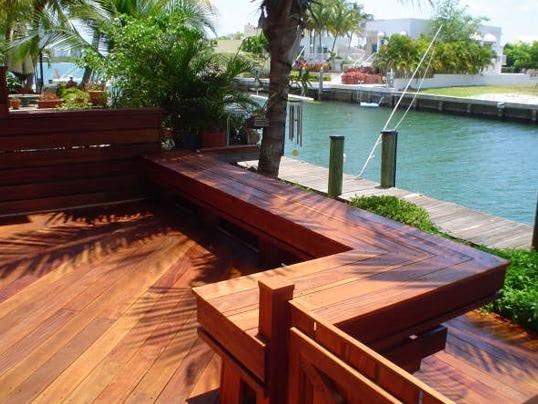 Cumaru hardwood deck with built in benches along a pier in Florida
Complete Makeover
When it comes to designing your deck remodel, start with the most important part - the decking material. Choosing the right decking material is key to creating a chic and customized look for your deck.
The best decking choice for a remodel is a high quality, low maintenance, premium decking.
Are you replacing an old deck because it needs repairs, is worn and scratched, and maybe showed checking and splitting?
You may want to avoid these issues in the future by avoiding the high maintenance and short lifespan of lower quality decking for your remodel. Consider the time and lifetime maintenance costs you want to invest before you start designing.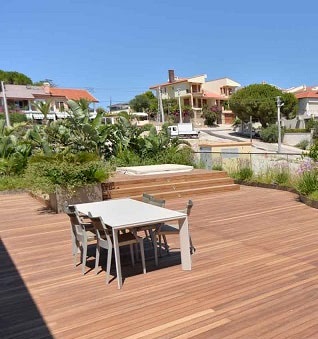 Thermowood decking for dining al fresco and steps up to the hot tub
What Wood You Choose?
Premium, real wood decking offers a natural beauty that can add character and charm to your deck, with each species offering different colors and grains to choose from.
Hardwood decking includes Ipe, Cumaru, Garapa, FSC Machiche, and Brazilian Cherry (aka Jatoba). Hardwood lumber is incredibly fiber dense so has a high level of strength durability paired with very low maintenance, making it an ideal choice for a long-lasting deck.
Hardwood cannot be easily painted or stained, instead it only requires a UV protectant oil finish made for dense hardwoods. We suggest and use Penofin Hardwood Penetrating Oil Finish, reapplied as needed to prevent your deck from weathering to gray.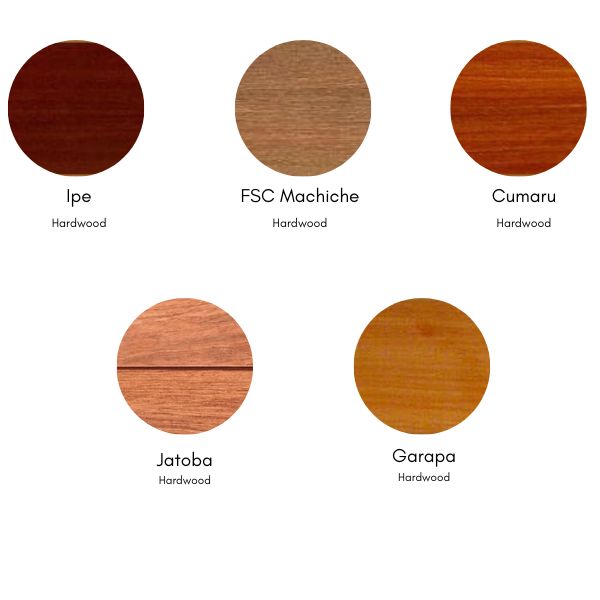 ---
Download The Deck Design Ideas eBook and be inspired!
Includes more than 150 photos of gorgeous decking projects plus expert deck design planning tips.

---
Western Red Cedar or Redwood are softwood decking options. They both have beautiful natural colors and natural insect resistance. But they are more susceptible to moisture damage like rot, mold, warping and splitting. Cedar and redwood are at the very top of decking prices. Both cedar and redwood have very low availability, so it could be a long wait before you can start your project.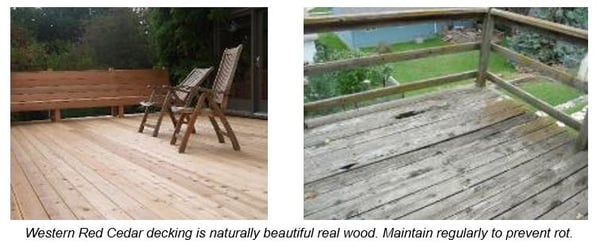 Cedar wood decks are popular, but have drawbacks: High price, low availability, and high maintenance.
Thermally Modified Wood, which is processed with heat and steam under pressure, is a very sturdy decking material that resists rot, decay, and insects. It also has a budget-friendly price point. The heat treatment creates a deeper wood tone than its non-modified counterpart with a dark grain pattern that stands out. It can also be painted or stained.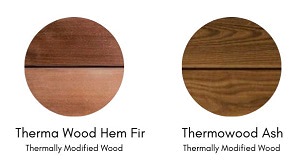 When compared side to side, Thermawood Hem-Fir has light- to medium-brown tones,
and the Thermowood Ash features darker browns.
RELATED: Download the Ultimate Guide to Selecting the Right Decking
There are two kinds of thermally modified wood species: Thermowood Ash Decking, modified American Ash hardwood; and Thermawood Hem-Fir Decking, a modified Hemlock, which is also available fire treated for wildfire prone areas, Thermawood Hem-Fir FR.
The boathouse below features Thermawood Hem-Fir decking from the main building directly to the water outside the overhead door. Thermawood also surrounds the interior with wood trim and walls, and even the ceiling soffit. This gives a warm, natural, and welcoming shoreline feel.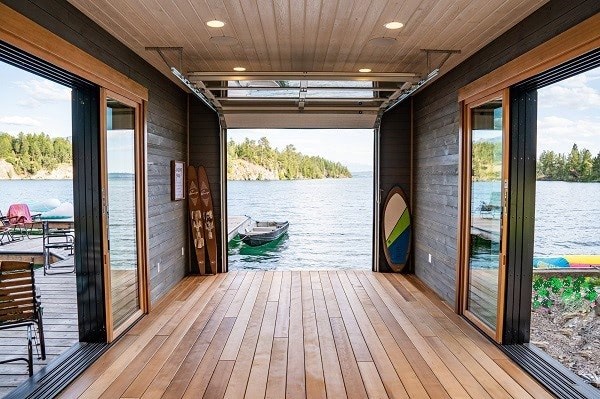 The rot, decay and scratch resistance of thermally modified Hemlock is a perfect fit for this boathouse (above) that is also a dock. Thermawood Hem-Fir dock can handle kayaks and sports equipment pulled in and out of the water easily. If your deck will need to handle lots of family foot traffic and activities, keep Thermawood in mind.
RELATED: View the Thermally Modified Wood Deck Photo Gallery for more ideas
Designer Details
Picture framing a deck is one way to contrast two types of wood and add interest to your deck. For example, an Ipe hardwood deck (below) with a Garapa border or "picture frame".
This adds an affordable custom look to your deck that can be extended to railings, steps or other features if you choose.
Brown Ipe wood and golden brown Garapa wood with an oil finish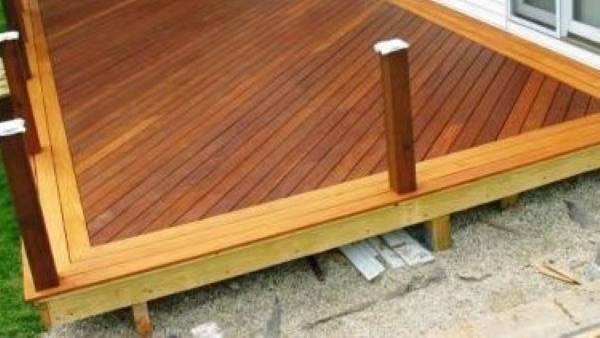 What a picture framing installation looks like mid-install, (above). You can see the gorgeous natural colors even before the oil finish is applied.
RELATED: Learn how to create this look in "Pro Tips: How To Picture Frame a Deck"
By selecting woods with interesting grain patterns and colors you can use the decking itself as a designer element.
For this remodel, the homeowner chose FSC Machiche wood. Machiche is lesser known among the hardwood decking choices but, once discovered, is used again and again by home builders and architects for its performance and looks.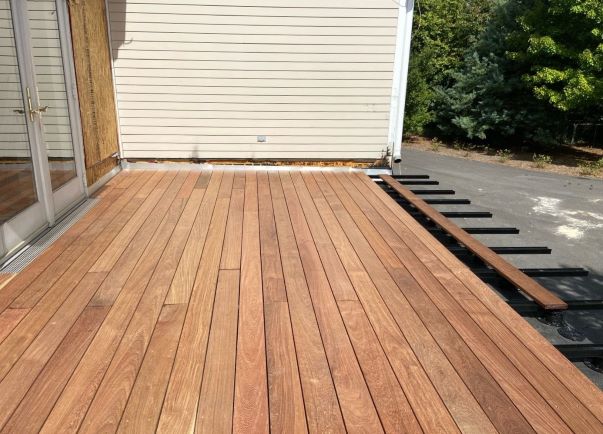 It has beautiful figuring and grain patterns plus a medium to dark chocolate brown range. The natural grain patterns of FSC Machiche wood make a small deck really "pop" visually. It's obviously not the same "off the shelf" from the Big Box hardware stores, and will make friends and neighbors ask where you found such beautiful decking.
RELATED: See the whole remodel (above) in "Ravaged Rooftop Deck Renewed with FSC Machiche Wood"
This L-shaped second floor deck on the New England shoreline, (below) showcases the colors and patterns of Ipe wood. Using long length boards really shows off the natural figuring and patterns.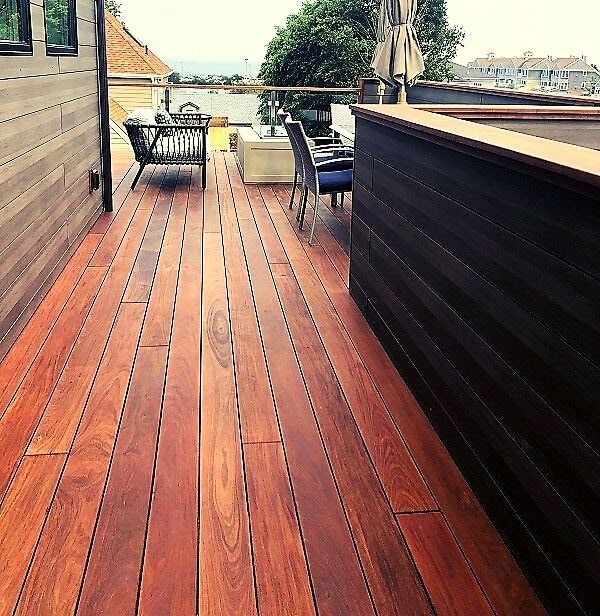 RELATED: Check out the Ipe Wood Deck Photo Gallery for more ideas using this gorgeous material.
Add Access
Don't overlook the importance of deck stairs. They are not only functional but also add an element of style to your deck.
Consider replacing old or worn-out stairs with the same wood decking material to create a custom, stylish look. You can even add lighting to your stairs to create a dramatic effect and increase safety.
Traditional style Ipe stairs (below) leading to the second floor deck shows off the exotic figuring on the handrails and stair risers. Wire cable bannisters add a contemporary contrast.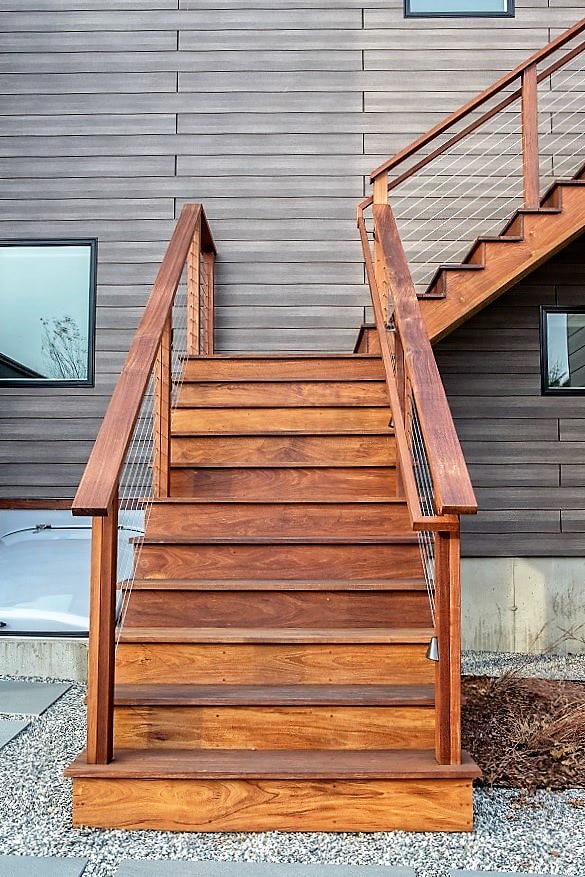 RELATED: Learn more about this decking in "Ipe Wood Decking Chosen For Strength and Beauty at Rhode Island Home"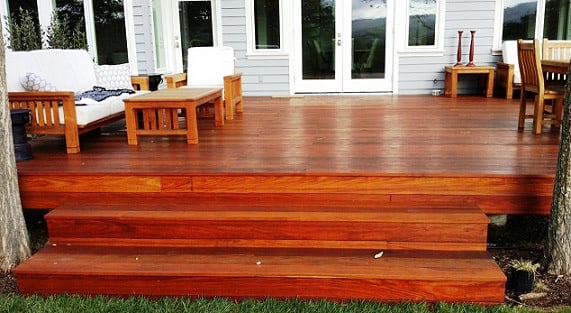 If you have a deck that needs just a few steps up, wide steps are a nice touch and don't look "skimpy" the way one skinny stairway could. In this case (above), FSC Machiche was used for the deck and the steps, which were custom built to flow down between two existing trees.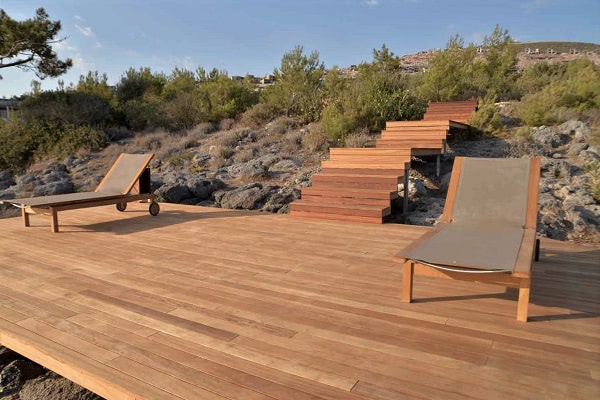 Waterfront decks may need to be built down ledges or sea walls from your beach house. Stairs that take you over steep rocks and vegetation are often necessary.
A Thermowood deck and steps, (above), blends into the natural environment, is more comfortable underfoot than metal or cement, and gives your deck a resort feel at home.
RELATED: Ready for more? Check out the "Ultimate Guide to Selecting the Right Wood Decking" next.
For this waterfront home, (below), the Ipe deck stairs were designed to meander down the sloped landscaped to a deck for dining and and family gatherings. Then it continues to the wood pier on the water's edge. This is a good example of how to take advantage of uneven ground when designing your deck, too.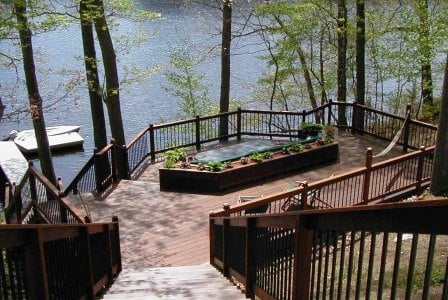 Expand Plans
If you are remodeling a small deck and want to make it bigger, there are plenty of ways to make the most of the available space. A professional deck designer can help you find the best ways to use "dead space" in exterior corners or uneven areas.
Here's a few ideas to start.
Consider multi-level decking to add visual interest and create separate areas for dining and lounging. Multiple levels can also give the room you need when you can't build out to the sides.
The two story deck, (below), features Cumaru wood decking (freshly finished with Penofin Penetrating Hardwood Oil).
The first level includes seating and an outdoor kitchen for entertaining and dining, with a second floor for overflow guests or relaxing. You can also add built-in benches or planters to maximize space.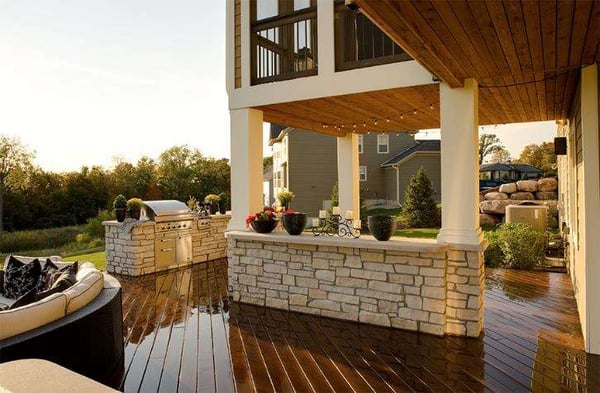 If second stories are not what you want, then just adding a few levels can make a huge difference.
Carefully planned levels can create distinct spaces for shade, seating, dining, entertaining. The Garapa wood deck (below) has a shady are for gathering, an overhanging pergola to add shade to the doorway and interior, while still extending out in a larger area for entertaining.
The "sunray" style layout of the wooden deck boards add a visual illusion of a larger deck, too. While the space is not huge, by added a few steps up and great design takes a basic deck space to an interesting gathering area.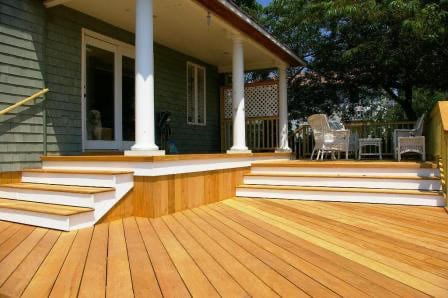 ---
There's over 150 photo of deck design in this eBook, just for you. Grab your copy now!

---
Make Shade
If your deck is in a sunny spot, consider adding some shade to make it more comfortable to use. A pergola or covered deck can provide a shady spot to relax, read a book, or entertain guests. Overhead structures can also separate areas for dining or gathering.
Have a large gathering area and want to break up the space a bit? A wood pergola is a good option. This Machiche pergola (below) was designed with two-tone slats overhead and stacked pillars to make it a centerpiece, not just something to sit under. A Machiche deck underneath helps to surround the space in natural wood, contrasting nicely to warm up the look of cold cement pavers. This design was created on a rooftop but you can recreate it on any large deck.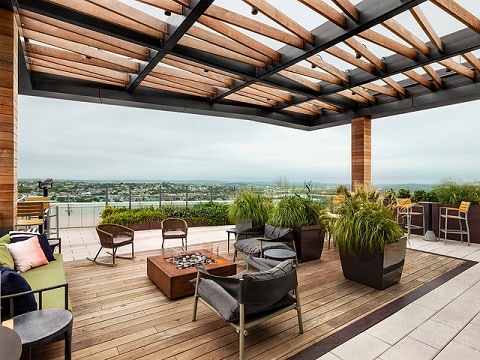 Below, a simple, modern two-tone Machiche wood pergola, echoing the siding wood, adds shade and flair to this outdoor kitchen area.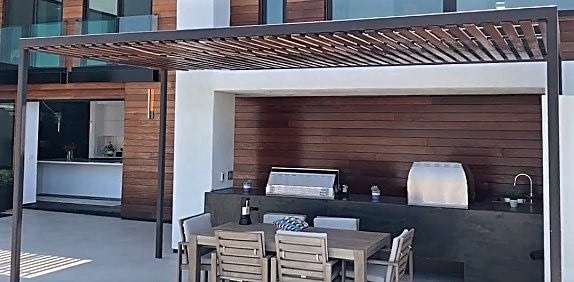 Ipe wood pergola style overhang, (below), creates a shaded back patio area, shades the interior rooms, and matches the Ipe wood siding for a designer feel.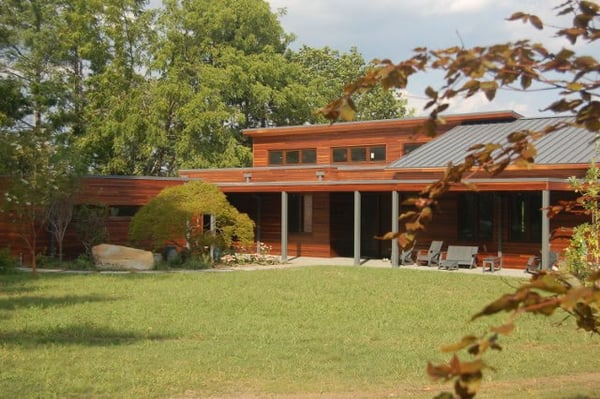 Create a soft place to land on your deck after a long day with a hardwood pergola and deck flooring that includes lighting, floor cushions, and flowing drapes.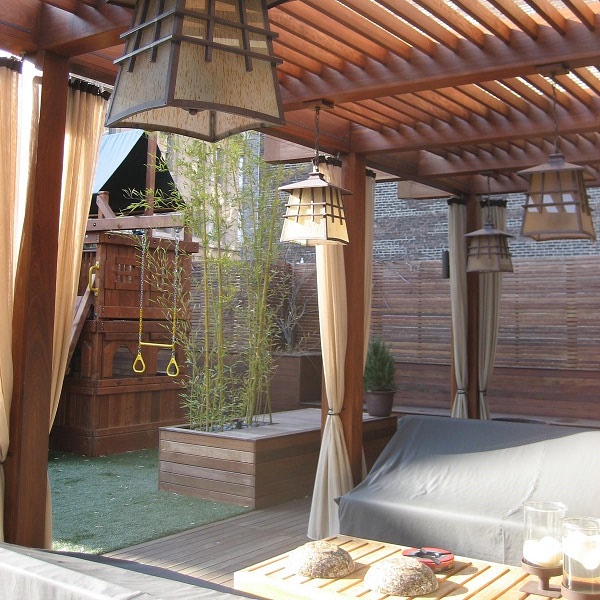 RELATED: Learn more about "Deck Designs Using Pergolas and Arbors" here.
Weather or Not
Maybe you want your deck to weather to gray. Always a popular and beautiful option.
The best deck material for this is hardwood since they require minimal maintenance and no refinishing or sealing. Yet they don't lose their resistance to rot and insects, or their durability. All hardwoods weather to a soft, satiny silver gray naturally.
Ipe decking, (below), is proven to last over 20 years without refinishing, so you can relax.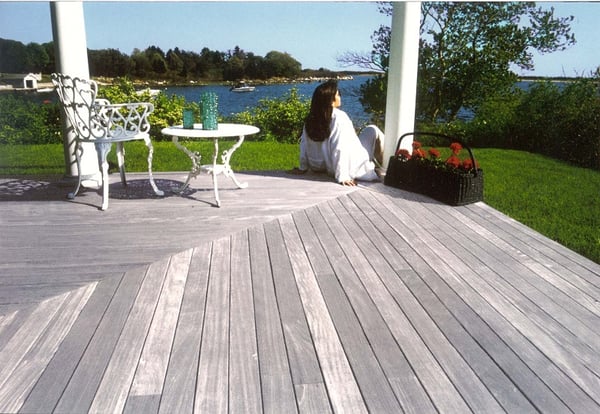 RELATED: For more, download the guide "How Does Exterior Hardwoods Weather"
Cedar and redwood can also be weathered gray. We have all seen the photos of beach shacks with decks weathered to that iconic, rustic gray.
Cedar and redwood gray nicely but will tend to check and split (below) more than Hardwoods and Thermally Modified Woods. Cedar and redwood will require higher maintenance needs once weathered, frequent refinishing and sealing, and tends to need more repairs.
However, hardwoods like Garapa, (below) used for a deck on artist's studio, weathers nicely to silver and stays durable.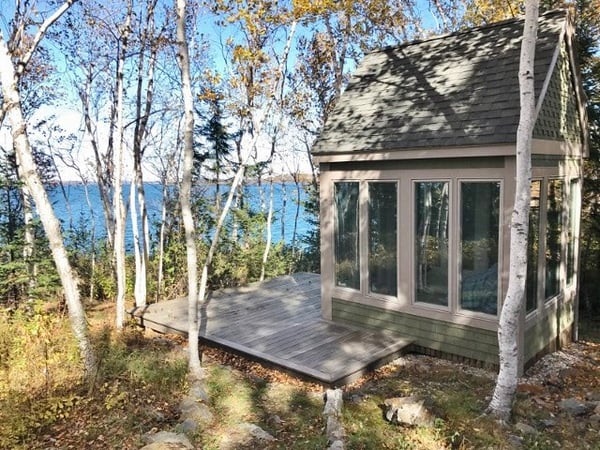 A rooftop balcony deck, with the strong UV it receives, is a great place to use Machiche hardwood that can handle the aging without adding extra labor and upkeep.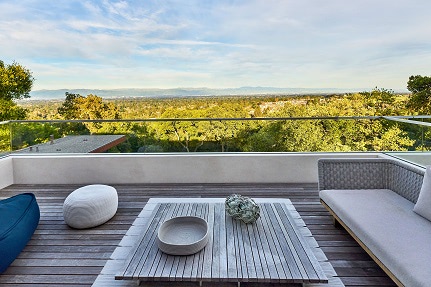 (To see what this decking looked like first installed, keep reading!)
RELATED: Check out "Weathered Wood Decking Can Be A Good Thing - Or Not".
Surrounding Style
Deck railings don't have to be standard, or boring. Railing are not only functional but also add a significant style element to your deck. Using the same or a contrasting wood or materials can make a big difference. Or use the same wood as your decking to keep classic railing styles custom and high quality.
From sleek and modern metal railings to more traditional wood railings with intricate details, there are plenty of options to choose from. Glass railings are also gaining popularity due to their sleek and modern look.
Why be square? Below, a curved wood railing system follows the organic shape and flowing lines of an Ipe hardwood deck. Designing a curved railing adds an individualistic touch.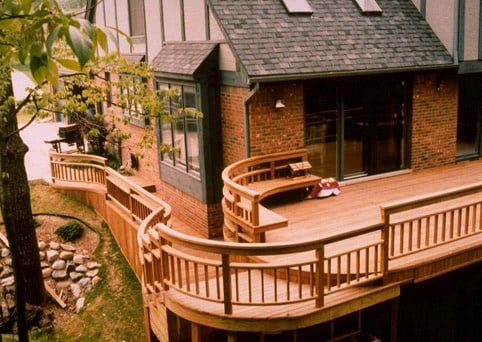 Do you have a knockout view from your deck? There are quality glass deck railings that are safe, sturdy and won't block your scenic overlook. it makes a very modern statement when contrasted with a Machiche wood deck, (below), and cement. The natural wood decking softens the overall design , making it warmer and more inviting.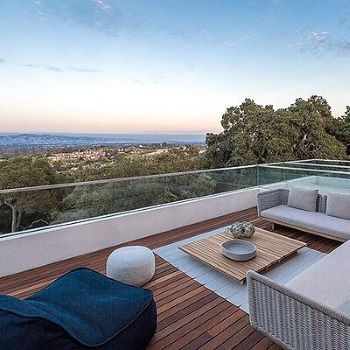 Cumaru wood, (below) was used throughout the deck, the steps, the covered front façade, and the handrail. By adding metal banisters in a darker color it gives this deck design a more contemporary feel and contrast for aesthetics. An all wood deck railing and classic balustrades would create an entirely different, more traditional look. Just the contrast of materials is enough to change the entire feel of this deck.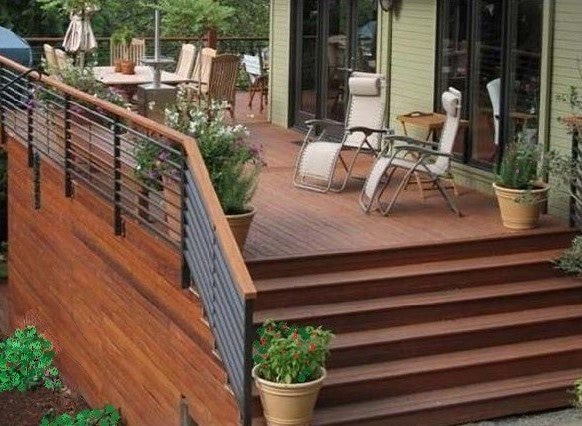 RELATED: Check out the Hardwood Deck Photo Gallery for more projects and inspiration.
Private Space
If you want to create a private space on your deck, consider adding a privacy screen. A screen made of wood lattice, bamboo, or other materials can add an element of privacy and seclusion, creating a cozy and intimate atmosphere.
Even better, add a privacy screen made with the same wood as your decking to enhance the design and give it a custom and unique look. Plus, better quality wood means less upkeep for your privacy wall, too.
For rooftop decks, city building codes often require that a privacy screen that blocks the view into your space, so your activities do not bother your neighbors. This creates big opportunities for creative ways to incorporate this element.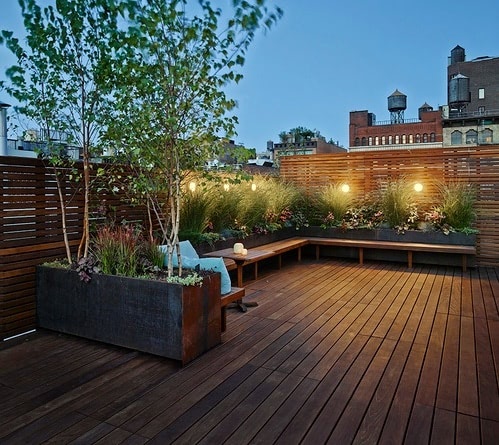 Here (above and below) professional deck designers used Ipe wood for the decking, benches, planters and the privacy screen. The planters, with lighting and soft, colorful greenery, add an additional layer of natural material between you and the urban skyline (and noise).
Even if your deck is on ground level, this is a stunning look to recreate on your deck if you want to block out the outside world or just nosy neighbors.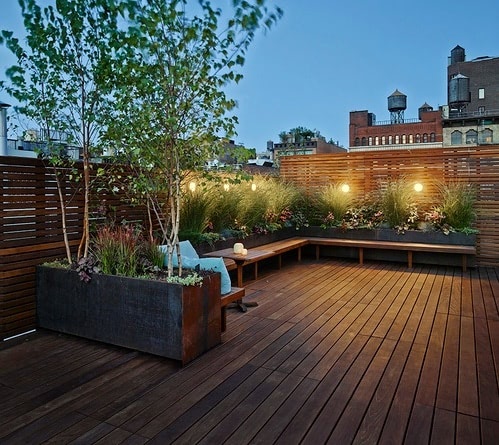 ---
There's lots more where these ideas come from!
Download the 150+ Deck Design Ideas eBook and get inspired!
---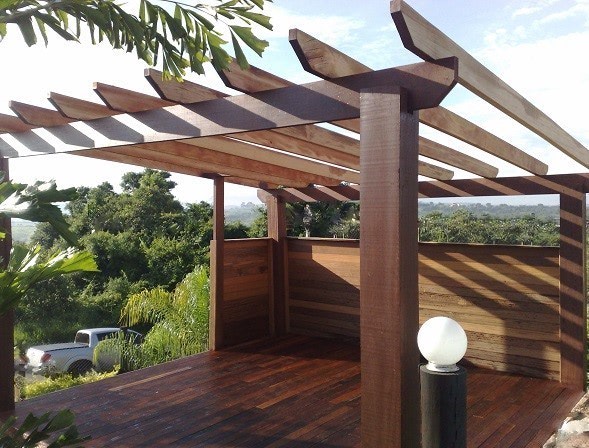 An Ipe wood pergola and privacy wall add a secluded corner to this Ipe deck (above). Use a spot like this for dining, a hot tub, or seating area. A solid privacy wall like this can block traffic noise or a less than gorgeous view.
A Jatoba (Brazilan Cherry)hardwood deck with a hot tub is surrounded by an Asian-art-inspired lattice "room", (above), that allows breezes and sunlight in but also creates privacy from without. With green landscaping all around, this feels like a spa moment every day.
Garapa wood is preferred by some for its golden blonde-brown color range and interesting patterns, as you can see in the deck below. A solid wood privacy wall acts as both a safety fence (required by many building cods) and a way to ensure a private are to swim and recline. Here they went for a simple and elegant design, letting the woods speak for themselves, but added a small sunken garden and lighting for more ambience.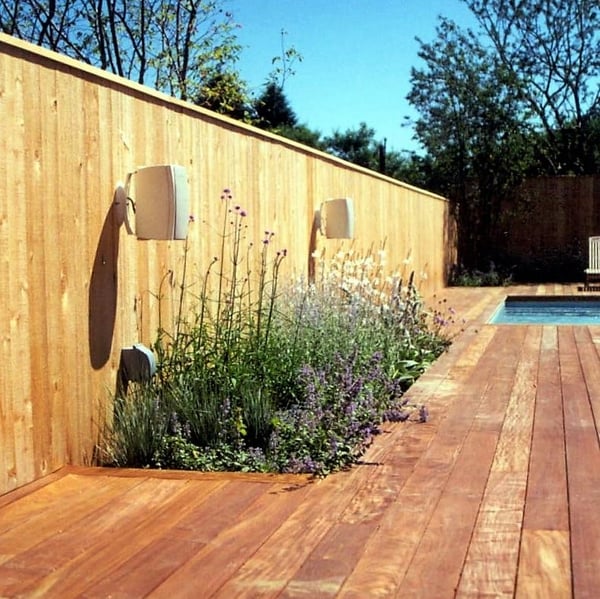 All in all, I think it can be agreed that your deck is an extension of your home and an essential element of your outdoor living space. Remember to choose the right decking material, add access, expand your plans, create shade, add surrounding style, and create a private space to achieve the perfect deck remodel.
With these awesome design ideas for your deck remodel, you can create a customized and stylish space that you and your friends will love.
Related Posts