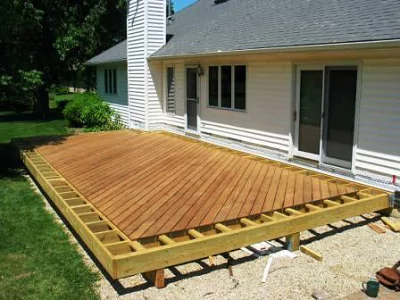 ---
Making the Final Decking Cut
Now, you're ready to make your final cuts on the ends of the decking boards you intentionally left long.
Snap a chalk line between

the two short points of the border, or between your finished cuts between the

posts. This is your cut line.



The best way to cut this is with a track saw or a circular saw with a guide to ensure a nice straight cut. If you are confident, then go ahead and freehand it. And don't mess up.





This is the reason you cut the first and last boards and the boards around the posts to length. This gives you room to run your saw straight through without having to trim the corners near your finished pieces.





If you do end having to nip a corner off, an oscillating multi tool works best.





The only thing left to do is cut and fit the remaining border piece. I like to measure long point to long point, one because it's easier and secondly because you avoid the posts. Maybe deliberately go a touch long to leave some room to adjust the angles if necessary.





Mark and cut the notches for the post. It's best to take a little less to give some room for adjustment.





Once that is good, make your final adjustment on the end joints if necessary and push it tight to the decking.
Nice job! You're done. Now stand back and admire how awesome you are.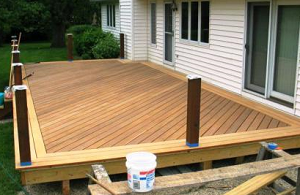 Decking installation and picture frame are now complete
Following these steps should help you install a picture framed deck like a professional. Be sure to start with the right decking materials, plan ahead to cut your border around your deck railing posts and avoid tricky issues that could mean costly do-overs, and know how to lay out your decking boards for the best possible outcome. We hope these tips help you enjoy building your deck and enjoying it for years to come as a job well done.
---
Download this blog in a PDF guide! Click below.
---
Related Posts