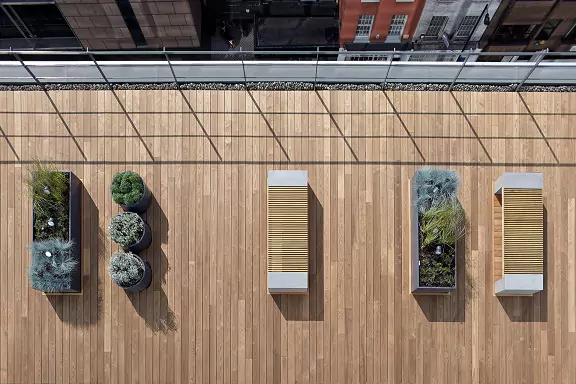 49 Rooftop Deck Ideas That Top Them All
Written by
Liza Sivek
on
Do you have designs on adding a sensational rooftop deck to you home? Are you looking to add outdoor living with a beautiful birds eye view? You aren't alone, and for particularly good reasons. Rooftop decks are in big demand because they add home value and a relaxing private space. There are 49 inspiring rooftop deck design photos in this article for you. Plus key details on making your rooftop deck safe, low maintenance, and long lasting.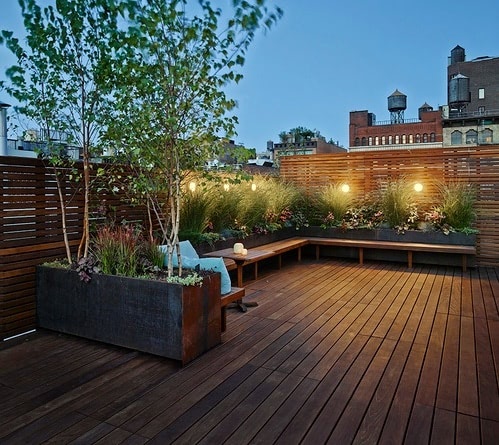 This urban oasis in New York City, an Ipe hardwood rooftop deck, is a space to escape to. Built in seating, natural wood elements, a wood screen surround, and container gardens are all created with the same Ipe wood decking materials. Don't you agree it's a spa-like feeling?
B
efore We Talk Rooftops, Let's Talk Foundations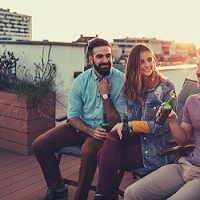 A wood rooftop deck is a perfect place for your family and friends to gather. You will want the safest and strongest rooftop deck system and wood deck materials for your design.
You want a gorgeous wood rooftop deck to enjoy and entertain friends, of course, but beauty is only skin - or in this case wood - deep. What will be below your wood decking material? the roof of your home or building must be able to handle the weight and use of a rooftop deck. And there must have a strong, safe deck system profile under the decking to support it above the surface of your room. Knowing these facts upfront can save you money, and frustration, when you are ready to build. Designing your rooftop deck for safety and durability lets you entertain and enjoy your space worry-free for years.
|RELATED: BUILDING A ROOFTOP DECK: 6 STEPS TO SUCCESS
Classic architecture surrounds an Ipe wood rooftop deck for water view dining. Balcony decks, and rooftop decks that will have lots of furniture (for lots of people), should be checked for load capacity before you build.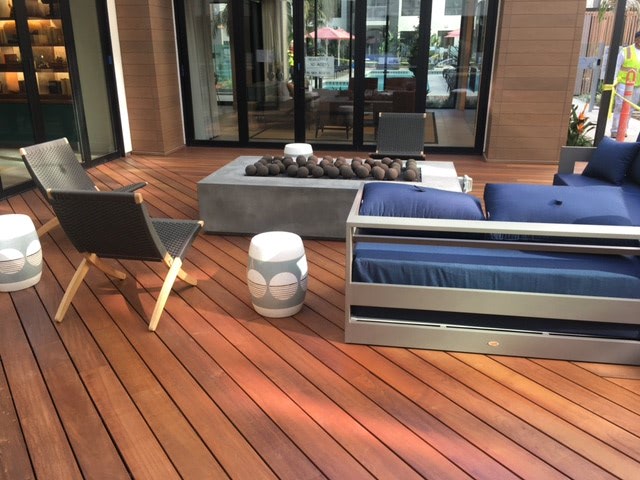 Imagine a new outdoor room with a modern fire table a step outside on your rooftop. For this small space deck design they chose the aluminum Eurotec rooftop deck system since it will add less weight to the roof surface. This means more leeway to include heavy weight items like cement fire tables to final rooftop deck design.
|RELATED: HOW TO PLAN AND BUILD A SMALL ROOFTOP DECK
Questions to ask when planning a rooftop deck:
1. What is allowed where you live?
Check with your local zoning department to see if rooftop decks are allowed and if there are restrictions on what and where you can build one on your home.

If you have a homeowners association, check if they have restrictions on constructing a rooftop deck.

Your local building code official can also give you guidance on planning.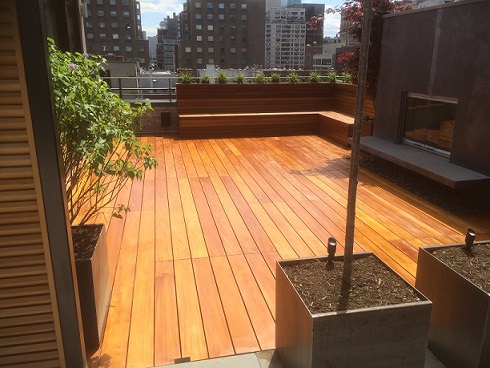 The dark granite fireplace wall plays off the golden tones of natural Garapa wood, a look certain to impress your family and friends. Built in seating and planters created from Garapa hardwood decking, outdoor lighting, and a outdoor fireplace make a living space that is cozy and warm.
---
Learn more about the benefits of using hardwood decking in your rooftop deck design.
Download the free "Ultimate Guide to Selecting The Right Decking" here.
---
2. Can you safely add the weight of a deck to your home's rooftop?
This is a step you cannot skip, it's too important.

Hire a structural engineer to determine the loading capacity of your roof. It will absolutely be worth it to know what your home can handle before you start designing.

Now is the time to think about the weight of your finished deck design: Do you want to include heavy load items like a pool, or plan to entertain crowds?

Consider a strong but lightweight aluminum rooftop deck system, like the Eurotec rooftop deck system, to decrease the weight in your rooftop deck design.
|For more information, see Apartment Therapy's article, "Can I Just Plop a Roof Deck on Top of My House If I Want To?", where we were interviewed about just this subject.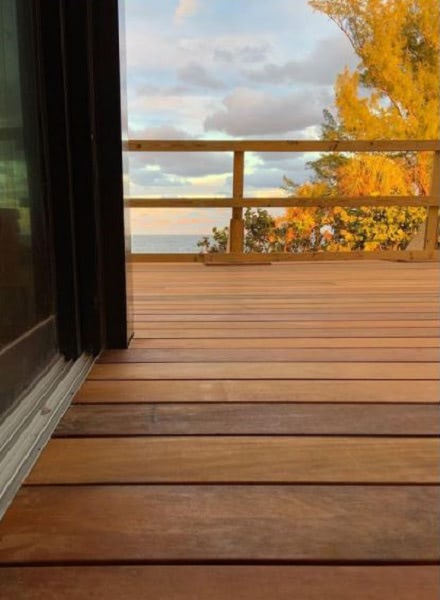 Sunsets just feel better from your Garapa hardwood rooftop deck. Rooftop decks can wrap around your home to add to your views.
3. What rooftop deck support system should you choose under your decking?
Sleepers: Wood sleepers are frequently used on rooftop decks but that creates a very low clearance. Sleepers may require adding holes (perforations) to your rooftop. Both can create drainage and trapped moisture problems, which can lead to rot hiding under your decking. Read an article about sleepers here.


Traditional pedestal systems: Most rooftop deck pedestal systems limit your design to deck tiles or requires a heavy, unwieldy wood deck frame. If you want to design with full length wood decking boards, not squares or shorter lengths, traditional pedestals may not be right for you.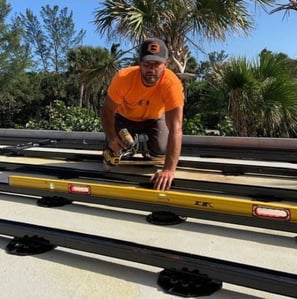 Installing the Eurotec rooftop deck system on an award winning rooftop deck design in Florida, chosen for the ease of installation. (Image courtesy of @CK_Construction)
|RELATED: CHOOSING A ROOFTOP DECK SYSTEM FOR AN AWARD WINNING HOME
Adjustable rooftop deck pedestals: Mataverde Eurotec Rooftop Deck System is a patented rooftop deck system with pedestals that adjust in increments to easily follow the slope of your rooftop. This allows for height for drainage and for using full length decking boards, giving your deck long, clean lines. Since Eurotec uses an aluminum joist profile it is lightweight, lessening the weight on your rooftop. And aluminum joists eliminate concerns about twisting, warping, rot, or insect damage underneath your decking.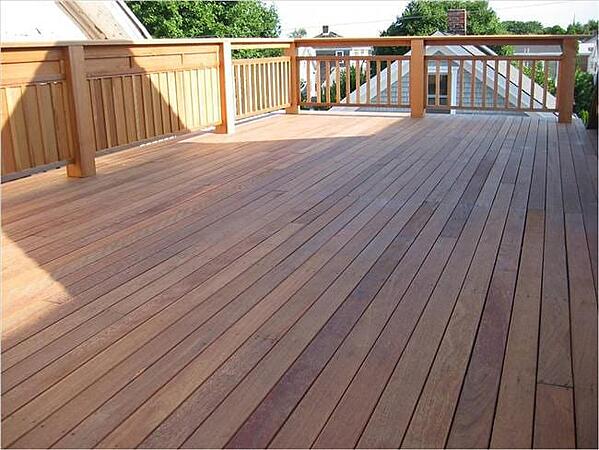 Ipe rooftop deck installed with full length boards to draw the eye along the space and the wood grain. Using the Eurotec aluminum profile underneath allows you to design with full length boards and add less weight on the rooftop.
---
Tons more rooftop deck design inspiration in the "Rooftop Deck Design Ideas Portfolio" here.
---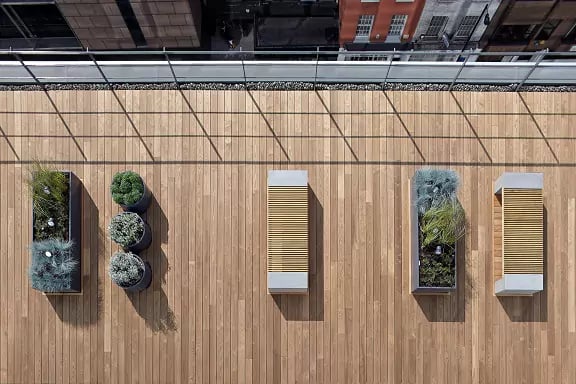 Imagine taking a break from your busy day on this peaceful, sun-drenched deck. A view from above shows off the minimalistic beauty. Full-length wood decking boards give this deck its clean lines.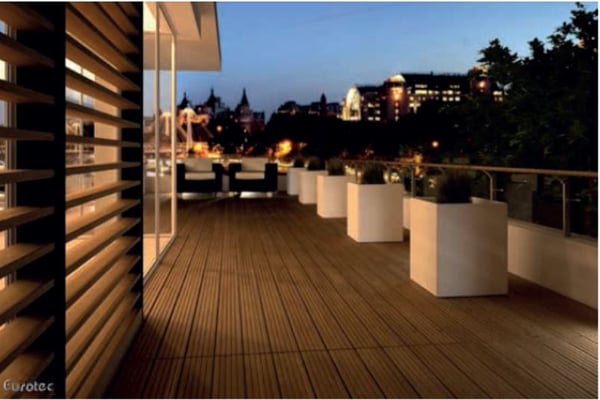 Wood decking holds planters and seating, installed with the Eurotec Rooftop Deck System. The Eurotec system creates a strong, lighter weight, highly weather resistant deck foundation on your roof surface.
---
Need more rooftop deck design inspiration?
Download the "Rooftop Deck Design Ideas Portfolio" here.
---
Should I choose hardwood decking or softwood decking material?
The sky is actually the limit in rooftop deck design. So how do you choose material that meets your deck design requirements and creates a strong and durable rooftop deck?
When only hard deck surfaces like tile pavers are used in a design, your rooftop deck could turn out feeling cold and unwelcoming. Real wood decking is visually warm, comfortable, and meets many design goals.
But rooftop decks are also exposed to more than their share of UV rays and punishing weather. So which wood decking options meet both design and durability needs?
---
Grab your free copy of the "Ultimate Guide to Selecting the Right Decking" for your rooftop deck design here.
---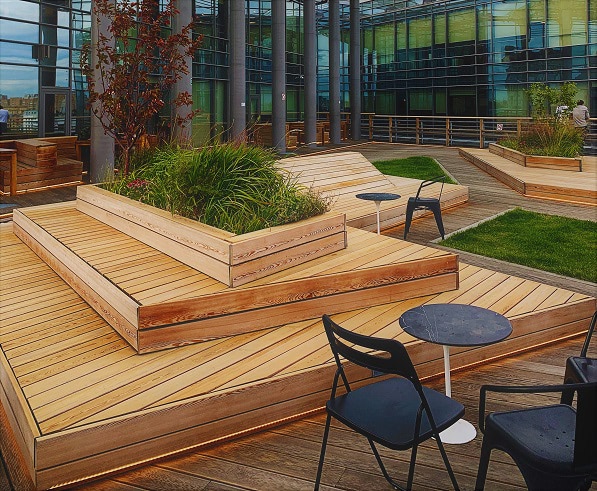 A geometric deck design made with Garapa wood decking to warm up the angles and gave it a cozy, gathering place feeling. The space-saving, asymmetric "stacks" of benches and planters create easy seating for family and friends while incorporating a little greenery.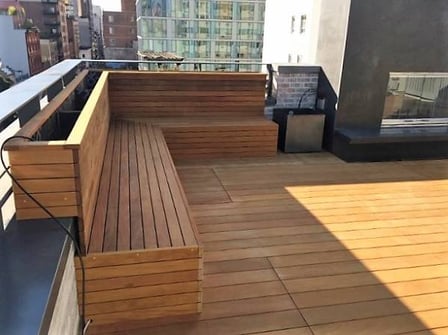 Garapa hardwood decking gives a softer, natural feel to all the built in angles on a long, narrow rooftop - without sacrificing durability or strength. Built in benches and planters designed from the same naturally strong Garapa wood decking can gave both high resistance to threats to your decking, like UV rays and rot, with the softer look and feel of natural wood.
---
The newest version of the "Rooftop Deck Design Idea Project Portfolio" is ready.
Click here to download your free copy.
---
Characteristics of hardwood vs softwood decking materials
If your rooftop deck design will get lots of foot traffic, there are great benefits to using hardwood decking material.
Hardwood decking
Ipe decking is the highest density hardwood species and is the standard all other wood decking is compared to for strength and longevity.

Hardwood species with similar qualities are Jatoba decking, Cumaru decking, Garapa decking and Machiche decking.

The high density means hardwood decking is naturally resistant to rot, mold and insect damage which means less maintenance

does not require painting or staining.

A UV protectant oil based finish will preserve the "just installed" look and color of new hardwood if applied as needed. We recommend an oil-based UV protectant like Penofin.

Or, hardwoods can be allowed to naturally weather to a silver gray patina. This is the lowest maintenance option. Weathered hardwoods keep their strength and durability without any finish or sealer.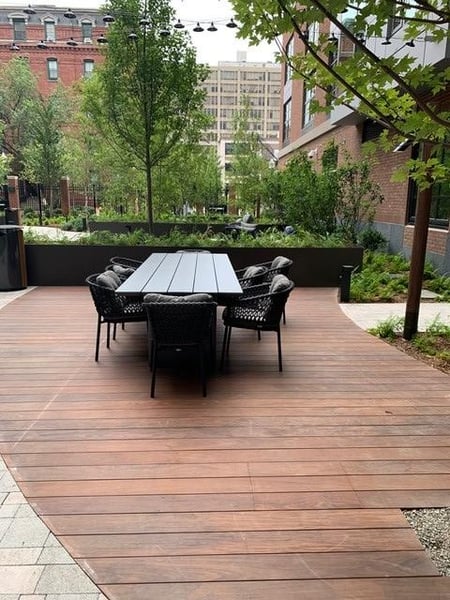 Corner rooftop dining area features Ipe hardwood decking. Ipe wood has such high density that even heavy daily wear-and-tear won't leave marks, scratches, or dents. Bring on the party!
This wood and glass deck overlooks the Bay Area in California. A modern outdoor space mixing warm FSC Machiche natural hardwood decking with stucco and glass railings that won't block the view. Perfect for winding down on the weekends.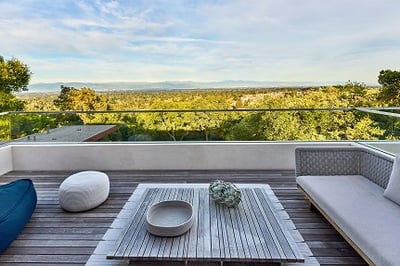 The same Bay Area Machiche rooftop deck five years later. Hardwood decking like Machiche will not lose their strength, durability, or good looks when they weather to silver. A big bonus is that weathered hardwoods require no finish or sealant, just cleaning as needed.
|RELATED: HOW DOES EXTERIOR HARDWOOD DECKING WEATHER?

Garapa makes a long lasting deck that weathers from golden tones to silver gray, like all hardwoods. Garapa is the lowest upfront cost of all the hardwood options, but has similar strength and durability characteristics to Ipe and other hardwoods.
|RELATED: ROOFTOP DECK PROJECT PHOTO GALLERY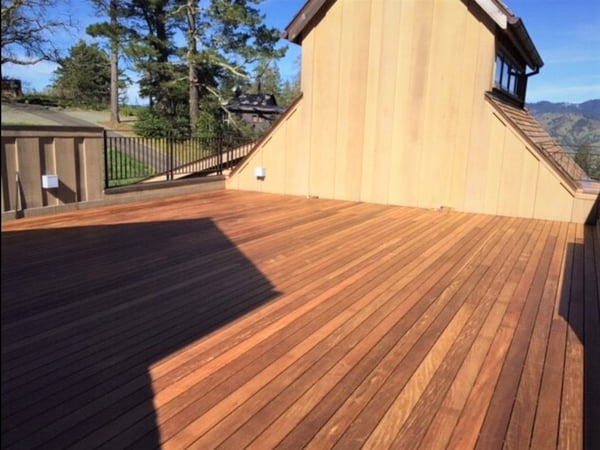 A rooftop deck built above Northern California wine country takes advantage of hardwood decking that can gracefully resist year-round high exposure to UV rays. (And the high density means it won't easily stain if you spill your red wine...)
Softwood decking materials
Western Red Cedar and pressure treated pine are the two most popular softwood decking materials.

Softwood decking is, by definition, softer: a lower fiber density that will show foot traffic, scratches, dents and gouges quickly. It also requires more repair. Your deck is at risk of "ugly-ing out" before it's usable lifetime.

Regular reapplication of a sealer and finish will preserve the look and color of a softwood deck.

Softwoods like cedar and pine have a low resistance to moisture and insects so regular maintenance is crucial.
Weathered western red cedar shows the naturally distressed, knotty look it gets over time. Checking and splitting are a concern with red cedar as it ages. Regular maintenance and sealing is required.
Cedar and pine's lower density will absorb paints and stains well so your color options are endless. Re-apply as needed.

Softwoods can be allowed to weather to gray but require regular upkeep and finishing as needed to avoid splintering, checking and cupping.

Pine decking that has been allowed to weather without regular maintenance runs the risk of water damage, like these rotted decking boards. That's a safety hazard.
---
Compare rooftop decking material options, click for your free copy of the
"Ultimate Guide to Selecting The Right Decking"

---
A Third Option for Wood Decking
If hardwood is just out of budget and softwood requires more maintenance than you want to deal with, there's an answer. Mataverde thermally modified woods are comparable to hardwood features in many ways, making thermally modified wood an affordable option to hardwood without the maintenance of softwoods.
Thermally modified wood decking material that have been modified with heat and steam to increase the strength and durability without making them too brittle.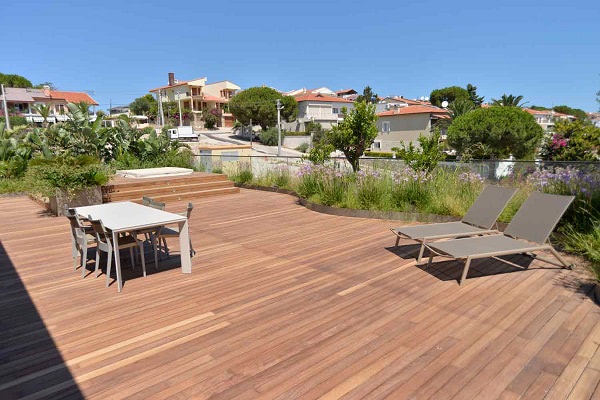 Thermally modified woods, like this Thermowood thermally modified hardwood deck, give you a budget friendly alternative in your rooftop deck design when costs are a concern. Here, Thermowood creates hot tub steps and flows in waves around built in rooftop gardens. Thermally modified wood gives your rooftop deck the natural look and attractive grain and color variations of hardwood. And you still get a very high strength, durable wood decking, a strong resistance to rot and insect damage, and low maintenance needs.
|RELATED: WHAT IS THERMALLY MODIFED WOOD DECKING?
Thermally Modified Woods
Mataverde's Thermowood, a thermally modified ash, and Therma Wood Hem-Fir, a thermally modified hemlock are naturally beautiful real wood with a range of color tones.

Thermally modified woods have a higher resistance to insect damage since the sugars have been removed in the modification process.

Thermally modified woods have a higher resistance to decay than non-modified softwoods, so rot and mold are not a worry.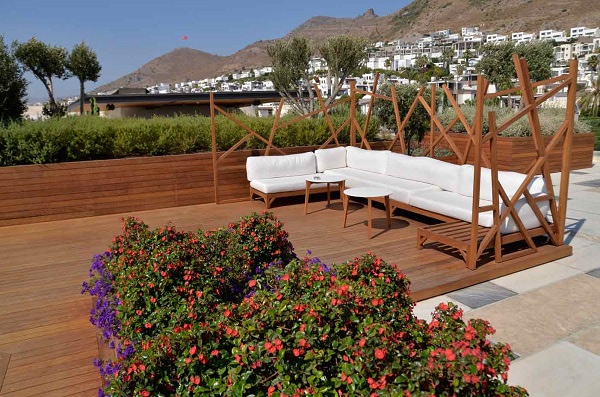 You can preserve the new look of Thermally modified wood decking by sealing it with an appropriate product, such as Penofin Hardwood Formula, and reapplication as needed.

Thermally modified woods can absorb paints and stains so you do have color options. Re-apply as needed.



|RELATED: THERMOWOOD DECKING PHOTO GALLERY
A custom Thermowood rooftop deck over a rooftop pool.
---
Find more inspiration in our "Rooftop Deck Design Idea Portfolio" here.
---
Different wood decking looks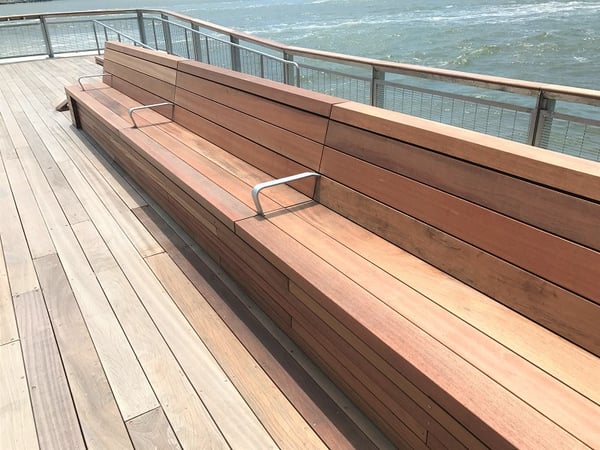 Jatoba wood deck with built in benches. Jatoba wood was chosen for this heavy traffic public deck in New York City, so imagine how well it will perform on your rooftop deck! Just installed, you can see the exotic figuring of the wood patterns. Like all hardwoods, Jatoba decking can also be allowed to weather to silver gray without additional maintenance.
|RELATED JATOBA HARDWOOD DECKING INFORMATION,
Ipe wood rooftop decking
Ipe decking has a wide range of colors from tans to olive browns, to reddish to dark browns. Ipe is known for the spectacular looks of it's natural graining and figuring, frequently compared to the look of a interior hardwood floor. This makes it especially rich and appealing on a rooftop deck that extends your living space.
|RELATED: IPE HARDWOOD DECKING INFORMATION,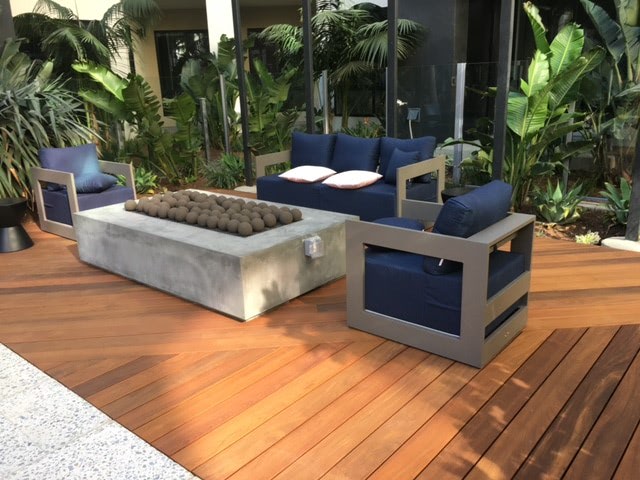 The colors and patterns of Ipe hardwood decking are part of the design in this diagonal decking layout. The Eurotec rooftop deck system lets you design with full length boards.
FSC Machiche Rooftop Decking
FSC Certified Machiche Decking is certified sustainable and is all heartwood. Machiche ranges in color from light brown to reddish-brown and medium chocolate browns. Machiche decking has a medium grain.
|RELATED: FSC MACHICHE HARDWOOD DECKING INFORMATION,
FSC MACHICHE DECKING PHOTO GALLERY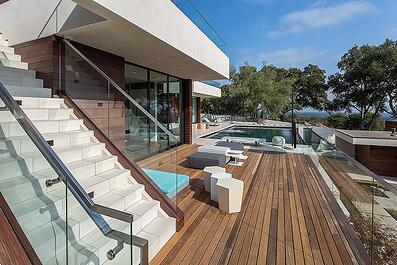 FSC Certified Machiche wood is a sustainable decking. Machiche shows off its natural color range and patterns on this rooftop deck.
Therma Wood Modified Hemlock Wood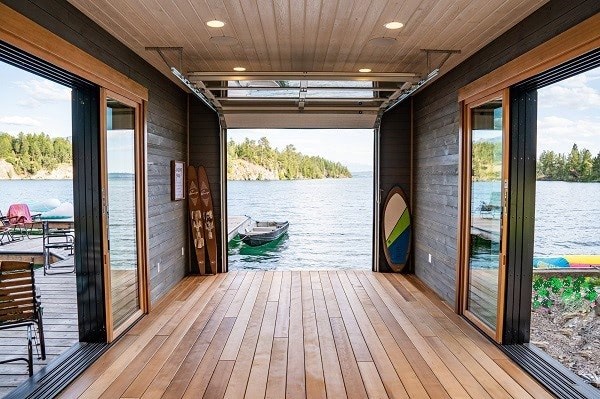 Thermally modified hemlock gives an affordable alternative to hardwoods. This outdoor room leads to the water, not onto the rooftop, but is equally suited for both.
|RELATED: THERMA WOOD HARDWOOD DECKING INFORMATION
THERMA WOOD DECKING PHOTO GALLERY
Thermally Modified Hardwood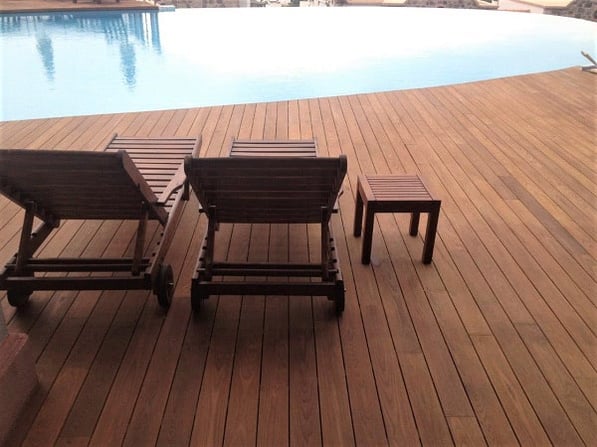 Rooftop wood deck design for poolside can include matching wood loungers. Thermally modified hardwood decking has beautiful colors and patterns. So much so, it was chosen to create the poolside furniture, too.
|RELATED: DOWNLOAD ROOFTOP DECK DESIGN IDEAS PORTFOLIO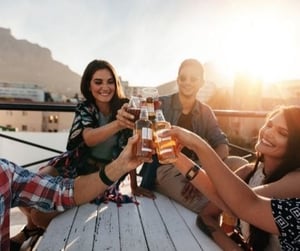 Design a rooftop deck for living your best life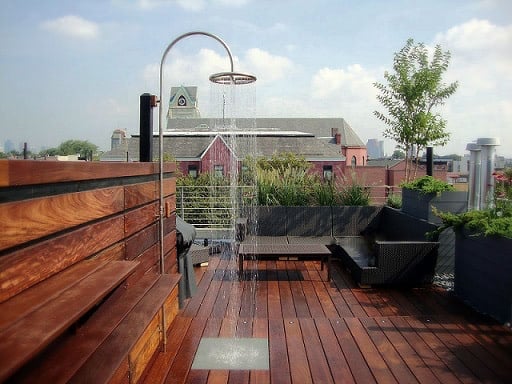 If you have a rooftop deck with a pool, you need an outdoor shower. This spa-like set up includes built in bench seating and shelves for towels and gear. Rot and UV resistant hardwood decking material like Ipe are the natural choice for a rooftop shower area.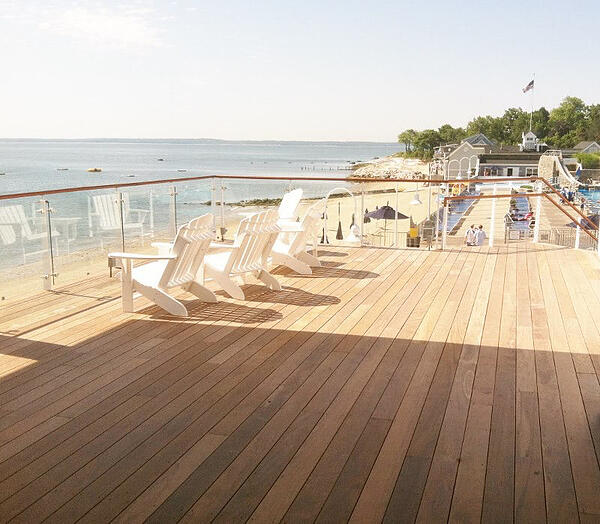 This Ipe wood rooftop deck overlooking a beach gives a private area to relax, lounge in the sun, and be above the crowds.
|RELATED: CHECK OUT THE ROOFTOP DECK PROJECT PHOTO GALLERY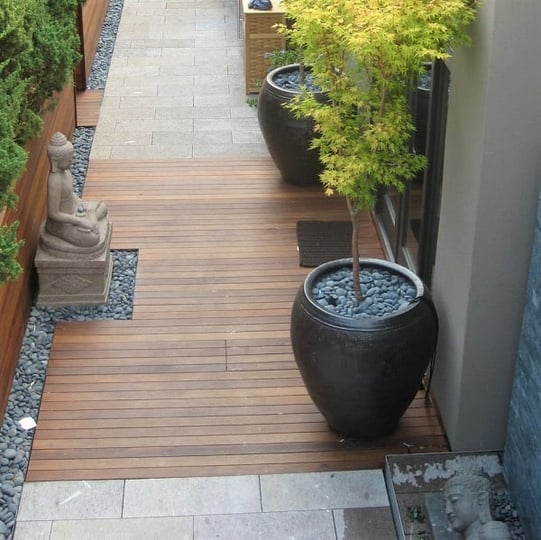 When is a walkway not just a walkway? When it is a meditation space. A rooftop deck design can bring a lot to even small spaces, like this walkway to the larger rooftop deck. Ipe wood decking and an Ipe wood privacy wall add a natural backdrop element backdrop for stone Buddha sculptures and oversized planters, making it a relaxation spot of its own.
Rooftop decks can be outdoor rooms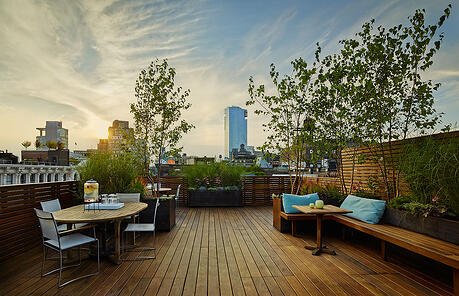 Dining out on the top floor isn't just for going to restaurants anymore. Get the same feeling at home every day with an Ipe wood rooftop deck dining area, built in planters and benches, and wood privacy screen. No dress code, come as you are!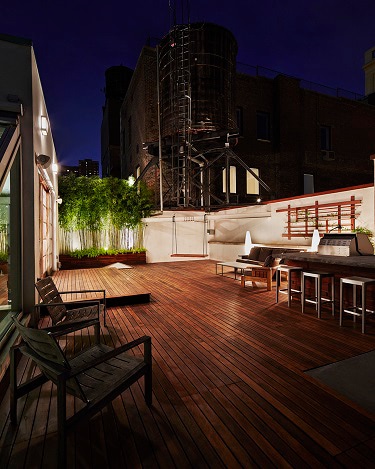 No matter how industrial your rooftop vibe is, there is a wood deck design to make it awesome. An urban landscape with brick, pipes, and metal all around becomes a comfortable outdoor room with Ipe hardwood decking. The vibe goes from gritty to industrial cool with an outdoor kitchen, container garden with trees, seating and a built in swing bench.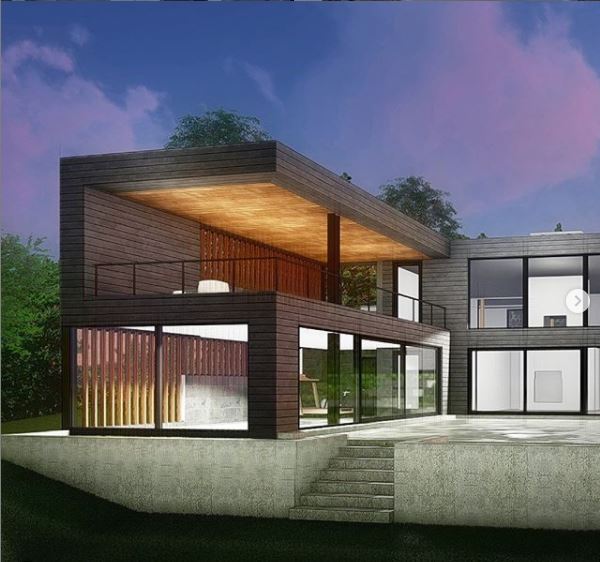 Historic architectural landmark renovation including an Ipe rooftop deck. This amazing home project used Ipe hardwood throughout but especially in the custom rooftop deck. Ipe was used for decking and to cover the soffit overhang. The rooftop deck design required drainage and to be waterproof, and was built above a conditioned room that held an indoor lap pool, so the Eurotec rooftop deck system was chosen for installation. Read more about this custom rooftop deck design in "Historic Kentucky Home Gets Custom Ipe Deck" here.
---
Get more inspiration and information on selecting the right decking material, download now!
---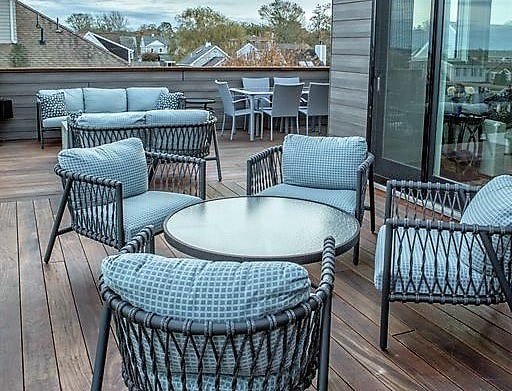 Ipe decking on a rooftop deck overlooking the seashore in Rhode Island. Ipe can handle the weather on the shoreline beautifully.
Rooftop decks with outdoor kitchens and dining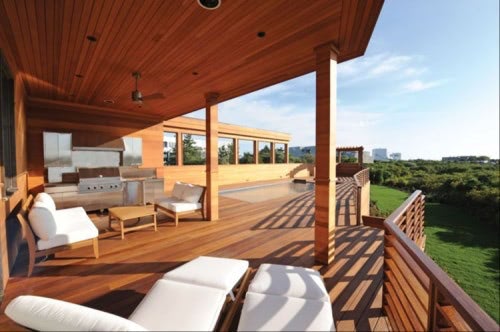 Just outside the city, a rooftop deck is the perfect example of a complete outdoor room lifestyle. Cumaru hardwood rooftop decking extends up and over the siding and onto the soffit for a warm surround of natural wood. The rooftop deck includes an outdoor kitchen, lap pool, wood railings, custom architectural details and a stunning view of the skyline above the trees.
|RELATED: CHECK OUT THE ROOFTOP DECK PROJECT PHOTO GALLERY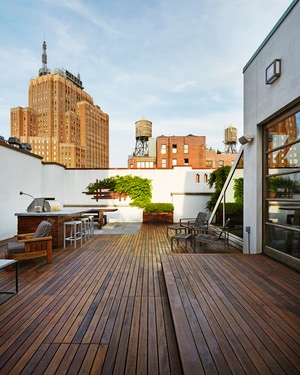 Above ground and in attached housing? A rooftop deck can substitute for a backyard deck with a grill, built in bar seating, and loads of character. And add value to your home!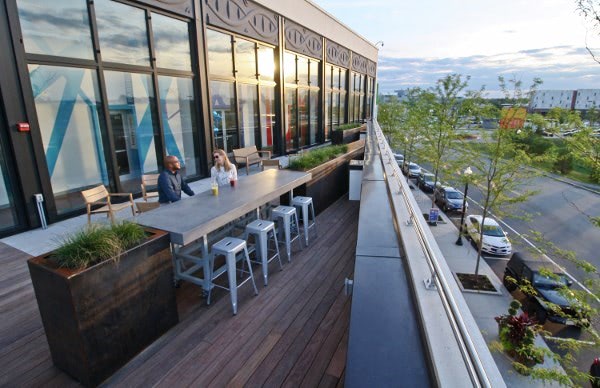 Rooftop decks can be built within the space you have. A long pub style dining table and outdoor kitchen are a lovely fit into the narrow space on this rooftop. Hardwood decking is a low maintenance choice for an outdoor kitchen full of potential spills and splatters. To learn more about the benefits of sustainable hardwood decking in an outdoor kitchen, read "Building An Outdoor Kitchen: Is Machiche Wood Decking Right For You?"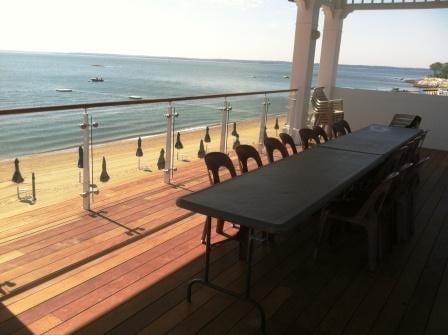 Ipe rooftop deck for dining above the beach. Even a narrow space can have a rooftop deck with a view.
---
---
Rooftop decks with a pool or hot tub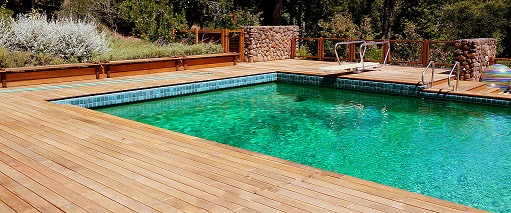 Ipe rooftop decks for poolside are a popular choice for low maintenance and long lasting good looks.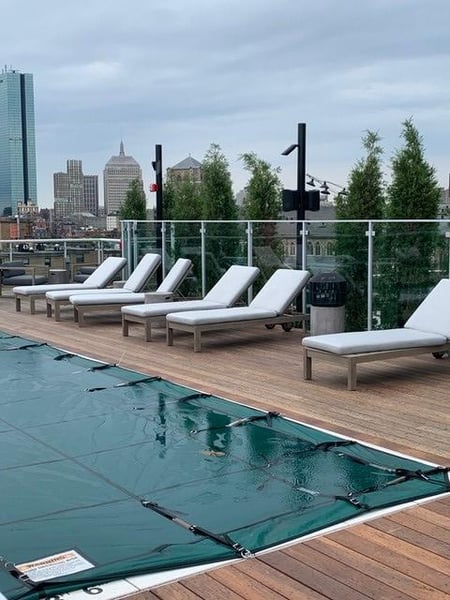 When you don't have a place on the ground to add a pool, think up! An Ipe hardwood rooftop pool deck is a wonderful way to relax and enjoy the sun above the city.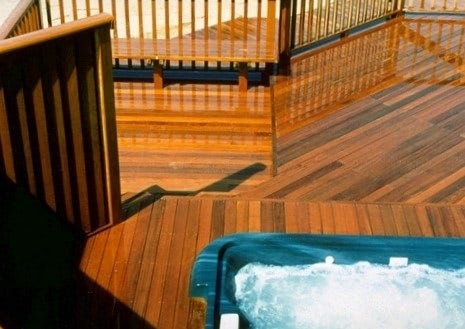 Heavy load items like hot tubs require special design considerations. Including a strong rooftop deck system underneath to safety and rot resistance. Check out the article "Labor Saving Durable Rooftop Deck Installation Options" for more details and options.
---
---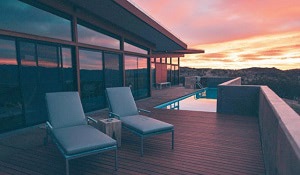 Rooftop deck designs with pools add an escape outdoors at all times of day and night. End a day of swimming and sun worshipping with a drink and view of the sunset.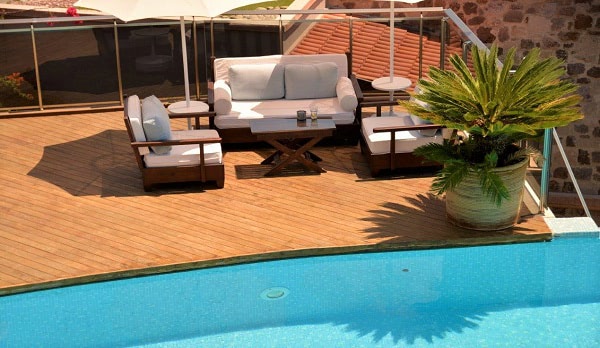 A Thermowood rooftop deck poolside creates a cozy and welcoming retreat for family and friends. Thermally modified ash has low maintenance needs and is budget friendly.
RELATED: THERMALLY MODIFIED WOOD DECKING PHOTO GALLERY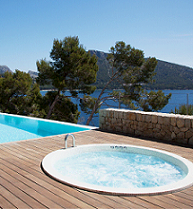 Designing an infinity pool and hot tub into a wood rooftop deck could create a vacation spot right at at home. And why not? The Ipe hardwood pool deck is comfortable, inviting, and demands almost no maintenance in your free time.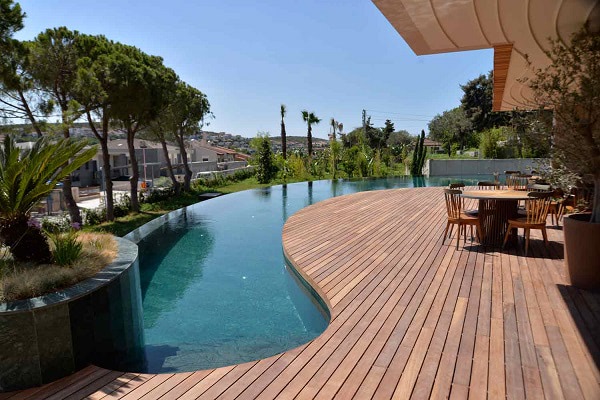 A Thermowood rooftop deck helps create the curved shape of the infinity pool. Luxurious! Thermally modified wood decking is a great choice for poolside.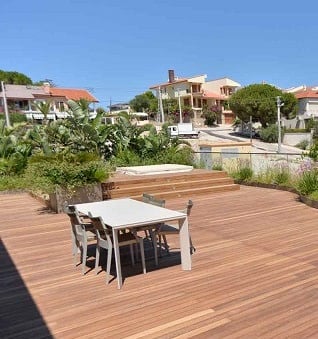 A built in hot tub with steps and a platform, shielded from neighbors by a rooftop garden of palms and grasses. Thermally modified ash wood decking was chosen for the looks and affordability.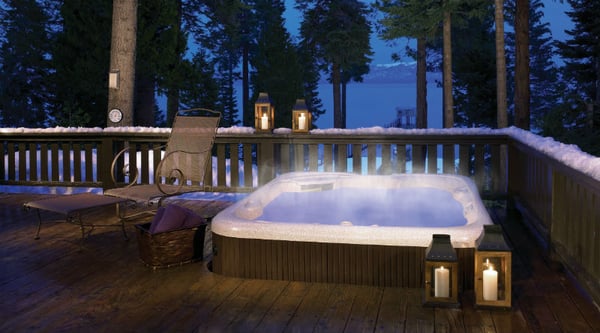 A rooftop wood deck with a built in hot tub is the perfect place to wind down with a view after skiing, or in any season. Romantic and relaxing. More design ideas to "Enjoy Your Hardwood Rooftop Deck Year 'Round" here.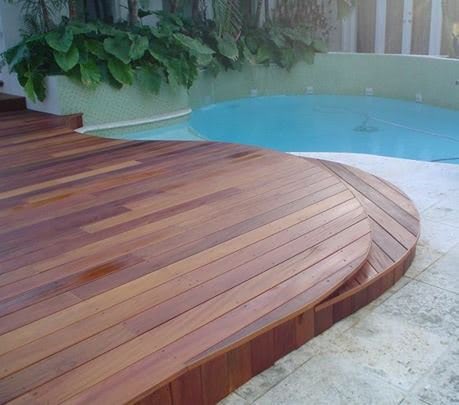 One of the benefits of hardwood deck materials is their versatility, no need to stick to squares in your deck design. Building a rooftop deck leading to a hot tub or pool using natural wood, like this Cumaru hardwood, is good idea. Natural hardwood is comfortable on bare feet and rot resistant. Designing with organic curves can show off the exotic grains and tones of Cumaru.
RELATED: COMPARE CUMARU WOOD DECKING VS SYNTHETIC DECKING MATERIAL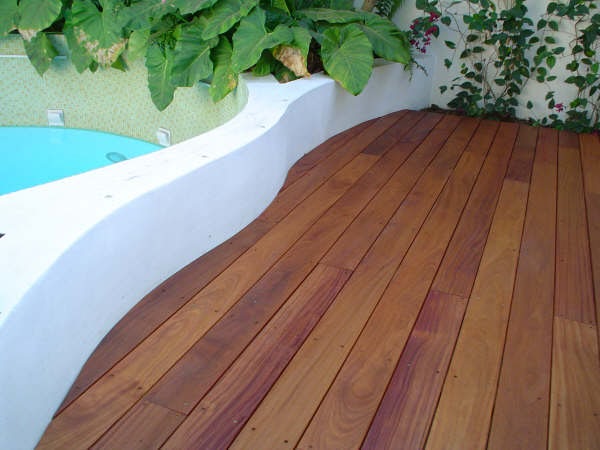 Another organic curve to soften the look of the hot tub stucco surround. And another view of the Cumaru hardwood rooftop decking. This deck design is located in the islands, and Cumaru decking was chosen for its amazing ability to withstand UV rays, tropical storms, humidity, and insect damage.
---
Download your free "Ultimate Guide to Selecting the Right Decking" form more information to plan your rooftop deck design.
---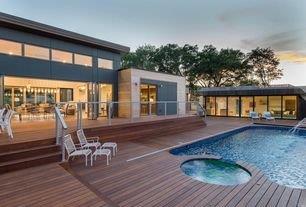 A rooftop deck can be designed to expand your living space into the outdoors. Cumaru hardwood was chosen to surround the pool. Pleasant on bare feet, Cumaru's strength equals a high resistance to damage from foot traffic. Add in the naturally high resistance to moisture damage and UV rays and you can expect your deck to stay a work of art for years with little required maintenance.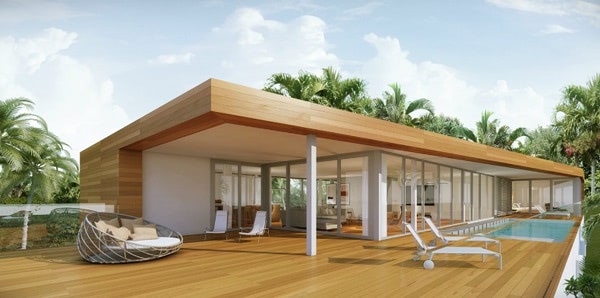 A rooftop deck designed with a lap pool appears architectural rendering of an award winning home in Jupiter Island, Florida. Garapa hardwood was chosen for both the rooftop decking material and the wood siding as a stronger, more affordable alternative to the look of Teak. The Eurotec rooftop deck system was chosen for easier and faster installation.
---

---
Rooftop garden designs are in demand
No matter where your home is located, a rooftop garden can be a glorious addition. Adding a garden above your living space can solve the need for full sunlight among tall buildings. Or create an instant "backyard" in attached housing or urban settings. A rooftop garden may the deck design you are looking for. Adding structures like pergolas for shade and arbors and built in seating for winding down can make a rooftop garden the perfect getaway.

Rooftop gardening can be the focal point of your rooftop deck, or an accent to enhance the space. A thermally modified ash rooftop deck curves around the built in gardens along the glass railing.
Why include a wood pergola in your rooftop garden design?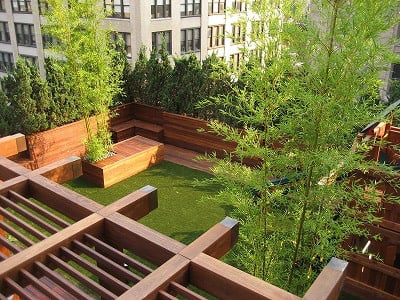 Sustainable FSC certified Ipe wood decking with planters and seating built in creates a family backyard for fun on the rooftop. (Can you spot the slide behind the trees?). Adding a wood pergola gives the family shade and a distinctive area for gathering and dining.
RELATED: WOOD PERGOLA PHOTO GALLERY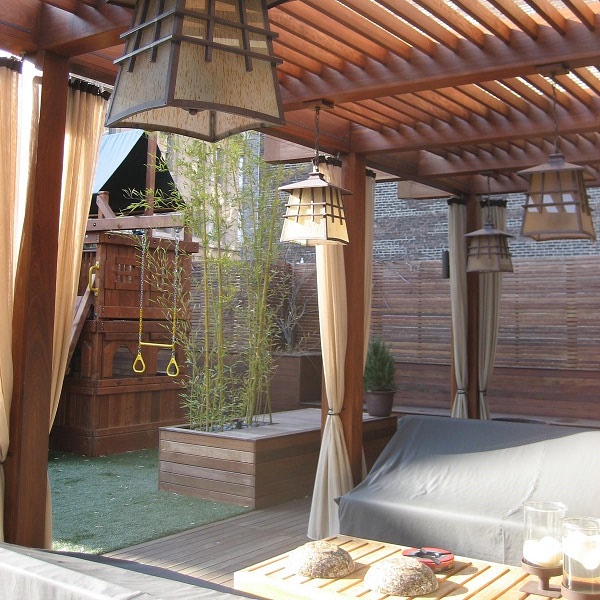 Family space in the daytime, romantic spot in the evening? Inside the wood pergola, a family space with lanterns and soft furniture makes a wonderful outdoor family room. The built in playscape on the turf keeps the kids close. In the evening, it can turn into place for the grown ups to have some quiet time with a glass of wine.
|RELATED: DECK DESIGNS USING PERGOLAS AND ARBORS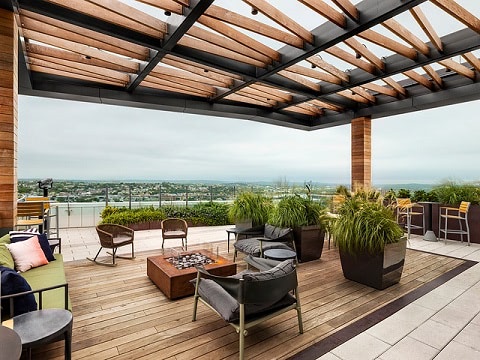 Do you have to design wood pergolas with straight lines? Not at all. Add architectural elements like these patterned slats and stacked columns for more interest. A mix of natural and stained Ipe on the pergola and decking give it a mixed-materials modern vibe that plays well with the stone paver surround.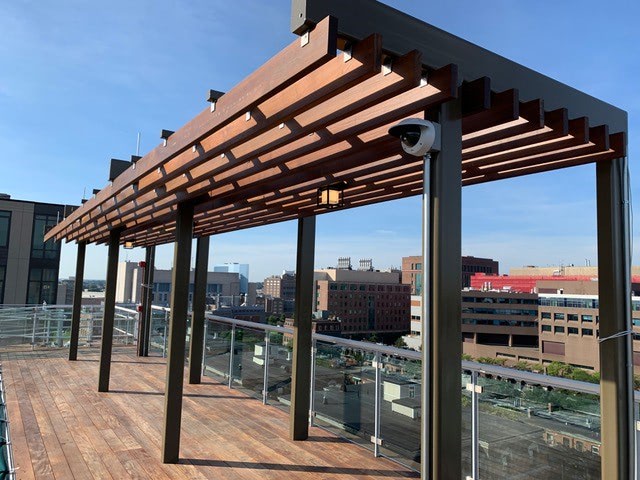 Don't want to block the sky on your rooftop deck design but still want shade? An Ipe wood pergola could be your answer since it is permanent, as durable as your Ipe deck, and requires little maintenance.
---
There's more rooftop deck ideas where these came from. Download the "Rooftop Deck Design Idea Portfolio" for even more deck designs.
---
Should you design built in wood deck planters into a rooftop garden?
The short answer? Yes! Since hardwood decking material is extremely moisture and insect resistant they are perfect for building deck planters. Planters can add greenery and natural elements to your deck design and allow you to grow anyting from decorative grasses to a raised bed vegetable garden. Wood planters can act as dividers between deck spaces, too.
Keep in mind that built in planters are considered a "heavy load" that need more support. Planters should be incorporated into the rooftop deck design from the start.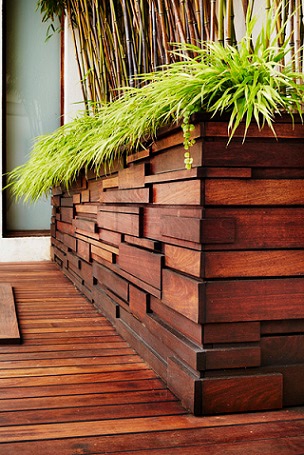 Create a built in planter with architectural interest. Hardwood is naturally insect rot resistant, like this planter designed with random widths and lengths of Garapa decking material. Use built in wood planters to add greenery and interest, even to divide living spaces, in your rooftop deck design.
RELATED: 13 DAZZLING DECK DESIGN IDEAS FOR GARDENERS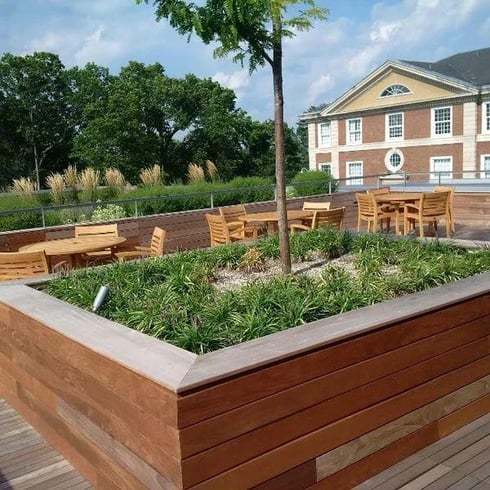 Can you make a deck planter be a focal point? They sure can. A hardwood planter on a rooftop deck can be built to hold a tree, gardens, lighting, whatever you decide. Go ahead and create a rooftop garden inside your entertaining space. Your deck design should incorporate what works for your lifestyle.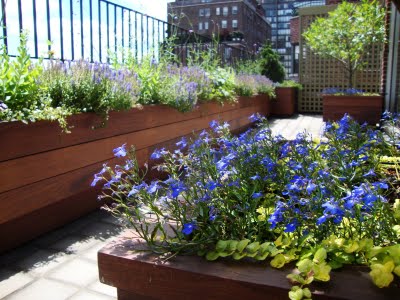 Will your rooftop garden be full of flowers or other plants? If you are bursting with a need to garden, wood planters can hold all the beauty of the seasons high above the ground.
With all these fantastic rooftop deck ideas, we hope you are excited and inspired. If you have questions about planing your rooftop deck design and choosing wood decking materials, we are here to help. Contact our team anytime and we can guide you with answers and first steps.
---
More rooftop deck design ideas and inspiration can be found in out Rooftop Deck Project Portfolio. Download a free copy here.
Related Posts