Enjoy Your Hardwood Rooftop Deck Year 'Round
Written by
Liza Sivek
on
A rooftop deck is a practical way to add square footage to your living space where there is no yard, or to add a view, or for easy outdoor living. While building a rooftop deck is a big project, the rewards are great. No matter your climate, there's plenty of ways to enjoy it all year, beyond lounge chairs.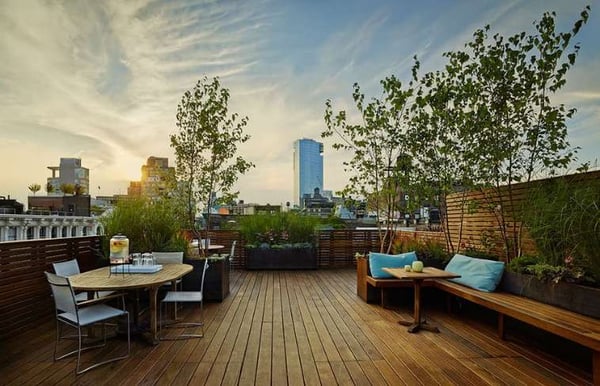 A stunning Ipe hardwood rooftop deck with built in seating and planters, with an expansive view of the New York City skyline.
A hardwood deck has a natural beauty you will want to enjoy, so why limit your time on it? Ready? Let's explore some ideas.
Want to bring family dinners to new heights? Serve it on your rooftop deck. Set up a large round or long table in your space, cover with tablecloths and a few hurricane lanterns for ambiance, and string Edison lights above. The Ipe hardwood is equally great at handling a big winter family dinner or summer picnics on the roof. Chairs won't leave scrapes in its hard surface.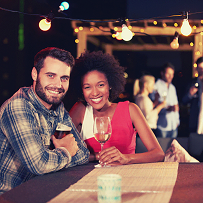 A rooftop deck gives a place for family and friends to gather for outdoor dining, high above the street.
---
Need some rooftop deck design inspiration?
Download the Rooftop Deck Design Portfolio today!
---
Make your rooftop the place everyone wants to gather. Cozy conversational areas, plush seating and warm fire tables encourage your friends to connect over coffee or drinks. Affordable Garapa hardwood graining plays off soft textures for a modern, rustic look. High above the neighborhood, no bugs and soft breezes make it comfortable in summer. Curl up with throw blankets and a fire in the fall.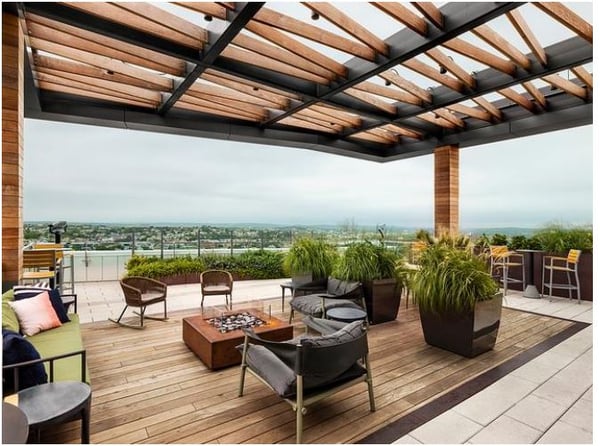 A cozy fire pit conversation area in another view of
"The Sky Deck".
Massachusetts
---
Need some help figuring out the right decking for you rooftop deck?
Download the "Ultimate Guide to Selecting the Right Decking" today
---
In urban circles, rooftop decks are known for being the place to find the hot city nightlife spots. Bring that vibe home for you and your friends with a bar, pub tables, lush plants, and twinkling string lights. Patio heaters keep the party going into chilly evenings. Add a sound system and be sure to leave room for the dance floor! The Ipe hardwood decking can take the abuse of dancing feet and still look good the next day. You'll still have to clean up the next day, but you won't have to worry about your hardwood decking.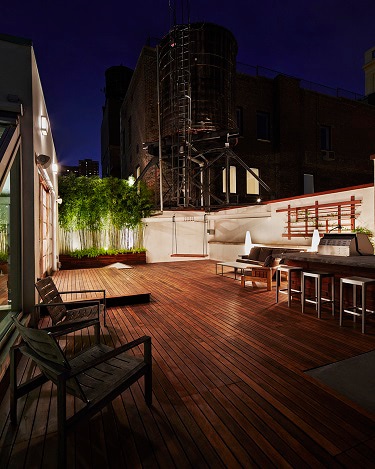 Surrounded by an industrial cityscape, an Ipe deck designed by Organic Gardner in New York City fits right in. This space is an entertaining delight all year 'round.
One awesome thing about rooftop decks is that you could hold all these events in one weekend if you wanted to. The versatility of a hardwood rooftop deck is one it's best features.
Other than hosting guests, what else can a rooftop deck be used for? We are so glad you asked. After all that entertaining you need a place to relax and gather your energy. Guess what? Same rooftop deck.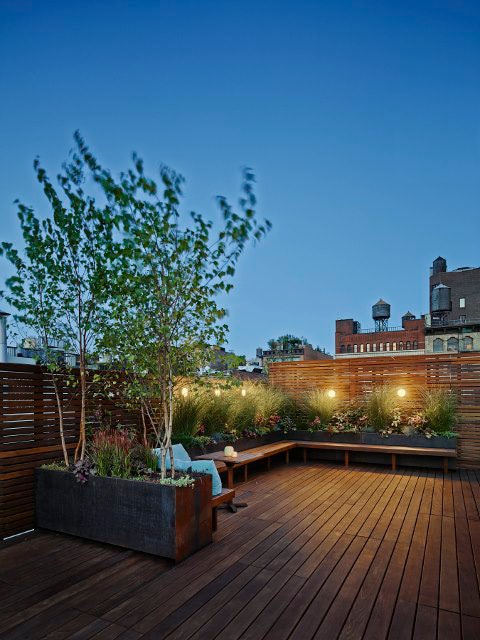 This space designed by Organic Gardener in New York City uses natural Ipe hardwood for the decking, seating and privacy screen.
Step outside, several stories up, with your morning coffee. Whether a warm spring or chilly winter day, coffee on the rooftop is invigorating and energizing. And not just from the caffeine – the view from your rooftop lets you see the big picture, giving you a change of perspective. Make a little breakfast bar and the family can join you to connect before the busy day ahead.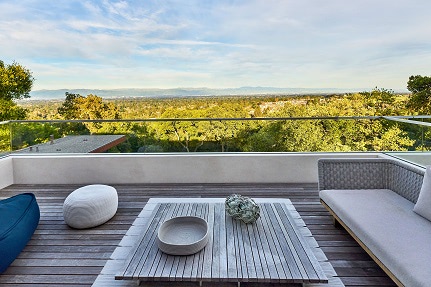 Let your hardwood deck age in place elegantly
Need more of a jumpstart to your day? Roll out that yoga mat or drop that workout gear on your wood deck and get your groove on. Meditate in lotus position or strike a warrior pose high above the world. Nail those sidekicks on the standing bag. Maybe it's "arm day" with a view. Standing on natural wood looking out at the view might be more motivating than a cement gym wall, right? Get Zen or get pumped, it's your call, it's your rooftop.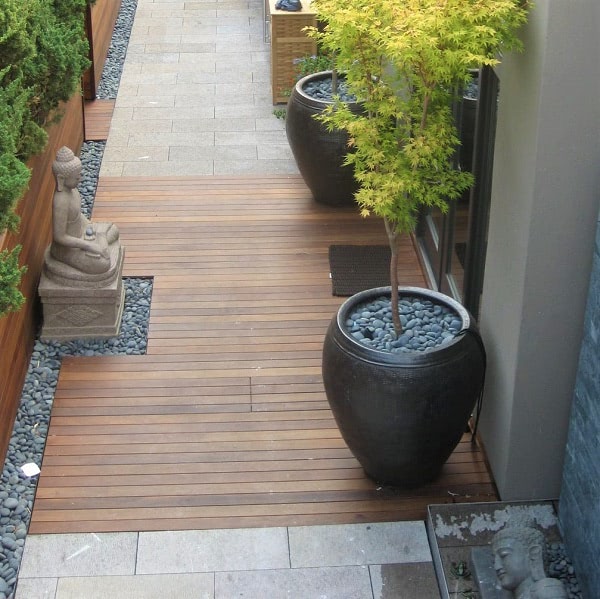 A Zen rooftop walkway on a city deck immerses you in a peaceful, outdoor area.
Children need space to play and if you're in a home that doesn't have a yard, or is inside a cluster of homes, consider your resilient hardwood rooftop deck. It could give you a place to spread out with your kids that's not indoors. Built in seating for homework or arts and crafts, a blanket spread on the hardwood deck for picnic lunches.
How about a place to pretend play after school? An Ipe hardwood deck is comfortable, low splintering, low-slippage and has a natural warmth, while still being durable and long lasting. With all those benefits, it makes outdoor living an easy part of your routine every season.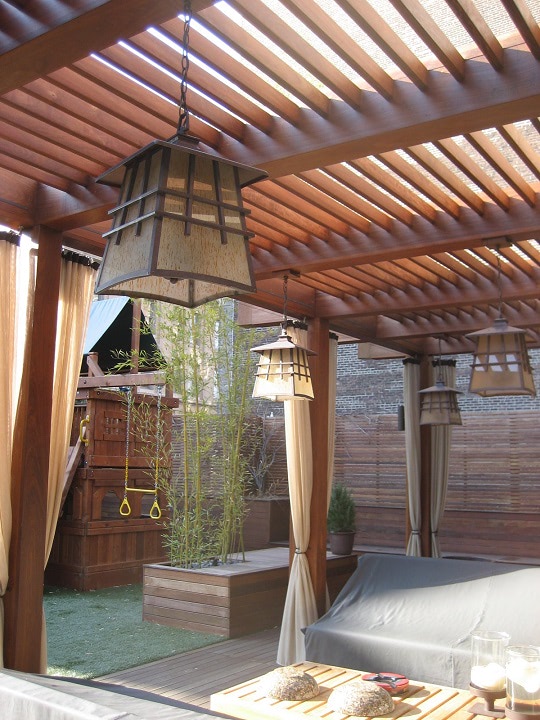 This hardwood deck and pergola offers both a family space to relax and a playscape for kids to burn energy. A rooftop deck adds space to "play outside".
"Up on the rooftop reindeers pause"...because you have such an amazing holiday space! Do you live in a part of the country with snow? Don't ignore the outdoor potential in cold weather, either. A hardwood rooftop is the perfect place to put potted evergreens with twinkle lights or add holiday décor to enjoy from indoors or out.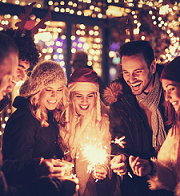 What better way to celebrate the winter holidays than on your rooftop under a the stars and a hardwood pergola strung with lights.
Sweep the fallen leaves or some snow off the wood deck, add a patio heater or fire pit, and pull up a comfy chair. Enjoy the clear, cold night sky with a hot chocolate or cocktail after your big family dinner. High above the street and noise, the seasons are a different world on your rooftop.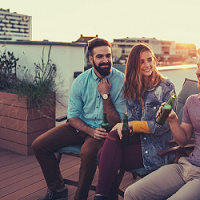 Enjoy cocktails and fall gatherings on a hardwood deck that makes your rooftop an extension of your entertaining area.
In my humble opinion, there is nothing as relaxing as a hot tub. Know what's even more relaxing? Knowing the bubbling warmth of your hot tub is a just step outside on your private rooftop all year 'round. Ipe is low-slippage and naturally resistant to mold, so there's no need to worry about your decking, just enjoy the hot tub.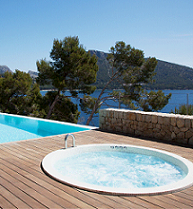 A hardwood rooftop deck surrounds a hot tub overlooking the water. Warm days or chilled nights, a hot tub is a pleasure all year.
Besides entertaining, fitness and relaxing there's one more use for that rooftop deck. Working. That's right – make your rooftop deck your "satellite office". Set yourself up with a laptop and your mobile devices and work remotely from your rooftop. Hardwood decks are a place to put your feet up and answer emails or write reports. Your rooftop office beats the corner office any day.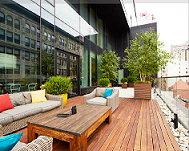 A perfect set up from working at home, this Ipe hardwood deck, including the coffee table, has a glass railing for an unobstructed view.
Now that you have seen the different ways your rooftop can serve your needs and lifestyle, are you ready to start planning? Let us know how we can help, we are here every step of the way.
Related Posts