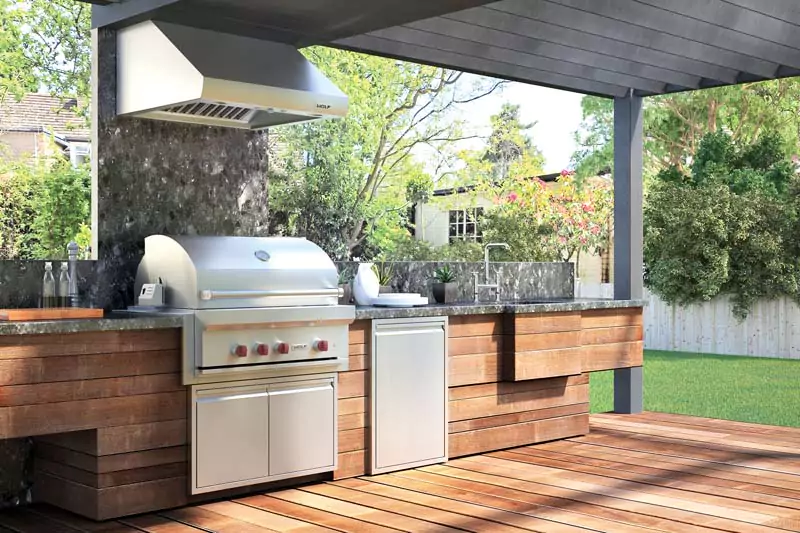 Building Outdoor Kitchen: Is Machiche Wood Decking for You?
Written by
Rosie Johns
on
Wood decks can be used for a variety of purposes, including entertainment and dining. Recently, another use for wood decking has begun to rise in popularity: the outdoor kitchen. Cooking and dining on a premium FSC Machiche wood deck marries the benefits of both indoors and outdoors. A happy chef can enjoy the scenery, while sharing the experience with friends and family.
The spectacular color and patterns of Machiche are only surpassed by its durability and benefits.
As you can see in the '9 All-Season Outdoor Great Room Ideas' article, there are many reasons to add a wood deck to your home exterior. Families can build an outdoor office, a place for a hot tub, or an outdoor kitchen grilling area.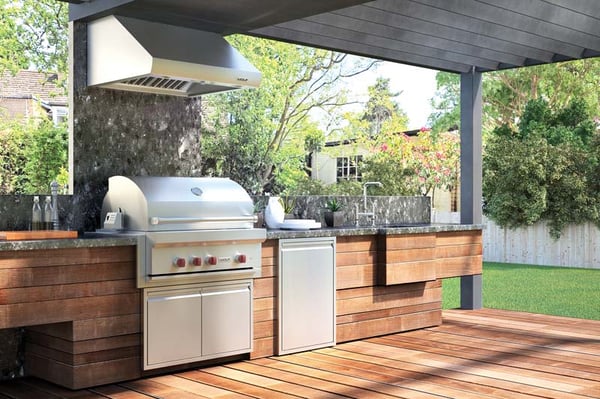 An outdoor kitchen and wood pergola, with wood decking extended up the cabinetry to contrast with the granite countertops.
'The Spruce' notes building an outdoor kitchen is the kind of project that can bring family and friends together. Before starting your deck design, though, it's important to consider what type of activity will happen there, as well as how much space is available. Knowing this will allow us to decide whether you just want to install a grill or set up a full kitchen with appliances and chairs.
---
Looking for more help with deck design ideas? We made a FREE Deck Design Ideas eBook for you.
Download this 61-page eBook with over 150 photo ideas here.
---
Before you start planning your ideal outdoor kitchen design, here are a few different factors and wood decking material options you may want to consider before construction begins.
WHAT ARE THE BEST WOOD DECKING MATERIALS FOR AN OUTDOOR KITCHEN?
As fun as an outdoor kitchen project can be, you want to consider different factors that affect your choice of wood decking material. Mild weather areas may allow you to use a deck throughout the year. If the weather gets too windy or cold it's probably better to stay inside, but your deck must stay out in the elements. In either case, weather is a factor in your decking decision.
Different functions require different decking materials too. Grills and appliances, for example, require wood that's strong under heavy loads. Cooking and dining on a wood deck means spills and dragging chairs. Comparing how well popular softwood decking material to these factors to high density hardwoods can help with your decking material choice.

Wood decking and an outdoor kitchen make the perfect entertainment space on a city rooftop.
PREMIUM HARDWOOD DECKING OVER SOFTWOOD DECKING
Softwoods like pine and cedar are popular options for decks and look good when installed. However, they require regular maintenance and painting or staining to keep the "like new" look and prevent fading from UV rays and weather. Softwood decking will degrade quickly without regular maintenance.
Softwoods are lower density therefore have a lower resistance to rot, mold, and insect damage, meaning more upkeep and repairs. Softwoods are easily scratched and marked from furniture legs, dropped dishes, and other daily wear and tear. You can sand and refinish softwoods, but you will want to be prepared to refinish often or live with the marks.
High density hardwoods are the choice of designers, homeowners and deck builders who want a low maintenance decking material. Hardwood decking has a good-looking appearance without the need for a lot of upkeep. Hardwood decking is naturally resistant to damage from the elements and daily use. Ipe hardwood decking may be the gold standard all other hardwood decking is compared to, but Machiche high-density hardwood decking is a gorgeous and more affordable "best kept secret" of the hardwood decking options.
---
RELATED: WHAT IS MACHICHE DECKING?
---
Want to know more about choosing the right wood decking for your project?
Grab your FREE Ultimate Guide to Selecting the Right Decking here to learn more.
---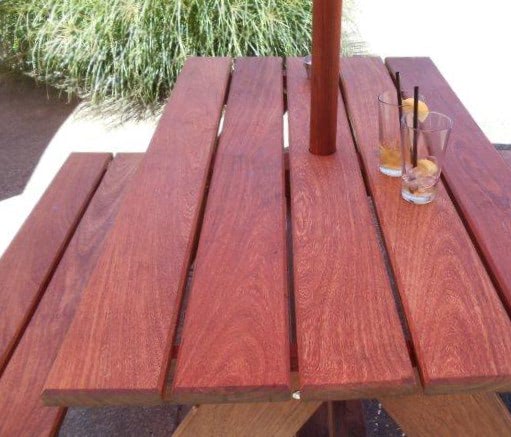 Machiche wood decking can be used for outdoor kitchen seating with the same great benefits.
WHY USE
FSC CERTIFIED
MACHICHE
WOOD DECKING
FOR
AN
OUTDOOR KITCHEN?
Machiche

hardwood

decking has

a more affordable

price point than Ipe and many other

wood

decking

material options

.




FSC Machiche

decking

is lower maintenance, very resistant to damage, and last years longer than

most other decking options

, so your lifetime return on investment is much higher.



Mataverde Machiche is FSC Certified (Forest Stewardship Council). You can be assured that your Machiche decking material was sustainably harvested.




FSC Machiche

is exceptionally hard

,

more than

twice as hard as oak.

That's why Machiche decking is so resistant to scratching and gouges.




Machiche's high density means it is very scratch, gouge, stain, and burn resistant while cooking and entertaining. Bring on the pets, toys, and Uncle Buck's cigar! Machiche will not dull from scratches and foot traffic.




Machiche is rated at a higher bending strength than nearly every other wood decking option, including Ipe wood.

Machiche hardwood

is ideal for heavy load items like pergolas, grills, appliances, and built-in dining, and expands your design options.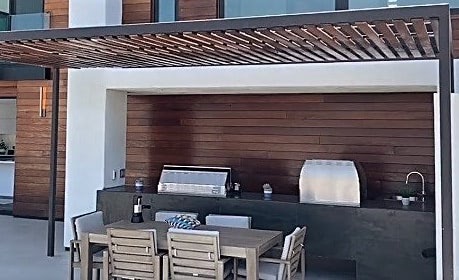 Custom outdoor kitchen in California with Machiche Wood dining area including pergola, cabinetry, and more
Machiche does not require any painting or staining, only an oil-based UV protectant like

Penofin Hardwood Finish

as needed, to keep it looking like new.




All decking requires regular cleaning.

The low maintenance upkeep of Machiche includes reapplying the UV protectant if you do not want it to "silver out", and surface sanding any minor damage if needed.




Using an outdoor kitchen involves working with different types of ingredients, which might occasionally end up making a mess. Sauces dripping on the floor and grease splattering all over the place is a common sight. In this case, 

Machiche wood

 provides an excellent alternative, as its high density makes it less likely to absorb these liquids,

especially if the decking is prefinished with an oil-based sealer.




Building an outdoor kitchen also requires careful consideration of fire hazards. Mataverde Machiche is resistant to flame spread and smoke and has a Class A fire rating (LINK). Picking the right materials isn't the only way to protect your home, however. The advantages of Machiche in terms of fire resistance are best maximized with a good home insurance policy. 

According to AskMoney

, home insurance is an excellent way to safeguard your property, as it covers property damage against fire and explosions. It can also be tailored to include new areas if requested, making it ideal for homeowners building a new wood deck to

add living space and value

to their home exterior.
HOW WILL MACHICHE
WOOD DECKING
LOOK IN AN
OUTDOOR KITCHEN DESIGN
?
FSC Machiche wood decking boards boast a gorgeous range of light brown to dark reddish-brown colorations and beautiful figuring. With its lovely graining patterns underfoot, guests will certainly ask you what your beautiful decking is. Machiche can add to your deck design in other ways in built ins, along the sides of your cabinetry, and maybe a dining pergola for a truly luxurious look.

Machiche hardwood decking will not lose strength and durability over time, so it will remain attractive and like new for decades of use. With the oil-based UV protectant reapplied as needed you can keep that just-installed color. Or you can choose to allow Machiche to "gray out" to a soft silver patina that requires no maintenance other than cleaning as needed. Either way, your deck will not lose the inherent strength it has from day one.
---
RELATED: MACHICHE DECKING GALLERY
---
---
If you're looking for the right decking material that can hold up to rain, snow, spills, fire, and everything else nature can throw its way, you might want to consider Machiche wood. Not only is Machiche hardwood Class A fire resistant, it also ages gracefully into various colorations depending on treatment. With Machiche wood decking, you can be sure that your outdoor kitchen will look and feel as great as it did on the first day you built it.
---
Looking for some great outdoor decking and living space ideas?
Download the "150 Deck Design Ideas Portfolio" today.
Related Posts