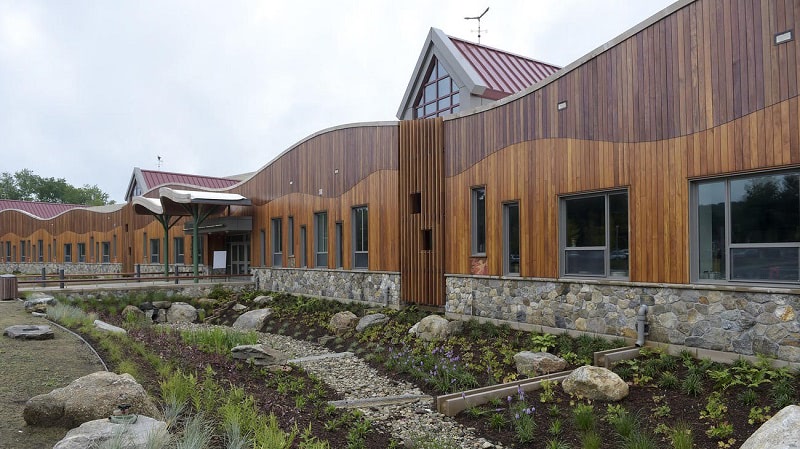 MATAVERDE® FSC® MACHICHE PROJECT IDEAS
Mataverde Premium FSC Machiche Decking and FSC Machiche boards offer a beautiful and sustainable choice for a variety of outdoor structures including decking, pergolas, arbors, trellises, gazebos, rain screens, siding or your own unique outdoor creation, while allowing you to stay within your budget. Mataverde Machiche is an FSC certified building material, ensuring its sustainable origin by third party inspection. This great for projects seeking LEED certification.
Machiche hardwood is also popular with homeowners, builders, and architects due to its natural beauty, physical strength, and characteristics of for use in outdoor projects and outdoor structures. Machiche decking is sure to help get the job done and provide satisfaction for many years to come.
---
Mataverde FSC Machiche Decking and FSC Machiche boards are terrific choices for projects where the following design criteria are important:
| | | | |
| --- | --- | --- | --- |
| PROJECT CRITERIA | FSC Machiche Decking | FSC Machiche Boards | FSC Machiche Siding |
| Sustainable Building Material | Yes | Yes | Yes |
| Available FSC Certified | Yes | Yes | Yes |
| 25 Year Limited Warranty | Yes | Yes | Yes |
| High Stability | Yes | Yes | Yes |
| High Density | Yes | Yes | Yes |
| Natural Insect Resistance | Yes | Yes | Yes |
| Natural Decay Resistance | Yes | Yes | Yes |
| Splinter Resistant | Yes | Yes | Yes |
| Ages Gracefully to Silvery Patina | Yes | Yes | Yes |
| Low Life-Cycle Cost | Yes | Yes | Yes |
Types of projects where FSC Machiche Decking, FSC Machiche boards or FSC Machiche siding are approprate materials:
PROJECT TYPE
APPROPRIATE MATERIAL
Residential Deck
Machiche decking
----------
Porch Flooring
Machiche decking
----------
Pool/Hot Tub Area
Machiche decking
----------
Railings
Machiche decking
Machiche lumber
Walkway
Machiche decking
Machiche lumber
Foot Bridge
Machiche decking
Machiche lumber
Pergola
Machiche decking
Machiche lumber
Gazebo
Machiche decking
Machiche lumber
Dock
Machiche decking
Machiche lumber
Pier
Machiche decking
Machiche lumber
Vertical Siding
-----------
Machiche siding
Rain Screen siding
-----------
Machiche siding
Fence
Machiche decking
Machiche lumber
Trellis
Machiche decking
Machiche lumber
Privacy Screen
Machiche decking
Machiche lumber
Tables
Machiche decking
Machiche lumber
Benches
Machiche decking
Machiche lumber
Outdoor Furniture
Machiche decking
Machiche lumber
Outdoor Kitchen
----------
Machiche siding
Playground Equipment
Machiche decking
Machiche lumber
Planters/Flower Boxes
Machiche decking
----------