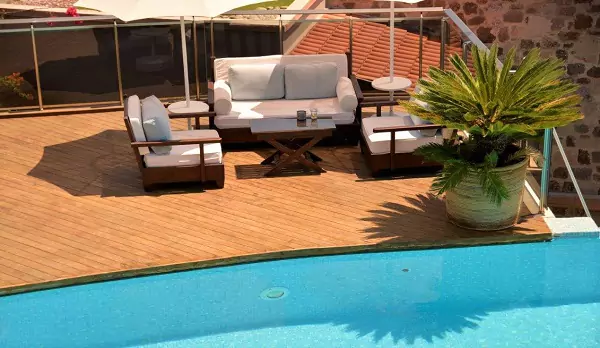 How To Choose The Best Rooftop Deck Flooring
Written by
Liza Sivek
on
Choosing the right material for a rooftop deck is important to its success. Of course, you want it to look amazing. But the best rooftop flooring for your project is one that will help protect your roof, is weather and UV resistant, and low maintenance. All without giving up those good looks. Too much to ask from your decking? Not if you choose wisely.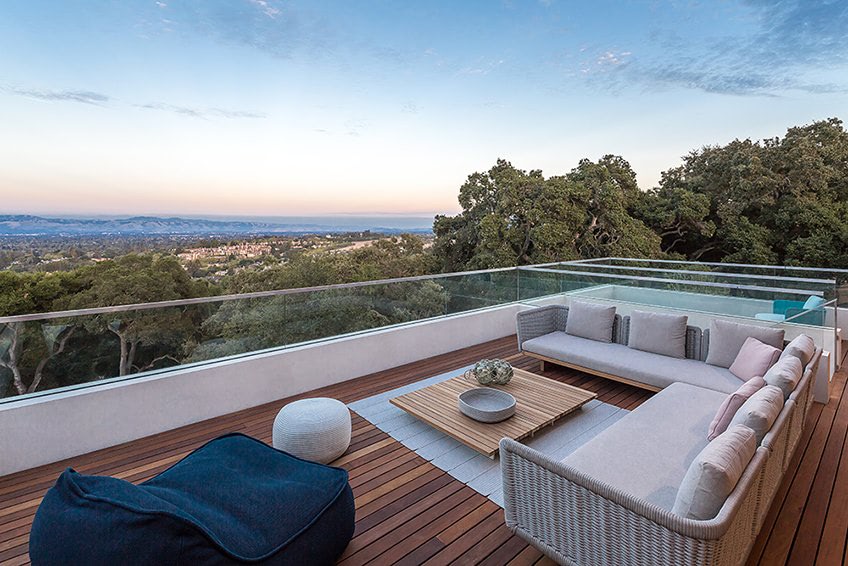 Machiche hardwood was chosen for beauty and longevity on this rooftop deck with an amazing view.
Rooftop deck systems and rooftop decking materials should be designed to enhance, and not damage, the weatherproof building rooftop underneath.
What To Look For In Rooftop Deck Flooring?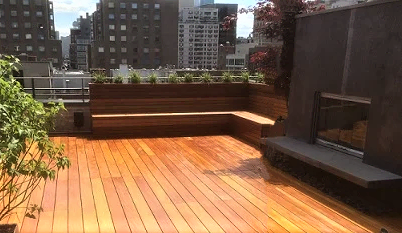 Anti-Slip Decking: Rooftop decks are fully exposed to the sky, so get more than their fair share of rain and other precipitation. Deck flooring that is slippery when wet is not a good choice for a rooftop that will be used for family, fitness, or entertaining.
Heat Resistant Decking: No one wants to step barefoot onto their rooftop space and burn their bare feet! Some rooftop decking materials can absorb heat and even warp in the direct sun.
Shock Absorbing Decking: Your deck should be comfortable to walk and stand on. From yoga to cocktail parties, a rooftop deck flooring that 'gives' a little is a benefit.
Insulating Decking: Rooftop flooring, installed correctly, will help insulate the rooftop deck and the roof itself without holding in moisture. This is better for the building, saves energy, and makes your deck more comfortable underfoot.
Rot Resistant Decking: Trapped moisture under your decking can lead to rot - of your decking and your decking system. Your decking and decking system should be designed for water drainage and evaporation between planks, and be rot resistant material. Otherwise, your rooftop itself is at risk.
---
If you're looking for information and pictures about decking materials, download the
free Ultimate Guide to Selecting the Right Decking
---
Insect Resistant Decking: Insects damage is a threat your rooftop deck flooring and your rooftop itself. Be sure your decking resistant insect infestation to protect your investment, avoid repairs, and stays sturdy and safe.
Mold and Mildew Resistant Decking: Most rooftop decking materials are mold and mildew resistant, but the how resistant varies quite a bit. Deck flooring that has a high resistance to mold, rot, decay, and insect damage is going to be key for your rooftop project.
UV Resistant Decking: Rooftop decks get a higher exposure to Nobody wants a rooftop deck flooring that fades or checks and splits from sun exposure and the amount of maintenance needed, varies greatly.
Weight of your Rooftop Decking: Another factor to consider is the weight of your deck when complete, and the load bearing maximum of your rooftop. (There's a more detailed article on rooftop deck planning here.) These weights can quickly add up and include the underlying deck system.
Low Maintenance Decking: We firmly believe you should spend more hours enjoying your rooftop deck than maintaining it. Rooftop deck flooring options have a wide range of maintenance needs from low to high. The more resistance they have to environmental threats like rain and UV, the less maintenance is required.
RELATED: Rooftop Deck Design Gallery
Softwood Rooftop Deck Flooring
Western Red Cedar decking or Redwood decking are common for ground level decks because it's easy to work with and can be stained or painted. However, softwoods are not suitable for a rooftop deck. And here's why.
Softwood decking will not perform well under the extreme UV and weather exposure a rooftop deck is subjected to.
Cedar and Redwood softwoods are, by definition, a low fiber density and lower strength. They require more frequent upkeep than other wood decking to prevent checking, splitting, rot, and insect damage.
Softwoods like cedar and redwood are just that, soft. They will show dents, scratches, and wear from foot traffic, furniture, grills, toys, and pets.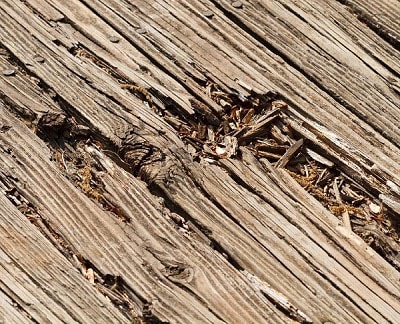 Unless diligently and frequently maintained, cedar and other softwood decking will check, split and rot from weather and use.
If softwoods like Cedar and Redwood allowed to weather to gray, the maintenance needs increase. When weathered, softwoods have a lowered resistance to environmental threats and wear and tear.
If you want the look of Cedar or Redwood deck flooring on your rooftop, choose a more durable alternative with the same look (see Jatoba hardwood and Thermally Modified Woods, detailed below.).
---
Looking for more details and pictures? Download your free guide to decking materials.
---
Hardwood Rooftop Deck Flooring
When planning rooftop decks, high density hardwoods are one of the best choices you can make. Architects and deck builders specify hardwood deck flooring for its beautiful looks and the naturally high resistance to decay, insects, and rot. It is also low slippage, especially Ipe wood decking.
RELATED: Compare Types of Wood Decking Materials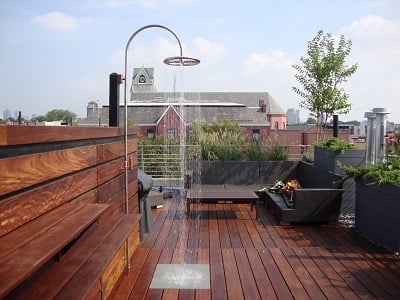 High durability, low slippage Ipe hardwood decking is perfect for a rooftop shower and pool area.
Hardwood decking materials include Ipe, Cumaru, Garapa, Jatoba, and Machiche. Hardwood decking outperforms other decking materials in longevity and durability on a rooftop deck.
Hardwood decking has a high fiber density gives them a high natural resistance to checking, splitting, rot, and insect damage. Because hardwoods are so strong, dense, and hard it will not dent, scratch, or show everyday wear from pets, foot traffic, grills, and furniture.
---
---
RELATED: Garapa Hardwood Rooftop Decking Chosen For An Award Winning Home
Hardwood decking requires truly little maintenance. A regular cleaning and refinish as needed with a UV oil protectant to keep the "like new" wood color is recommended.
Or you can allow it to weather to a satiny gray patina while. Weathered hardwood has even lower maintenance needs, without losing any of the strength and durability.
This durability and resistance make hardwood decking the hands down lowest maintenance, longest lasting rooftop deck flooring material you can choose.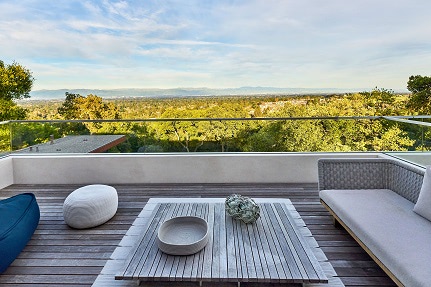 The same gorgeous Machiche rooftop deck and table (from above), after it was allowed weather to a natural silver gray.
RELATED: How Do Exterior Hardwood Decking Materials Weather?
(Bonus: Changed your mind and want to get that like new look back? Sand and refinish with a UV oil protectant like Penofin Hardwood Finish. Ta Da! Looks like new again.)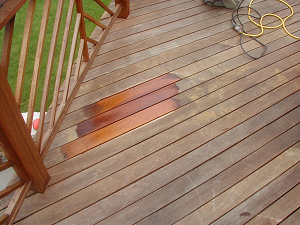 A recently cleaned and sanded deck with a patch already treated with Penofin UV Protectant oil finish.
---
There's more! Download your free guide to for more pictures and information on selecting the best decking.
---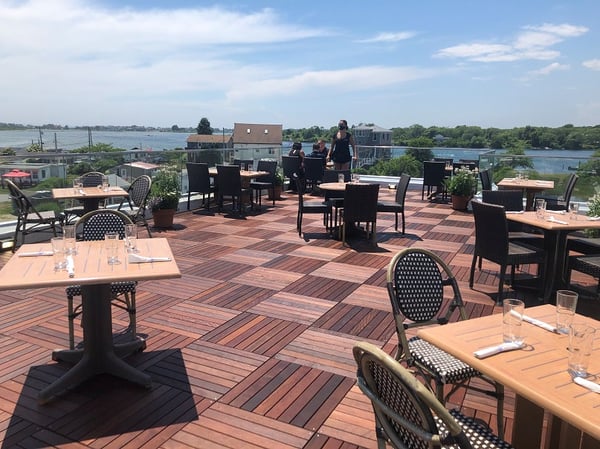 This restaurant in Rhode Island chose custom hardwood deck tiles for easy cleaning access under the deck.
Wood Deck Tile Rooftop Deck Flooring
Depending on how you plan to use your deck, wood deck tiles may be a good option. While a full-length deck board is often preferred in rooftop deck design, deck tiles have their place.
A fine dining restaurant in Rhode Island chose custom wood deck tiles made with hardwood. The deck designer know that a high turnover dining area, exposed to the elements 24-7, would get debris between the decking planks over time.
Hardwood deck tiles were chosen to provide access to the drains below the deck when they need cleaning. This rooftop has the benefit of easy access for the restaurant's needs while still being a strong, durable, long lasting deck flooring.
RELATED: Delicious Rooftop Deck at Rhode Island Restaurant
The downside to deck tiles on a rooftop is that they do not have the wind resistance of longer planks, when installed. The restaurant mentioned above did have to add additional fastening to the decking to prevent lifting in strong winds, including hurricanes.
With the Mataverde Eurotec Rooftop Decking system, rooftop decks can be designed with up to full-length boards. Deck tiles do not have the uniform look of long decking planks, so consider how you want your deck be designed.
So, if wood deck tiles are not necessary for the function of your rooftop deck, you might want to consider a different deck flooring.
RELATED: The Best Rooftop Deck System for Wood Decks
Thermally Modified Wood Rooftop Deck Flooring
Another contender for wood rooftop decking, that is very durable but more budget friendly, is wood that has been thermally modified with heat and steam in a vacuum kiln.
More affordable than hardwoods, thermally modified woods give you a beautiful, real wood substitute with similar benefits. They can be kept looking like new wood or allowed to weather like hardwoods. Both options are a much lower maintenance choice than non-modified woods.
A contemporary lodge has thermally modified wood rooftop decking and siding, for beauty and durability in all seasons.
RELATED: What Is Thermally Modified Decking?
Therma Wood Hem-Fir, a thermally modified Hemlock, takes a softwood and makes it very resistant to rot, damage and decay. A higher resistance than pressure treated lumber plus more insect resistant. Therma Wood can also be stained.
Thermowood is a thermally modified American Ash. The modification process makes this lower density hardwood more durable, more resistant to weather and insects, and lower maintenance than non-modified Ash.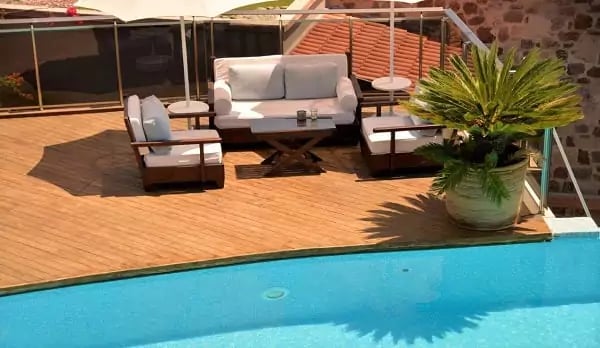 Thermally modified wood has high resistance to environmental exposure and is an affordable real wood choice.
Stone Paver Rooftop Deck Flooring
Stone pavers come in a variety of colors, shapes, and types for rooftop decks. They are easy to clean and can be fade resistant. Stone pavers are generally low maintenance. They can also be used in combination with hardwoods for a beautiful effect. But pavers are not right for every deck.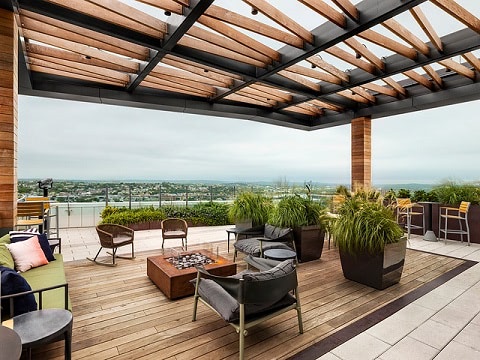 Stone pavers make a lovely contrast with hardwood decking, but have weight considerations.
Stone and stone-like pavers are heavy and will need to be factored into the overall weight load on your rooftop. especially if it is the primary deck flooring. Stone can be slippery when it rains, can crack or scratch with everyday wear and tear, and can fade. These require replacement or repair of pavers.
RELATED: Rooftop Deck Design Weight Load Problems and Solutions
Composite Rooftop Deck Flooring
Composite rooftop deck flooring is made up of multiple layers of PVC (plastic), fiberglass, and/or metal. They require less maintenance and come in colors. In addition, better composite decking materials are durable and won't rot or decay.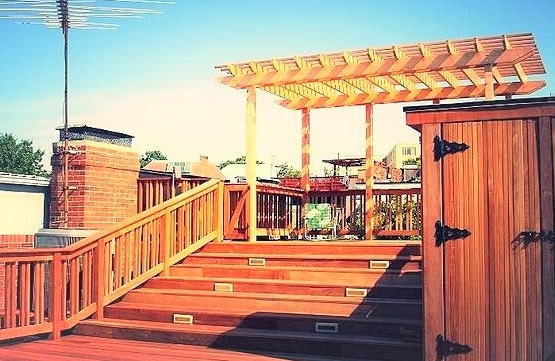 Composite decking on a rooftop deck can fade or show damage sooner on a rooftop deck.
But, because they are mostly plastic, heat and UV can expand composite decking and it won't bounce back like wood. This can quickly lead to warping over time. Warping can create gaps that allow moisture and insects under the deck.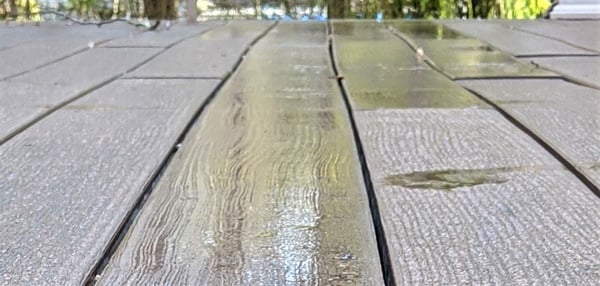 This high end composite decking is 5 years old and already shows warped edges from weather exposure.
Plastic absorbs that UV heat, so watch those bare feet on a very hot composite deck on sunny days. That isn't good for children's bare toes or pet paws, either. Composite colors may fade over time and cannot be refinished or painted. And, when hot, PVC composites are known to give off a "plastic" smell.
---
The Ultimate Guide to Selecting The Right Decking has more details and photos for you.
---
Have you learned what your best rooftop deck flooring choice may be? If you need more information on any of these decking materials, please contact our team for answers or pricing. We are here to help make your planning easier.
Related Posts