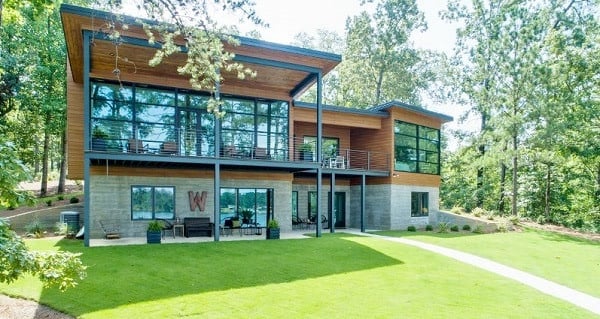 15 Stunning Pura Siding Ideas from Modern to Traditional
Written by
Liza Sivek
on
Your home exterior is as much an expression of your lifestyle and personality as a your wardrobe, (on a slightly bigger scale), and both should be quality and long lasting. Is your home style modern? Traditional? Another style in between? Check out these stunning siding ideas and the best siding materials for long lasting beauty.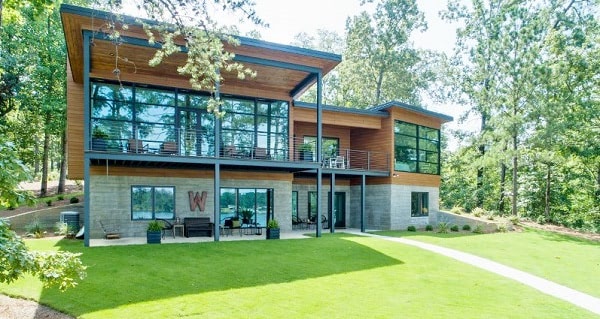 1. Contemporary home designed with Pura NFC wood décor in Romantic Walnut contrasted with stone. This style fits in with the natural surroundings. Check out how the siding is installed on the soffits and overhangs to create a warm, welcoming frame around the huge glass windows.
---
RELATED: What is Pura NFC Siding? Frequently Asked Questions
How To Find Siding That Keeps Its Good Looks
Beauty is not just exterior deep. Before investing in any siding be sure to find the one that that gives the best return over the lifecycle of the exterior. Curb appeal should not be sacrificed for high performance, and vice versa.
For siding that looks as good in twenty years as it does today, look for material that has proven high resistance to:
Fading and Dulling

- UV colorfastness is where lower quality siding tends to "ugly out" quickly. Lower quality siding can lose color and the top coat of gloss where it gets sun exposure and weather exposure. It can happen in uneven patches, well before it's useful lifetime is up. Engineered and other wood-look sidings cannot be painted or stained, just replaced.
Interested in how they test for UV resistance and other threats to your siding? 2 minutes videos, like this one for colorfastness and appearance, show the high standard testing done for Pura NFC by Trespa.
---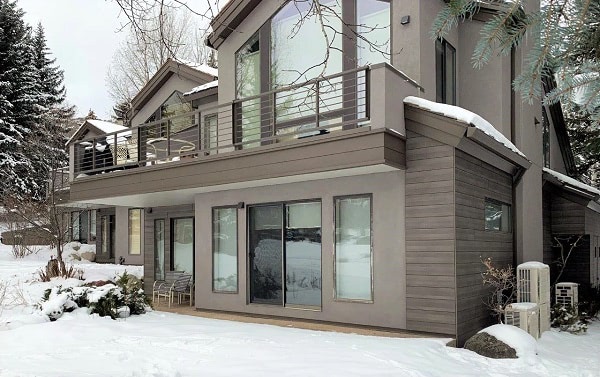 Exterior siding has to do more than look pretty, (though it should do that, too!) It has to protect your exterior walls from water, bugs, wind and storms. These more traditional residences use Pura Mystic Cedar and a rainscreen installation show off the design elements and resist the weather elements.
---
Warping

- Siding material with a high PVC content, like engineered siding and vinyl, will more easily warp or get wavy from exposure to sun rays and heat. PVC based siding will not spring back into shape and the warp can get worse over time.

Testing video for stability of the Pura siding material at elevated temperatures.
In other words, will it warp when it gets hot?
Scratches, Punctures, and Splitting - Storm debris, high winds, and backyard ball games can all pose a threat to your siding. Holes, dents, and splitting not only can make your exterior look bad, it is costly to repair and can let in water and insects. Which isn't good since that leads to mold and rot or damage.
RELATED: See these and more quality tests here
But What About Siding Maintenance?
Another good point to consider. Decide how much maintenance you want to do, from cleaning to repairs. The more durable a siding is the less you will have to do. All sidings will need cleaning as needed, and vary from simple soap and water to specific cleaning supplies.
RELATED: View the Pura NFC Siding Ideas Photo Gallery
---
FREE download to take on your inspiration journey, the Pura NFC by Trespa Residential Projects Portfolio.
Click here to grab yours now.
---
Modern Home Siding Ideas
Modern homes are always in style. Thee right siding design can make your home stand out from the rest.

3. A modern take with sweeping architectural detail, and this is just the back of the house! This amazing custom built home on the water wraps the entire exterior in warm Romantic Walnut wood décor to contrast with the cool stone accents and deck. Who wants to hang out and watch the sunset here?
---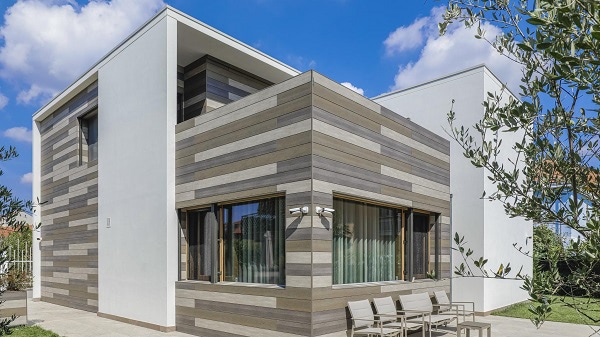 4. Don't hold back your imagination to one or two colors! Modern residences like this one can use lengths of Pura NFC siding in multiple colors to create a palette that fits your personality.
---
RELATED: See All Of The Pura NFC Wood Décor and Lumen colors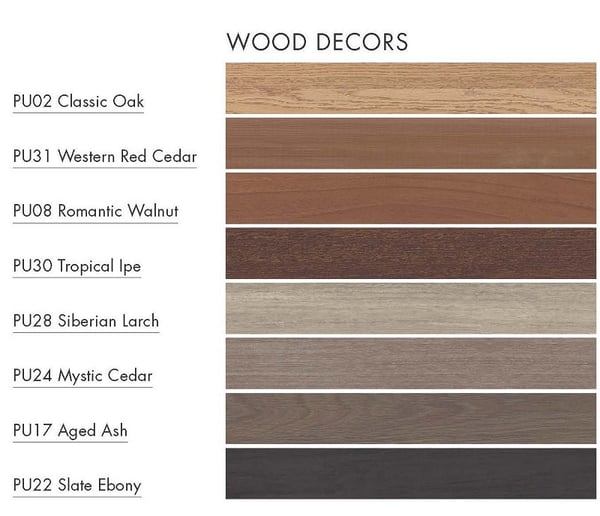 Just some of the realistic and durable wood decor choices from Pura NFC
---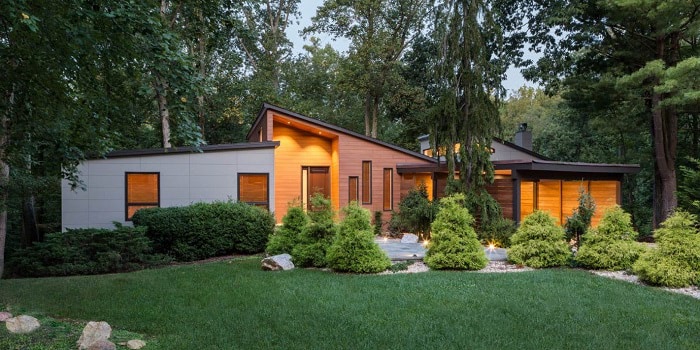 5. The renovation of this mid-century modern ranch exterior called for an inviting entrance without a lot of maintenance. Pura NFC siding in Romantic Walnut décor was the perfect solution.
RELATED: Pura NFC by Trespa Is A Great Remodeling Option
---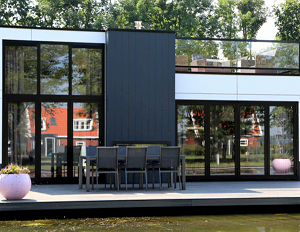 6. A garden building with a view for entertaining. The full glass-wall front and rooftop deck railing are balanced with Pura NFC Lumen light-diffusing décor in Metropolis Black for a stunning design. Mix Lumen black and gray with Wood Decors for a designer feel.

RELATED: See the Pura NFC Lumen light-diffusing colors and wood decors
---
A quick compare chart of popular fiber cement siding materials to Pura NFC siding material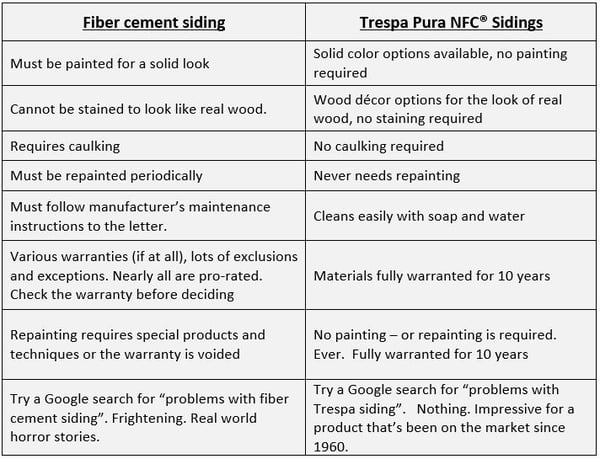 ---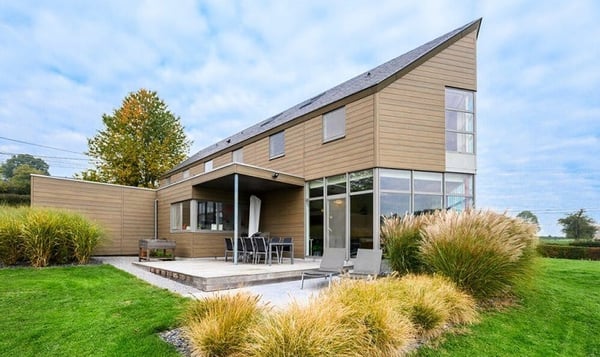 7. Classic Oak wood décor wraps a modern home in consistent color. This impressive custom design called for an impressive look, high performance, and low maintenance.
---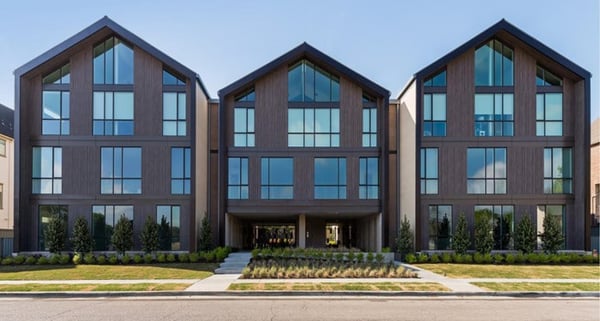 8. Vertical siding installation can make your exterior pop, take advantage of height, and or add the visual effect of height. Vertical siding installation takes full advantage of the tall façade and windows on this residence using Aged Ash wood décor.
RELATED: View more ideas in the Vertical Rainscreen Siding Photo Gallery
---
Ready for more? Find more exterior siding ideas on real homes in the Pura NFC by Trespa Projects Portfolio. Free to download here.
---
Traditional Home Siding ideas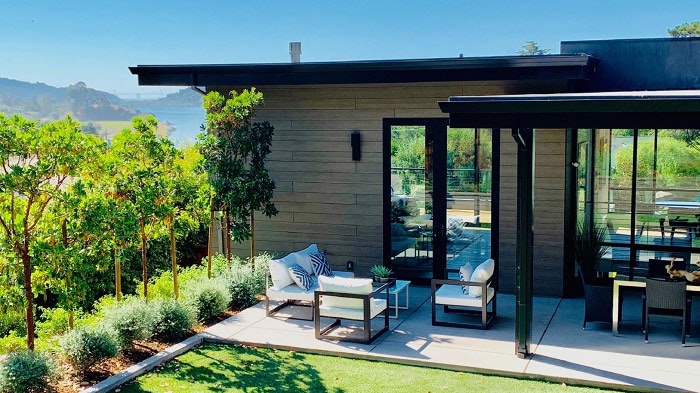 9. A flat roof ranch overlooks an amazing view in California. Aged Ash wood décor is installed horizontally along the lines of the exterior. Aged Ash wood décor was chosen to give the home an instant "weathered gray wood" appearance that will stay consistent without a lot of upkeep.
---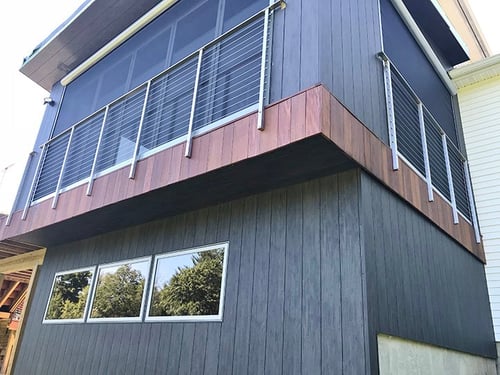 10. Adding on to an existing home? Slate Ebony wood décor is installed vertically with a Rainscreen system on this house addition. The dark siding contrasts with the original house and updates a traditional façade.
RELATED: What Are The Advantages of a Rainscreen Siding System Installation?
---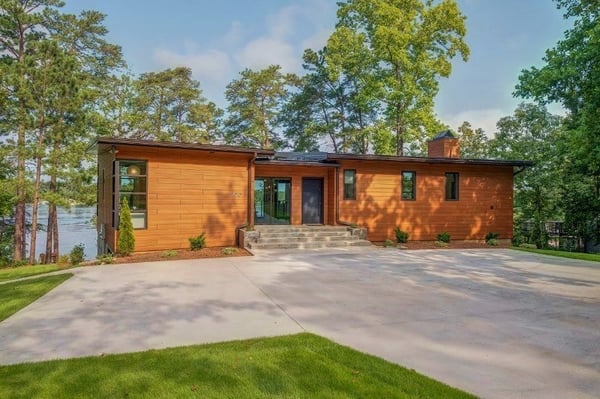 11. A traditional ranch on the lakefront feels cozy and inviting. Romantic Walnut wood décor feels natural in this setting and has consistent color throughout. Pura NFC installed with rainscreen is especially ready for lake weather.
---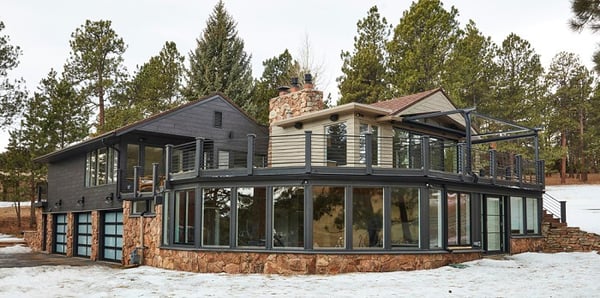 13. Wood-look siding is always in demand and black and gray siding is popular on all styles of homes. Here is a two-tone design using Pura NFC Slate Ebony and Siberian larch wood décors. The siding is wrapped all the around the home, balancing the red stone foundation and entryways.
RELATED: Pura NFC Siding - What Can It Do For Your Home?
---
Find lots more siding ideas and inspiration in the Pura NFC by Trespa Residential Project Portfolio,
a free download.
---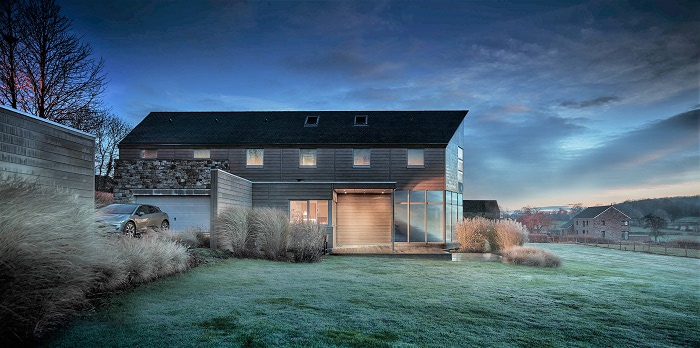 13. Modern farmhouse, farmhouse chic, renovated barn homes, whatever you call it the farmhouse and barn house look are here. You have lots of options for siding ideas. Gray and dark siding like Siberian Larch or Aged Ash are a popular choice for new build or renovated farmhouses. Here, the horizontal lines of are used for a farmhouse feel, vertical and horizontal mixed can also give a home a more barn-like exterior.
---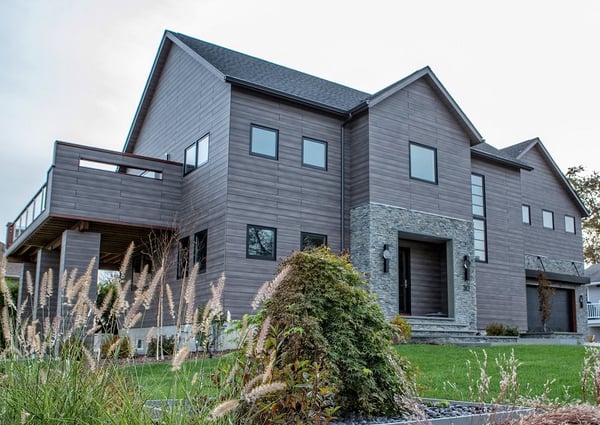 14. Mystic Cedar wood décor Rainscreen installation gives this Rhode Island home and instantly shoreline weathered look. Pura NFC was chosen for this siding design for the beauty and the incredibly low maintenance. Mystic Cedar contrasts nicely with the natural wood deck, trim, and stone entryway accents.
RELATED: 5 Reasons Pura NFC Siding Was Chosen For Home Exterior
---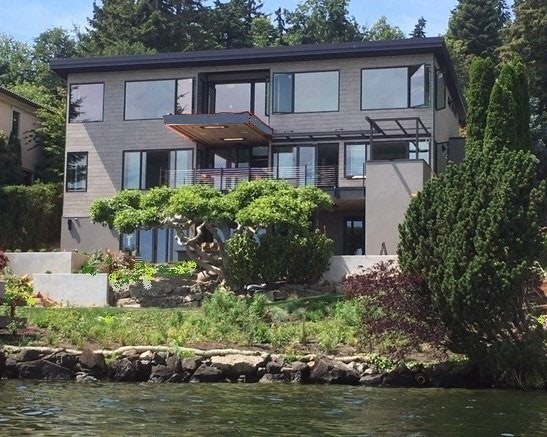 15. Pura NFC Siberian Larch wood décor on a lakefront home with lots of greenery. The quality of Pura NFC siding material was a deciding factor for many projects.
---
Was that enough ideas to get you thinking? If you have questions or want to see a sample of Pura NFC siding our team can help, Contact Us.
Related Posts