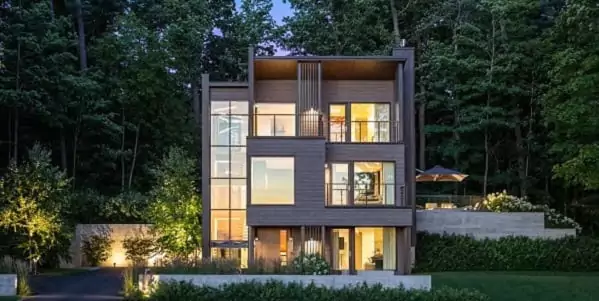 9 Ways Trespa Pura Siding Kicks Others to The Curb
Written by
Liza Sivek
on
While we would never support bullying among siding materials, some just outperform others in every area you care about. Pura NFC Siding by Trespa exceeds expectations. See why its value stands out.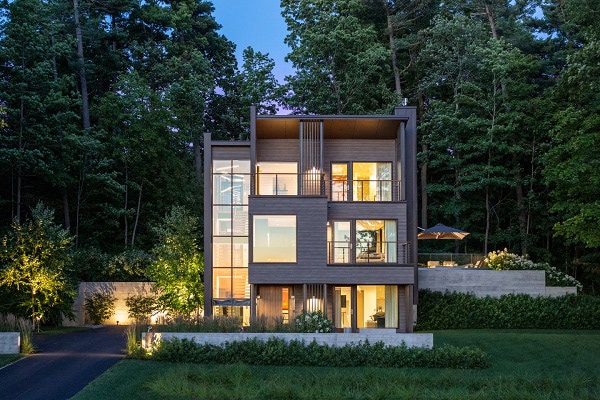 Pura NFC siding in Aged Ash Wood Décor helps make this gorgeous home in Vermont "house magazine cover" beautiful.
In this article:
What Is Pura NFC Siding? | Siding Comparison | 9 Reasons It's a Better Choice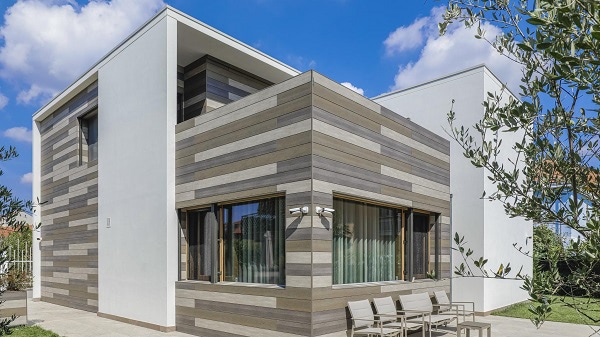 Pura NFC Siding in mixed wood decors for a custom designer look
Have you considered fiber cement and engineered wood siding because of price but would like another, quality option? Do you want the best value for your money over just the most affordable?
Then you exterior siding project checklist probably looks like this:
Realistic wood-look color options and finishes.

Very fade resistant.

Very damage resistant.

Easy to clean and maintain.

Decades of use.

Consistently high performance and durability.

Easier to install.

Low lifecycle costs, high return on investment.
You can't go wrong with Pura NFC Siding by Trespa. But is it right for you?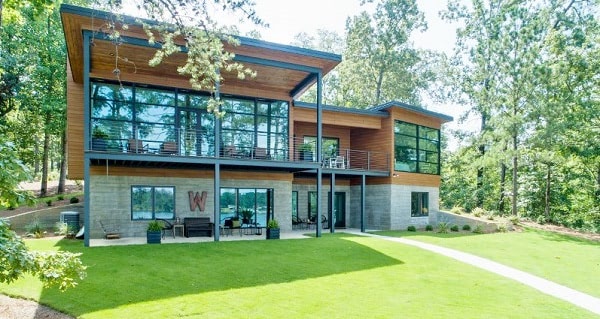 Pura NFC Siding in Romantic Walnut Wood Décor
What Is Pura NFC Siding?
Before we get to the why, let's explain the how. How Pura NFC High Pressure Laminate (HPL) Siding is made is part of why it is a better siding.
HPL is created by pressing layers of resin together with extremely high pressure to bond them into a plank. Trespa's proprietary Electron Beam Curing (EBC) process creates closed cell surface on the planks. This means your Pura NFC siding will keep its finish gloss and color, and repels dirt before it can embed in the texture to dull your finish.
Pura NFC is premium HPL Laminate siding available in several beautiful Wood Décors. For instance, Pura NFC offers a range of realistic wood-look siding colors, from rustic to contemporary, all offering the look of real wood. It stands up to harsh weather, wear and tear, and UV rays better than other sidings on the market.
Want the quick 1-minute overview of Pura NFC Siding from Trespa? Check out the video.
So how does that compare to the other siding materials?
Fiber cement siding is generally made from a combination of water, Portland cement (limestone, clay, iron), wood pulp or cellulose fibers, and silica sand or fly ash. This means it is resistant to very insects and handles most extreme heat or cold better than vinyl or plastic siding. It is available in lots of prefinished painted-look colors. Wood tone colors are not as realistic.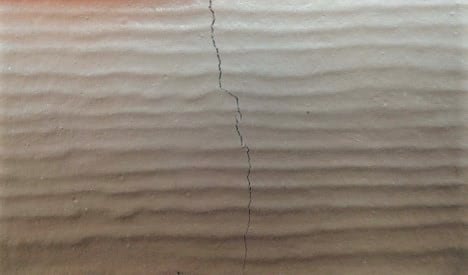 Fiber cement detail with an embossed "grain" and painted finish. When it cracks from movement or impact, it leaves an opening for water to be absorbed into the siding and get behind it where it can cause mold and rot damage.
Fiber cement has lower resistance to moisture damage. It can absorb water at the ends, which causes issues with heavy rains and freezing temperatures, according the TheBuildingConsultant.com. This can lead to warping, rot, mold, and decay. It has medium resistance to fading from UV exposure.
Fiber cement is made from cement, (its right in the name!), so of course it is heavy, and very brittle. It can crack when moved around and it is heavy to handle.
---
"Fiber cement won't rot, but it is not completely impervious to water. It can absorb water at ends and edges, and swell. This not only looks bad initially, but the movement of swelling and drying and freezing and thawing will gradually cause the material to deteriorate at vulnerable edges." - TheBuildingConsultant.com
---
Engineered Wood Siding, also known as OSB siding, is made from wood strands and flakes bonded with adhesives under pressure. This makes it strong and rot resistant. In its basic form, it is used as an alternative to plywood in walls, floors, and roofs. For exteriors, it is shaped into siding boards and primed to be ready to finish with your paint or stain. Engineered wood siding boards are also heavy, so can increase labor time at installation. It has low resistance to fading from UV exposure.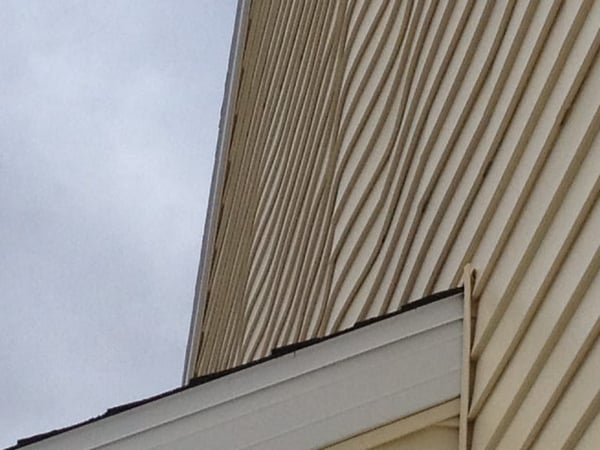 Warped and buckled Engineered Siding - photo @GreatLakesHomePerformance
The problems you can face with OSB siding are often moisture related. According to Great Lakes Home Performance, OSB (aka Engineered Wood Siding) is very susceptible to moisture absorption from the moment it leaves the factory. This moisture absorption can affect your siding both during and after installation. Once it expands from water it will not retract back into shape. Your contractor will want to leave plenty of room between board ends. Boards installed too tightly together will bow outward if they have nowhere else to go.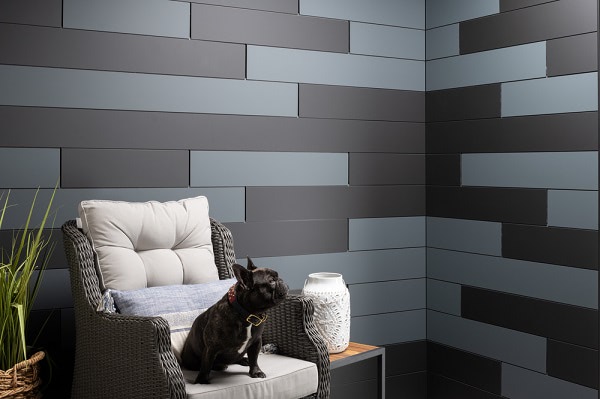 Pura NFC modern and chic Lumen Decors Metropolis Black and New York Grey
---
Want more details and photos of Pura NFC siding projects?
Download a copy of the Pura NFC Siding Residential Projects Portfolio here.
---
9 Reasons Pura NFC Siding is a Better Choice :
1. Resistant to moisture and weathering. Pura NFC siding is made from a proprietary blend of natural fibers and resins, making it highly resistant to water, UV rays, and other forms of weathering.
2. Pura NFC is incredibly flexible and break resistant. Fiber cement is brittle, and can break easily during installation and suffer damage from everyday wear and tear. Pura NFC is incredibly flexible and break resistant and has the lab testing to prove it.
Or check out this very unofficial but very illustrative 3-second bounce test video below, courtesy of an architect who specified Pura NFC in his designs.
RELATED: Prefer the scientific method? Watch the actually official and also very illustrative Trespa Siding Mechanical Strength Test, a extreme flexibility test performed by the Trespa Quality Lab.
3. More color options and finishes. Pura NFC siding is available in a wide range of colors and finishes. Trespa uses a specialized digital printing process to create realistic wood tones and grains and consistent color throughout. This means homeowners can get the look they want without sacrificing durability or performance. They offer Wood Decors in classic woodgrain colors or Lumen Decors with light diffusing high contrast solid colors. They can all be mixed and matched in your exterior design.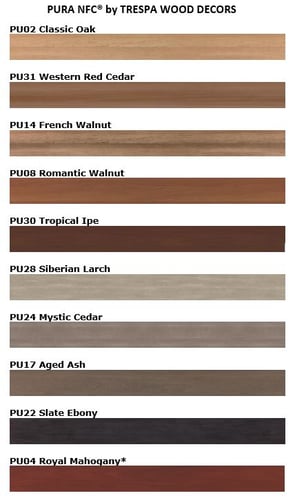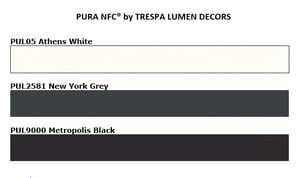 RELATED: View the Pura NFC Siding Project Photo Gallery
4. Easier to install Pura NFC siding is designed to be easier to install than fiber cement or engineered wood siding, thanks to being lightweight with high bending strength and flexibility. This can save time and money on installation costs, especially for larger or more complex projects.
5. Lower maintenance requirements. Pura NFC siding requires less maintenance than fiber cement siding, as it doesn't need to be repainted or resealed every few years. This can save homeowners time, money, and hassle over the long term.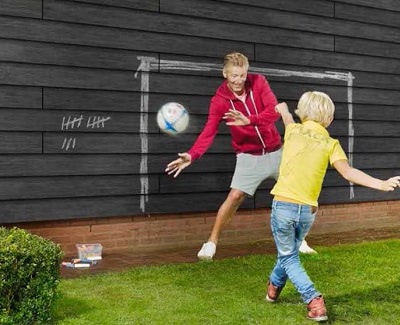 Pura NFC is made to withstand hard impacts, denting, and cracking without damaging.
6. More durable and damage resistant. Pura NFC siding is highly resistant to weathering, UV rays, heat and humidity, storm damage, hard impact, scratching and gouging. So you can expect it to last longer and require less maintenance (or repairs) over time.
RELATED: All of these claims by Trespa are tested in their labs to be sure they deliver as promised. You can see all the 2-minute test videos here.
7. Better color retention. Pura NFC siding has superior color retention than engineered wood siding. The proprietary manufacturing process used to create Pura NFC siding ensures uniform color throughout the material. This ensures that it won't fade or change over time.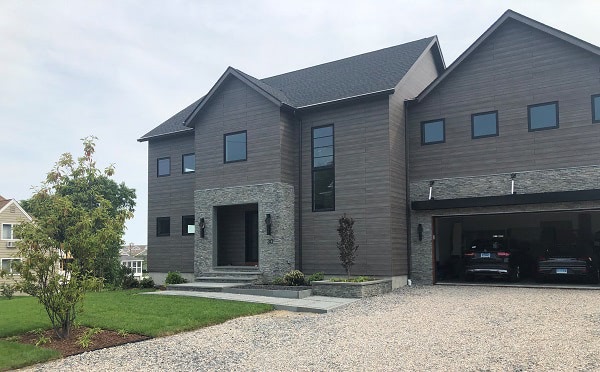 This owners of this new home project in Rhode Island chose Pura NFC in Mystic Cedar for the low maintenance needs. realistic wood look, colorfastness, durability in salt air, and longevity.
RELATED: 5 Reasons Pura NFC Siding Was Chosen For This Home Exterior
8. Lower maintenance requirements. Pura NFC siding requires less maintenance and never needs refinishing. It can also be cleaned with simple soap and water as needed. This saves time, money, and hassle over the long term. Additionally, Pura NFC siding is resistant to mold and mildew growth, which can be a common problem with other sidings.
9. Resistant to moisture and weathering. Pura NFC siding is made from a proprietary blend of natural fibers and resins, making it highly resistant to water, UV rays, and other forms of environmental wear and tear.
It is easy to see why Pura NFC, with its flexibility and durability combined with so many décor and design option, kicks other common siding materials to the curb. Could Trespa siding be the answer to add value to your siding investment? If you have any questions, feel free to contact us for help or information.
Related Posts