19 Covered Deck Design Ideas From Overhangs to Gazebos
Written by
Liza Sivek
on
If you are planning a covered deck, there are tons of design ideas that can make your outdoor space the best looking, and lasting, it can be. We have deck design ideas and tips to make it low maintenance, too.
Adding an overhead structure like a gazebo, roof overhang, or pergola adds shade, privacy, and fantastic good looks to your deck design. Whether you are designing a brand new deck or adding to an existing deck, we have inspiration to get you started.
From waterfront pier to ski lodge to custom historic homes, we have 19 amazing covered deck design ideas for you: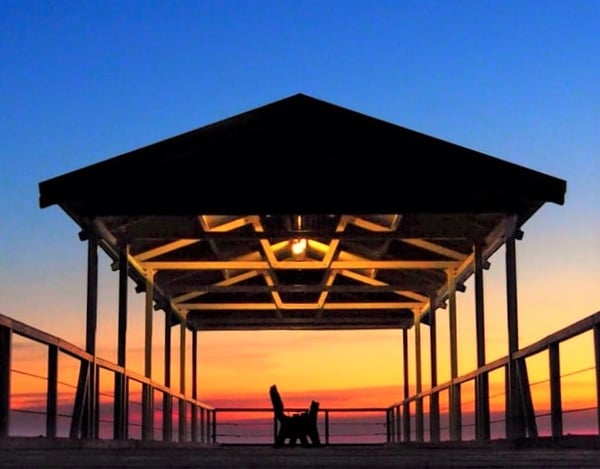 Sunset is better from your own deck.
A large wood and metal gazebo over a wood deck gives shade, a place for lighting and a designated spot for a sunset view. No matter how big or small, simple or elaborate your deck design is be sure to consider the view and make a place to enjoy it!
A very important design detail to consider is the wood decking material you choose for your covered deck elements. Wood decking is popular since it is warm and inviting to see and relax on, softens any hard, cold elements like stone pavers or stucco, and comes in many different species and color ranges.
But how to choose? Consider hardwood decking and thermally modified decking for their excellent strength and damage resistance.
---
---
have the lowest maintenance required
do not require painting or staining, ever
can be naturally weathered to satiny silver gray without needing additional maintenance
have a higher return on your investment over the lifecycle of your deck
can be used on a rooftop deck design
have incredibly higher resistance to insect damage, mold, rot, and decay
come in a range of prices, some the same as better softwood materials
outperform softwood and composite decking in resistance to wear and tear, fading, bending, and gouging
Compare these options to popular softwoods (Cedar, Redwood) or composite decking, for example. Hardwood species such as Ipe wood, Cumaru, FSC Machiche, Jatoba, and Garapa outlast and outperform softwoods naturally.
RELATED: Compare Decking Materials
Thermally modified wood, a more affordable option than some hardwoods and some softwood options, has been made more durable and long lasting through a process using a specialized kiln, heat, steam and pressure and outperforms pressure treated woods while helping you stay on budget.
Rooftop deck apres ski with a warm drink and a view of the mountain? Yes, please.
Thermally modified wood was chosen for this rooftop deck and overhang soffit (and the siding). Warm and welcoming, perfect after a day of winter sports. Thermally modified decking can handle all seasons and melting snow without a lot of extra maintenance. Check out more about Thermally Modified Wood benefits here: What is Thermally Modified Wood Decking?
Consider Thermally Modified Woods such as Thermowood Ash (a modified hardwood) or ThermaWood Hemlock (a modified softwood) because they:
give you the option to stain the wood (ThermaWood)
Have a higher resistance to insect and water damage than their non-modified counterparts
Are a more affordable option when you need to meet a project budget
more durable and longer lasting than their non-modified counterparts
RELATED: Rooftop Deck Design Picture Gallery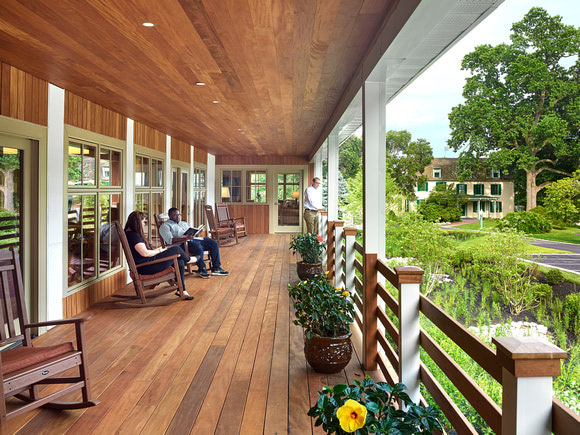 Who wants to come join me on this porch? Bring your morning coffee and your book, I'll meet you there.
This Garapa hardwood deck is as traditional as they come, with a place to gather with family, neighbors, and friends, morning, noon, or night. What makes it that much more inviting is the overhang roof soffit made with the same Garapa wood as the decking and the siding. Garapa is the lowest priced premium hardwood option, comparable to some of the higher end softwood or composite decking but with much more durability. Garapa's golden blonde to light brown tones and budget friendly price range can meet both exacting design and budget criteria for your deck project.
RELATED: Compare Garapa decking to other Wood Decking
---
---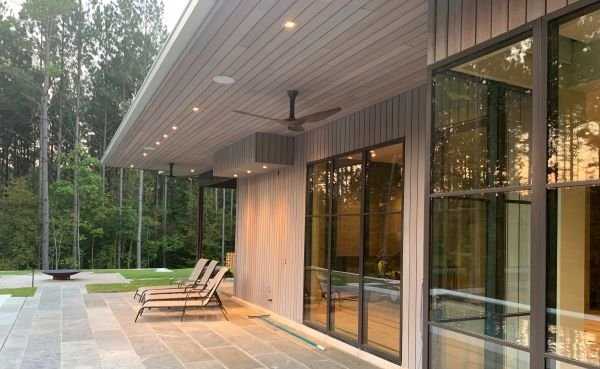 This home owner chose to wrap their deck overhang in Ipe decking hardwood to match the vertical Ipe wood siding. Even if your existing siding isn't wood, a hardwood soffit on your overhang can give you the warmth and designer look you are looking for. And save you time and labor.
RELATED: Ipe Wood Decking Ideas Picture Gallery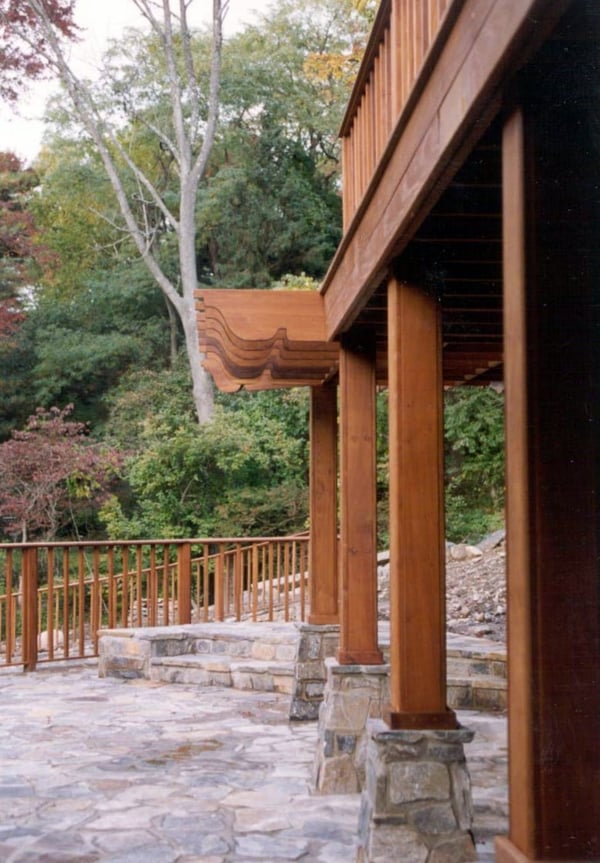 This rustic mountain style home has impressive views as you come up to the deck - stone paving with strong Ipe wood columns and support the Ipe upper level deck and railings. Wood decking and elements can be used in any home style from rustic to ultra modern.
RELATED: Compare Wood Decking Prices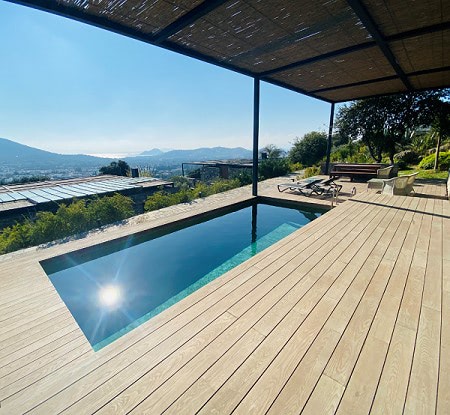 A great example of thermally modified wood. Thermowood Ash, a modified hardwood, surrounds a rooftop deck with lap pool and pergola overhang for partial shade. Rooftop decks get stronger UV just because of their location on your home. Having the option for a shady area to gather and relax is a smart choice.
RELATED: ThermoWood Decking Ideas Picture Gallery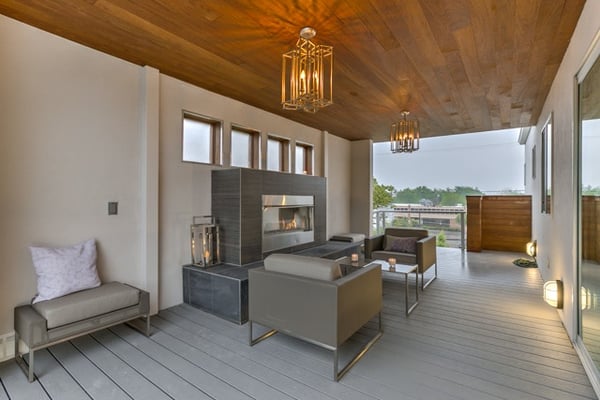 FSC Machiche was used to create the lovely roof overhang on this upper level outdoor room, and the added the privacy wall. can't you just picture sitting by the fire on a cool evening to unwind away the long day?
RELATED: What is FSC Machiche Wood?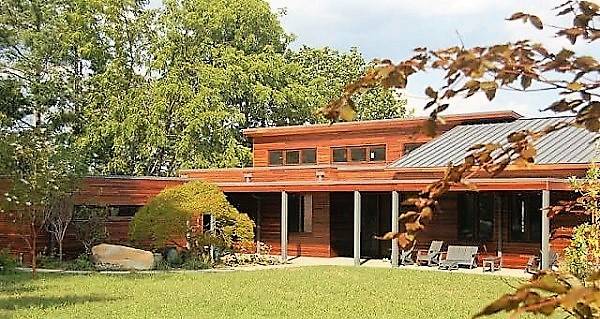 Decks that run along your home exterior are ideal for a wood overhang. Give yourself the cool and shaded spot you are dreaming of in outside, and shade your interior rooms from strong UV, too. This Ipe pergola- style overhang lets you allow some sun and sky in while giving you shady space.
RELATED: Pergola and Overhead Design Idea Picture Gallery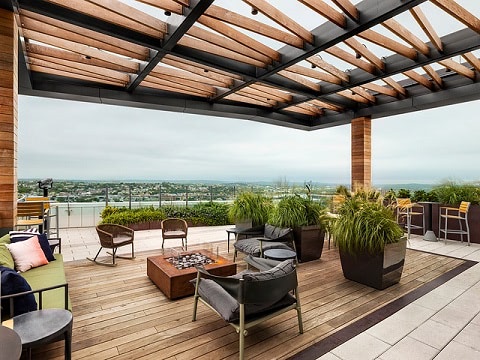 Another pergola covered deck idea, this time with a modern twist. A rooftop deck using Ipe for the seating area with a gas fire pit, the stacked-look columns, and the chevron style placement of the pergola slats takes it up a design notch. Rooftop decks require more pre-planning for heavy load items like pergolas, overhangs, and other items, so discuss your design with your architect or engineer first.
RELATED: Rooftop Deck Design Load Problems and Solutions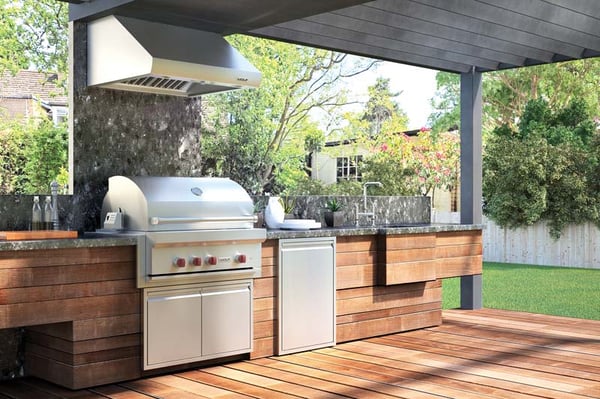 Outdoor kitchens allow you to dine al fresco at home every day, if you want! To add a little UV shade to your cooking and dining area, add a wood pergola overhang that allows smoke and heat up and out. This hardwood deck and pergola even has a wood front work area.
RELATED: Building an Outdoor Kitchen: Is FSC Machiche Wood Right For You?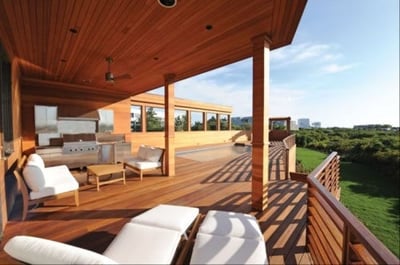 An upper level deck with multiple areas for a lap pool, outdoor kitchen, conversation and a view of the city beyond. All surrounded by the warmth of Cumaru hardwood, a low maintenance, high durability decking with a range of medium to deep brown tones and interesting figuring.
RELATED: Cumaru Decking Ideas Picture Gallery
---
---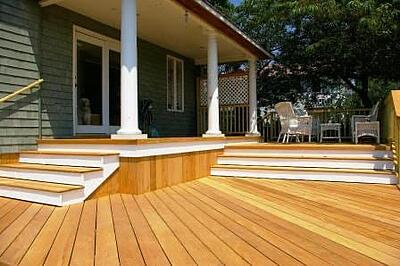 Creating a multi-level deck, like this one using Garapa decking, lets you make separate areas for dining, relaxing, or yoga. Whatever it is you want to use your deck for! The classic columned overhand shades your entryway and gives you a comfortable seating area when the sun is high.
RELATED: Free download, The Ultimate Guide to Selecting The Right Decking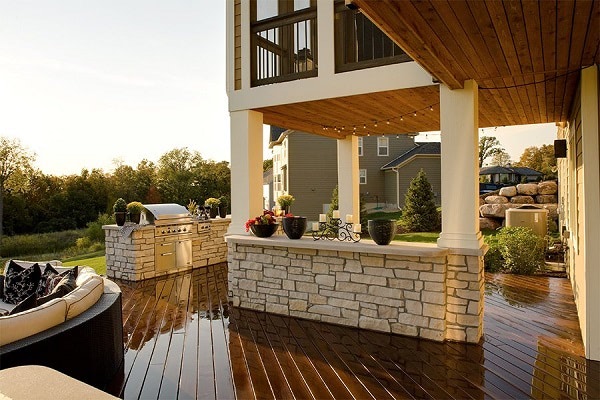 A backyard entertaining space has a balcony deck off the bedroom above. Note the wood soffits on the overhand to bring the design together and soften the stone elements.
RELATED: Low Maintenance Decking Option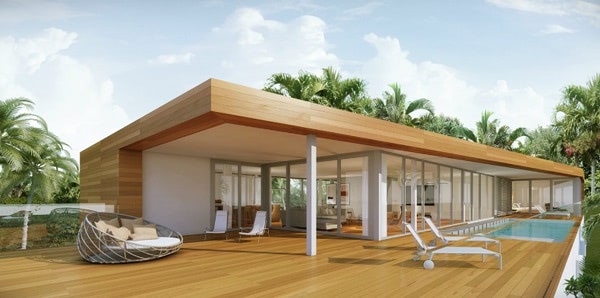 An architect's rendering of an award winning home. This rooftop deck and home was designed to look and perform like Teak in the treetops overlooking the ocean, but they wanted it in a down to earth budget. Garapa wood to the rescue! Check out the blogs about this home and you will see the Garapa was such a hit with the architect and builder that they covered the once-plain soffits, too.
RELATED: Choosing a Rooftop Deck For An Award Winning Home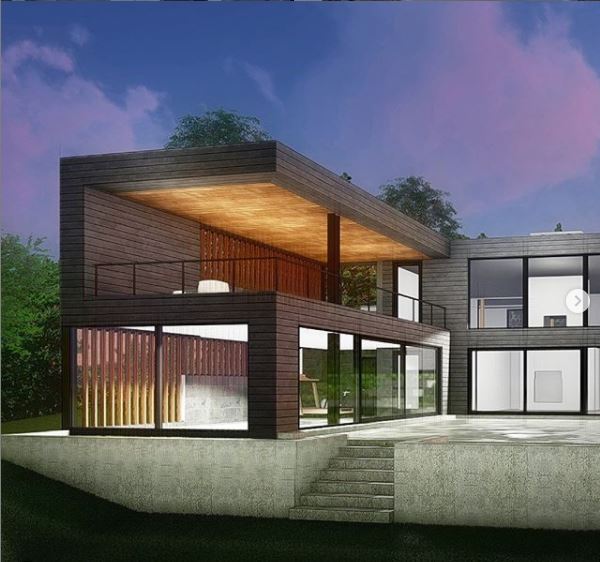 A historic mid-century modern architectural masterpiece in Kentucky need a major renovation. The second level rooftop deck over a flat roof needed a new look and much better wood decking and soffit choices. Ipe wood was used on the soffit and privacy wall. See the results and more about this deck design in the blog.
RELATED: Historic Kentucky Home Gets Custom Ipe Rooftop Deck
Related Posts