15 Impressive Designs for Wooden Pool Decks
Written by
Liza Sivek
on
Heading into warmer months, our thoughts naturally turn to backyard projects. Are you planning a new pool? Upgrading an existing pool deck? Wooden pool decks have been elevated to a status formerly reserved for the interior rooms of your home. Pool decks are for outdoor living, designed to be a family space and an entertainment area. If you need ideas that inspire we have 15 pool deck design trends, ideas, and projects to show you.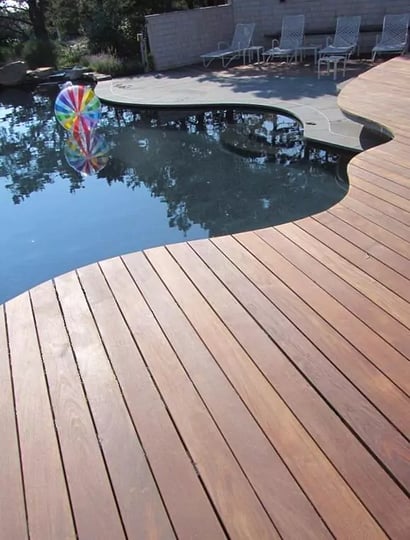 Hardwood pool decks are not limited to rectangles! This Ipe deck is just one of the many styles you can achieve with premium tropical hardwoods. This curved decking complements the contours of the organically shaped pool. Instantly add a family space and entertaining area with a wooden pool deck. Using a flowing modern shape can also be part of your landscape design.
---
Unlike pressure treated pine, kiln-dried and high-density tropical hardwood decking requires no chemical treatment. High density hardwood decking is naturally rot and insect resistant. Plus, the safety factor is high. For example, Ipe has been tested and highly rated for inherent slip resistance and natural low splintering, perfect for poolside. Pool deck maintenance is easier with hardwoods, too, giving you more time to enjoy your pool.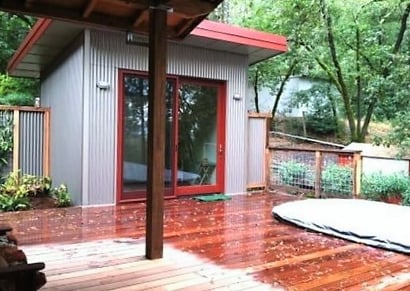 Spring showers bring May flowers - and the opening of pool and hot tub season! Here, a FSC Certified Machiche deck shows off it's good looks and durability in all seasons.
---
Want more details on selecting the right decking material for your pool project? Download our free guide now.
---
Premium hardwood decks can be incorporated into your pool design in so many ways. It lends itself to everything from modern to traditional decks. Hardwoods let you choose natural colors ranging from deep chocolate brown to light blonde wood. That range, the high-density fibers, and the exotic graining eliminate the need for paint, stain, or lots of upkeep. A simple sealant suitable for high density wood protects the colors from UV rays, (we like and use Penofin Hardwood Formula Penetrating Oil Finish), and maintains the natural "just built" beauty. Or choose to go virtually maintenance-free and let the hardwoods "silver out" in the sunshine which gives all hardwood species a soft, smooth gray patina. It won't lose the interesting grain patterns that set tropical hardwoods above the rest in looks.
These are all great reasons to choose premium hardwood decking material but now let's dive into pool deck designs and looks.
---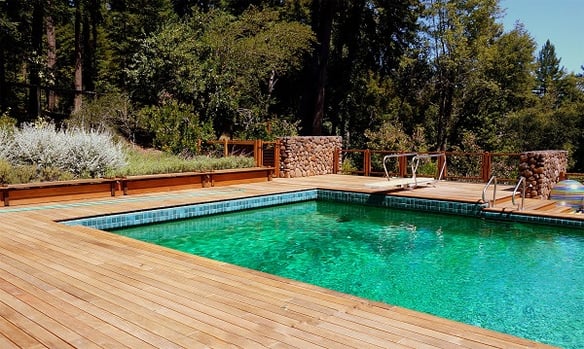 Doesn't this scene make you want to sit back in the sunshine after a swim? This contemporary pool deck shows the natural variations in colors of Ipe decking planks and was used for stairs, built in benches, and on railings with steel wire and natural stone for contrast.
---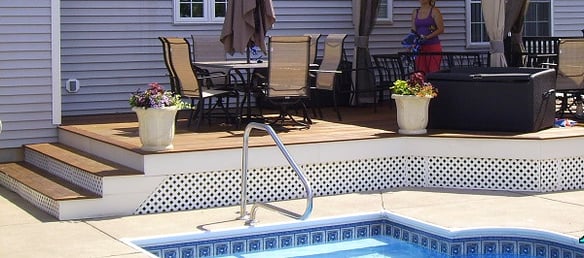 The more traditional pool deck design shown here is also an easy way to upgrade an existing concrete surround pool. Add an wood deck at poolside, and extend your comfortable outdoor living area. This raised deck includes a hot tub, entertaining and dining areas comfortably in what would otherwise have been a flat concrete corner. Ipe hardwood keeps it beautiful and low maintenance.
---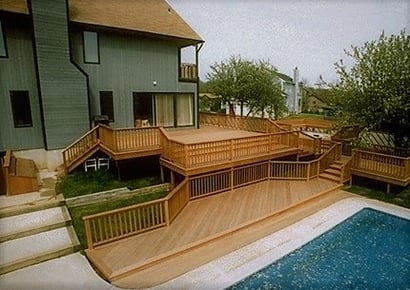 Wanting a multi-level deck with areas for everything? This Ipe deck with railings and stairs exemplifies outdoor spaces for everything from dining to relaxing to poolside all in one. This deck design also makes the most of limited building space and over a slope, extending the living areas of the home.
---
Ready to learn more about the different premium hardwood species in decking material? This free download gives you all the details.
---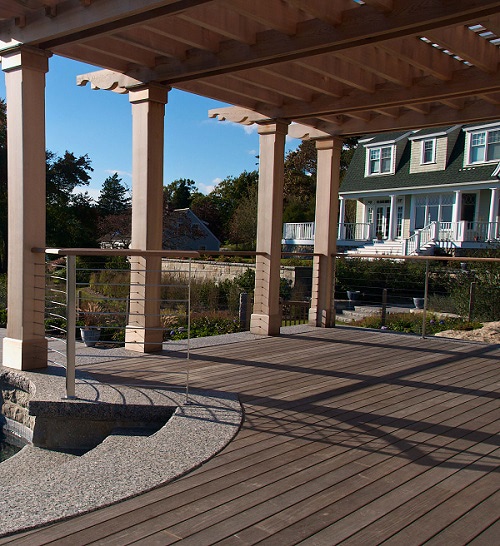 Ipe makes beautiful covered areas at poolside such as this pergola at an East Coast beach house. Natural Ipe planks pre-finished by Mataverde Decking in a rich brown are smooth and strong, so you won't be worrying about splintering, checking (splitting), or too-hot surfaces.
---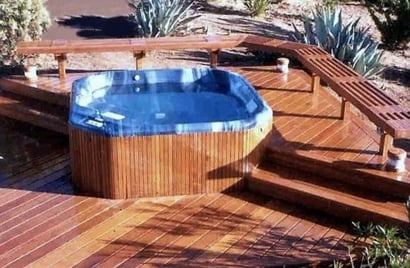 Do you have a hot tub, too? Natural hardwood evokes a spa-like environment at home. Imagine jumping in after a long day of work, or yardwork, to sit back and spoil yourself just steps from your door. For practical considerations, Ipe is also the perfect naturally slip-resistant wood to surround a hot tub or pool. And the high bending strength of Ipe is ideal if your hot tub is built on the deck rather than in it. No worries, just unwinding.
---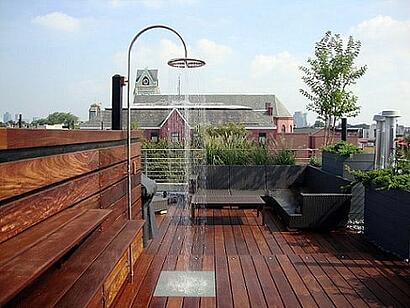 No pool deck design is complete without an outdoor shower area. This Ipe pool deck is designed with a 'rain shower' head and drainage right beside a rooftop pool. There's even built in Ipe seating. Slip-resistant Ipe comes in handy again here, making the shower area safer while adding a pampering touch to your pool deck.
---
Interested in knowing what hardwood decking materials look like after a few years? They are extremely durable, and letting them silver out naturally is your lowest maintenance option. Check out your options with this free guide, Download now.
---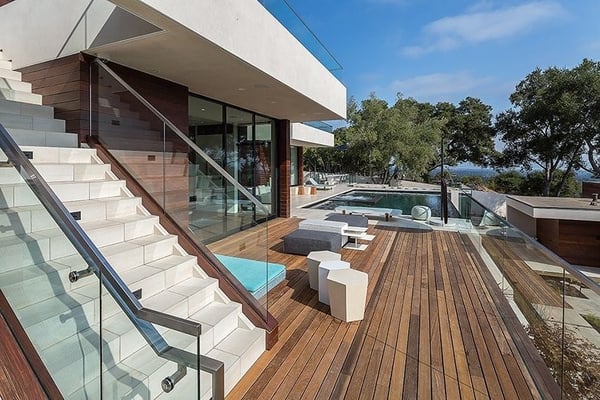 FSC® Certified Machiche is a sustainable way to warm and soften a concrete or stone pool area. Here, natural Machiche decking and siding is used to balance cool stone, glass and metal accents. The range of natural coloration from reddish-gold to a chocolatey brown adds luxury to any backyard deck design. Here, it surrounds these unyielding materials with a wooden pool deck that is soft on bare feet - and on the eyes. It turns what could be a hard, sterile environment into an place that is inviting, tactile, and has spa vibes to relax and enjoy the moment.
---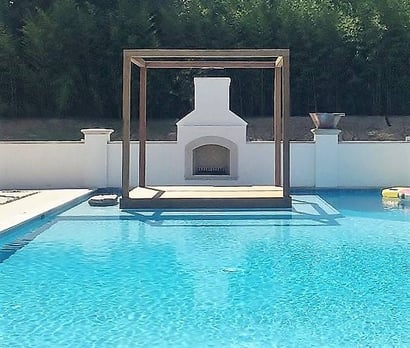 Want to be the entertaining envy of the neighborhood? Take your pool from nice to WOW! with the addition of an Ipe pool island right inside your pool. Ipe is well suited to being surrounded by water - it is the first choice for waterfront floating docks. This modern pergola style allows for lounging poolside and fireside any time of the day or evening. Chilly night? Skip the swim, step over to the fire, and enjoy your backyard getaway.
---
Need more information before choosing your decking? We have everything you need. Download your free guide now.
---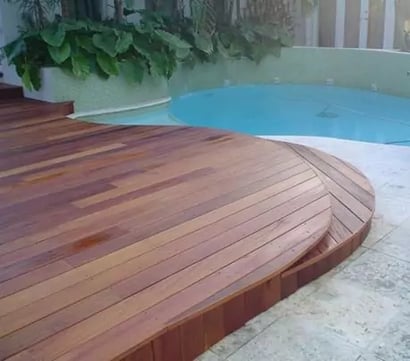 Here's another gorgeous way to mix cool and warm materials for contrast and texture in your design. This Cumaru deck with curved steps flows into the hot tub area of stone, stucco and patterned tile. Tropical Cumaru has rich golden blonde to brown tones and exotic figuring in the grains that add flair and visual interest to even the smallest corner of your deck.
---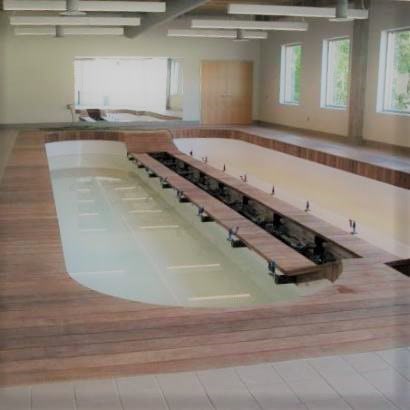 Indoor pools need decks, too! Here a spa pool is shown to inspire your own lap pool or indoor hot tub space. This wood pool deck is made from Cumaru and shows off it's light reddish brown tone variations splendidly. Imagine stepping onto a wood deck in your own indoor space all year round to enjoy your pool. Cumaru is the most affordable of the premium tropical hardwoods, helping make an indoor pool area within reach.
---
Want more deck design ideas? Download our free guide with over 150 photos and 60+ deck ideas that you can incorporate into your pool design project.
---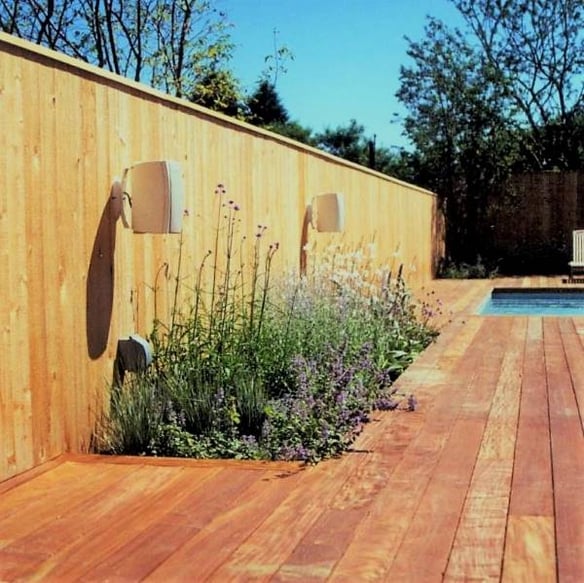 The varied golden brown tones of tropical Cumaru hardwood are coveted for their teak-like look and similar benefits to Ipe. Cumaru is the most affordable of the premium tropical hardwoods, making an large deck area an attractive plan both financially and in looks. Any poolside entertaining area can benefit from this type of design.
---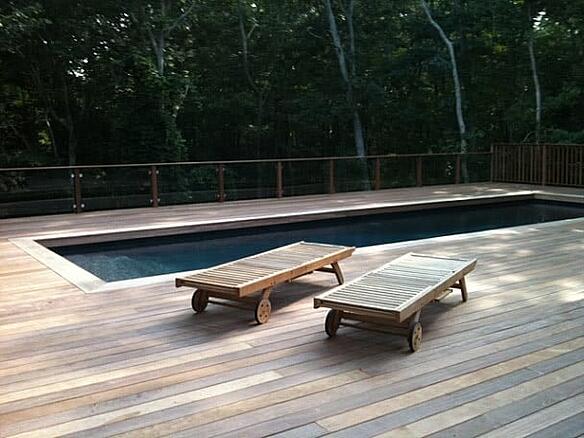 This modern and minimalist Cumaru deck (and patio chaises!) surrounds this pool in the forest. Like all hardwoods, this deck will naturally gray over time to a soft silvery patina unless sealed with UV protection. Either option is very low maintenance, especially when compared to traditional deck materials like pine and cedar.
---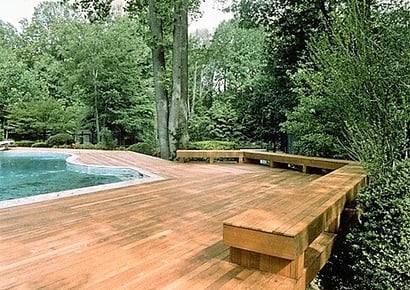 A raised deck around a semi-inground pool can be built with company in mind. Add built in benches for extra conversation areas without adding extra patio furniture, leaving your deck area open. This Ipe deck will last for decades with very low maintenance, and be as attractive and rot resistant on day 7,040 as on day 1.
Are you inspired? Did you see a design that you want to make a reality at your home? We are here to answer any questions, or help you with the first steps. Contact us to start planning your dream pool deck.
---
Ready for more? Download the Ultimate Guide To Selecting
The Right Decking for free, now.
Related Posts