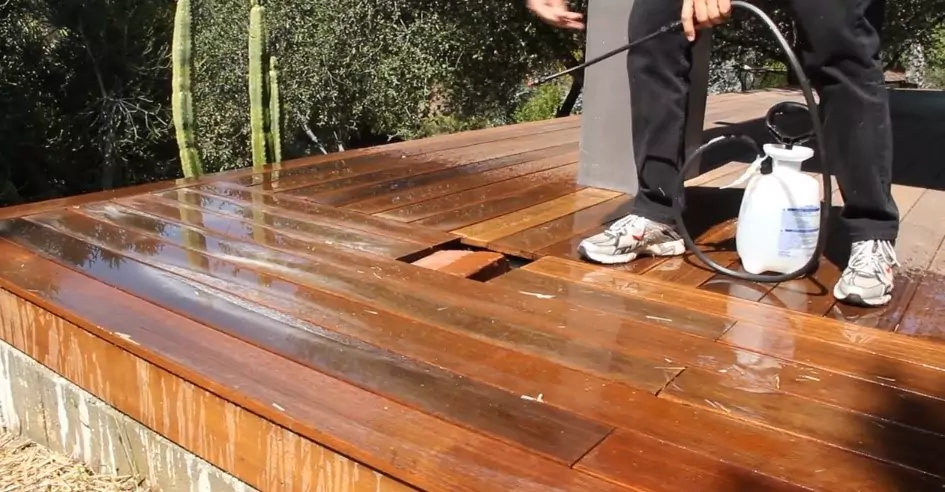 9 Secrets To Finding The Best Low Maintenance Wood Decking
Written by
Liza Sivek
on
Are you dreaming of a wood deck but are want to avoid the high maintenance? Think that's impossible? Yes, Virginia, there is a decking Santa Claus and it's premium hardwood decking.
It is a myth that all wood decks are hard to clean, require lots of upkeep, and won't last long. You can have your beautiful wood decking without hours of upkeep. Read on for the facts, and the secrets, to finding your perfect, easy upkeep, wood decking.
Wood decks are an excellent choice for outdoor living spaces. They enhance your exterior while extending your home's useable space. Wood decking feels comfortable, soft, and smooth underfoot. It doesn't absorb heat the way composites and pavers can.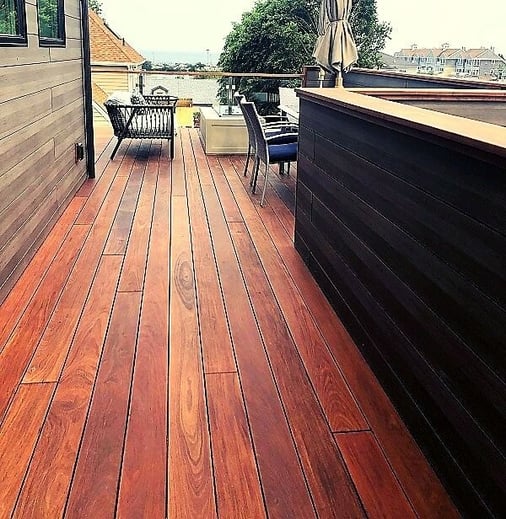 Custom Ipe wood deck on a new build home in Rhode Island can withstand salt air, storms, and family foot traffic.
What's the secret to finding the best, low maintenance wood decking?
It's simple: Keep these 9 very important things in mind when shopping for your wood decking.
Every decking material claims to be easy to clean and care for. But only you know how much time you want to spend maintaining your deck rather than relaxing on it.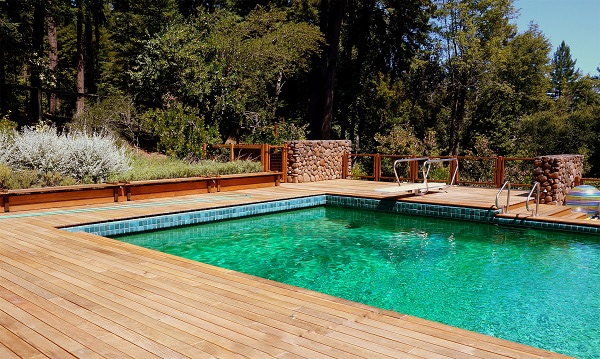 The luxurious looks of an Ipe wood pool deck might look high maintenance, but it isn't! And it lasts decades.
With these 9 questions, you can balance what's important to you with what decking to choose.
How often will I be cleaning my decking?

Do I need deck sealer?

Do I need to re-stain or re-paint it often?

Will it stay looking new without tons of work?

Can I let it weather to gray if I want, without it splitting?

Will it stand up to everyday use without showing wear and tear?

How resistant is it to rot and mold, will it have to be treated and re-treated?

How resistant is it to insect damage, will it have to be treated and re-treated?

How long will my wood deck last?
If you apply these factors to your decking material comparisons, it can narrow the field considerably. More on that in a moment.
---
Questions?
We can answer them. Give us a call or send us an email now.
---
"Less is more" is the key to the low maintenance decking material.

First, let's chat about what is considered low maintenance versus high maintenance when it comes to real wood decks.
If you have ever cleaned a deck, you already have a good idea what's needed. But, since all types of wood decks are not created equal, wood deck upkeep can vary a lot from type to type.
How often should you clean a deck?
For every day cleaning, "as needed" is fine, just like your interior floors.
A quick sweep and mop up for spills under the picnic table (if the dog didn't already do it). Or a bigger clean up if a storm drops ALL the leaves and twigs on your deck at once.
For deep cleaning and refinishing, annually might be a good rule of thumb - but every deck can vary widely. "As needed" applies here, too, just on a longer timeline.
How often you will need to fully clean and possibly refinish depends on the type of decking, your location, climate, and how you use the deck. It may need maintenance more often than once a year.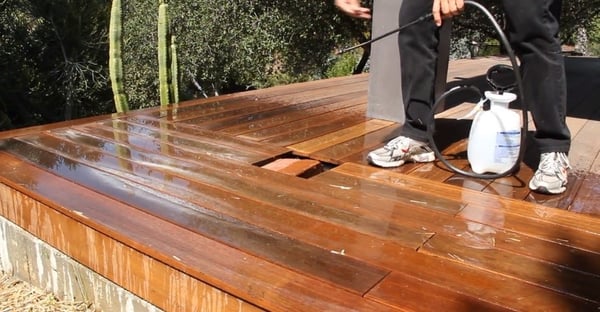 Cleaning your deck is as necessary as cleaning your interior floors. But how much work is required? Different types of wood decking have different requirement to keep them looking good as new.
RELATED: Compare Ipe Wood Decking vs. Pressure Treated Decking
---
For more details on high and low maintenance decking types, download the free
Ultimate Guide to Selecting the Right Decking
---
What do you need to clean a wood deck?
That depends. Washing the deck with a deck cleaner is pretty universal. Dirt is dirt, and your deck is outside. Where the dirt is. Then add food, drinks, pets, and debris blown in from the wind.
For some wood decking, an oil finish or re-sealing is required.
Others also need a regular coat of stain or paint.
The more wear and tear, UV rays, and harsh weather your deck goes through, the more frequently these will be needed. Luckily, this does not apply to all wood decking.
RELATED: Cleaning and Maintaining Your Hardwood Decking
Inspect your deck now and avoid costly repairs
When you're cleaning the deck, take a few minutes to look closely at and under your deck, and against the house where the deck attaches. Look for signs of loose screws and footings; loose or damaged planks; insect damage and nests; animal activity; mold or rot; splitting or cupping (warping); and serial killers hiding out. (Ok, maybe not that last one. I hope.)
A few moments will save you oodles of time and bundles of money over dealing with issues left unchecked for years and avoid safety concerns.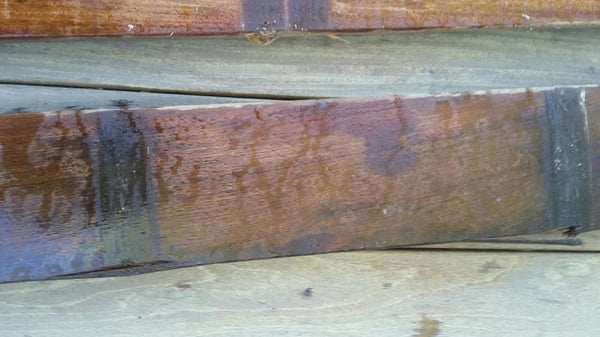 A warped decking board on a improperly ventilated deck was lifted and moisture, mold and rot were found.
---
For more details on choosing the wood for your project, download a free PDF to the
"Ultimate Guide to Selecting The Right Decking"
---
Next, as promised, let's compare the pros and cons of wood decking maintenance by type.
Cedar Decking vs Redwood Decking vs Hardwood Decking
Cedar and Redwood decking are beautiful and popular. They are both softwood decking, which have a naturally lower resistance than high density hardwood.
Softwoods will show dents, scratches and wear quickly. For some, that is a part of the charm. For others, those scratches and dents mean more sanding and refinishing.
Cedar, Redwood and other softwoods require re-staining, painting and resealing regularly. UV protectant is a must to avoid splitting, cupping and splintering, even when weathered to gray.
Weathered softwood decking is higher maintenance than non-weathered.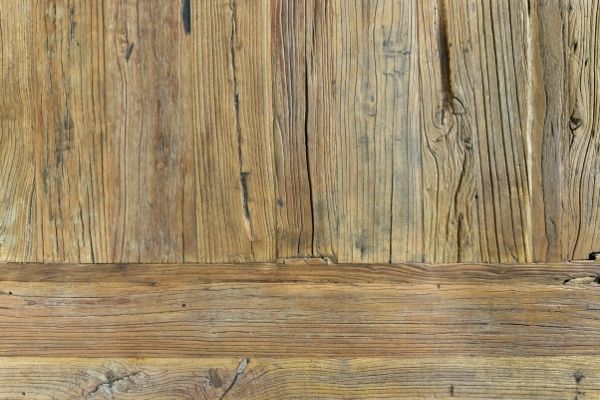 Weathered softwood decking has a lovely rustic look but can also split, cup and rot if not maintained regularly.
Hardwood decking species will not show wear and tear for years (if at all). Scratches can be easily sanded out. When hardwood decking weathers to silvery gray it stays just as strong and has LESS maintenance needs.
Weathered hardwoods do not require sealing or refinishing, just cleaning. And it does not reduce the lifetime of the decking.
Believe it or not, weathered hardwood is your absolute lowest maintenance wood decking option.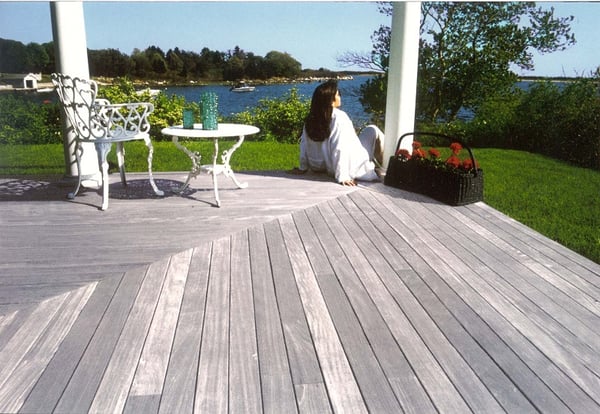 RELATED: View "How Exterior Hardwoods Weather"
Pressure Treated Decking Vs. Real Wood Decking
Pressure treated lumber is softwood, like pine, that has been treated with chemicals and high pressure to make it more resistant to environmental threats like rot and insects. Pressure treated decking is often used for outdoor projects because it's affordable and readily available.
Pressure treated lumber is not as attractive as hardwoods in color and grain pattern, but can be stained and painted any color.
But pressure treated lumber maintenance needs are high, and lifetime use is still low. Pressure treated pine is not resistant to mold and rot damage. It will need to be sealed frequently to avoid moisture absorption that can lead to these problems.
High density hardwood decking is already resistant to these threats naturally, and much more resistant than pressure treated pine.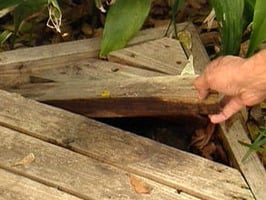 Composite Decking vs Hardwood Decking
There are excellent, high quality composites that have the look of real wood, don't need staining or refinishing, and can be very low maintenance in the short term. They come in different colors and styles, making them easy to match with any home design.
They can hold their color well under UV exposure and will not need sealing, staining or painting. This is because composite decks are made up of several layers of materials that can include fiberglass, plastic, and resin.
Long term, however, they are much higher maintenance compared to hardwood decking.
Composites are made with PVC plastics that absorb more heat than wood decking - which makes bare feet a bad idea! Plastic composites expand and contract with heat, but they do not contract back to their original shape. Over time, this can lead to warping of your deck planks, leading to replacement costs.
Also, while they are made to be colorfast, fading can happen. The finish on composites can also be scratched and worn, and composites cannot be refinished, only replaced.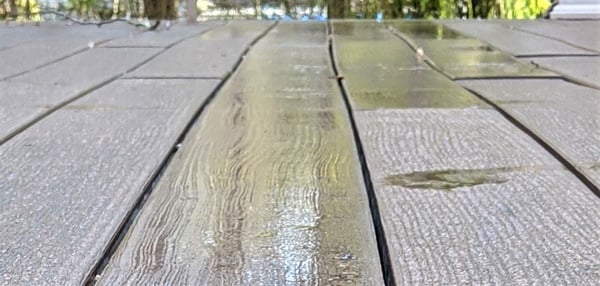 5 year old composite decking shows permanent warping from UV and heat exposure.
---
Finding the right decking material is significant to the success of your project. Get your free download of the Ultimate Guide To Selecting The Right Decking for more.
---
Wood Decking Comparison Chart
This side-by-side chart makes answering those 9 questions fast and easy for you. Find the characteristics important to you and the best wood decking for your project will become clear.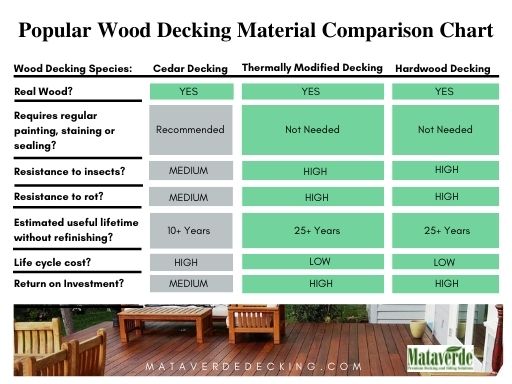 Download a copy of this comparison chart
If these tips helped you, please let us know. Questions or comments are welcome. If you are ready for a quote, or need more information we are happy to help. Contact our team.
---
Don't miss out on your free download! The Ultimate Guide to Selecting the Right Decking.

Related Posts