4 Best Woods for Building a Deck
Written by
Liza Sivek
on
For the discriminating wood deck builder and deck designer, Mataverde® Premium Hardwood Decking is the ultimate decking solution for those who want the very best: a real-wood, all-natural, spectacular looking deck that lasts. Choosing a premium hardwood is a smart way to make your deck project better, stronger, and with high satisfaction with the result. Building a wood deck with Mataverde® hardwoods can provide long-term beauty and peace of mind.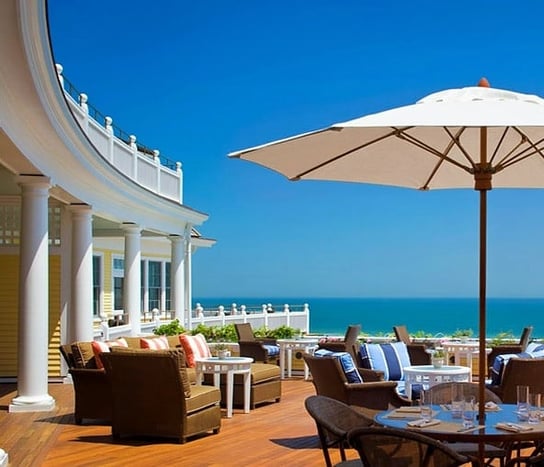 At Ocean House in Rhode Island, this Ipe wood deck invites guests to sit back and relax. Ipe is a smart choice for high UV exposure, high traffic areas and coastal wood decks.
---
More information with a mouse click!
Download your FREE "Ultimate Guide To Selecting The Right Decking" now.
---
Ipe Wood Decking
Ipe hardwood decking outperforms every known decking material on Earth with a lasting, natural beauty. Ipe hardwood is so resistant to fungi, decay, and termites that it is the species all other decking wood is compared to.
The variety of color, graining and figuration make an Ipe wood deck a showpiece on a home. Ipe hardwood shows off a wide range of natural colors, graining and beauty. Ipe typically displays colors ranging from tans to olive browns and reddish browns to dark browns. Maintain these natural colors as needed with a rosewood oil penetrating sealer and UV protectant made especially for dense hardwoods like Penofin Finishes for Hardwood Decking. Left untreated, Ipe wood weathers to natural silver-grey patina that is a naturally low-maintenance option.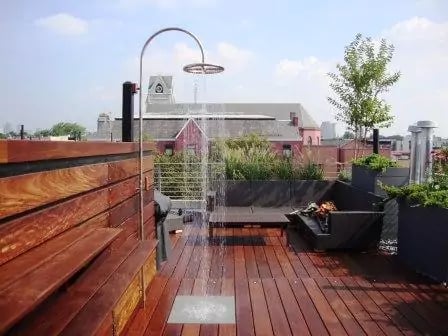 An Ipe wood deck features decking, built in seating and an outdoor shower. With the highest density of all hardwoods, Ipe is the top choice in wood deck design for natural rot and mildew resistance.
Ipe wood exhibits exotic graining, quarter-sawn figuring, character, and striping that will makes every Ipe deck board different. No two pieces are ever exactly alike. The spectacular variations and figuring are easy to use in your deck project since Ipe is as attractive as it is strong.
---
RELATED: VIEW THE IPE WOOD DECK IDEAS PHOTO GALLERY
---
Need more inspiration? Download the "Deck Design Ideas e-Book"
to get 150 more photos of real-world wood deck projects FREE.
---
Machiche Wood Decking
All Mataverde® decking material is responsibly and sustainably harvested. Because Mataverde® Machiche is a 100% FSC® Certified hardwood decking material it is a top choice to contribute to LEED certification projects. Plus, it is one of the most popular, durable, and good looking premium hardwood decking materials.
Machiche wood decking material has many characteristics similar to Ipe hardwood. Machiche hardwood has very good dimensional stability. Being a kiln dried decking material, Machiche decking has minimal movement, low shrinkage, and minimal checking, providing a deck surface that will last for years.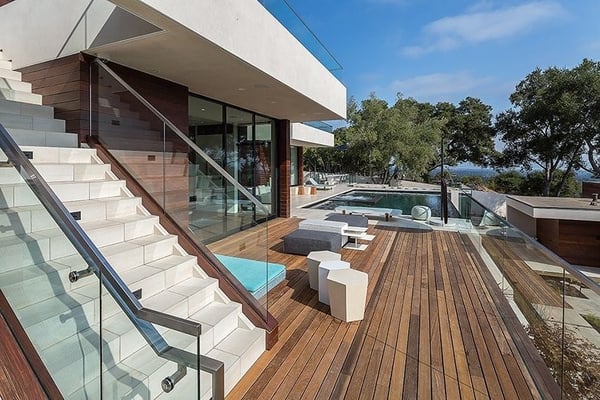 A Machiche wood deck shows off the gorgeous color range of wood tones in this poolside wood and stone deck design.
Machiche wood is a medium grained high-density hardwood that is gorgeous as a decking material. Machiche is all heartwood, ranging in color from light brown to reddish brown to medium chocolate brown colors. With a coat of rosewood oil penetrating sealer, Machiche decking develops into a rich chocolate coloration that can be maintained with a new coat of sealer as needed. If left to weather naturally, Machiche decking will age gracefully to a mellow silvery patina.
---
RELATED: VIEW MACHICHE WOOD DECK IDEAS PHOTO GALLERY
---
Check it out, get even more in depth information on wood decking material options in this FREE download,
the "Ultimate Guide to Selecting the Right Decking". Grab yours now.
---
Cumaru Wood Decking
Mataverde® Cumaru Hardwood is an extremely tough and very dense wood species. Cumaru has an interesting, irregular, interlocked grain and a course, wavy texture. With a density that is even higher than Ipe, Cumaru decking has a naturally high resistance to termites and decay.
The grain variation of Cumaru is both dramatic and beautiful. While the grain is reminiscent of oak, Cumaru hardwood decking material is all heartwood and can range in color from yellow brown to reddish brown and to a purplish cordovan color, making it amazingly different than oak. Like all hardwoods, it will age to a silver gray finish without losing the features that make it a premium choice.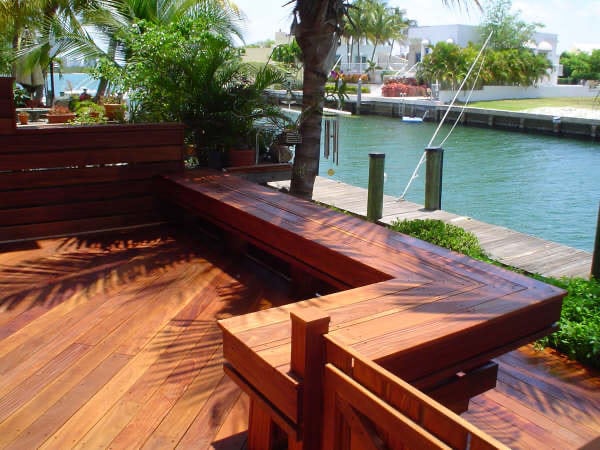 A dockside Cumaru deck shows off the exotic graining and colors it is known for, including the built in benches.
Mataverde® can also offer Cumaru decking that is FSC certified to contribute toward a project's LEED certification, and Cumaru decking is rated as Class A Fire Resistant material.
---
RELATED: VIEW THE CUMARA WOOD DECK IDEAS PHOTO GALLERY
---
There's more inside: Grab your FREE download now of
the "Ultimate Guide To Selecting The Right Decking" with more information to help you choose.
---
Garapa Wood Decking
High-density Mataverde® Premium Garapa hardwood offers a lighter colored option in exotic wood decking material, without sacrificing any of the attractive graining and color range. Garapa is also the most affordable choice for a hardwood decking material. Garapa decking is a tough, durable wood with a soft looking, satiny grain. Garapa wood is considerably stronger, harder, and heavier than oak.
Garapa decking is all heartwood and ranges in color from a sun kissed honey blonde to a rich golden brown which will darken slightly with age. While the soft, ribbon-like graining of Garapa decking is like maple or mahogany, Garapa decking has a look all its own. The rich variations in Garapa wood, though more subtle than other hardwoods, reflect the character and beauty of this exotic natural tropical species. When left to weather naturally, Garapa hardwood turns a soft silvery platinum hue very similar to the appearance of weathered Ipe decking.
---
RELATED: VIEW THE GARAPA WOOD DECK IDEAS PHOTO GALLERY
---
Learn more about how premium hardwoods weather and your low maintenance options.
Download the "Guide To How Wood Weather" now FREE.
---
Do you feel ready to choose a wood decking material? Is one of these hardwood decking choices right for your next project? Let us help with the next steps. Contact our specialists with your questions or click below for pricing.
---
Want to get a FREE hardwood decking sample in your hands?
Request one now and our team started on that right away!
---
Is hardwood decking a good fit for your next project? Want to price your wood deck design?
Our specialists can help. Request a quote now and let's get started.
Comments
Related Posts