"Whenever people ask us for specific lengths of hardwood decking to go into specific areas of their deck, we need to talk. It is best to work with the natural beauty and character of each deck board."
The satisfaction of our customers is extremely important to us, so when customers ask us for a specific tally of decking boards, it is important for them to understand why this may be a bad idea that can lead to short term and long term dissatisfaction. Why? Let's start with the obvious, wood decking is wood, it is not plastic, not metal, not concrete. Wood decking is an all natural material and will vary significantly from board to board and very often, there's lots of variation within the very same deck board.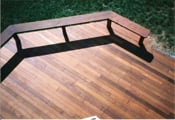 Wood decking in general, and especially tropical hardwood decking, often has lots of graining, exotic figuring and widely varying ranges of colors. These incredibly beautiful natural characteristics and variations of hardwood decking are an important part of what makes such popular decking species as Ipe, Garapa, Machiche, and others, so unique and inviting. The best way to install tropical hardwood decking is to "blend" the decking boards and install them much like you would install a hardwood floor.
Decking Installation Tips:
Here are a few great decking installation tips that we've learned from many expert craftsmen and decking installers over the years that will allow you to have a beautiful and very satisfying deck - right away and for many years of enjoyment to come.
• After you let your wood decking properly acclimate to your job site conditions, you are bound to notice some size variations in the width of some of the boards. No need to be alarmed; expansion and contraction of wood is a natural and continuous process. You can use this natural characteristic of wood to its best advantage.
• Once you are ready to install your decking, lay out your deck boards on the deck. Don't install the deck boards yet: play with the layout until you are happy with the widths and color and graining variations. Blend the colors and variations into an artistic decking layout.
• Don't let yourself get hung up on the various lengths of the deck boards; work with the varying colors, textures, graining and other beauty marks of your hardwood decking.
• If you insist on a specific length deck board for specific areas of your deck, you lose your ability to mix, match, blend and beautify.
• When you are satisfied with the best layout, you are now ready to fasten your deck boards down. Enjoy!
We hope you enjoyed this article. Please visit www.mataverdedecking.com for more information about decking materials, decking installation, hardwood decking options and lots more.