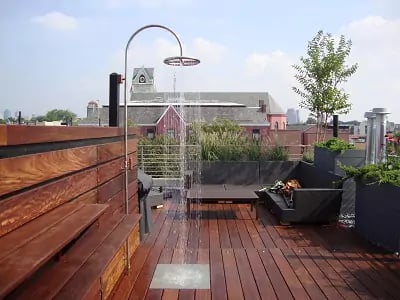 5 Great Tips for Choosing the Right Wood for Your Wood Deck
Written by
Liza Sivek
on
Choosing the right type of wood decking will depend on how much maintenance you plan to give your deck, what climate you are in, and other considerations. Choose a type that has natural beauty and durability.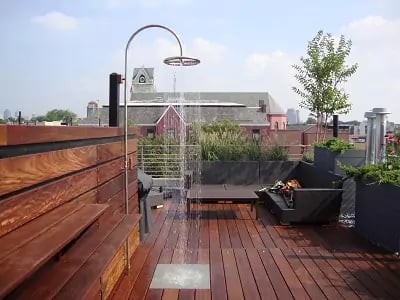 Ipe hardwood rooftop deck with an outdoor pool shower.
1. Choose Wood Decking That Saves Time and Money
If you have been looking for wood decking material, it is no surprise that there are several different kinds of woods available. The investment in materials upfront can range greatly. And lifetime strength of the wood decking can also vary greatly. Color, grain and patterns can give you lots of options for looks.
If you choose the wrong wood decking, you'll spend more money than necessary and end up with a deck that's not as durable as you'd hoped. It's also important to think about what kind of maintenance you need to do. Here are three types of woods to consider, and resources to learn more about each.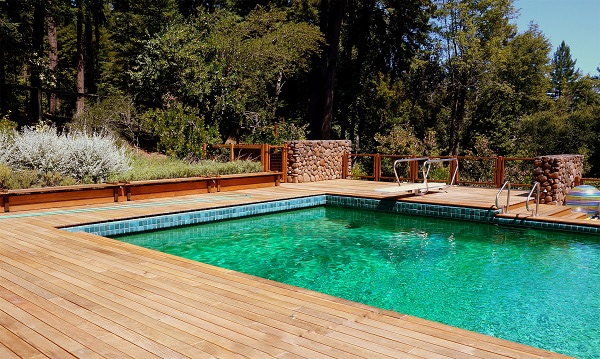 Hardwood pool decks can handle moisture.
---
Download a free copy of the Ultimate Guide to Selecting the Right Decking here.
---
Cedar, Redwood, and Pressure Treated Pine Wood Decking
Cedar, Redwood, and Pressure Treated Pine are all popular decking softwoods. They can have beautiful colors, can be stained and painted, and will weather to a popular gray if allowed to age. Depending on your softwood choice, these can be a lower upfront investment decking materials.
The downside is that softwoods are lower fiber density so will require more frequent maintenance and have a shorter lifetime use than high fiber density wood decking materials. This results in a much lower lifetime return on investment for softwood decking, and earlier replacement of your decking.
RELATED: The 3 Biggest Problems Affecting Hardwood Decking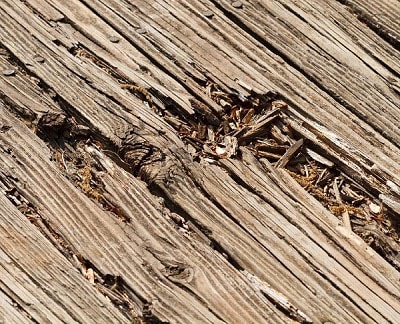 Thermally Modified Wood
Ash and Hemlock Wood Decking
Thermally Modified Wood are frequently chosen for their strengths. These woods are altered through a process using a vacuum kiln and steam which makes them much less brittle than kiln drying alone will.
Thermal modification cooks the natural sugars out of the wood and makes them stronger, giving the wood much more insect and rot resistance than their non-modified counterparts. The heat also gives the wood grain an attractive dark brown color from the heat. They can be weathered to gray with no increase in maintenance.
Ash is a softwood, Hemlock a lower fiber density hardwood. While this process give them both a higher strength and longevity it still allows you to paint or stain these woods if you wish.
The upfront investment for thermally modified woods is in the middle range, and they have a longer useful (and beautiful) lifetime than softwoods. The lifetime cost of these wood decking choices is a higher return.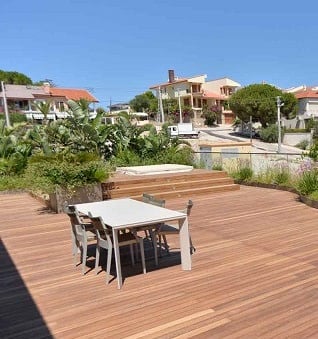 Thermally Modified wood deck with hot tub.
RELATED: Mold Problems With Wood Decking
Exotic Hardwood Wood Decking
Exotic hardwoods, such as Ipe wood, Cumaru, Garapa, Machiche, and Jatoba, are premium wood decking materials commonly selected by architects and home designers for this reason. They are stronger, more durable, lower maintenance, and naturally beautiful.
Hardwood decking materials are proven to last up to 20 years or more with minimal to no maintenance. Kept like new or weathered, the time spent keeping your deck beautiful will be much less than other wood decking materials.
RELATED: Compare Types of Wood Decking, Compare Decking Material Options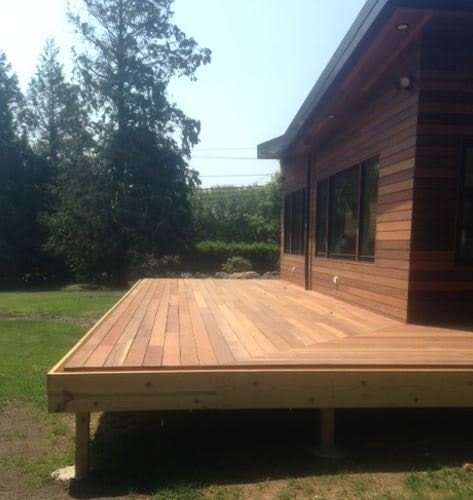 A minimalistic Cumaru wood deck
The gorgeous natural colors of these hardwood wood deckings range from a light golden blonde (Garapa) to medium to dark brown (Ipe) and chocolate brown tones (Machiche). Cumaru has a lovely range of medium to dark brown grains and Jatoba (known as Brazilian Cherry for interior flooring) has reddish to dark pinkish browns.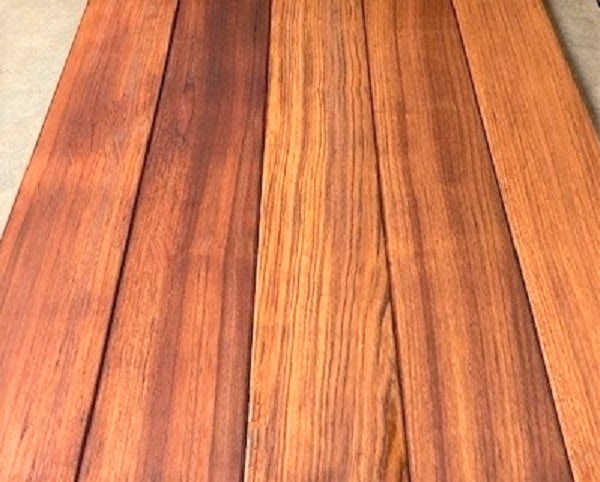 Jatoba decking is stunning.
RELATED: View the Wood Decking Ideas Picture Gallery
All hardwoods have high fiber density and therefore do not take paint or stain easily, but look amazing without it. To keep these colors bright and new, a UV oil protectant like Penofin Hardwood Oil Finish is recommended and just reapply as needed. This will stop the deck from graying out in the sun. other than the oil finish, only cleaning as needed is required.
Ipe Decking versus Douglas Fir Decking
Cumaru Decking vs Synthetic Decking
Ipe Decking Compared to Red Cedar Decking
Garapa Decking vs. Other Wood decking
---
Download a free copy of the Ultimate Guide to Selecting the Right Decking here.
---
2. Think About Maintenance Needs for Wood Decking
Machiche rooftop deck overlooks a stunning view
It's important to think about maintenance when selecting wood for your deck. You want to relax on your deck, not spend weekends worrying about it and working on it.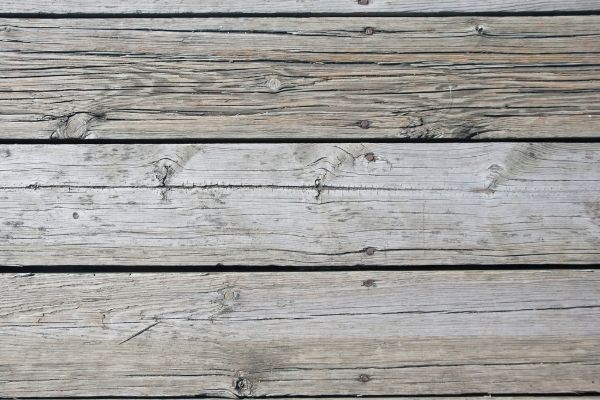 Weathered pine decking is open to rot and checking without maintenance.
RELATED: Weathered Wood Decking Picture Gallery
All wood needs regular care to stay looking its best. If you neglect your deck, it will begin to deteriorate. But maintenance needs vary greatly. Regular cleaning is recommended, as needed. And refinishing, restaining, and repainting is necessary for lower fiber woods.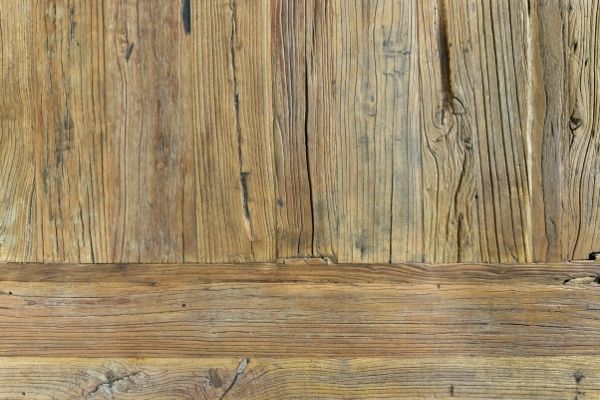 Red cedar must be maintained regularly to avoid checking and splitting.
Check out these resources for more information on what is required and how much time and expense might be involved with your choice of wood decking.
RELATED:
Compare Western Red Cedar to Thermally Modified Hemlock Siding
Compare Kiln Dried Hemlock to Thermally Modified Hemlock Siding
3. Weather Conditions and Your Wood Deck
In addition to considering how much work you plan to do on your deck, you should also consider what weather conditions you live in. If you live in an area where snow falls, has high humidity, or has salt air, you might want to choose a more durable material.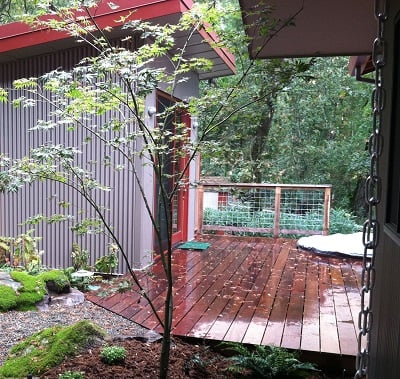 Machiche deck stands up to rain and storms.
Cedar and Redwood have low resistance to UV, to bugs, and to moisture. Repairs could be needed as the lower fiber strength boards rot, warp, split or check. Refinishing will be be needed, and protectant applied regularly, especially if allowed to weather to gray.
If you choose thermally modified woods and decide to stain your deck, you will need to restain as needed. However, the longevity and durability of the thermally modified Ash or Hemlock will save you a lot of repair and maintenance time otherwise, over softwood decking. The excellent resistance to insect damage, moisture damage and wear and tear.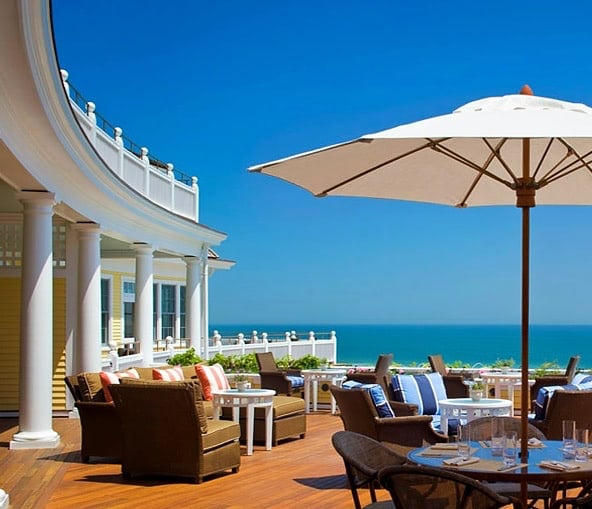 Ipe deck at Ocean House, RI
High density hardwood is resistant to rot and insects, and it won't splinter easily. These woods are not prone to warping, checking, or splitting. And since they do not need to be painted or stained just a UV oil protectant is needed to prevent color fading, (except if you allow it weather, of course!). Hardwoods do not show wear and tea from foot traffic, even with sandy or muddy foot traffic, and cleans up beautifully and easily.
---
Download a free copy of the Ultimate Guide to Selecting the Right Decking here.
---
4. What Kind of Wood Deck Are You Building and Where?
Real wood decking is appropriate for all types of deck, even rooftop decks, as long as they are durable enough for the weather exposure and wear and tear they will be subjected to. Choosing wood decking that can survive – and thrive – in the location you build your deck is essential to the longevity of your decking.
For instance, a rooftop deck will get full sun and full weather exposure like rain, snow, or storms. This is why softwoods like cedar and redwood are not suggested for rooftop decks simply because they require so much more maintenance under these conditions.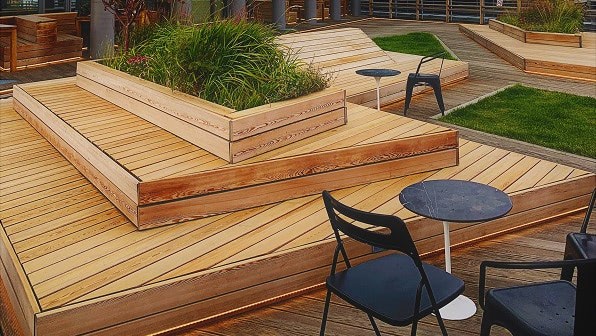 Garapa rooftop deck
Backyard and multi-level decks have more scope to choose from. For a lower upfront investment, a cedar or redwood deck or pressure treated pine is utilitarian and can be painted or stained as you wish. However, UV, storm debris, moisture, and bugs are a bigger threat to a softwood deck and it can "ugly out" quickly.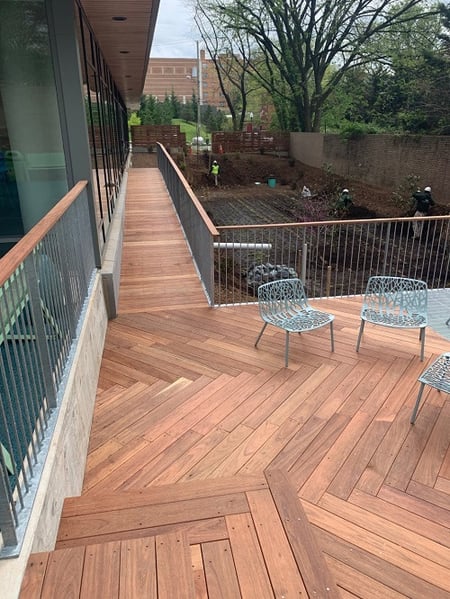 Machiche deck with patterned layout.
Thermally modified woods make a budget friendly option for all types of decks. The durability and longevity is higher than non-modified woods.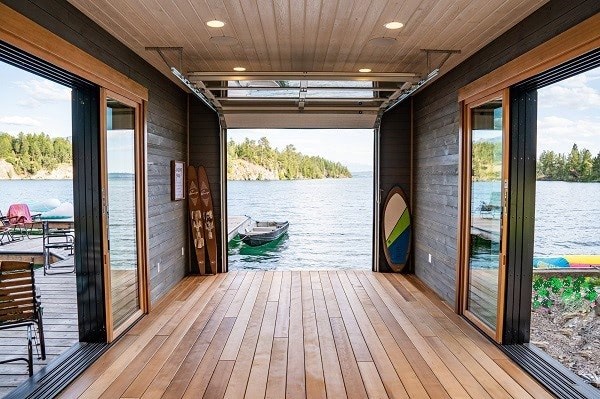 Thermowood Hemlock Deck leading to dock
Premium hardwoods are a great option for all types of decks. Compare all types of woods you are considering in these articles.
---
Free PDF of the Ultimate Guide to Selecting the Right Decking here.
---
5. Do You Want Your Wood Deck to Weather to Gray or Stay Like New?
Lastly, when you choose wood decking material, consider if you plan to keep it looking like new for a while, or always. Or if you want to allow it to weather to a silvery gray patina. Weathered wood is gorgeous, but some wood types require much more upkeep once they age to gray, especially softwoods.
Cedar, Redwood and Pressure Treated Pine will need additional maintenance when grayed, to prevent splitting and checking.
Thermally Modified woods like Ash and Hemlock will need some maintenance when grayed but are more durable weathered than softwoods.
Hardwoods like Ipe, Cumaru, Garapa, Machiche and Jatoba actually keep their strength and durability once weathered. The gray patina of hardwoods is a satiny silver, and the beautiful grain patterns don't disappear. Since you won't be keeping that "like new" look, weathered hardwoods require nothing but cleaning as needed.
Weathered Decking Can Be A Good Thing, Or Not.
How Does Machiche Hardwood Decking and Siding Weather?
How Does Cumaru Hardwood Decking and Siding Weather?
How Does Exterior Hardwood Decking and Siding Weather?
---
Grab your copy of this free resource now.
---
Comments
Related Posts