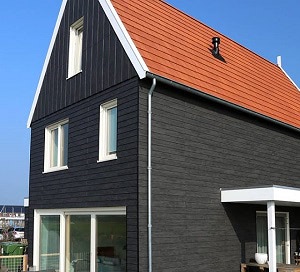 9 Inspiring Vertical Siding Designs using Pura NFC and Rainscreen
Written by
Liza Sivek
on
If you are planning an exterior home design, vertical siding is on trend – but also classic. From traditional to modern, vertical siding can add visual interest and a heightening effect to your exterior. With the right siding installation system and quality siding material it can also be faster to install, lower maintenance, higher performing and great looking.
Vertical Siding Design Ideas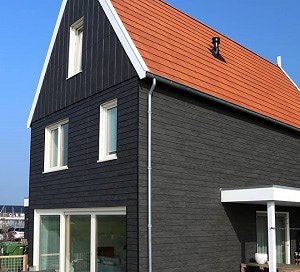 Pura NFC Slate Ebony Wood Décor in a vertical and horizontal design plays up the height of the peaked roof.
---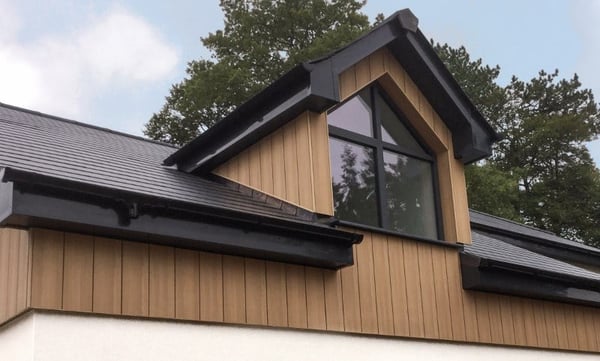 Vertical siding under the soffits and around a dormer window bring the eye to a dormer window
---

Design options with a rainscreen system include creating architectural elements like this pattern using alternating vertical and horizontal siding. An attractive way to set your home or business apart and add curb appeal.
---
Grab your free download of the Pura NFC by Trespa Residential Siding Projects Portfolio for more rainscreen siding design inspiration
---
Vertical Siding Options from Pura NFC

®
Vertical siding can be done with vinyl and composite wood-look siding. And if your project calls for something more affordable, there are lots of good options out there.
But if you want a high performing, very high fade resistance and extremely strong siding material for your home design, you will want to consider HPL siding from Pura NFC.
What is HPL Siding? HPL stands for High Pressure Laminate, and it is a high-tech, manufactured siding materials that is both very resilient and virtually maintenance free. Pura NFC HPL siding delivers a consistent, stable, and very long lasting siding material.
Pura NFC by Trespa offers:
The Wood Décor Collection

includes realistic, vibrant, wood look colors that are consistent throughout the siding for a designer overall look. Perfect for contemporary or traditional styles alike.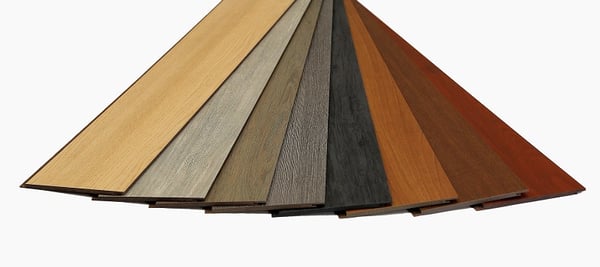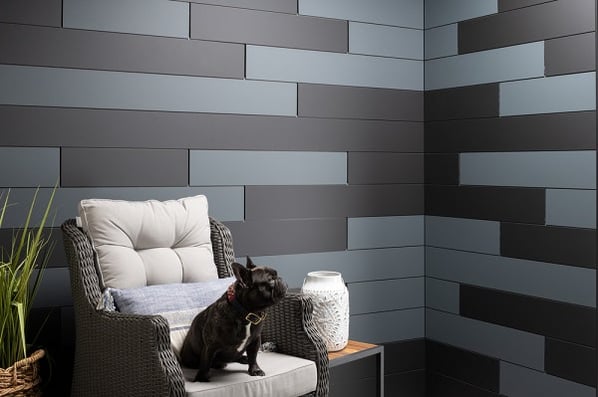 All the Pura NFC colors can be mixed and matched in your design for added interest.

NO pre-finishing or re-finishing over the lifetime of the siding.

Proven high performance, with

extremely high storm and wind damage resistance

, splitting and puncture resistance, and fade resistance.


RELATED:

See the short Pura NFC Quality Testing videos here


Pura NFC siding can take everyday wear and tear better than most

Incredibly low maintenance, a simple soap and water cleaning as needed.
Low life cycle cost, your return on investment is very high.
10-Year Limited Warranty on fading.
Readily available for your home design project.
---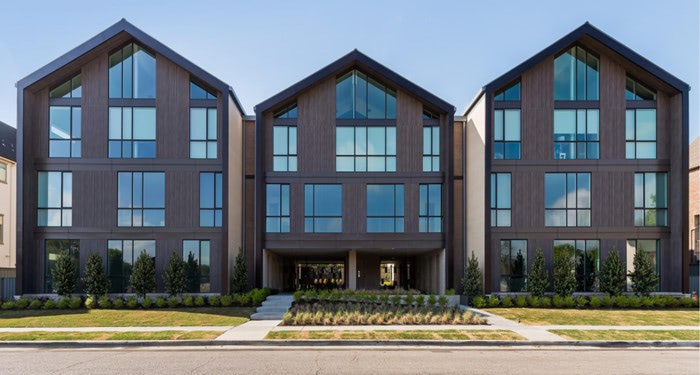 Pura NFC Aged Ash Wood Décor surrounds the artfully placed geometry of the large windows on this apartment residence. Combined, the overall effect is welcoming and modern with a traditional feel.
---

Don't ignore your soffits! Accents of wood décor Pura NFC surrounding a window add contrast to the dark window frame and light colored bricks, highlighting this architectural feature for a custom look.
---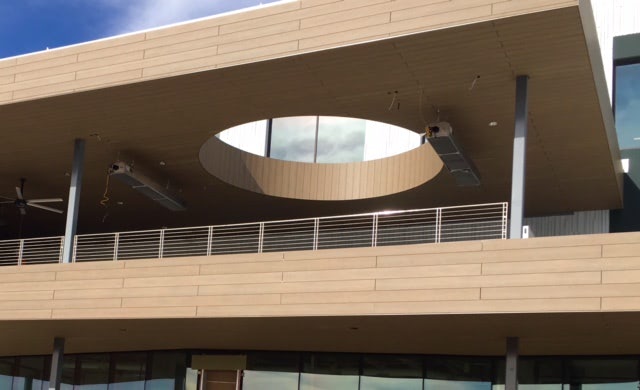 Beyond window accents, a modern view through the roof of this deck includes vertical installation of the same Pura wood décor that wraps the entire exterior. Using Pura with Climate-Shield rainscreen allows you to design spectacular surprise elements like this.
---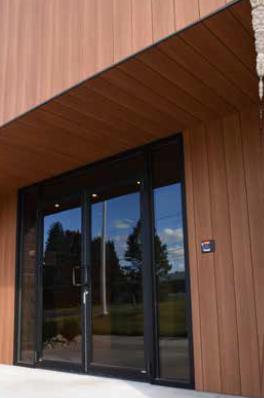 Add a warm and welcoming entrance to your home while adding the visual height of a grand entrance. Rainscreen and Pura siding create a surround on the façade and soffit.
---

Combining three wood decors vertically gives a fun and contemporary feel to these attached homes.
---
Ready for more rainscreen siding ideas with Pura NFC? Download your free PDF, Pura NFC by Trespa Residential Project Portfolio for much more!
---
Vertical Siding Installation Made Easier
The way you install your vertical siding makes a huge difference in how well it performs.
Traditional vertical siding installation uses a complex grid of wood furring strips. It's a lower upfront material cost but the installation is very labor intensive and time consuming. An estimate on a two man residential siding project can be up to 16 hours just for the furring strips installation.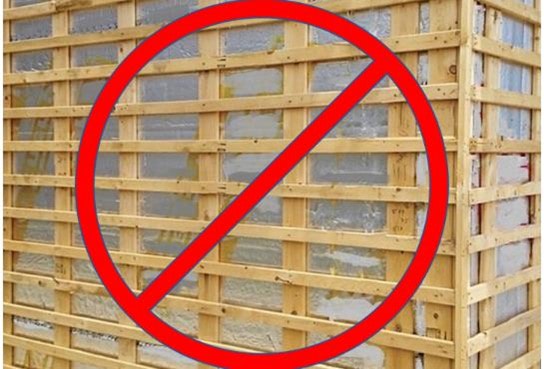 The traditional installation does not provide a gap between siding boards for humid air or rainwater to easily escape. Instead, the furring strip grid can actually trap that moisture behind the wall and against the building envelope, creating the perfect place for rot and mold to develop against your home.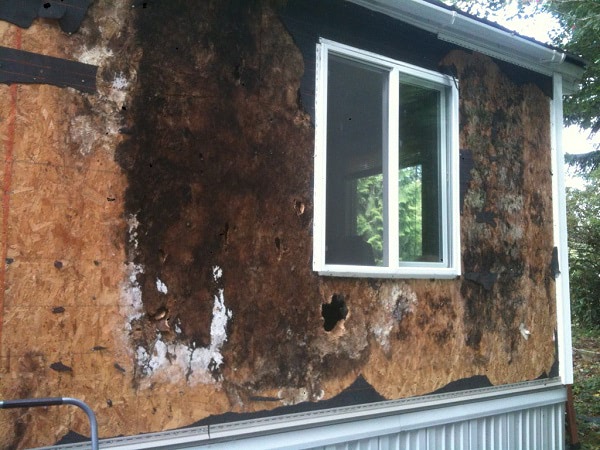 Incorrect ventilation behind your siding can cause this kind of mold and rot nightmare in a short time
Siding vents can be created at the top and bottom of the wall, but the water has no clear path to get there, creating issues behind your siding over time.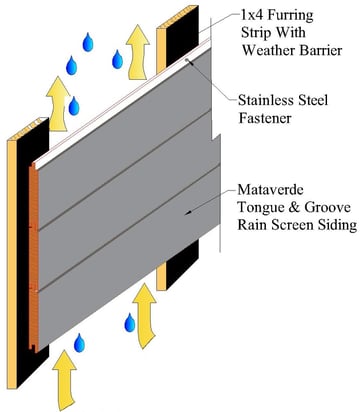 Climate-Shield® Rainscreen Siding System is a patented installation method using a stainless-steel starter rail and aluminum alloy and stainless-steel fasteners to create the wall cavity and the recommended ¾" gap between the siding boards consistently and accurately throughout your exterior.
Heat, humidity, water, and moisture can run through and out, or evaporate from anywhere behind the siding. And because this system uses aluminum and stainless-steel components instead of wood furring strips, the system won't rot from moisture running by and through them.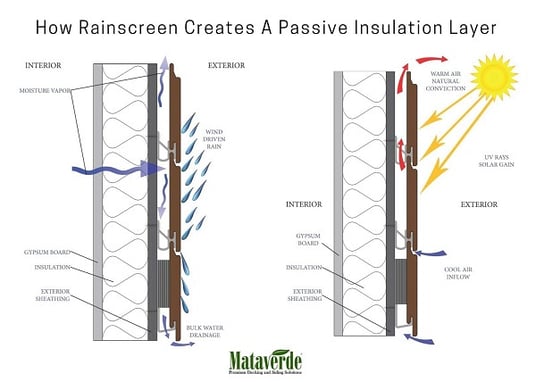 ---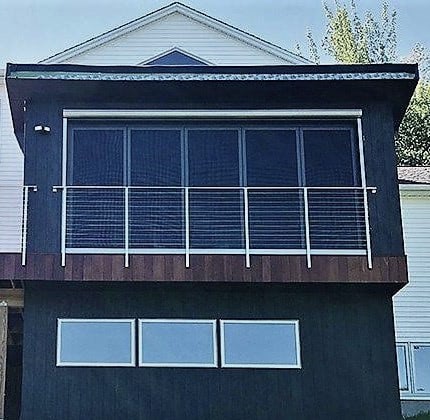 Pura NFC in Slate Ebony added vertically to this new addition makes it stand out.
---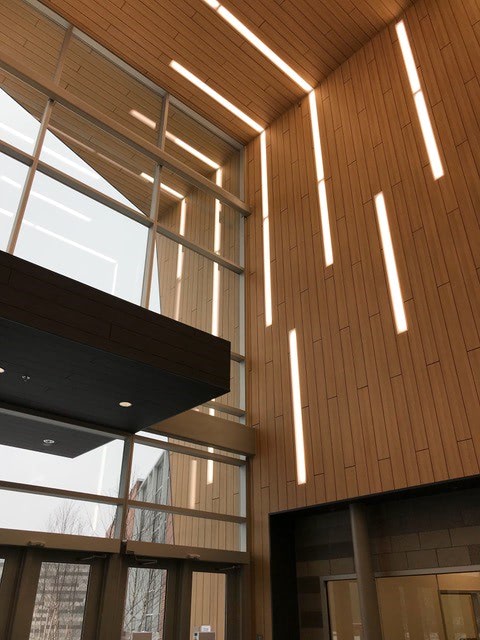 A sweeping soffit over an entrance way with Pura NFC siding goes from outdoors to in creating an airy and open feel.
---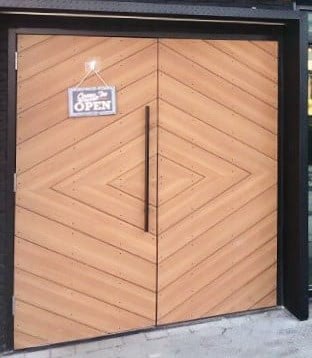 An added bonus - Pura NFC siding was used on the doorway of this restaurant in a diagonal pattern. The exterior used the same Pura siding. Pura can be installed on the diagonal on your exterior rainscreen as well. The sky really is the limit, even when it isn't vertical.
---

Visualize Your Siding Design
Pura NFC by Trespa has given you a great way to choose and design your new rainscreen siding colors. Check out their Visualizer Tool here to start choosing your Pura NFC Wood or Lumen decors. And when you are ready, you can order a sample of Pura NFC rainscreen siding so you can see the color and quality for yourself. You won't be disappointed.
RELATED: Pura NFC Online Visualizer
---
Find this article helpful? Let us know in the comments. Have questions or need more information? Please feel free to reach out to our team for answers and no obligation Rainscreen pricing.
---
Before you go, grab you free download of the Trespa Pura Residential Projects Portfolio now
Related Posts