Wood Rainscreen Siding Ideas for Commercial Project Designs
Written by Chris Nolan on
In modern commercial architectural design, you frequently see a lot of inorganic concrete, metal, and glass on the building facades. The result is often a cold looking exterior. That's why many savvy designers add a warm and welcoming organic building material, like wood siding, to their designs. Wood siding can embrace an entire façade or be used as an accent feature in strategic locations.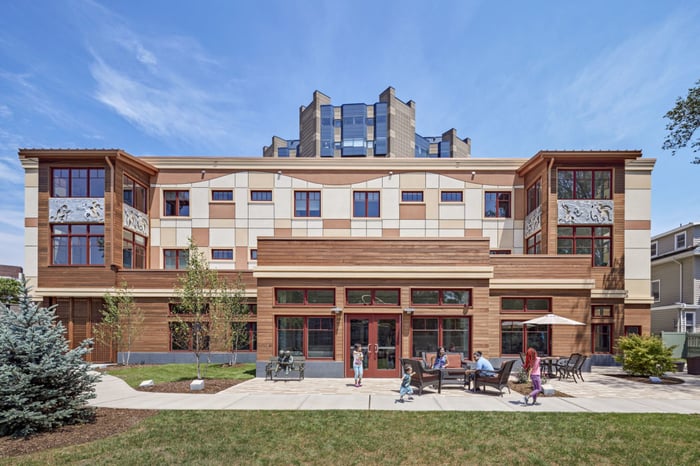 FSC certified wood rainscreen siding on first floor facade and accents on Ronald McDonald house in New Haven, CT
Where to Use Wood Siding on a Commercial Project
Wood siding adds a natural, and more human element, to building designs. You can use wood cladding on the entire façade of a building, depending on your design scheme needs. Wood siding can also be used as an accent with other cladding materials. Sometimes you will see wood siding used on the ground level floor only, for aesthetics, ease of maintenance or project budget purposes.
---
Looking for some great design ideas for commercial building cladding exteriors?
Download the "Commercial Wood Rainscreen Project Portfolio" today.
---
Wood Rainscreen Siding Helps a Commercial Project Design
Wood siding can be used in a rainscreen, adding beauty and further sustainability and healthy performance to a building or structure. The natural beauty of real wood rainscreen siding welcomes all those who see or enter a building. A well-designed rainscreen system can help a commercial building's performance in many ways.
Here are a few hidden benefits of a well-designed wood rainscreen system on a commercial project design:
By allowing for a rainscreen gap, the cladding will shed water from the outside. This keeps the moisture where it belongs - outside the building.
The rainscreen gap also allows moisture a means to egress from inside the building. This helps manage moisture and minimize potential mold and decay, creating a healthier building, inside and outside.
A pressure equalized rainscreen will dry out quickly and help the wall assembly, and building, perform at a higher level.
A well-designed rainscreen creates a passive insulation layer, helping reduce energy consumption.
A rainscreen design can add many years to the life cycle of a building
RELATED: What Experts Have to Say About the Benefits of a Wood Rainscreen
RELATED: Climate-Shield Wood Rainscreen Siding System
RELATED: Climate-Shield Wood Rainscreen System Architectural Details
Using Wood Rainscreen Siding on an Entire Façade
Some project designs benefit immensely with wood siding on all the facades. Wood adds warmth and beauty to commercial buildings, especially on the exterior facades where all can see it.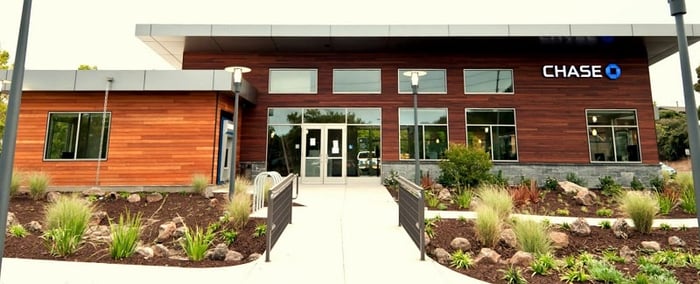 FSC Certified wood rainscreen siding was installed on all the facades of commercial building design in California
Using Wood Rainscreen on Ground Floor Facades
On commercial building designs with multiple floors, sometimes it may make best sense to use wood cladding in areas on the first floor only. There may be a variety of design considerations for this decision. Perhaps there are fire resistance issues, or overall project budget concerns. Maybe ongoing maintenance costs factor in. Your project may have other reasons, too. Whatever your reasons may be, using a natural wood cladding on the ground level places it up close, where it can be fully and truly appreciated by all.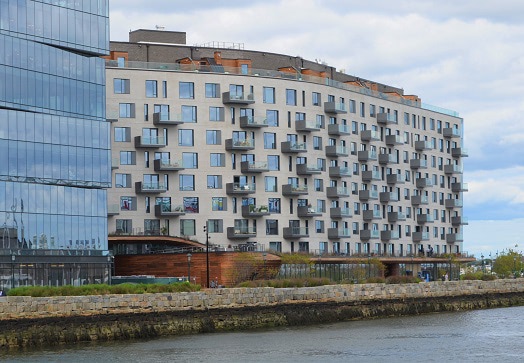 Ipe wood rainscreen cladding on first floor and entry at Pier 4 in Boston, MA
Using Wood Rainscreen Siding as an Accent
If natural wood siding doesn't meet the design budget for your project, you don't have to abandon it altogether. You can achieve a rich combination of varied cladding materials without sacrificing the natural beauty or real wood siding.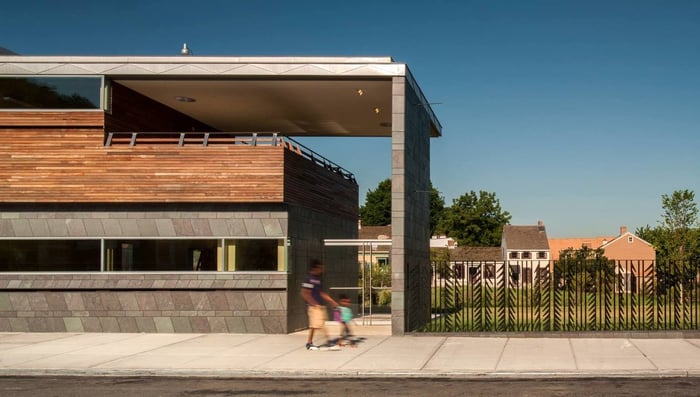 Wood rainscreen siding as an accent on building in Brooklyn, NY
Best Wood Siding Species for Commercial Building Designs
There are many wood siding species that can be employed in a commercial rainscreen project design. Because a well-designed rainscreen helps keep the exterior wood siding dry, many species can work for your rainscreen design. Some wood siding species, such as Ipe, Garapa, FSC Certified Machiche, and thermally modified wood siding, can be stained or sealed to help maintain their like new wood appearance. They are also durable enough to naturally weather to a silvery gray patina. If so, this can minimize the need for routine re-finishing over the years.
---
For more information about the low maintenance wood siding option, please download our "How Exterior Hardwoods Weather" whitepaper.
---
Ipe Wood Rainscreen Siding Ideas
Ipe hardwood siding is an incredibly strong and long-lasting cladding material. In a well-designed rainscreen application, Ipe can last indefinitely. The tropical graining and rich color variations of Ipe hardwood siding make a real statement to a commercial project design. The finish can be maintained to retain the 'like new' wood appearance. Or if you prefer, Ipe can be allowed to 'silver out' naturally for a low maintenance exterior.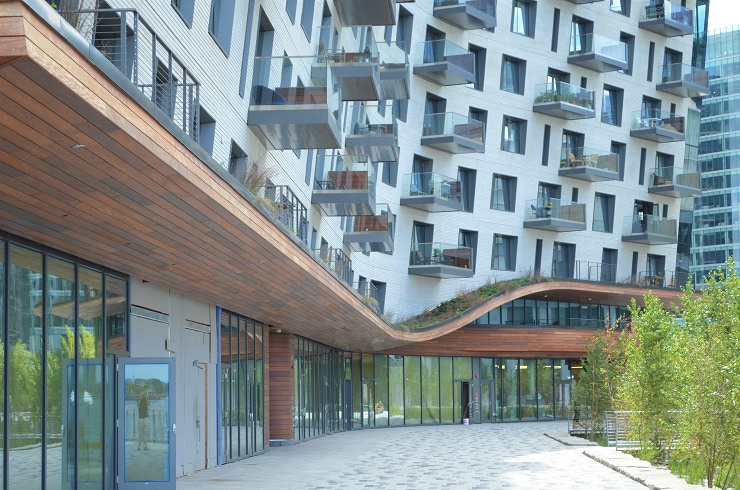 Ipe rainscreen wood siding on walls, soffits and fascia
RELATED: Check out Ipe siding project photo galleries
Thermally Modified Wood Rainscreen Siding Ideas
There are many reasons that Thermally Modified Wood Siding is becoming a go-to rainscreen cladding option. the thermal modification process darkens the appearance of the original creating a richer color tone. In addition to the natural beauty of the wood, the modification process creates a much more stable cladding. Thermal modification helps minimize the natural expansion and contraction of wood as it seasons. And best of all, the thermal process 'cooks' the sugars out of the wood, making thermally modified wood siding very resistant to rot, decay and insects.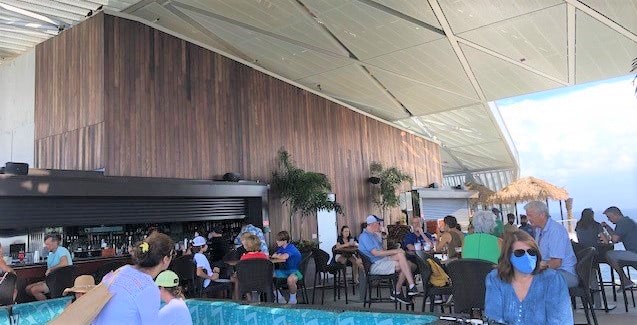 Thermally modified wood rainscreen siding vertical design at St Pete Pier, St Petersburg, Florida
RELATED: Thermally Modified Wood Siding Project Photo Galleries
Garapa Wood Rainscreen Siding Ideas
Garapa is a lighter golden toned hardwood siding option. The paler colors can brighten up an exterior façade. Garapa wood siding is a beautiful, durable, and budget friendly wood cladding option that you may wish to explore for commercial project designs.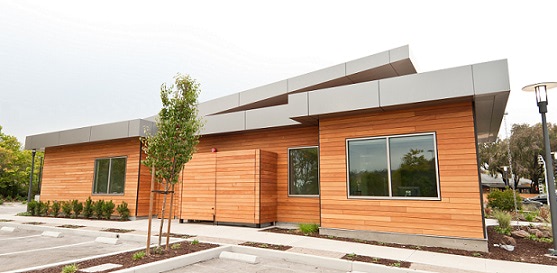 Garapa hardwood siding for rainscreen design on a commercial building In Milpitas, CA
RELATED: Garapa Wood Siding Project Photo Galleries
FSC Machiche Wood Rainscreen Siding Ideas
Machiche hardwood siding is an FSC Certified cladding option. Machiche rainscreen siding has mostly reddish brown and chocolatey brown tones, with medium graining. The colors and grain variation can make a beautiful, all natural, statement on a commercial building façade.

FSC Certified Machiche rainscreen wood siding in Springfield, Missouri
RELATED: Machiche Wood Siding Project Photo Galleries
Western Red Cedar Siding Ideas for Commercial Rainscreen projects
Western red cedar siding is a beautiful species for cladding exterior buildings. Red cedar can be painted or stained to meet the project design scheme. In fact, you can bring the cedar siding indoors, too, to create a seamless transition from outdoors to interior spaces.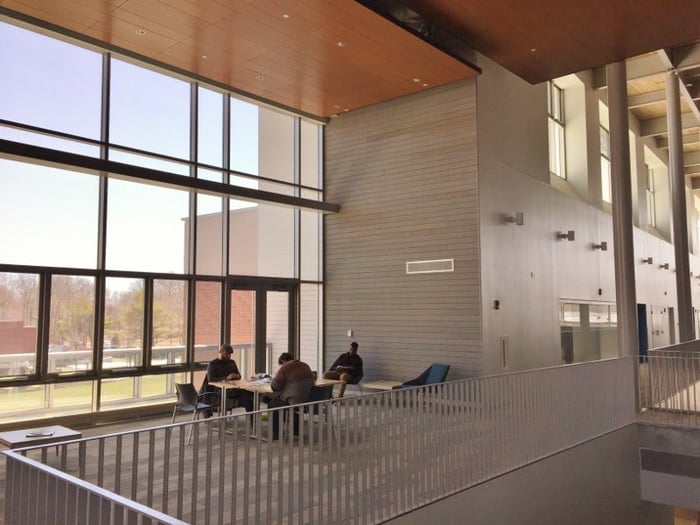 FSC Certified Western Red Cedar wood rainscreen siding interior and exterior
---
Looking for some Wood siding ideas for a commercial project?
DOWNLOAD THE FEATURED WOOD RAINSCREEN COMMERCIAL PROJECT PORTFOLIO
---
Need some information about wood rainscreen design?
DOWNLOAD "BUILDING GREEN WITH WOOD RAINSCREEN SIDING"
---
Comments
Related Posts