6 Design Tips for Wood Rain Screen Systems
Written by Chris Nolan on
"With the increased awareness and usage of rain screen systems in sustainable design today, wood rain screen systems offer designers and builders a beautiful, all-natural cladding option. The warmth and unpretentious richness of real wood creates a beautiful and harmonious design for homes and buildings. Hardwood cladding is especially prized for its durability and beauty."
Consider Using Long Lasting Hardwood Species for Your Rain Screen Cladding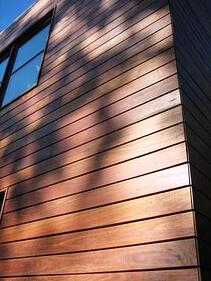 Architects are finding that the inherent benefits of using durable and long-lasting hardwood siding species such as Ipe, Garapa, Cumaru and Machiche for their rain screen cladding creates a beautiful and sustainable design that will last…and last beautifully. And rightfully so; their reasoning for choosing hardwood cladding is often that the rain screen design will increase the overall lifetime of the structure, so why not choose a wood cladding that will last longer than many other cladding options? Home builders and designers are getting very creative about the way they use wood cladding on homes and buildings for naturally beautiful projects.
Consider Combining Different Wood Cladding Styles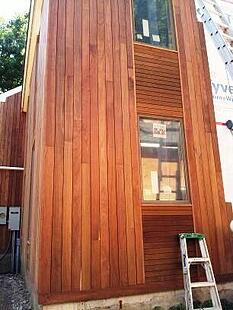 A more interesting look can be created by combining different rain screen styles such as vertical cladding and horizontal cladding options. Recently, a well respected designer in Connecticut wanted to create a more visually pleasing exterior for the front façade of an otherwise ordinary looking New England colonial style home. By combining Machiche wood cladding vertically for the rain screen and accenting areas above and below the windows with Ipe siding horizontally, the look of the home was immediately transformed.
The design technique of using vertical and horizontal wood rain screen cladding has been used effectively for many rain screen projects. Sometimes the directionality of the siding will vary by the particular elevation, for example, using vertical siding on a low height wall will create a "taller" look, while horizontal cladding can create a "longer" look on a particular building facade. In other rain screen designs, both vertical and horizontal siding is used on the same elevation for a uniquely interesting project design.
Use Different Sizes of Wood Cladding
The visual appeal of 1x4 wood cladding in a rain screen design has a totally different look and feel than a 1x6 wood cladding design and installation. When used in a rain screen system, the narrower width of a 1x4 nominal wood cladding board creates a more pronounced linear effect in the lengthwise direction. When running 1x4 siding boards horizontally, the visual
effect is that the building looks longer. When running 1x4 wood siding vertically, the narrower width visually creates an emphasized height. While using 1x6 wood cladding directionally can create a similar effect as the narrower 1x4 siding, the resulting appearance of the wider siding boards is a more subtle and understated visual impression.
Combining different sizes of wood siding on the same plane can create a visually pleasing Arts and Crafts style of design. For example, Ipe wood cladding can be installed using 1x4 and 1x6 sizes on alternating courses of siding for a completely different appearance. Whether it is using different wood species for the rain screen cladding or different sizes of wood siding or different cladding layouts, a unique look can be created for every rain screen design at little or no extra cost.
Use Wood Siding Colors Effectively
Many of the hardwood cladding material options such as Ipe wood siding, Cumaru siding and Machiche wood siding are so dense that traditional exterior stains will not effectively penetrate the wood. Many designers, builders and owners will finish these wood rain screen materials with an oil finish. On Ipe, Cumaru and Machiche wood, an oil finish will darken and enrich the natural color of the wood. If the natural wood colors of these species do not meet your color schemes for the project, other wood cladding species can be used.

Garapa is a lighter "blond toned" wood cladding species and is often a great specification where warmer' lighter color tones are needed for the project design scheme. It has been reported that Garapa can be stained with standard exterior stains to add a wider array of colors to your design palette. Santa Maria (shown above) is another wood siding species that is being specified in more and more projects where designers need a beautiful wood cladding. Santa Maria is an FSC Certified wood siding species that looks like mahogany and can be stained a full range of colors.
Mix and Mingle Different Cladding Materials
In addition to using wood cladding in different artful arrangements, many leading designers are also combining completely different siding materials for their projects. Well designed combinations of brick, wood siding, stucco and stone are being used successfully for a harmonious balance of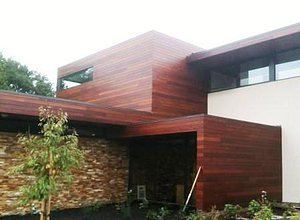 design elements. In some rain screen designs, a single cladding material is selected for the whole side of a home or building, while in other applications, stone, wood and stucco are artfully combined on the same elevation.
The warmth and soft natural look and feel of the wood cladding provides a perfect counterbalance to the cool look of the stone and masonry. A design harmony can be reached by combining the organic cladding with the inorganic cladding materials. The soft natural colors, rich graining and warm subtle textures of the wood rain screen cladding complement the cold, heavier look of the masonry cladding for residential homes and commercial buildings of all types.
Insulate Your Exterior Wall Effectively
With the ever increasing environmental concerns combined with the spiraling cost of energy, it makes perfect sense to design your rain screen as energy efficiently as possible. Regardless of whether your design goals are social or economic or both, sustainable wall design is "green" in either scenario; save money and design responsibly.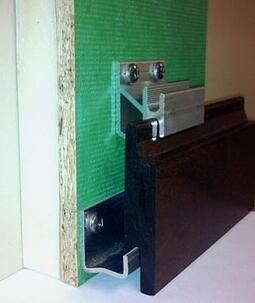 Everybody wins. With such a good return on investment on energy savings, architects, designers and responsible green builders are finding ways to add energy efficient design to a building's thermal envelope.
While there are a variety of other excellent insulation products on the market, we are particularly impressed with some of the SIP panels that have been developed recently, including the Zip-System R Sheathing manufactured by Huber. We like this type of product for rain screen design for a number of sensible reasons, especially the fact that it provides the strongest and most cost-effective fastening surface for rain screen cladding installation. Whether your project is a renovation or new construction, a residence or a commercial structure, an energy efficient building envelope is a key success factor in long term life cycle costs.
Please visit our website for additional information about rain screen design, rain screen cladding options, wood rain screen project galleries and lots more:
Architectural Rain Screen Specifications
Wood Rain Screen Cladding Options
REQUEST A FREE RAIN SCREEN QUOTE
Comments
Related Posts