Many clients ask us how to finish Ipe wood other hardwood decking materials. Because of the unique properties and characteristics of high density hardwoods, choosing the right finish is a key factor for short and long term satisfaction.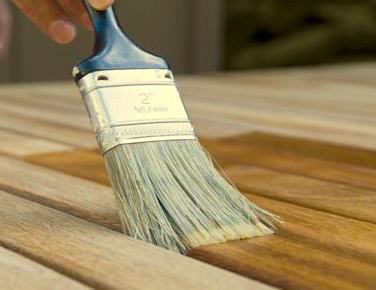 Finishing Ipe and other high density tropical hardwoods is fairly easy to do. Simply apply a coat of an appropriate sealer, such as Penofin® Oil Finish according to the manufacturer's directions and you're done. For now. The question becomes when are you going to have to refinish your decking or siding again? Some of the amazing strengths and characteristics that make Ipe wood so resistant to rotting and insects also make it a tough wood species to stain. Because Ipe and other hardwood decking materials are so dense and non-porous hardwoods, very few deck stains actually work effectively on them.
We have found that Penofin Oil Finish works beautifully on Ipe, Cumaru, Garapa and Machiche hardwoods for exterior use on decking and siding. Penofin will darken the look of the wood and will help blend some of the tropical graining and exotic color variations found in exterior hardwoods. Initially, the Penofin will have a shiny "wet look" appearance. As the finish is exposed to the elements it will tend to fade over time. After the finish wears down over time, you can apply another coat of oil finish or allow the decking or siding to weather to a natural silvery gray patina.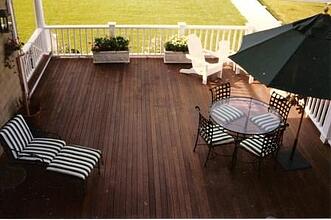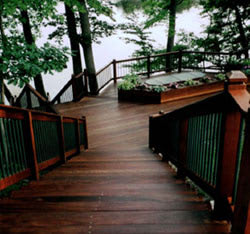 Ipe hardwood decks finished with Penofin oil finish
We have also found that horizontal surfaces such as decking and railing take the worst beating of any exterior surface. Decking surfaces take a direct hit from the powerful UV rays of sunlight and they also hold and absorb water and take foot traffic and furniture movement. In many climates, snow and ice also do their own harsh weathering on flat exterior surfaces. Although many species of hardwood decking such as Ipe, Cumaru, Machiche and Garapa can withstand this type of extreme punishment very well, most finishes cannot. So when the elements and time do their work, the finish will be the first thing to wear. To maintain a "like new" look for exterior hardwoods will require periodic care and maintenance.
Vertical exterior surfaces such as siding and fencing also take a beating from the elements, especially from the harmful UV rays of the sun. The west side of a home or building typically takes the most wear from the UV rays and the south side also has considerable exposure. That's why the finishes on these two sides will normally show fading and wear first. Penofin works well for hardwood siding and fence boards, too, and just like its appearance on decking, will have a shiny finish initially.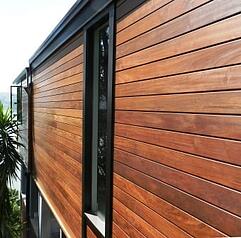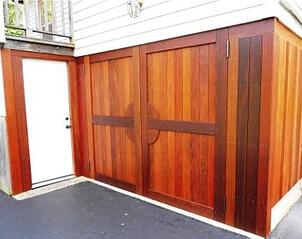 Ipe rain screen siding and Ipe garage doors with natural oil finish
We have also had some very promising results with tinted versions of a product called Seal-Once on wood siding and other vertical surfaces. Because they offer some UV protection, we have found the tinted Seal-Once products work well on exterior wood siding. Seal-Once has a flat finish and an additional coat can be applied when the initial coat needs refinishing over time. One of the tinted products "Seal-Once Cape Cod Gray" has been very effective for clients who want to speed up the "old wood siding" type of appearance uniformly.
| | |
| --- | --- |
| | |
| Ipe siding with Seal-Once Cape Cod Gray semi-transparent tint | Ipe siding with Seal-Once Bronze Cedar semi-transparent tint |
Whether you are researching how to finish Ipe decking or Ipe rain screen siding, here are a few tips you should know:
High density hardwoods are easy to stain or finish but, because of their low porosity, only a few products seem to work well

After many years of continuously testing new finishes on hardwoods, we have had the best results so far with Penofin Oil Finish and Seal-Once semi-transparent tinted products

All sealers and finishes will need to be refinished as they age and wear

Many factors affect how long a finish will last including; amount and time of day of UV exposure, weather, traffic, the proper application of the finish and the quality of the finish itself

UV rays are by far the most damaging element to most exterior finishes

Even if your goal is to allow your decking or siding to weather to a silvery patina, a UV protective sealer or coating should always be applied initially to protect your exterior hardwood during its initial acclimation period
We hope this information is helpful. Please visit MataverdeDecking.com for additional information about finishing options for hardwood decking, care and maintenance of exterior hardwoods, decking material options, wood siding options, rain screen siding and more.
For a wealth of information about wood rain screen systems or selecting the right decking materials, please download our Decking Guide or Rain Screen Guide: