There is nothing better than relaxing on a nice clean deck to enjoy the great outdoors. High density hardwood decks such as Ipe, Cumaru and Garapa are a cinch to clean. Here are a few helpful tips.

HOW TO CLEAN A WOOD DECK, STEP-BY-STEP
1.) For a routine cleaning, a bucket of warm soapy water and a stiff bristle (non-metallic) broom or brush will clean off most surface residues, pollen, tree droppings, dust, dirt and grime. This will take you down to the wood surface of your deck. If you have allowed your deck to mellow out to a silvery patina, you're done!
Allowing a natural hardwood deck to mellow to a silvery gray patina is a great, low maintenance option to consider. Download the "How Exterior Hardwoods Weather" guide for more information:
Restoring an Old Wood Deck to New
If you would like to restore your decking to a "like new" wood appearance, there are a number of options for you to choose.
1.) The least invasive way to restore a wood deck is using Penofin products
a.) If you don't have any finish on your decking, you can skip this step. If you DO have a finish on your deck, we have had great success with Penofin Pro-Tech Wood Stripper. Once you're done, you are ready to clean your decking.
b.) Clean your decking with Penofin Pro-Tech Cleaner. This step removes dirt and crud from deep in the wood pores. Let it do its work for you. It works great and is very easy to use. And it doesn't harm the wood. Check out the deck cleaning video below.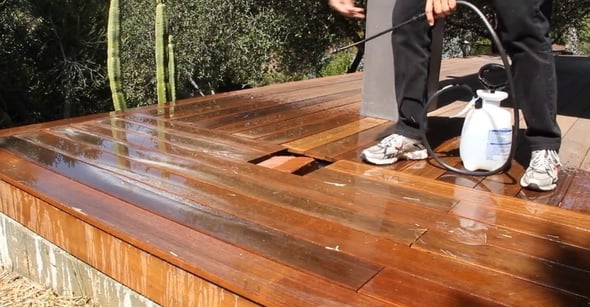 c.) As a final step (optional), feel free to use Penofin Pro-Tech Wood Brightener. this will help neutralize (and pH balance) the decking. It also takes the gray out of the decking.
d.) Now you can either refinish the wood decking, or let it mellow to a silvery gray patina.
2.) A more aggressive way to restore your decking is to either sand it, or pressure wash it.
The first step is to remove the silvery patina from the deck surface. Either a light sanding with a belt sander or a gentle pressure washing (NEVER higher than 1200 psi) of the decking, will do the trick. This will bring your deck surface to a "like new" appearance.
3.) If you would also like to enrich and deepen the color of your deck, you can then apply a light coating of Penofin Brazilian Rosewood oil or similar brand with a rag or brush.