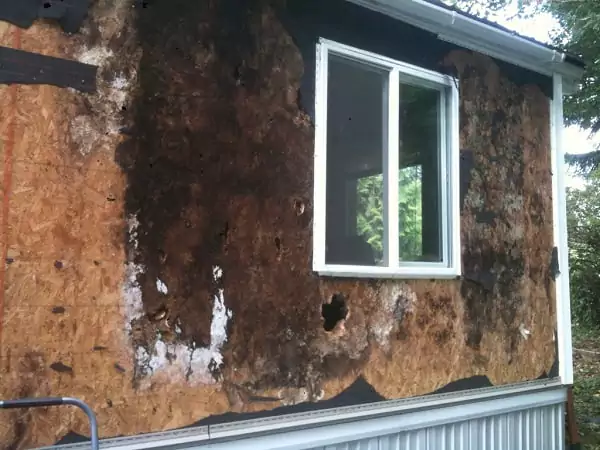 Exterior Siding to Minimize House Mold Inside and Out
Written by
Liza Sivek
on
Not only is mold unsightly, it can be harmful to your health. That's why, when you are designing or replacing siding on a home, the choices you make are so important. The siding material and siding installation method you choose can significantly reduce, or increase, your chances of mold inside your home. Choose wisely. Here's how.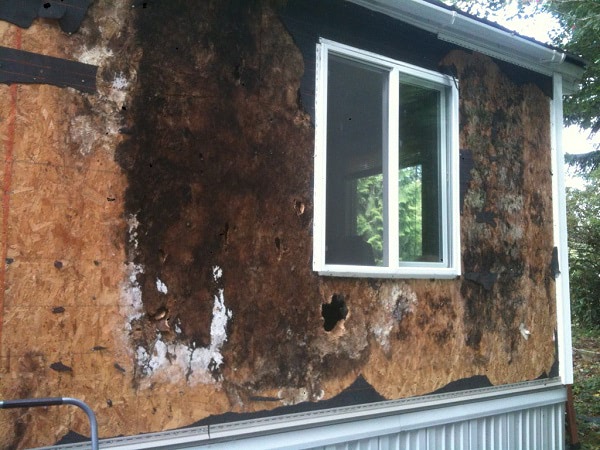 The nightmare: Trapped moisture behind exterior siding that can't "breathe" could invite black mold, which can spread quickly to damage your exterior - and enter your home interior.
From the millions of spores in the air to thriving colonies within the ground, mold is everywhere naturally. Inside and around the house are no different. Still, without proper food and moisture, most molds remain as spores.
Of course, keeping the outdoors dry and absent of food sources is impossible. And mold spores are always ready to start growing into a colony.
Fortunately, there are several premium options for siding material that are incredibly resistant to mold growth and decay. And a well-designed, well-ventilated rainscreen siding installation system will make it even better.
Trapped moisture creates opportunities for mold to invade
Often siding is installed with a "closed joint" system. A closed joint system uses furring strips with tongue and groove siding. T&G siding installation is longer to install but a lower upfront material cost. But you will need to be vigilante about checking for mold on your exterior since the air cannot freely travel up and out of a system like this.
Trapped moisture can lead to mold, of course, but also rot and decay of your siding system, your siding material, and your exterior walls. This damage can open opportunities for insects, as well. These are problems we all want to avoid in our homes.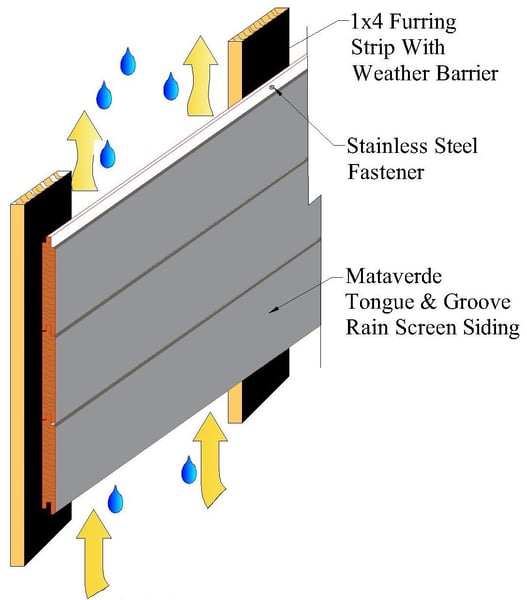 RELATED: Pros and Cons of a Closed Joint System, What You Should Know.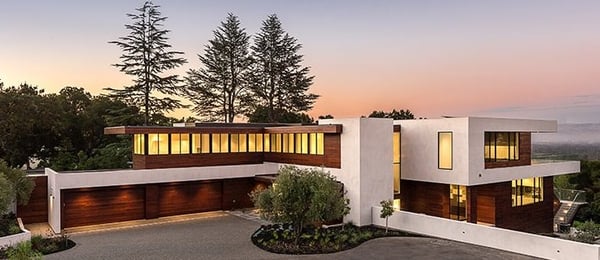 FSC Certified Machiche wood siding material installed with the Climate-Shield Rainscreen Siding system is stunning on this custom home.
Another option is the Climate-Shield® Rainscreen Siding System, a patented system designed to deter mold from forming on your exterior, which also keeps it out of your home's interior. Since Climate-Shield allows moisture to escape faster and in more places, moisture cannot be trapped where you can't see it.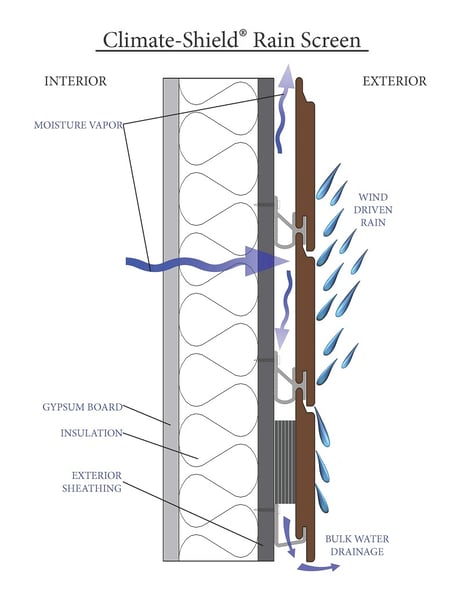 This image illustrates how moisture from rain and humidity escape from behind the Climate-Shield Rainscreen system.
---
Grab your free pdf, the Ultimate guide To Understanding Rainscreen System for more, here.
---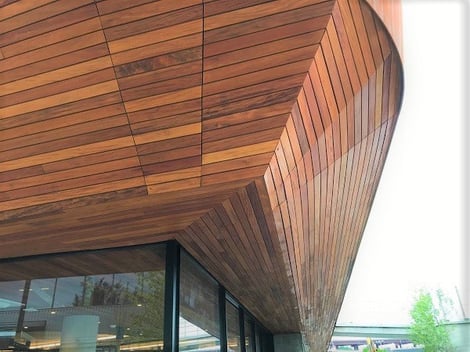 Wood siding installed with Climate-Shield, like this FSC Garapa, can be designed vertically, horizontally, and even wrap around architectural details like this design, without a grid of furring strips.
The Climate-Shield Rainscreen system is a higher upfront investment in materials, but the well-designed ventilation of this Rainscreen system will give a lower maintenance and a higher return on investment over its lifecycle. Other time and money savers from Climate-Shield are:
No furring strips needed so the system installs faster.
Exterior design options are endless since Climate-Shield allows you to install vertically and horizontally.
Bonus: natural energy efficiency. Just like moisture can escape better with a Climate-Shield system so can warm air, keeping your home cooler and your energy bill lower.
Can be used with Rainscreen profile siding materials in natural hardwood or HPL laminate wood look siding by Pura NFC Siding.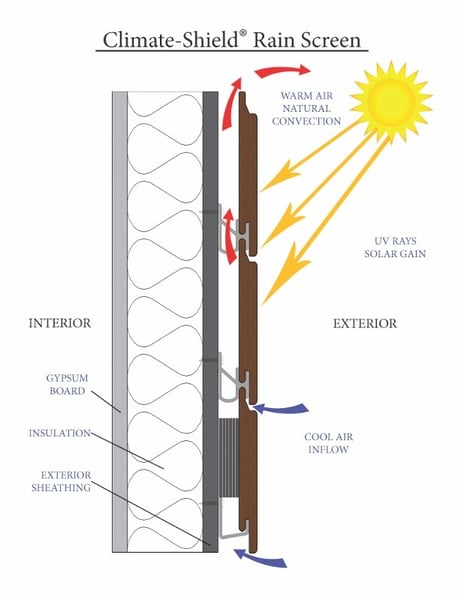 Your siding choice can also determine your home's mold risk. If you are choosing a installation that prevents mold, you can add to your piece of mind with premium siding choices that are just as mold resistant. Let's take a look at the top hardwood siding and Pura NFC HPL laminate wood look siding.
High-Density Wood Siding Is Naturally Mold Resistant
High performing hardwoods' big advantage over other wood siding is the high density gives them an inherent resistance to mold, rot, and insects. This can increase your lifecycle return and lower your home maintenance. Not to mention a strong, gorgeous home exterior. Here are a few top options in premium high-density wood siding materials:
Ipe Wood Siding - With the highest natural fiber density of all tropical hardwoods, sustainably harvested Mataverde Ipe premium hardwood is used as a benchmark to compare the durability of other wood siding materials. With exotic graining and a light to medium brown color range, Ipe is an excellent choice for the strongest, most mold-resistant natural wood siding available.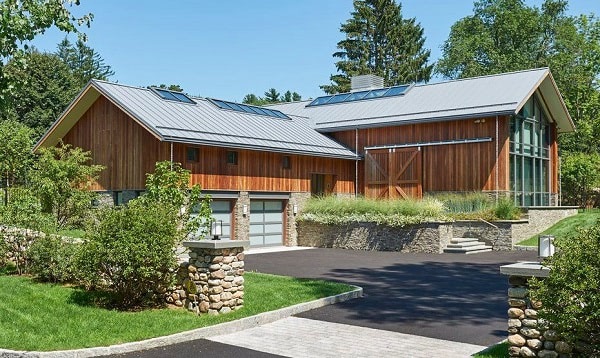 Ipe rainscreen installed vertically has a beautiful range of colors.
---
For even more inspiration and ideas, download the FREE Ultimate Guide to Rainscreen now.
---
FSC Machiche Wood Siding - Machiche is not as well known as Ipe and some other hardwood siding, but it should be! More affordable than Ipe, it has a rich chocolate brown color range with interesting figuring and graining patterns. Mataverde Premium Machiche is FSC Certified to meet your project needs, and also has the very high mold and damage resistance of a high density hardwood.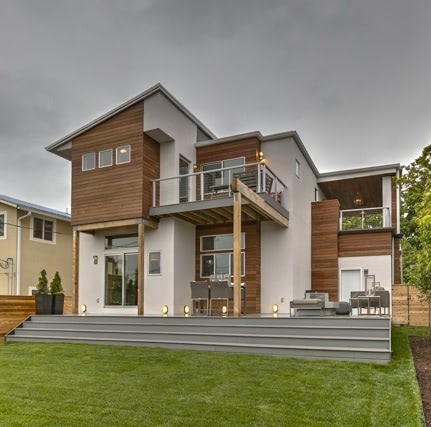 FSC Machiche wood siding contrasted with stucco warms this exterior design
RELATED: Machiche Rainscreen Siding Photo Gallery
Garapa Wood Siding - Garapa is a well known and budget friendly hardwood siding choice that still has very high mold and insect resistance - higher than Oak. Garapa has similar qualities to Ipe and the other hardwood cladding options, such as strength, durability, and damage resistance. Garapa has exotic graining and a light brown to golden brown tones.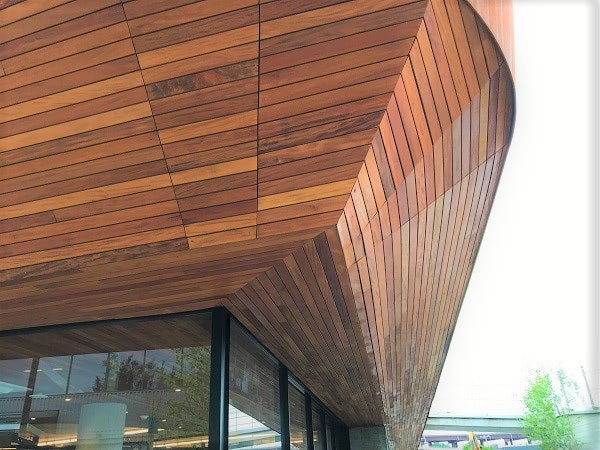 No complicated grid of furring strips needed - Garapa wood siding combined with Climate-Shield system can wrap corners and even architectural details with ease.
Jatoba Wood Siding - Also known as Brazilian Cherry, Jatoba is another strong, tough, and long-lasting option that is also budget friendly. Jatoba boasts deep cherry red to brown tones with a coarser grain and dramatic patterns, making it a wonderful choice for a home exterior.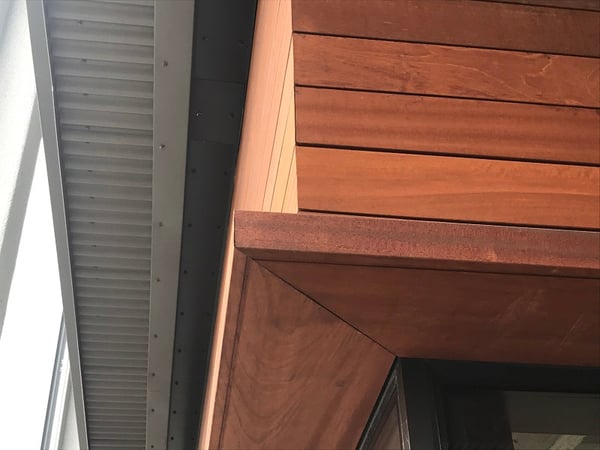 Natural Jatoba rainscreen siding makes for elegant details
Cumaru Wood Siding - Cumaru has beautiful exotic graining and a reddish-brown color range that includes lots of variation. Cumaru has similar mold and decay resistance as Ipe, Machiche, and the other hardwoods listed here. Cumaru's natural durability, good looks, and longevity make it a popular siding choice.
See how these wood siding materials compare in mold and rot resistance to other common wood siding materials:

Mold Resistant Wood Look Siding
If natural hardwood does not meet your design specifications, there's a beautiful wood look option in HPL laminate Pura NFC siding. If you prefer a more consistent, less varied color in your exterior design, Pura siding can provide that designer look combined with high moisture and damage resistance.
Installed using Rainscreen system, Pura NFC will have the same fantastic ventilation as wood sidings. Pura siding also offers you a strong, damage resistant material that does not bend, split or break in extreme weather.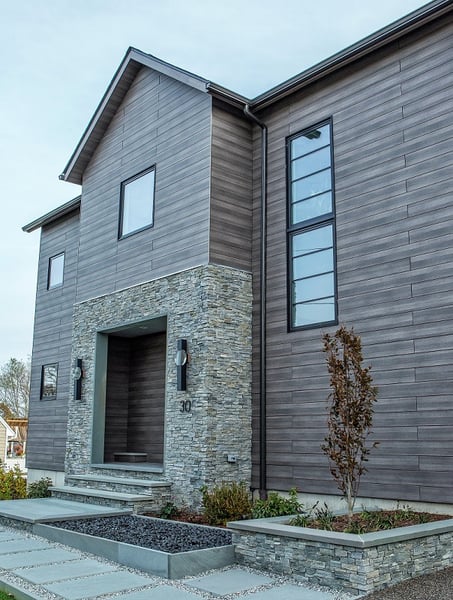 Pura NFC by Trespa siding in Mystic Cedar gives a custom home an iconic entrance contrasted with stone.
Can mold still get inside a home another way?
Even with the right siding materials and installation, a homeowner can still do plenty to create a mold-resistant home from the inside, too. Here's an informative graphic that can help you understand, check for, and treat possible mold risks in your home, courtesy of BigRentz. (You can also print a copy here.)

Hopefully, this article gave you valuable information to consider around choosing wood siding materials. If you have a siding project the Climate-Shield system or Mataverde siding materials would be right for, please contact us for first steps or pricing.
Related Posts