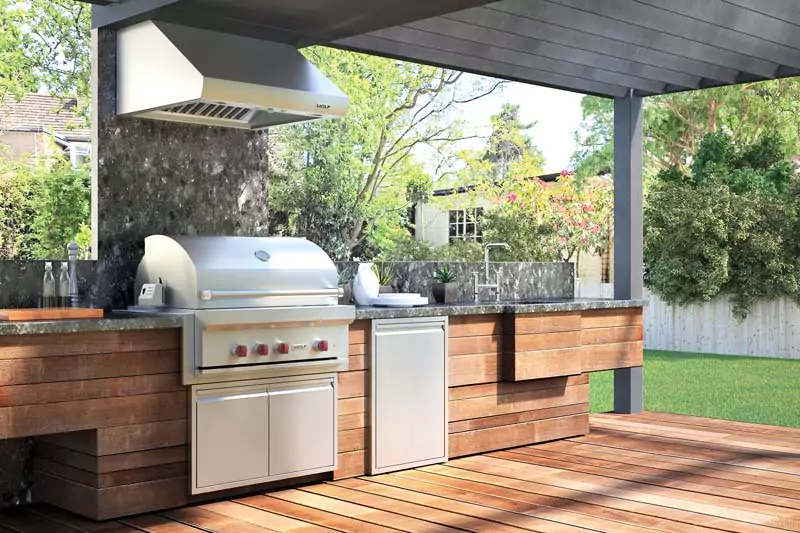 9 All-Season Outdoor Great Room Ideas
Written by
Joni Aveni
on
One of the things we love most about our part of the country is enjoying all four seasons. We decided to build an outdoor great room as an extension of our home rather than a summer-only deck. We wanted to design features that let us appreciate the space year-round.
Exploring a number of ideas for creating the outdoor great room of our dreams, we learned about premium hardwood decking that offers us numerous materials and design options. Here are just some of the considerations for an outdoor great room project: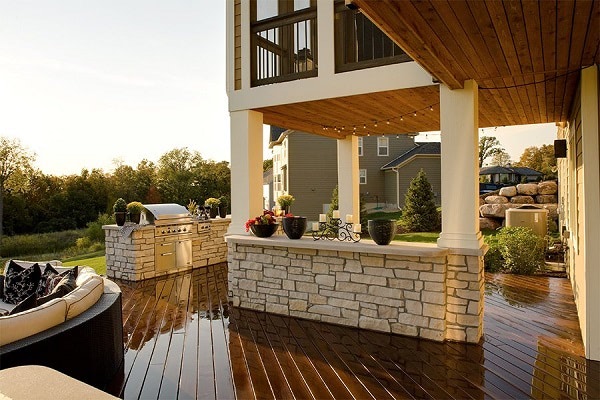 This multi-level Ipe deck features an outdoor great room and an outdoor kitchen
When you're done here, download the eBook 'Deck Design Ideas' for more.
1.Why Settle for Just One Level?
Building a great room on multiple levels with steps gives the illusion of numerous separate "rooms" while creating an easy flow between spaces. Of course, taking on a project like this may require a higher budget.
One option to control your budget is choosing an affordable hardwood decking like Garapa it's possible to keep those costs down. There are many sets of feet (and paws) clambering up and down, in and out, the steps. We like the fact that this hardwood decking is durable, softly textured and shrink resistant.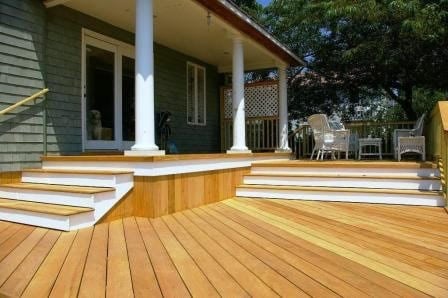 A hardwood deck with steps showcases the affordable and stunning Garapa hardwood.
---
See lots more multi-level deck designs in this 150+ photo download:
---
2. A Quiet Little Spa in the Corner
Call us crazy, but we think there's nothing quite as invigorating as a soak in the hot tub when the snow is falling and the carols are playing. So incorporating our own little spa into a four-season great room is one idea we'll be moving to the top of our list.
But we don't want to worry about damage to the surface from splashing and dripping – or sliding ungracefully onto the deck as we exit the tub and race into the house. For that reason, a low-slippage decking material surrounding the hot tub is essential, as is high rot resistance and low water absorption – all features of Ipe decking.
One note: It's important to work with design professionals when installing heavy "dead loads" like hot tubs, since there's special framing required to support the additional weight. For us, if we opt for our quiet little spa in the corner, it will not be a DIY project!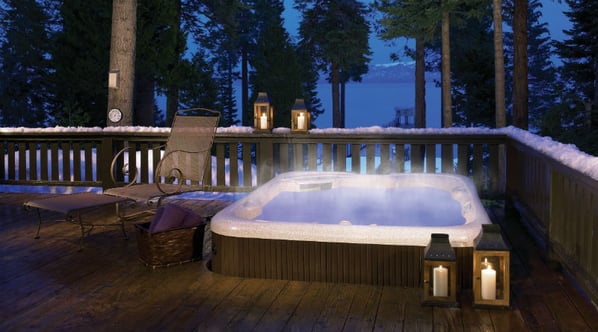 A hot tub adds year-round warmth and deck use. Whether on top or or sunken into the deck, extra planning is required.
Learn about the safety and beauty of Ipe decking, Click Here.
3. Later On We'll Conspire …
There are several options for dreaming by the fire in an outdoor great room. A built-in fire pit or fire table makes the atmosphere instantly cozy and warm on a chilly autumn night and is the perfect place to gather family and friends for some ghost stories, s'mores and making memories.
A large, permanent fireplace can keep things heated up even in the dead of winter. (Again, be aware of the "dead load" issue.) And portable propane-powered space heaters can be moved around to fit your needs … near cushy chairs when cuddling after a hot soak or next to the table when dining al fresco.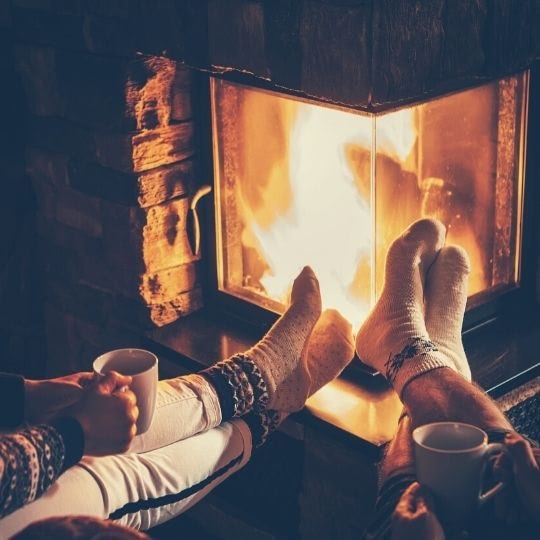 A fireplace on the deck makes it easy to enjoy chilly autumn evenings and winter apres-ski nights.
What about Snow Removal on hardwood decks? Click Here for info.
4. April Showers Bring … A Covered Hardwood Deck
In our region, we traditionally have very rainy springs. And while we love the peaceful sounds of the pattering rain and the spring peepers, we also like the idea of being sheltered from the more unpleasant elements.
A covered porch can open out from the kitchen or family room, using Garapa's hardwood graining and soft, modern texture to segue perfectly and achieve a unified look. Allowing this decking to weather to a soft, silvery gray provides an even lower-maintenance option without sacrificing stability or looks.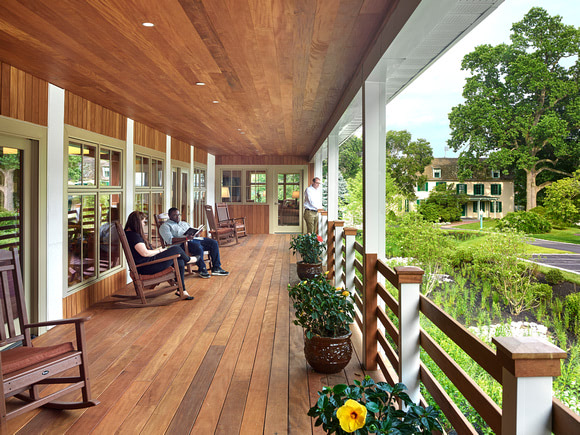 A covered porch gives you an outdoor entertaining space or just to rock on warm summer afternoons.
More covered deck ideas in our 60+ page eBook, click to download now:
5. A Garden of Earthly Delights
We like the concept of creating a garden retreat by using scattered plantings throughout the great room. The possibilities are limitless: from herbs and veggies easily accessible to the kitchen to perennials and greenery lining the steps to the backyard.
Container gardening not only allows us to be creative in mixing and matching wood grains and textures, but also offers privacy and creates natural separations between sections of the deck, the house and the great room, or the deck and the yard. Premium hardwoods have the insect and rot resistance needed for long-term, low maintenance enjoyment.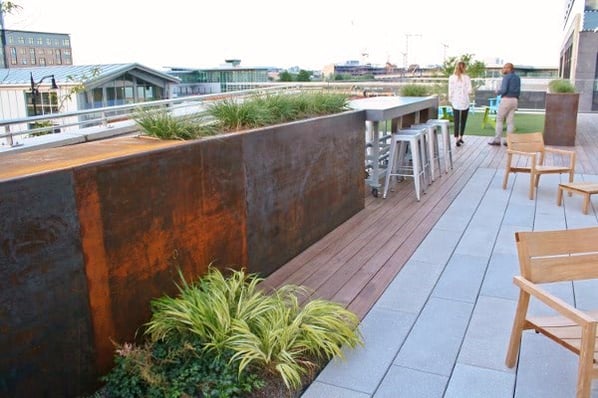 Ground level or rooftop, all hardwood or contrasting natural materials , a planter is a stunning separation between deck spaces.
Thinking about a rooftop deck? We have a Design Portfolio for that.
6. What's Cookin'?
Are you, or do you have, "The BBQ King (or Queen)" at home? My husband is all thumbs in the kitchen but in his glory at the barbecue grill, so one must-have is an outdoor grilling and smoking area. No need to cover it up when the summer is over; the master plan includes smoking that Thanksgiving turkey!
As far as decking materials go, a slip-resistant, low-absorption option like Ipe Decking can handle the inevitable spills and splatters that go along with outdoor cooking and still look amazing.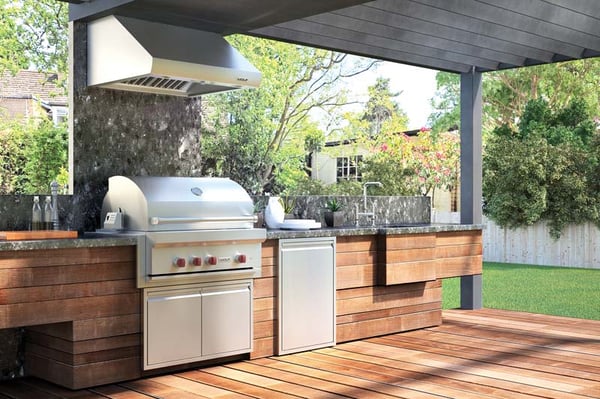 Treat yourself to the grilling station of your dreams by adding it to an outdoor room design.
Grab the free Ultimate Guide To Selecting The Right Decking now
for more hardwood material details. Click Here.
7. Shower Power
Our family works hard and plays hard – so whether we've worked up a sweat from a backyard softball game or need to rinse off the gardening grime, an outdoor shower could be just the ticket for leaving the dirt outside where it belongs. We can even cut down on muddy paw prints in the house by washing down Rover on the deck! Water-resistant Ipe, Machiche, Cumaru and Garapa are all good choices for the area surrounding an outdoor shower.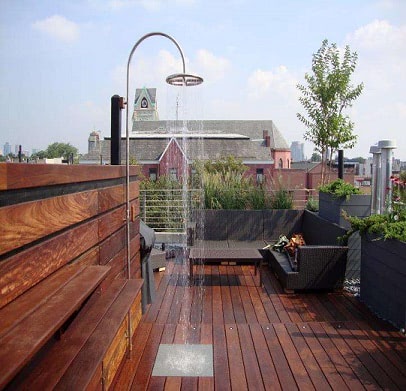 Post pool, sauna, or sports an outdoor shower gives you even more practical use of an outdoor great room.
Get your free guide to selecting the best decking material for your outdoor room. Click Here.
8. Take a Seat
Adding a variety of stylish seating areas can provide private nooks for conversation, entertaining, playing games or just stargazing. The same durable features that make the Mataverde product line perfect for deck surfaces will also play well with your outdoor furniture. And twinkling lights and tiki torches make the outdoors so comfy, you may never go indoors!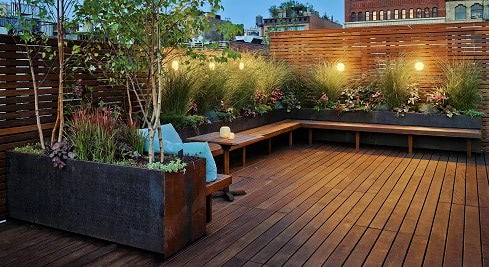 Here, built in seating is surrounded by wood planters and a wood privacy screen for a natural, cozy and spa-like feel, all made from your decking material.
What's the best wood decking material? Get the
Ultimate Guide To Selecting Decking Material now. Click Here.
9. Create an Outer Office
When temperatures are warm enough, an "outer office" pergola space constructed with Ipe, Machiche, Cumaru or Garapa hardwood can be the perfect option for those work-at-home days, a nook for the kids to do their homework in the fresh air or an entertainment area complete with television and sound system. While pergolas often stand alone, they can just as easily be added onto an existing deck.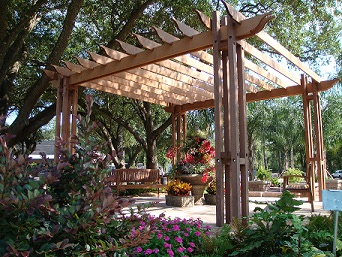 Work from home doesn't mean stuck indoors anymore. From pergolas to stunning views, find your style from 9-to-5 through after hours.

Find more outdoor rooms, pergolas, covered spaces, backyard decks, and garden retreats in our 150+ page Deck Design Ideas eBook:
Is your imagination running wild? Are you ready to design? Share this blog with your contractor or contact us for more information on starting your outdoor great room project today in time for Spring.
Related Posts