How to Plan and Build a Small Rooftop Deck
Written by Chris Nolan on
Are you considering a rooftop deck, balcony deck or patio top deck? Rooftop decks do not have to be huge to create a special hideaway. In fact, sometimes smaller rooftop decks can help create an intimate place for your favorite activities. If you are limited for space for your rooftop deck area, use the space wisely.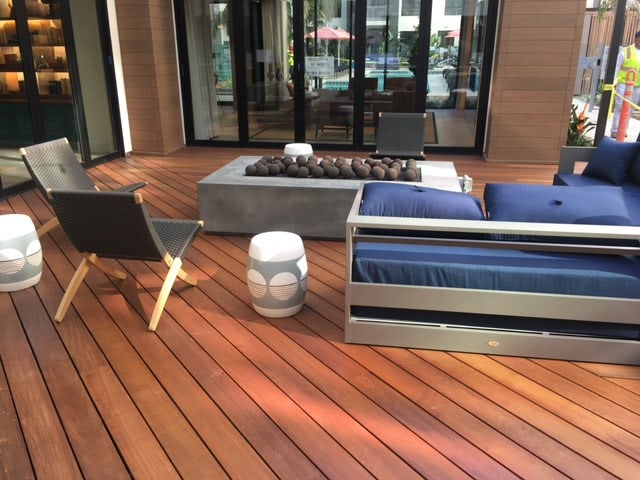 Mataverde Ipe decking expertly installed to create a cozy rooftop deck space
Key Questions to Ask Before Building a Rooftop Deck and Who can help?
Planning your rooftop deck project
Before starting your rooftop deck design, first check with the specialists in your local area. Architects, engineers, master builders and building inspectors are excellent resources to help you. Their primary goal is to help you create a functional space that meets your needs and meets all safety requirements.
Are rooftop decks allowed in your area?
Your local building inspector can answer this question. They will also be aware of any special rules, regulations, codes, and requirements for their jurisdiction that you need to be aware of before starting. If you are in a multiple family building, apartment, or condominium, you will need to check with their rules and regulations as well.
Will my existing roof support the load of a rooftop deck?
A structural engineer, architect, or master builder can help check out your structure. Typical load requirements will vary, but generally, a rooftop deck will need to support 50 to 100 pounds per square foot of additional weight. If your existing roof system can handle the additional load of a rooftop deck, you should be able to continue your rooftop deck project without a lot of extra structural expenses.
If your existing roof system does not meet the load requirements, structural supports will be required. In this case, you want to seek the help of a professional engineer who is licensed in your area. Your builder or architect can help you find one.
---
Looking for some rooftop deck design inspiration?
Download the Rooftop Deck Design Portfolio today.
---
Planning your rooftop deck space
Now the fun begins. What are you planning to do on your rooftop deck? Dining, reading, cooking, entertaining, tanning, resting, and gardening are some typical favored uses for all types of decks. If you are thinking about planters, privacy screening, shading, pergolas or other heavy items, plan accordingly. Their weights will have to be factored into your rooftop deck design.
Once you decide what you would like to place on your rooftop deck, and how you will be using your rooftop deck space, it's time to come up with a deck plan. After you've figured the overall size of your rooftop deck, we can help with a framing layout.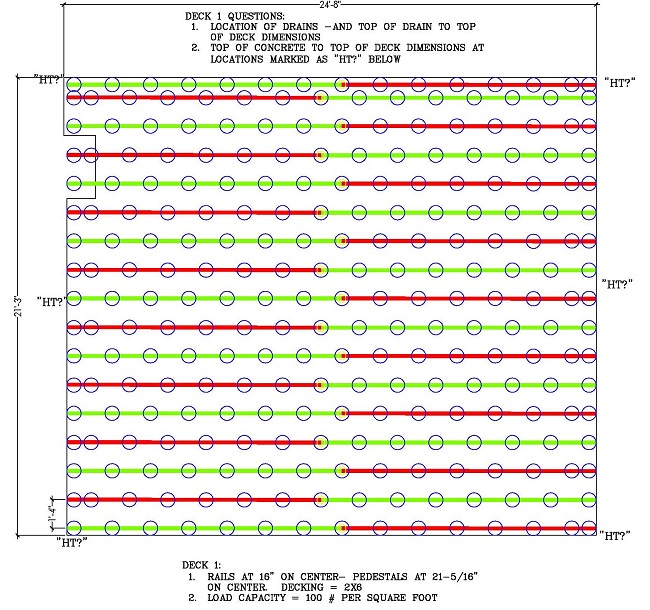 Example of a small rooftop deck framing layout with aluminum joists and adjustable deck pedestals
Rooftop deck framing options and ideas
Installing Decking over Sleepers
Sleepers are sometimes used for a low clearance rooftop deck. There are some pros and cons to this option. If you're thinking about using sleepers, there's lots of helpful information here.
Example of hardwood rooftop deck installed over 2x4 sleepers
Standard Deck Lumber Framing
Standard framing lumber may also be used. If it works for your rooftop deck, that's great. The typical downside of using lumber rooftop deck framing are the weight of the lumber might not work for your roof load and, potential warping of the joists, and if there are fire codes in your area, that may be problematic for wood joists.
Aluminum Deck Joists and Adjustable Deck pedestals
Using Eurotec Aluminum joists and adjustable height deck pedestals are another labor-saving option to consider. Aluminum joists are non-combustible, always remain straight and true, are very strong, and lightweight. They also afford better below-deck air movement, which is always a big plus in low clearance decks. The adjustable pedestals 'dial in' to the exact height to create a perfectly level deck, quickly.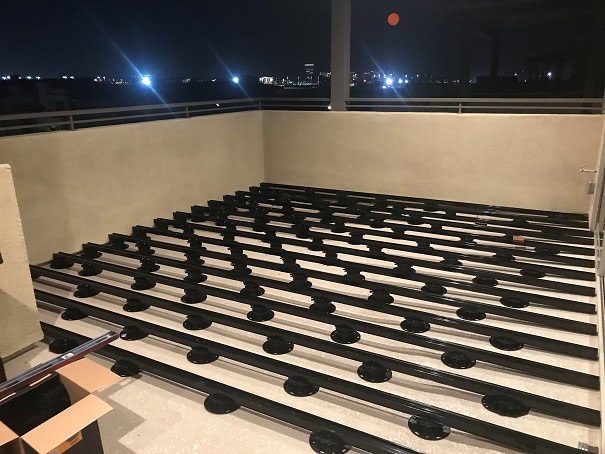 Eurotec aluminum joists and adjustable deck pedestals install quickly for a perfectly level rooftop deck frame
Rooftop decking material ideas
There lots of wonderful deck materials to choose from. Some decking materials work very well in a high exposure, unprotected rooftop deck. Others do not. Many softwoods will split and crack in this harsh rooftop environment. Some synthetic and composite decking materials may work, others get too overly hot, and expand and contract too much in the heat and cold.
High density hardwoods are a popular choice, and for good reasons. They are strong, long-lasting and can handle the punishment nature throws at them. Additionally, they can be finished, if desired, with a UV inhibiting sealer to maintain the like-new wood look. Or you can allow these beautiful natural hardwoods to weather to a silvery gray patina for a low maintenance rooftop deck.
High Density Hardwood Decking Options
Some of the best performing materials for rooftop decks include high density hardwood decking such as Ipe, Machiche and Garapa.
RELATED: Rooftop Deck Project Gallery
Ipe hardwood decking
Ipe hardwood decking is a favorite for rooftop decks. Ipe decking is tough, long lasting, naturally beautiful and can take the demanding conditions of a rooftop deck. Olive brown to medium and dark brown tones with exotic striping, Ipe can be refinished as desired, or allowed to weather.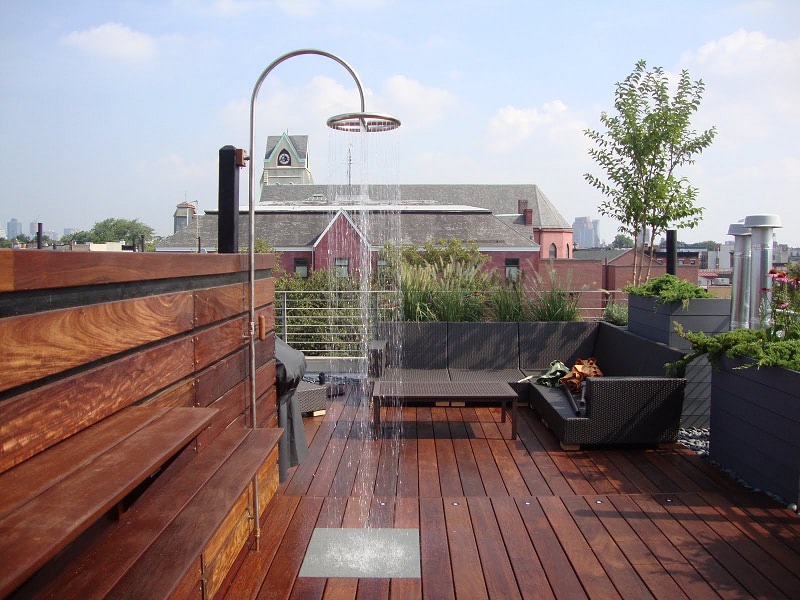 Ipe hardwood decking on rooftop deck for a well planned intimate space
RELATED: Ipe Decking Project Gallery
Machiche hardwood decking
FSC® Certified Machiche hardwood decking is another high-performance decking to consider. Machiche decking has beautiful graining and a rich chocolatey color.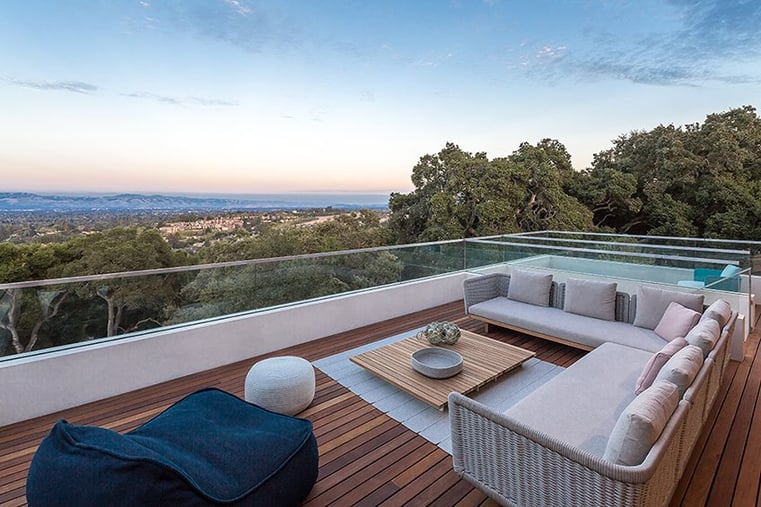 FSC Certified Machiche hardwood decking on rooftop deck
RELATED: Machiche Decking Project Gallery
Garapa hardwood decking
Garapa hardwood is another great decking material option. Garapa is lighter colored, lasts long, and is an affordable top performing decking option.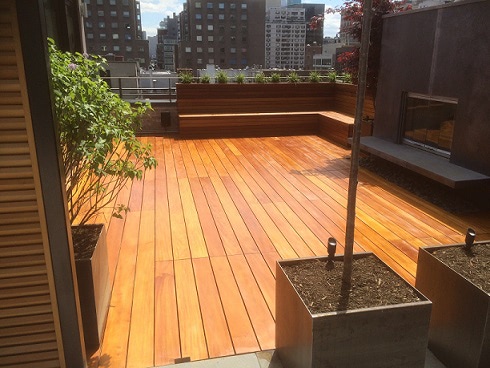 Garapa hardwood decking on rooftop deck
RELATED: Garapa Decking Project Gallery
---
Looking for more information about which decking materials to consider for your project?
Download the "Ultimate Guide to Selecting the Right Decking Material" eBook today.
---
Need pricing for a rooftop deck? We can help.
Request a rooftop deck quote today.
Comments
Related Posts