On the former site of the iconic Anthony's Pier 4 Restaurant in Boston, 110 new luxury residences are reclaiming the beauty of the Boston waterfront. The Ipe rainscreen design is exceptional, featuring curves and bends that resemble a wooden ship's hull. And the workmanship and woodworking would make even a master craftsman stand up and take notice. Check it out.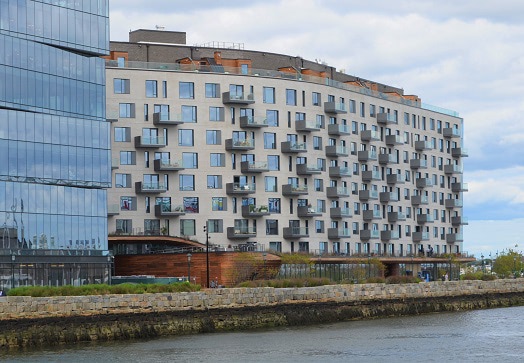 Pier 4 luxury residences viewed from across Boston Harbor
SHoP Architects, who has been instrumental in the revival of New York City's waterfront and piers for decades, lends their expertise to Boston's Seaport District. SHoP, as the lead architect for this project, describes this development as "a pivotal way-station on the city's extensive Harbor Walk network and a lasting contribution to the ongoing revitalization of the Fort Point Channel neighborhood". We agree.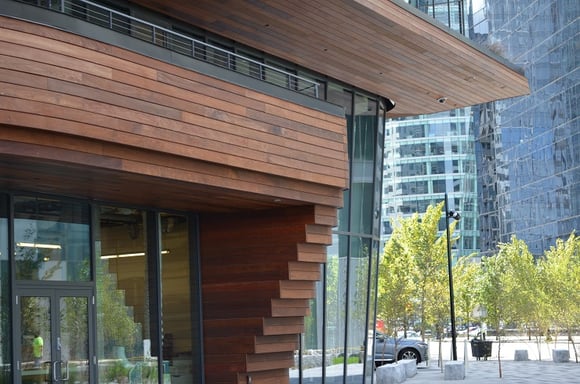 Ipe hardwood rainscreen and soffits adorn the entryways
In addition to the residences above, there are spaces for retail and dining below with access from the street and waterfront park. The building shape, inspired by traditional structures on many of Boston's old piers, fits right in. The dining area pays respect to the heritage of Anthony's Pier 4 Restaurant. Former Mayor Thomas Menino, dubbed this area the "Innovation District", and was part of the master plan to create a thriving neighborhood for residents to live, work and enjoy Boston.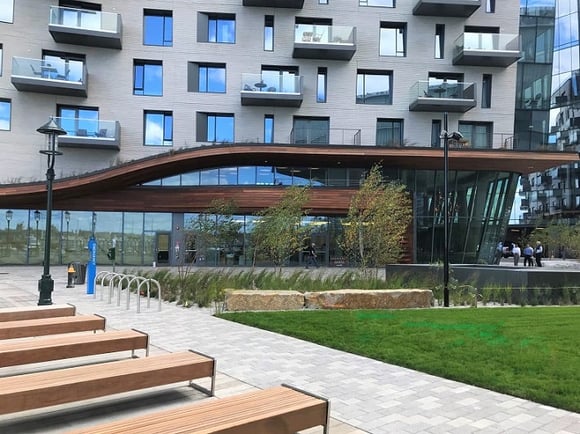 Hardwood benches, plantings and stone add natural appeal to landscape design
Outside the residences, landscape architects Reed Hildebrand do justice to the grounds with exceptional plantings, natural Ipe hardwood benches, walkways and more. An overhanging natural hardwood deck offers a panoramic overlook and a one-acre park welcome residents and visitors. Additional Ipe hardwood decking and walkways integrated into this portion of the Harbor Walk serve as a connector to the seaport district master plan.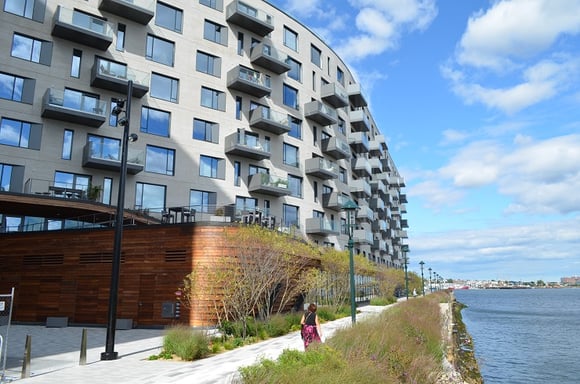 Curved Ipe hardwood rainscreen siding and Harbor Walk
The entrances to the ground level retail and restaurants feature spectacular woodworking. The Ipe hardwood rainscreen is an exceptional example of master craftsmanship. The millwork team at Mark Richey Woodwork went 'old school' to make wood do things you didn't think it could. Check out the curved installation of the ship's hull design. Traditional techniques typically used by boat wrights and closely guarded secrets of ancient mariners were summoned to create this layout.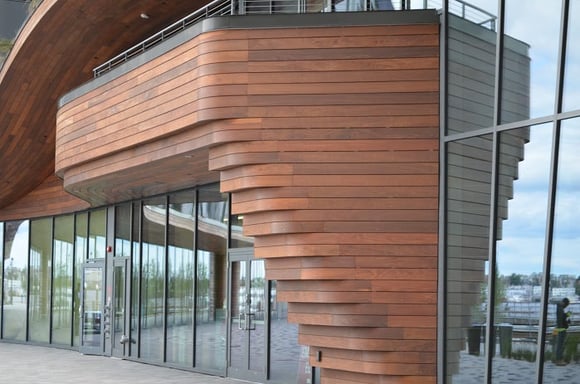 Ipe rainscreen curves around many corners reminiscent of wooden boat construction
The curved Ipe soffits are another great example of amazing architectural woodworking technique. In many sections, the soffits curve in multiple directions, on two planes. Wow. The look is almost breathtaking. The fascia, too, is designed and built with Ipe hardwood siding and the Climate-Shield rainscreen system.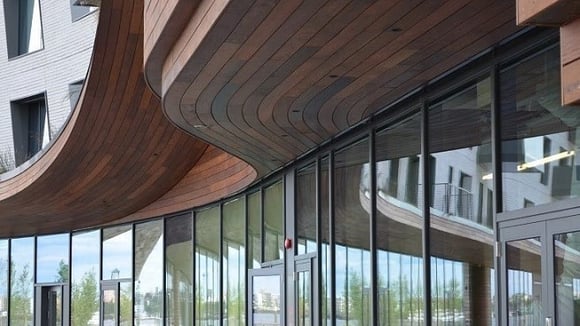 Spectacular craftsmanship on natural Ipe hardwood rainscreen soffits and fascia
Above the soffits and fascia, a living roof grows atop the overhead architectural element. The environmental sensitivity of the design, use of natural and sustainable building materials all contribute to earn LEED certification for this building.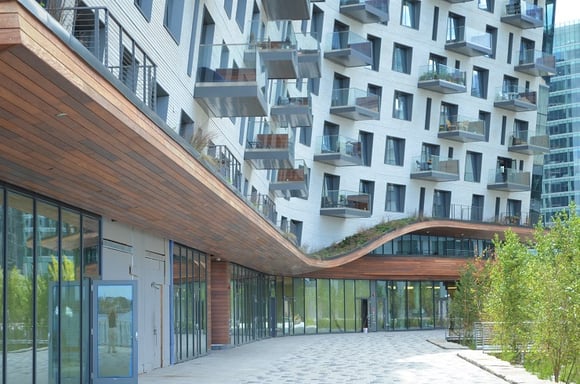 Living landscape roof tops off Ipe soffits and rainscreen fascia
Each waterfront residence features a rooftop balcony deck with stunning views of the city and Boston Harbor. The design team selected all natural Ipe hardwood decking for its remarkable durability and beauty. The Ipe decking was pre-grooved, milled into exact widths, and fastened to sleepers with Mataverde Hidden Deck Fasteners.
The result of all this planning, precision and attention to detail are beautiful balcony decks. To make these cozy natural hardwood decks even more intimate, matching Ipe hardwood rainscreen siding adorns the privacy walls of each rooftop deck.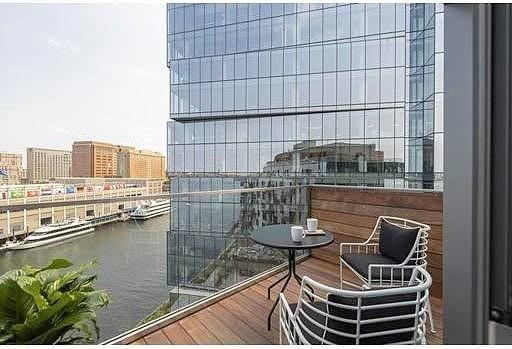 Ipe hardwood decks and wood rainscreen afford views and privacy on balcony decks
And the penthouse units all have their own private rooftop decks and terraces. Here's an example of an Ipe hardwood deck with matching Ipe rainscreen siding, from the realtor's portfolio. The airy setting is naturally beautiful. The views are incredible. Life is good.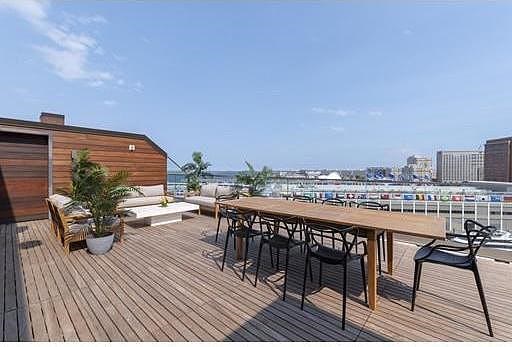 Ipe rooftop deck and rainscreen on Pier 4 penthouse unit (courtesy of Advisors Living)
We hope you enjoyed this article. Please visit MataverdeDecking.com for additional information about wood rainscreen design, check out wood rainscreen siding options, request rain screen samples and more.
For a better understanding about wood rainscreen design, please download the Ultimate Guide to Wood Rain Screens.
If you'd like to see many residential and commercial wood rainscreen projects, download your own Wood Rainscreen Design Portfolio today.