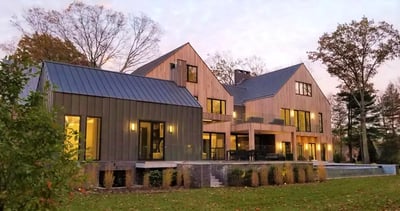 7 Ideas for Updating Home Exteriors with Rainscreen Siding
Written by
Liza Sivek
on
These rainscreen siding ideas will inspire your exterior update project with lasting, durable, and beautiful curb appeal for your home. Bonus: They're incredibly low maintenance and easy to install.
Why update your home's exterior design with rainscreen over traditional siding?
When you design with a quality, all-stainless steel rainscreen system like Mataverde Climate-Shield® Wood Rainscreen Siding System you get these big advantages:
You can install your siding vertically, horizontally, or both!

You can cover your roof soffits and overhangs with the same wood (see above), for a luxurious, custom look.

By using rainscreen installation, the siding design possibilities are endless.
Replacing old, traditional siding with a properly designed wood rainscreen siding system can not only can update your exterior, it can also:
Lower your energy bills.

Lower your maintenance and repair worries.

Combats to environment threats of mold, rot, and insect damage to your home.
How does it do these things? A well-designed rainscreen will allow humidity and water to easily escape from against your building's exterior envelope.
Intrigued? See how it works here, "What's a Rainscreen and Why Is It Important?"
Now let's start the inspiration!
---
1. Going Natural
Installed vertically, including the overhangs, natural wood rainscreen siding gives an otherwise traditional style a very contemporary look. The wood rainscreen siding wraps the exterior of the main building and even covers the soffits and overhangs at the windows and entryways for an inviting curb appeal.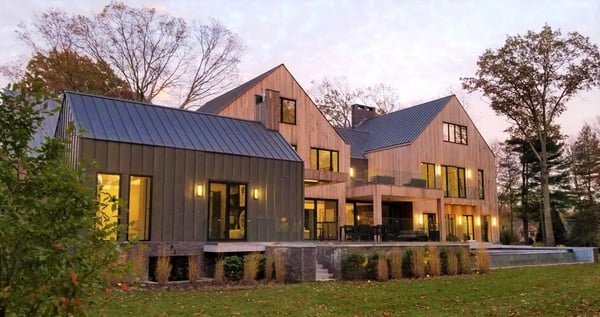 Garapa hardwood was chosen on this home for its natural golden blonde color range and interesting exotic grain patterns, making it a design element itself.
Like this lighter toned wood look? See more in the Garapa Rainscreen Siding Project Gallery.
---
2. Mix-Direction
Mixing vertical and horizontal siding installation is a wonderful way to update your home's exterior. You can you make your windows and walls appear taller with vertical siding. it can also help spotlight the architectural elements of your home, like the deep set window above.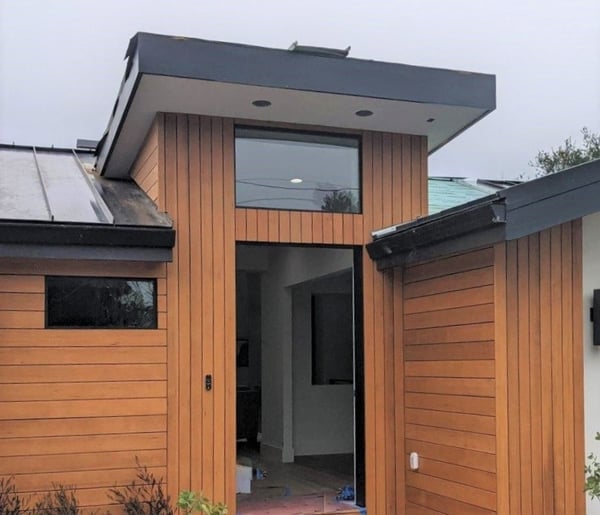 For this exterior, Thermawood Hem-Fir thermally modified Hemlock was chosen for its comparable looks to Western Red Cedar siding, but more readily available and budget friendly. Thermally modified wood get its deeper colors from the heat in the patented high-pressure modification process, giving it a unique look plus stronger, more durable characteristics than its non-modified counterpart.
Check out more inspiration photos in our Thermawood Hem-Fir Project Gallery.
RELATED: "Compare Western Red Cedar to Thermally Modified Hemlock Siding".
3. Modern Farmhouse
Because it can be installed vertically, wood rainscreen siding can quickly transform an antique (or antique-inspired) home without looking too modern, making it perfect for farmhouse or barn-house exterior projects. In a modern farmhouse exterior it can also be weathered naturally to a satin silver-gray for an aged look.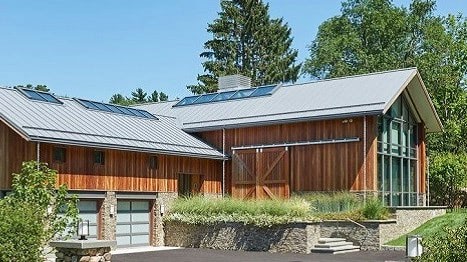 Ipe hardwood rainscreen was shown here frequently chosen for its popular medium-to-dark brown color range and incredible strength and long lifetime. Prefer the weathered look? Hardwoods all weather to a satiny silver-gray without increased maintenance, just cleaning as needed. Check out "How Exterior Siding and Decking Woods Weather" for more information on how to find the best option for a durable, naturally weathered look.
To see more examples of an Ipe home exterior, check out the Ipe Rainscreen Project Gallery.
---
There's more inspiration in store for you in the Wood Rainscreen Wood Siding Projects Portfolio, with pages of ideas for residential exterior siding designs. Download now.
---
4.
Minimalist
Vertical
Nothing modernizes a retro style home's curb appeal than switching the siding design by 90 degrees and installing it vertically. Here, Ipe hardwood rainscreen glows on the shoreline with its natural beauty. Even the soffits are covered in the same wood rainscreen, and the decking is Ipe, making this a minimalist's dream façade.
Ipe's iconic medium- to dark-brown color range is very popular. The warm brown tones instantly warm up and elevate a simple exterior. Even the soffits are covered in Ipe rainscreen, and the decking is Ipe.
For more projects that spark ideas, go to the Vertical Rainscreen Wood Siding Project Gallery.
RELATED: Compare Wood Rainscreen Siding Options
---
Follow up these 7 ideas with many more! Check out the Residential Wood Rainscreen Siding Project Portfolio for more siding designs and pro tips! Click now.
---
5. Mid Mod Brick and Wood
Martini anyone? FSC Machiche wood rainscreen siding complements a brick façade and renovated wall of windows to help update a mid-century ranch home exterior. The brick has been painted a more on-trend gray which contrasts beautifully with the natural wood tones.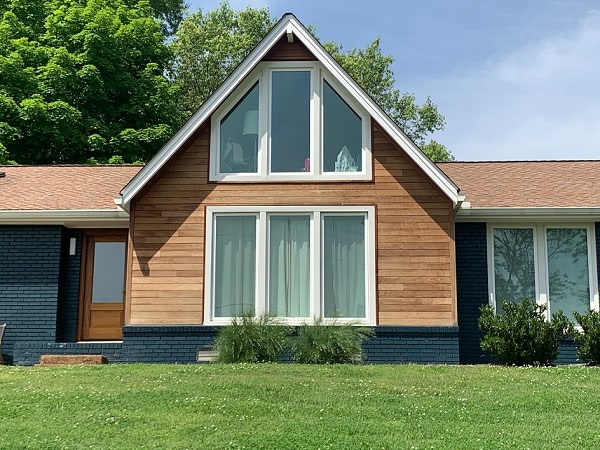 Certified sustainable FSC Machiche wood offers natural chocolate-y brown tones that show off beautiful grain patterns. Martini anyone?
See lots more gorgeous exteriors using this siding option in the FSC Machiche Rainscreen Siding Project Photo Gallery
RELATED: Get your copy of the Ultimate Guide to Rainscreen Siding for more, here
---
6. Stucco On You
Many homes that need updating have cold-feeling stucco exteriors. The benefit of stucco is that it can be warmed up and contrasted with natural elements. Just add wood or stone to make them showstoppers! This FSC Machiche wood rainscreen creates and accents architectural elements, and even graces the soffit of the porch roof. From cold and plain to welcoming and cool with just enough natural wood to contrast.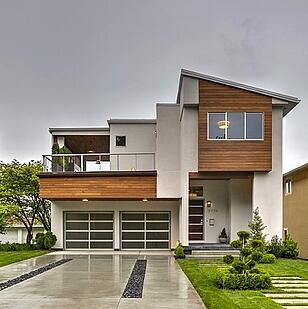 FSC Machiche is a popular certified sustainable harvested siding wood option. Not well known among homeowners (yet) it is a frequent choice of architects and home builders who know it.
RELATED: Buy Machiche Wood And Help Save The Forests
7. Modern Love
To quote David Bowie, "walk beside me" around this façade.
Horizontal siding boards in long lengths draw your eye around the exterior. The rainscreen installation does not "flatten" the façade, preserving the architectural elements and windows for visual interest. This Ipe wood rainscreen was tinted gray using Seal Once with Tint, made specifically to penetrate hardwood, for an instantly "weathered" look.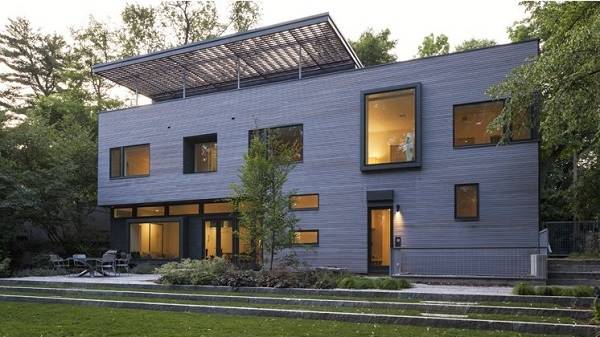 Ipe hardwood is the standard of strong, high fiber density, hardwood. This means the siding will last decades with very little maintenance. Reapply the Seal Once finish as needed to keep the gray tinted look, or allow to weather to a natural satin silvery patina, whichever you prefer.
RELATED: Ipe Wood Siding...Really?
Did any of these 7 house exteriors inspire you? If you need more information on any of these siding material options or rainscreen siding, please do not hesitate to contact us and let us know.
Comments
Related Posts